The most skillful way to spruce up your home, make it summer ready is to add statement and accent pieces that tie in the whole look of your home. Let us take a look into the different products found in the shops of Dhaka that offer you a variety of choices. You can keep to a similar colour tone for a homogenous look or go for contrasts that are eye-catching.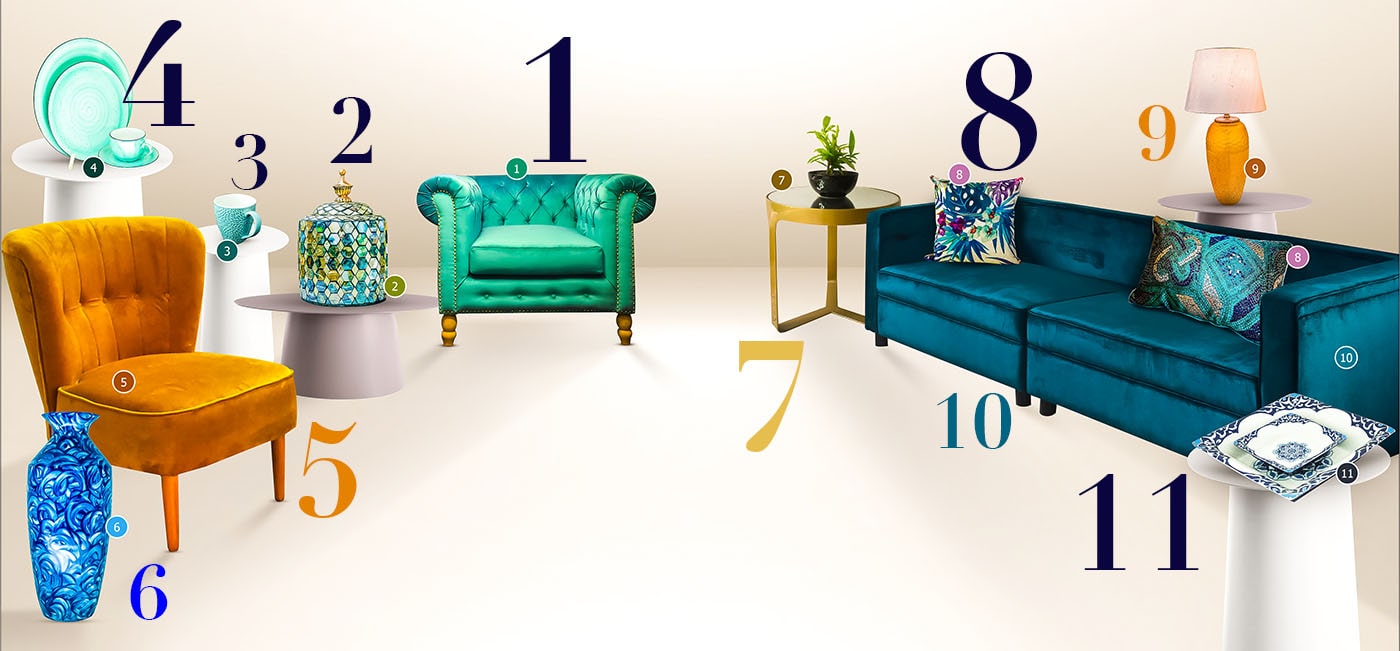 1- SINK SEA DEEP
Sink into the plush depths of this frothy sea green velvet plush armchair, brought to you by KATHTHORKA, a seamless addition to any seating area.
2- SEASHELL WHIMSY
A whimsical and quirky decorative piece with two toned coloured glass that evokes the feeling of the oceans, from INTERNATIONAL HOMEWARE, fits perfectly in any home.
3- BLUE CORAL
Enjoy your morning tea or coffee in this adorable pale sea blue ceramic mug from MAISON BY MONNO. The cup is decorated with patterns that resemble corals found in the seas.
4- SERVING UP SEA
Delightful light sea green crockery set, courtesy of MAISON BY MONNO, adds colour and elegance to your dinner table.
5- HELLO, YELLOW
KATHTHOKRA brings you this beautiful warm ochre yellow velvet chair, a vibrant and eye-catching accent piece to brighten up and add colour to your room.
6- SWIRLED BLUE
Accessorize your space with a ceramic vase with dark blue swirls from MAISON BY MONNO.
7- METAL MANIA
KATHTHOKRA offers this quirky, yet sleek metal and glass side table to hold up your multitude of knickknacks or showcase the simplicity of the table with a small indoor plant.
8- PATTERNED BLUES
NOIR HOME brings to you the absolutely perfect accessories for your sofa, a bright vivid floral printed cushion in blues and purples and a traditionally embroidered cushion in light and dark blues. These can be used separately or together for a more varied feel. The vastly different sizes and styles work very well together.
9- LAMP UP
Light up your home with this lamp from PURE LIVING, a beautiful mid length glass lamp.
10- JEWELLED BLUE
This gorgeous, vibrant jewel toned moss blue green velvet two sitter is ideal as a statement piece as the focal point of any living room, courtesy of KATHOKRA. Turn any room from drab to fab with this gorgeous sofa.
11- DISHED UP MOTIFS
Keeping up with the colour scheme, MAISON BY MONNO brings you ceramic serving dishes in a vivid dark blue motif that comes in varying sizes to suit your needs.