Inside Story
Capturing Transparent Beauty – Jamal Ahmed
Written by Naila Binte Zakaria
His passion for nature's beauty and its detail has lead him to create images that bring into life the spirit and character of what we see around us. Celebrated painter Jamal Ahmed, in his career spanning over three decades has developed a distinctive style that views the world through a realist's eyes. We take a closer look at the life and art of this prolific artist.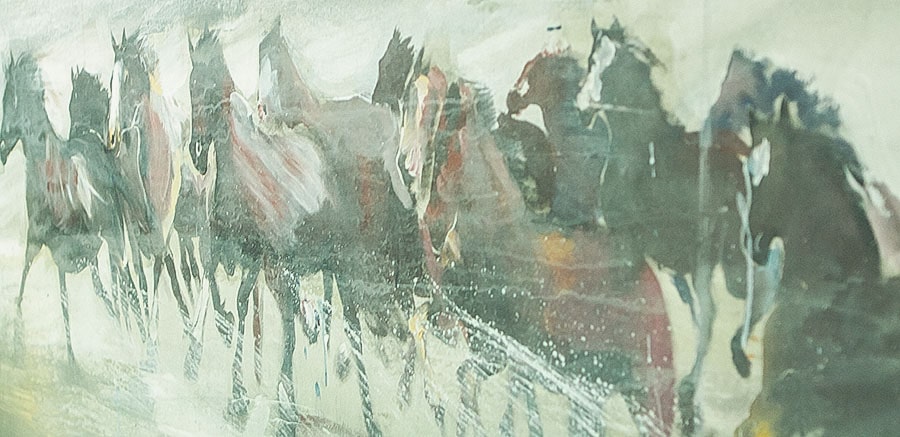 Jamal Ahmed enjoys depicting the lively and free spirit of horses in many of his artworks. He captures the power and energy of horses through bold outlines and defines the majestic beast in full gallop.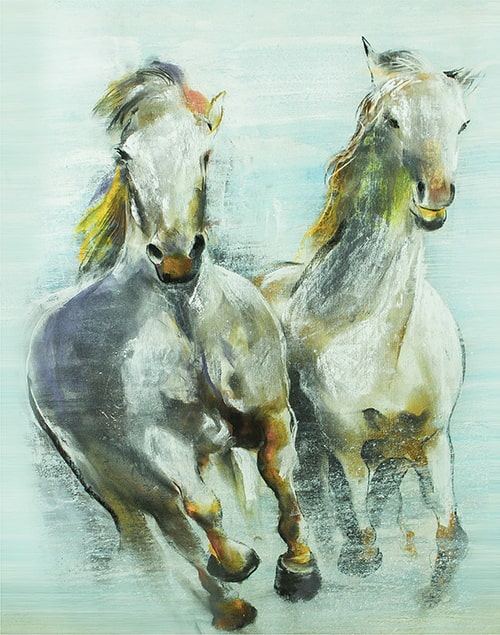 Jamal Ahmed was born in 1955 in Dhaka, Bangladesh. He completed his B.F.A from Institute of Fine Arts, Dhaka University (now Charukola). Then he got his M.F.A degree from Tsukoba University, Japan. At present, he is an Associate Professor of the Institute of Fine Arts, University of Dhaka, Bangladesh, a visiting teacher in the Art and Design Department at the North Carolina State University and Visiting Artist in Residence, U.S.A. His artworks have been displayed in numerous solo and group exhibitions in both home and abroad. As a child, he developed a deeper interest in the creative arena than academic studies. He drew inspiration from his mother, who was into fine embroidery. "My mother was perhaps the first person to have stirred the passion for art in me", says Artist Jamal. From the outset, he was fortunate enough to get his parents' support to achieve his dream. His father set up a studio for him to work in and he was constantly encouraged by his teachers and mentors like Mohammed Kibria, Rafiqun Nabi and Shahid Kabir. Receiving scholarships from Poland and Japan, he forged ahead to gather as much knowledge as he could from those foreign countries. His education there helped him to comprehend deep into his subjects and explore different techniques and topics.
Since the inception of the art movement in Bangladesh in the early 1950's, realism was widely practiced in Bangladesh. Jamal Ahmed became a prominent name in this movement during the mid 80's. In most of his works, Jamal Ahmed tries to experiment with bold lines and bring out the appeal with a taste of pure realism. His works portray the exact quality and character of the subjects including the creases of a drapery, the skin tone of a man or woman or the fisherman with his nets. He has achieved mastery in observing and replicating the quality of light and shade at its truest form. His meticulous brush strokes capture the spirit, energy and beauty of landscapes and figures. As a result, his works are recognized for its enigmatic quality that works on many levels from the visual to the subconscious. His paintings are easily comprehensible because of the smoothness, subdued tone and simplicity of the subjects.
His meticulous brush strokes capture the spirit, energy and beauty of landscapes and figures.
Over the years, Jamal Ahmed has developed the ability to draw mass, volume and texture, making his compositions visually outstanding. He emphasizes on the art of observing the subject in order to acquire its traits and inner world. "In-depth study through observation is the only way to capture the true essence of your subject. Studying from a photograph or imagination would never have the similar result. It helps to demonstrate how you interpret the world, how you make compositional choices, and how accurately you can depict form, light and shadow." The art of observation makes Jamal Ahmed's drawings and sketches lively with the right kind of restraint; as if you are viewing the real subject.
He compares his artistic expression to a singer who sings from heart. Just how a melodious song sung from the heart can evoke euphoria, a painting that has the artist's soul engaged to it has the power to stir one's feelings, imagination and emotions.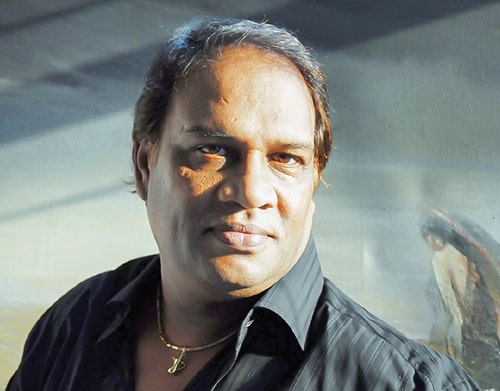 Jamal Ahmed prefers to work with acrylic, charcoal and pastel. Whatever the medium is, he always ensures that the canvas looks soft and vibrant as if the visitors are viewing the real things and not the canvasses. For instance, his Pigeon series is flawless and poetic and one cannot be amazed by the sheer expertise to capture almost all possible colours of the pigeon flocks in the canvas. Besides, the works of Pagla series are painted keeping the realistic postures as they were. All these attract the visitor's eyes. From the onset of his career, he focused on the transparent beauty of nature, people's joy, bliss, pain and yearning. The recurring themes of his paintings include nubile women in all their curvaceous beauty, gypsy women, oarsman, boatman, flood-affected people, bucolic panoramic view, riverine people, metropolis, bauls, mendicants, working class people and more. "I paint anything and everything that I find interesting to my eyes. Once I was looking at the art supplies placed on a corner of my studio and it caught my attention. I started studying it as my subject. Not many people would want to make such a mundane thing the subject of their art", says Jamal Ahmed.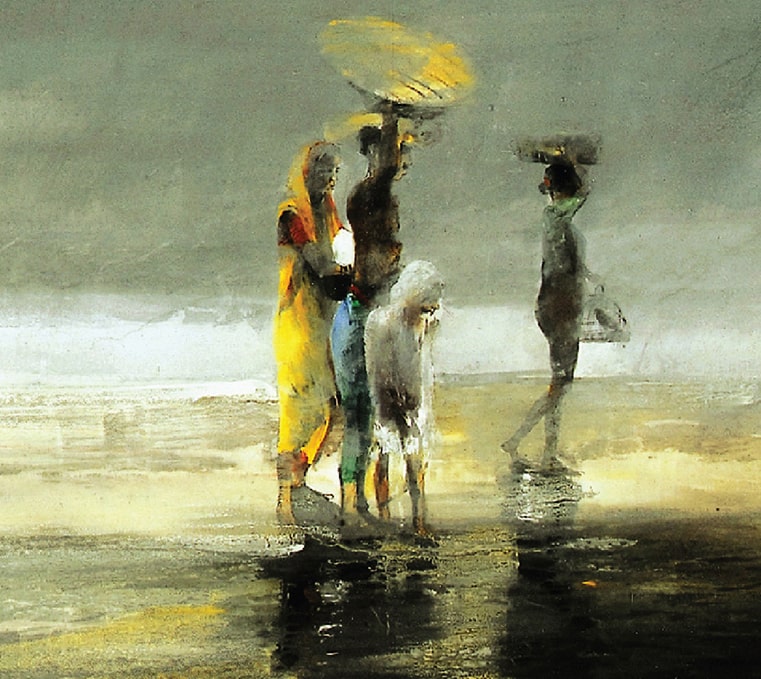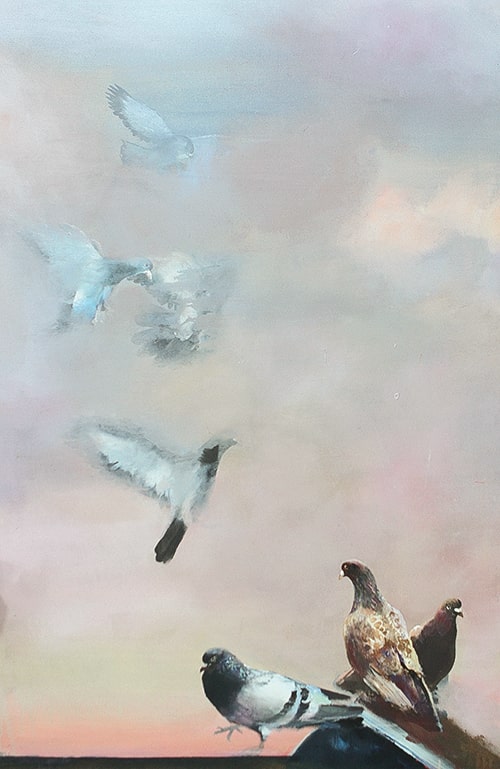 Jamal Ahmed's landscape paintings are visually tranquil and deeply meditative.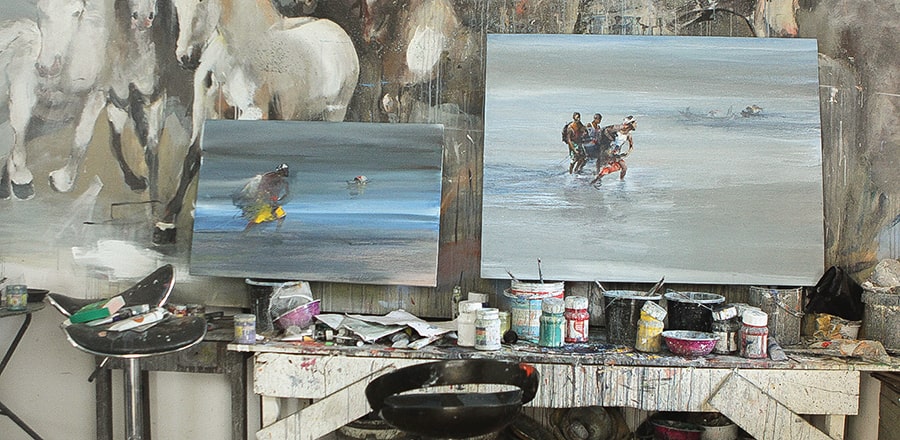 Besides painting rural life and its people, Jamal Ahmed takes interest in portrait painting. Through his nude studies, he has introduced new ideas and deepened his artistic practice.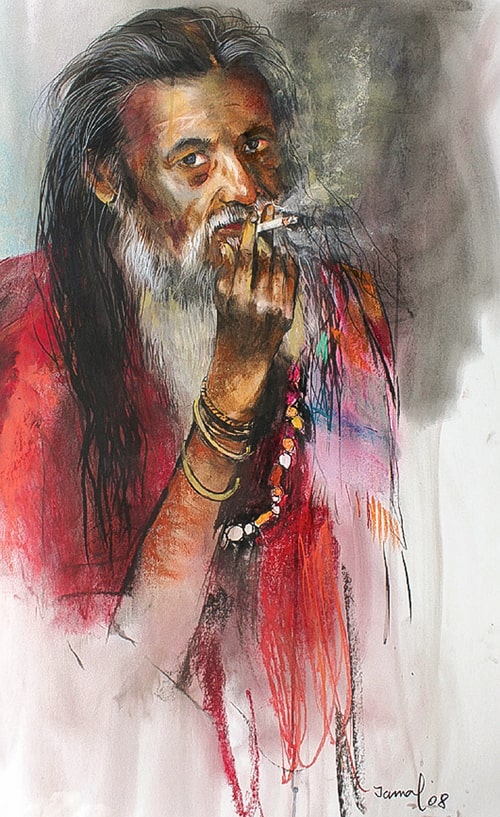 His paintings of women bathing in the river constitute a major theme in his work. It portrays women in their curvy and voluptuous form, as he likes to describe 'real, living, unfiltered'.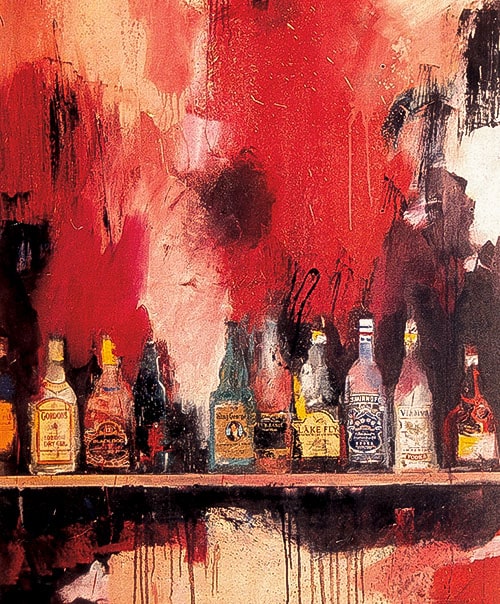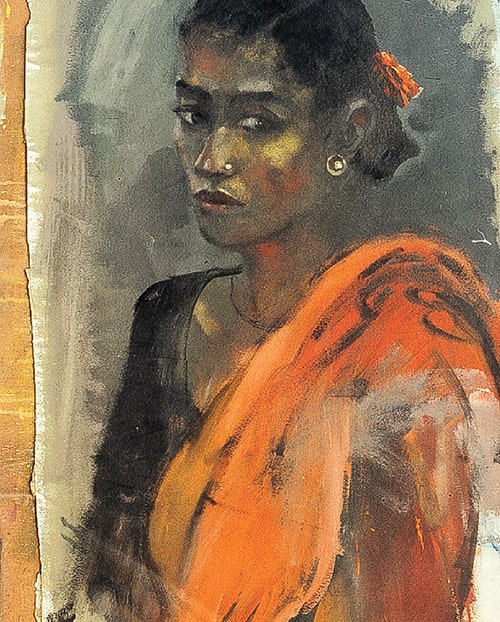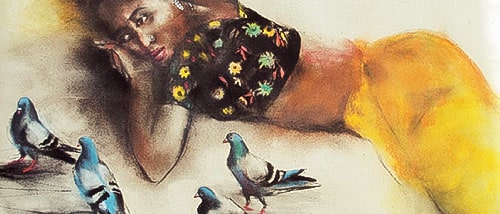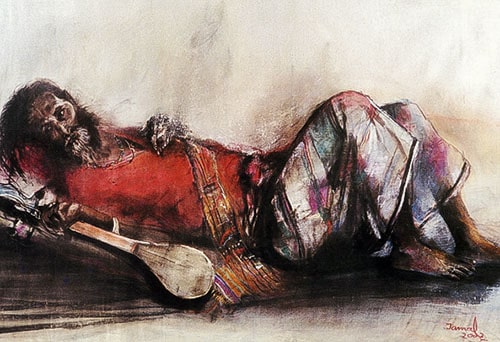 According to him, figure and portrait drawing can help understand lighting and depict space and proportion. It makes an artist hone fundamental visual skills that can be transferable to almost any medium. Jamal's intimate approach to art allows him to get to the core of his theme and convey the message to the audience. He has been awarded with numerous awards throughout his career, including the Ekushe Padak 2019 for his contribution to Fine Arts in Bangladesh.