Weathering Horizons – Abu Kalam Shamsuddin
Going against the grain of expectations, Abu Kalam Shamsuddin has created a microcosm within his art, bent to unwavering perseverance. Currently presiding as an assistant professor, Drawing and Painting Discipline at the Institute of Fine Arts, Khulna University, Abu Kalam Finished his Bachelors and Masters in Fine Arts from Rajshahi University, currently he is pursuing a PhD whilst balancing his passion for art.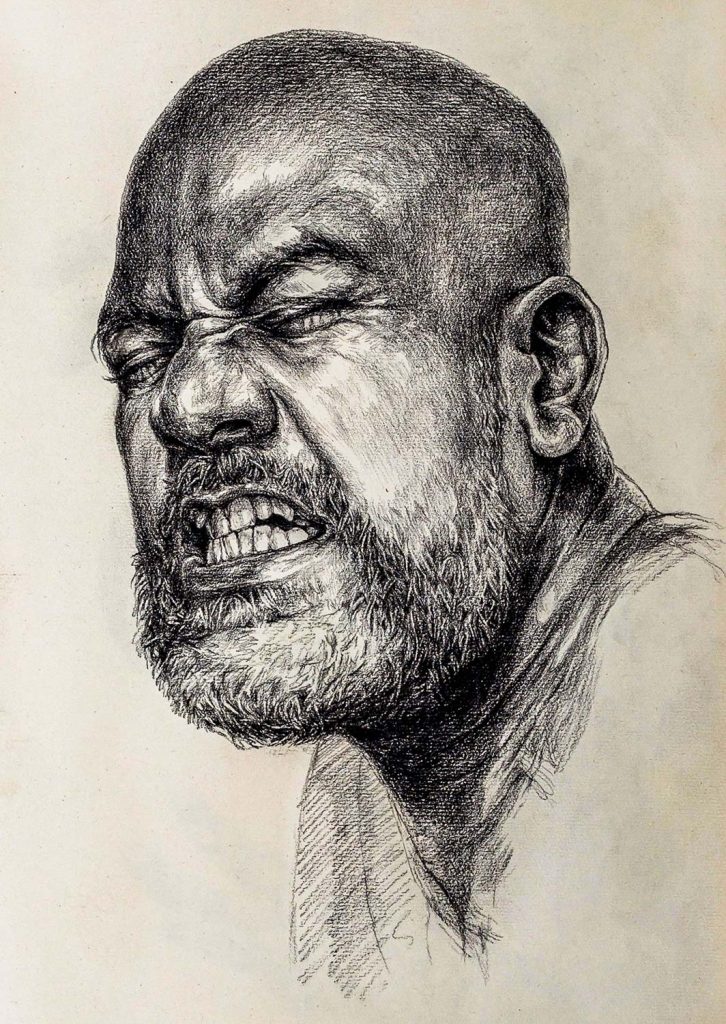 The multifaceted artist states, "While doing my research, I often find myself in various situations and environments which actually drives me into my art more. It is always my goal to ensure that my art has a positive influence on people's lives. I've always had a fixation on art. Even when I was growing up in Rajshahi, my friends and neighbours, like most kids, would jump at every opportunity to rush outside. I too often joined them, but my priorities always remained with my art. Similar to other parents, my parents too maintained a rigid schedule concerning my education. However, before occasions, such as the night before Eid, or family functions, I was allotted time to enjoy myself. I spent all of that time, painting."
The environment, the aesthetic appeal of nature and humanity are his conceptual proclivity in his works. The Rajshahi University alum states, "People, aware or unaware, negatively contribute towards natural disasters. To create more awareness on matters of such importance, my works often feature themes of 'conserve the destruction' or 'conserve what remains'." In response to an inquiry regarding his preferred mediums, the PhD aspirant expressed that while being a part of an academic institution for art, familiarity with all mediums whether it be pencil, charcoal, watercolour, oil paint, acrylics and so forth, is commonplace.
"While I have an attachment towards most mediums, I have a particular fondness for charcoals. I enjoy creating human centric art, portraits. I generally create my own concoction, with the base of acrylic, to which I add sand to create texture within."
He reminisces about his childhood, which was overwhelmed with the natural beauty of lakes and rivers, something he believes is in a state of deterioration. Abu Kalam Shamsuddin notes that while, as one person it is beyond the realm of possibility to stop this decay, but as an artist he can make the sceneries of the past immortal through his art. Taking sand from the bed of river Padma, he pours it across his canvas, using eclectic methods to create a state of permanence. Abu Kalam Shamsuddin disclosed that it can take up to fifteen to twenty days to dry, and the process is layered. He then proceeds to paint the dried base with acrylic paint.
Describing one of his works, the artist notes that there is a sense of instability, discomfort within his piece, "which can be quite easily experienced just by looking." He believes it to be the visual embodiment of mental health struggles, uncomfortable but often unseen.
Text by Zariat Mushfique Khan
Ironclad Malleability – Anisuzzaman Faroque
Artist Anisuzzaman Faroque , a wanderer who found solace within art. Born in the Moheshkhali upazila, Cox's Bazar, he ventured to the capital to find a purpose. He completed both his bachelor's degree and master's degree at the sculpture department at the Institute of Fine Arts, Dhaka University. The artist identifies the most with the designation of sculptor, noting himself to be a sculptor first and artist second.
"I wasn't very attentive in school, I would rather wander about my village. As a child, when asked what I wanted to be when I grew up, I had no answer. I could not find a sense of purpose. Now, I can say that I am a sculptor, and my purpose remains in spending my life creating art. I migrated to Dhaka with the intention of becoming an artist and admitted myself into Charukola."
"As a multidisciplinary artist, Anisuzzaman enjoys working with various mediums however has a fondness for using less malleable materials for the base of his work.
He states, "It's a vital step for my process. Being able to work on tougher materials and taking it to a place of sculptural value, gives me a sense of self merit. Primarily, we see iron as an industrial material. When I use it as a creative medium and mould it, it creates dimensions within this element, taking it outside of the assigned role."
Thematically speaking, the wanderer maintains an open-endedness. Believing that art belongs to an entext to the viewer, the artist himself attempts to view his work from the perspective of a member of his audience. Delving further into the development of his work, he states, "There is a lot of space for thought and interpretation in my work. I believe it allows for the audience to incorporate their own ideas, desires and feelings within the work. My sculptures are for the audience, the people, I want them to adopt the art into their framework of reality. I like to ask viewers what they thought about the work, why their thoughts are what they are. This in turn becomes a part of my process. To be an artist, it requires a lot of support. I've organized that quite organically I believe."
Beginning his work at random, artist Anisuzzaman Faroque treats his surroundings and deliberations as resources. During his time at Charukola, he credits many individuals as having had an impact on him and his learning, many of whom do not even realize their contributions. He detailed occasions where he observed his peers and his seniors' work, taking in their teachings with the utmost attempt to not inconvenience his subjects. "I began the Iron series when I was still undertaking my master's programme. The series rose from a difficult period in my life. At the time, I was struggling with money, materials, but I couldn't halt my work. I had to create a large sculptural project with the minutest amount of materials. I moved towards drawing based works. They were linear in shape, but required very little material and I was able to mould pieces of all sculptural qualities. Of all my creations, this was by far my most favoured."
Text by Zariat Mushfique Khan
Geometric Strokes – Azmeer Hossain
Questioning the concept of periphery, Azmeer Hossain has created a unique language of technique spanning his life as an artist. The Puran Dhaka-born artist received his Bachelor of Fine Arts in the Printmaking Department at Charukola. Then spending three years in the School of Visual Art, New York and later in 2006 he attained education in Painting and Mixed Media from The Arts Students League, NY. Hossain has participated in numerous exhibitions over the years, 'The Beckoning Horizon' was his fifth solo exhibition.
Moving on from mixed media due to his particular fondness for watercolour, the artist extensively speaks of his want to technically develop this medium. "There are a lot of misconceptions regarding watercolour, 'it cannot be used on a layout, it's too time-consuming and it cannot be a proper painting'. With this medium there is a matter of space, creating optical illusions of distance through the compiling objects on the one-dimensional space which I highlighted in my show 'The Beckoning Horizon". He explains the process of separating the layers to create distinctive lines of colour that appear after every new layer is dried. Disclosing the intricacies of the techniques used he states, "I use a blocking technique to create lines within my art with art masking fluid, I can later punch other colours within these lines if I so desire. When I create and use these techniques, there are often roadblocks and I myself have to find solutions to these issues of my own creation. This technique is a language that is unique to me and I am always looking for means to enhance my methods, to understand and add to the mediums I utilize."
Primarily working on landscapes, he denotes that with landscapes, the most prominent feature that our eyes are drawn to are the colours.
He states, "If we were to stand before a mountain, the dimensions that we see are actually layers of colour. Within these, there are two forms, organic and geometric and these forms work in harmony. Even while working with abstract forms, I maintain a balance. The form itself is abstract as it is relative to the perspective of the viewer, the perspective shifts, the form shifts." He further explained with reference to the horizon, it is often seen as the end. But to him they are beginnings. "If I were to stand on that horizon, I would see another horizon and so forth, creating an information loop that raises the question of whether tangibility of the physical world and what we denote as 'reality' is actually a mirage."
To Azmeer Hossain, it was clear that art is the life he would choose from a very early age. His journey was however not one without turbulence. There were many instances of disappointment and points of inspiration. He particularly lauds two individuals as beacons in times of uncertainty. "Kalidas Karmakar sir, Kaalida provided immense moral support throughout the time I was residing in New York. Post returning to Bangladesh, there have been times where I had bouts of artists block which I was able to overcome thanks to Monirul Islam sir. Ever since, Monirul Islam sir has been a constant source of support and inspiration."
Text by Zariat Mushfique Khan
The Dance of Letters – Kazi Istela Imam
Global citizen Kazi Istela Imam's art life seemed to her like a universal machination. The Graphic Designer and Illustrator started out designing the layout for her school newspaper and yearbook, she was also exposed to art through her brother's artistry. Having graduated from the Visual Arts Programme at Assumption University, Thailand, the voyager set out to partake in a plethora of professional undertakings.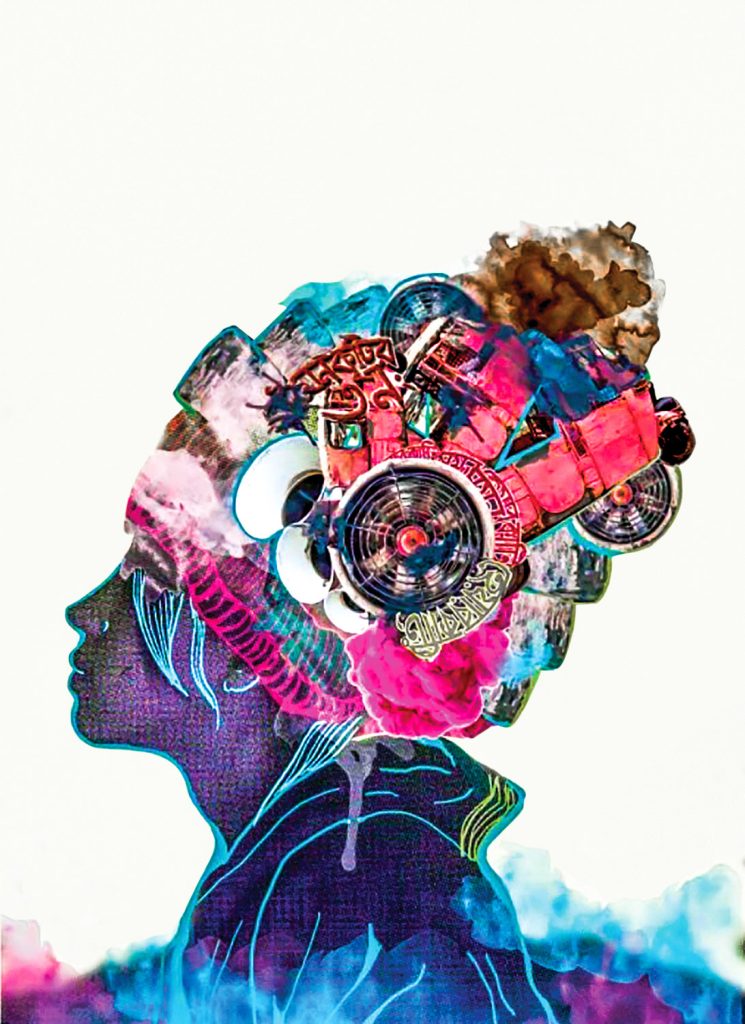 The artist's works retain visual markers that create a distinction within patterns, moulding a unified underlying theme obviously being engineered by the creative efforts of one individual. "I love Bangla typography, typography in general– I think it comes from me not being very articulate. I admire people who are eloquent. When I get a text message that reads really beautifully, I get inspired by it. Actually, sometimes I incorporate text messages I received or sent into my art. Even my collage style and the digital artwork that I do are a mix of different things. I believe that we, as humans, are similar to collages. We all are a mix of so many different things, how we were raised, how we evolved growing up– our friends, all the things that we once knew to be true, but somewhere along the lines that just didn't work for us anymore."
Citing Dhaka as her primary muse, she draws inspiration from the city's "Chaos and Craziness", describing the process of creating one of her limited-edition illustrations titled 'Dhaka Jam', "Sitting in traffic one day, my thoughts naturally encompassed Dhaka jam. Then I was like, Dhaka jam, oh wait 'Jam'! Jam jars! Let's put all the traffic illustrations in a jam jar." Additionally, noting themes relating to mental health struggles, heartbreak and the bends of life in general, Istela strives to use Bangla typography in a different, more contemporary manner. The experimental artist explains her ever-changing colour palette. "I've worked with pastels in the past, but then my other art books are brimming with very dark themes. I was probably going through something in life at the time. I've seen a lot of transitions in my art. I am a believer that whatever you are as a person at that moment in life is reflected through your artwork."
Giving insight into one of her murals titled 'Invisibellas' centered around women empowerment for 'Global Shapers', a network of young people driving dialogue and action, situated at the Notun Bazar area, Istela says "the conversation I incurred while painting was very insightful. As we were drawing, a lot of the people in the community started coming to us and opening up about their lives, the abuse they've faced– the women especially." The Visual Arts graduate expressed frustrations about being unable to find a place with "Cool greeting cards," she notes, "This is another dream of mine. I want to have a shop where you have an assortment of awesome, colourful gifts, representing my style. Starting from artwork to clothing, but that's something I'm holding onto for the future."
Text by Zariat Mushfique Khan
Weaving Indigeneity – Joydeb Roaza
It isn't uncommon for an artist's works to orbit a central theme of nature and all its mystical beauty. Joydeb Roaza's works, while seemingly following a similar path, veers away from the comfortable direction of beauty and sophistication, and instead strongly connect us to several contemporary political discourses of ethnic rights, inclusivity, oppression, and an urge for saving nature, land, and culture.
Many artists find their true calling only when they take the time to observe the nature around them. Joydeb Roaza's transition into an artist happened perhaps from the very moment of his existence. Born in Hapong Para village of Khagrachhari district in 1973, much of his life was immersed in untouched nature.
"Even before I was old enough to attend school, I was taught to know the nature around me, which later helped me immensely in my artistic process," Joydeb Roaza muses.
However, basking in the glory of mother nature wasn't the only way his days were spent. Joydeb Roaza remembers days of fear and conflict. "The clash of the Bangladesh Army with the 'Peace Force', an armed tribal organization formed to assert rights in the Chittagong Hill Tracts, was a daily occurrence at that time," he states, adding that along with the other villagers, he also had to hide for days in the woods.
Performance art is Joydeb Roaza's chief pursuit. However, this medium still isn't mainstream in the country. Aside from performance art, Joydeb also does ink drawings on paper, intending to sell them as an avenue of income. Because, he says, it is impossible to run a family on the income generated by performance art alone, in this country. "However, while working on art, one shouldn't only think about selling it. Any profession has its hardships, but perhaps artists have to endure more of it. Especially for those artists who don't want to hold an office job, I'd like to advise them to reduce their materialistic desires," Joydeb Roaza says.
"In many countries, artists receive unemployment compensation. I don't know whether Bangladesh Shilpakala Academy has ever taken such an initiative to help individual artists," he says. The artist further bemoans the lack of importance of art and artists that prevails among the general populace of the country. When asked about the art scene of Dhaka, the artist mentions that he finds Dhaka's traffic, bustle and crowd unbearable. "Several artists living in other cities tell me that it's not possible to become an artist if you don't go to Dhaka. Moreover, some artists living in Dhaka tell me that they have to show up at events, otherwise, their faces are forgotten!" he says. He adds that it's certainly true that there are more galleries and exhibitions in Dhaka than in any other city in the country. Hence, artists in Dhaka get the chance to experience more art. "It is my request to Bangladesh Shilpakala Academy to hold at least some national-level exhibition outside Dhaka to stir interest in art in more people," he urged.
Text by K N Deya
Lyrical Contemplation Through Colours – Mohammad Eunus
Life doesn't run a clear course. Yet, an artist's calling almost always leads him to where his innermost self would flourish to its very best form, and Mohammad Eunus's life is a prime example of such an eventuality.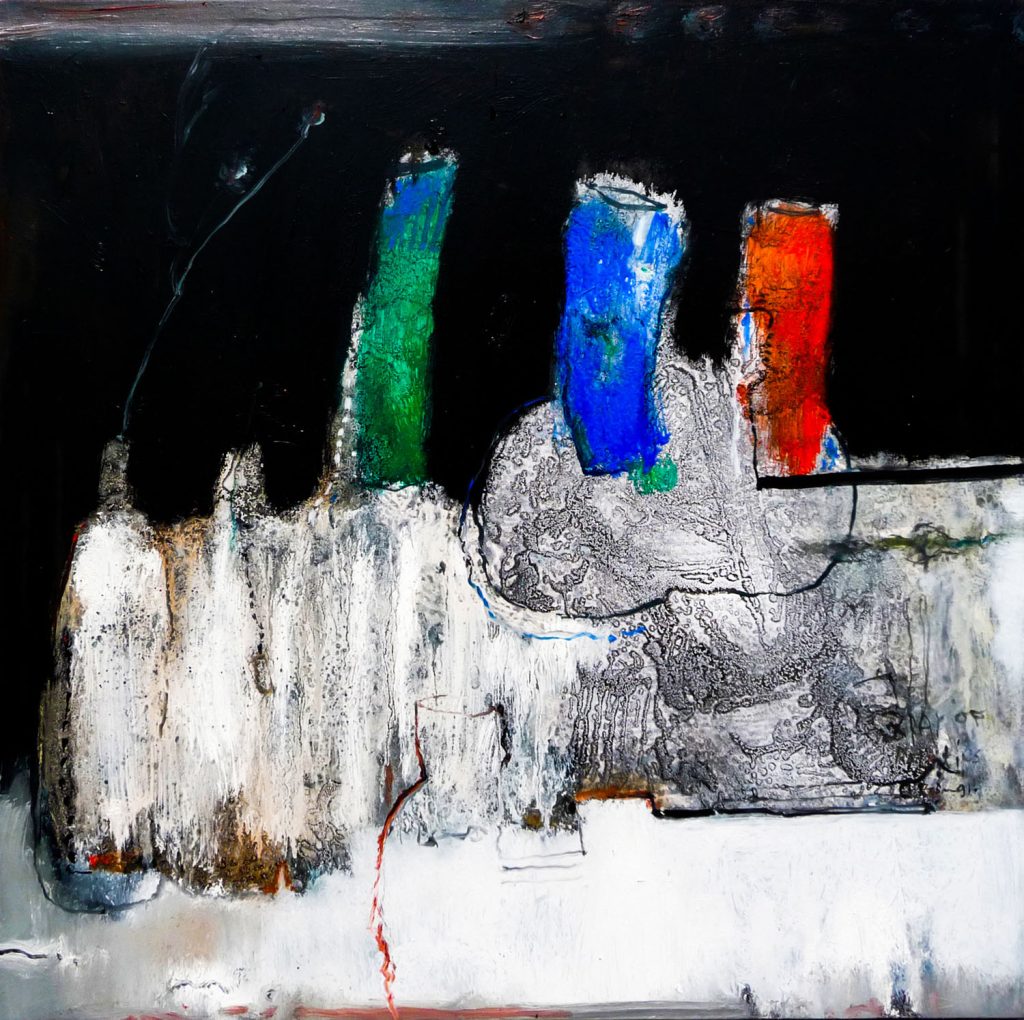 Hailing from Thakurgaon, Mohammad Eunus's childhood did not hold any clear indication that he would become such a formidable icon in the abstract art scene of the country. He did feel motivated by his father, who, despite being a teacher who taught several subjects, had a creative knack. Mohammad Eunus' time in the scouts also helped to nourish his creative side. As scouts are required to hand-craft structures and design their campsite during an event, it also helped him. "We had to do those back in school which was similar to installation art," he remarks. He also spent some time making kites of various types, patterns, and colours. However, he regarded his creative pursuits simply as extracurricular activities back then. Throughout school, he didn't discover his love for drawing and painting. That came later.
While reminiscing, he especially mentioned his teacher Mahbubul Amin, who was a great mentor and a guardian to his students. He helped cultivate many important habits and principles that Mohammad Eunus feels have worked to bring him success. After passing from Charukola, he got a job at BTV and worked there for 4 years as a studio designer. At the same time, he was pursuing his master's and started transitioning from realistic to abstract themes. He never got to sit for the exam, as he got married and then received a scholarship to study in Japan. In his first year studying there under the guidance of Miyazaki Susumi, he was still finding himself. Teachers would come to inspect the students' work every week and urge them to find their individuality.
Then, when Mohammad Eunus was in his second year, a surprising event changed the course of his life. He'd left his art supplies and canvas and went to eat. When he came back, he saw that a bottle of turpentine had spilled over his canvas, giving way to a mess of textures. He left the textures as they were and drew on them. When his teachers came for inspection later, they noticed it immediately and said, "Yes, this is what we wanted. This is yours." Mohammad Eunus remembers this comment as something that has inspired him significantly. Mohammad Eunus didn't have to look back after that. He continued developing his own style, playing with textures. He mentions that making an oil painting look as transparent as watercolour is one of his major skills. He received numerous awards for his accomplishments. But he did have to work hard to reach the position he is in now.
"Finding beauty out of the ugly," that's how he describes the journey of an abstract artist.
What everyone finds uninteresting, an artist finds art in it. "If someone asks me to make him understand, I say it's not something to understand, it's something to feel, much like a musical composition," he says.
Text by K N Deya
Culturally Inclined – Saidul Haque Juise
It is commonly said that life imitates art, and consequently, art tends to revolve around human life and all its intricacies. However, the delicate balance is often lost, and art becomes an exotic idea to the masses. Saidul Haque Juise's art, in all its magnificence, manages to evade that trap. His creations breathe in tandem with the ancient Bengali culture and manage to touch the beholder's very soul.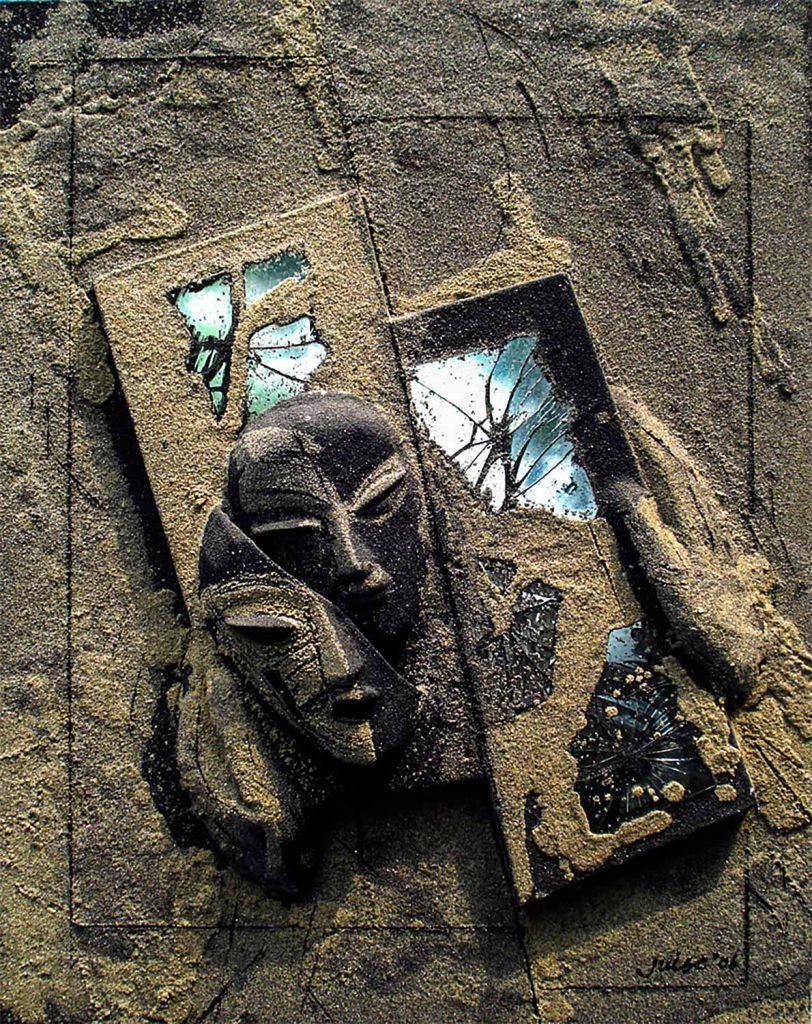 Hailing from Rangpur, Saidul Haque Juise's childhood was open to experiences that only made his way to becoming an artist smoother. Whether painting cards during the famine and selling them to make petty money, helping to make artistic structures from locally available sources, or playing with clay and turning it into dolls– these experiences were simply a part of his life. As such artistic pursuits came so innately to him, his family naturally sent him to study at the art college, now known as Charukola. As an artist, Saidul Haque Juise does not only attribute his growth to the lessons learned inside the classrooms, from the teachers' instructions. He gives a lot of credit to the extracurricular activities and experiences he's gathered in his years as a student. "The first year was spent familiarising myself with Dhaka and Charukola. From the second year, I found that I had started making friends," he said. He was friends with a wide variety of people of various ages, many older than him by 5/6 years even. With them, he would work on gigs such as building sets for dramas at the TSC. Another memorable experience that he gained through this network of friends was the chance to work with eminent artist Mustafa Monwar, assisting him in one of his puppet projects.
While a portion of his peers sought to commercialize their art, Saidul Haque Juise and like-minded artists focused more on the enjoyment of art, the journey instead of the destination. After those years became a past to reminisce, the artist does not find a single bit of regret in the path he chose. His formative years as an artist were full of learning, challenges, and the simple pleasure of creating art for the sake of art, and not for any financial benefit. The word of art isn't confined to painting on canvases only, Saidul Haque Juise thinks. In fact, every individual has an artistic soul, reflecting their views through the clothes they wear, and the food they eat. Similarly, he doesn't confine himself to only traditional media either. He works with locally available, inexpensive materials such as paper, metal wire, bamboo, and so on.
He especially loves to make masks. Saidul Haque Juise has conducted several mask-making workshops over the years.
Another thing he loves is to join in on festivals. "Festival design attracts me immensely. It makes me forget everything else." He confessed to liking making art with paper more than other mediums.
Text by K N Deya