We are a proud nation who has earned their own mother language. There are multiple monuments across the world as recognition of that glorious event. Similarly, a project was initiated by Sylhet Agricultural University which was designed by Architect Rajon Das. The project was bound to be just a regular Shaheed Minar as the main one in Dhaka, but Rajon Das believed, if we want to recollect our true past metaphysically, we have to touch the original form physically. That's how Alphabets come here as major design elements.
Rajon Das is undoubtedly a uniquely talented person with an edgy approach towards his work. He mainly tries to follow the geometry of traditional space around him and curious about its relationship with the traditional lifestyles happening within that geometry. As an architect, he wanted to see our language movement from a new perspective. The project had Ar. Tanwer Burhan and Ar. Amitav Debnath as Associate Architects and Engr. Debashish Bhattacharjee as Structural Designer.
The monument is named 'Alphabet in sunlight' after thoughtful consideration. On a hilltop beside a small lake at Sylhet Agricultural University, the spectacular ShaheedMinar named 'Alphabets in sunlight' has been built. It's at the end of a few stairs that have to be climbed in order to reach. The monument will start getting visible gradually after several stairs are broken. If you get up to the main square/courtyard, you will have many vertical narrow walls towards the sky are standing at different elevations, and the tiny spaces between the walls are filled with numbers of different alphabets of Bengali Language. The standing walls look like they are protesting together in harmony with the unity of the alphabets.
The orientation of the monument is north-westwards and both in north and south of the top plaza/court, there are five feet high walls studded with Bengali alphabets. If you stand in that court, you will see the alphabet around. It also knocks as the Courtyard of Bengali Language. Wherever your eyes go, you can see either the alphabet or the sky. Since this Shaheed Minar is West-facing, the morning sun always rises from its back and will fall into the west. So in every morning, the monument of alphabet looks shadowy and obscure and it will gradually become enlightened and clear as the age of the day increases. It seems like you are in the garden of Bengali alphabets. That is, all the symbols of the Bengali language will roam around you for some time. A speechless conversation between the oldest creation, the sun, and our Bengali language units at the monument and thus, this monument has titled as 'Alphabets in sunlight'.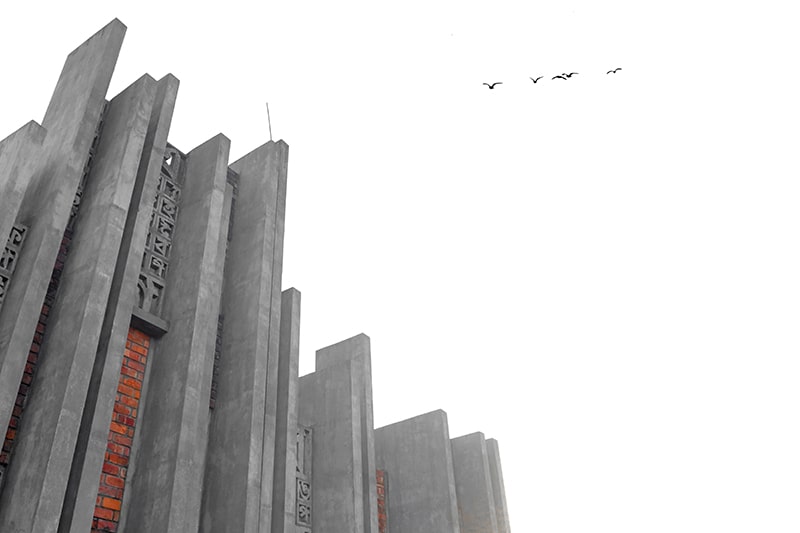 The Architect's profile:
Rajon Das received his Architectural degree from Bangladesh University of Engineering and Technology and also serves as an Associate Professor currently. He is usually more interested in smaller projects as he believes, that resembles the western lifestyle and compromises the space of art. He likes working on small projects to remain true to his reality and not get commercialized. Rajon Das is trying to reestablish vernacular features and integrate socio-cultural architecture types of Sylhet region, the north-eastern part of Bangladesh. The low-cost attitude and local microclimate inspired him to use pitch roof as a major structural element in residential projects. He received an award at ICE-Today Aqua Paint Interior Design Award 2009 in Restaurant Category. Some of his prominent works include; Sylhet Club  Ltd. at Boroshola, Sylhet, Woondaal, a restaurant at Sylhet, 'Liberation War Monument' at Government College, Sylhet, multiple residences and also, Academic Building of Faculty of Agriculture Engineering at Sylhet Agricultural University.