The high-rise commercial building Skymark at Gulshan Avenue seeks a dialogue and symbiosis with the street and the city. It conveys a new concept of the urban pattern by reactivating the area through people's participation and providing a new space for modern commercial activities. The project is developed by Shanta Holdings Ltd and designed by architect Ehsan Khan.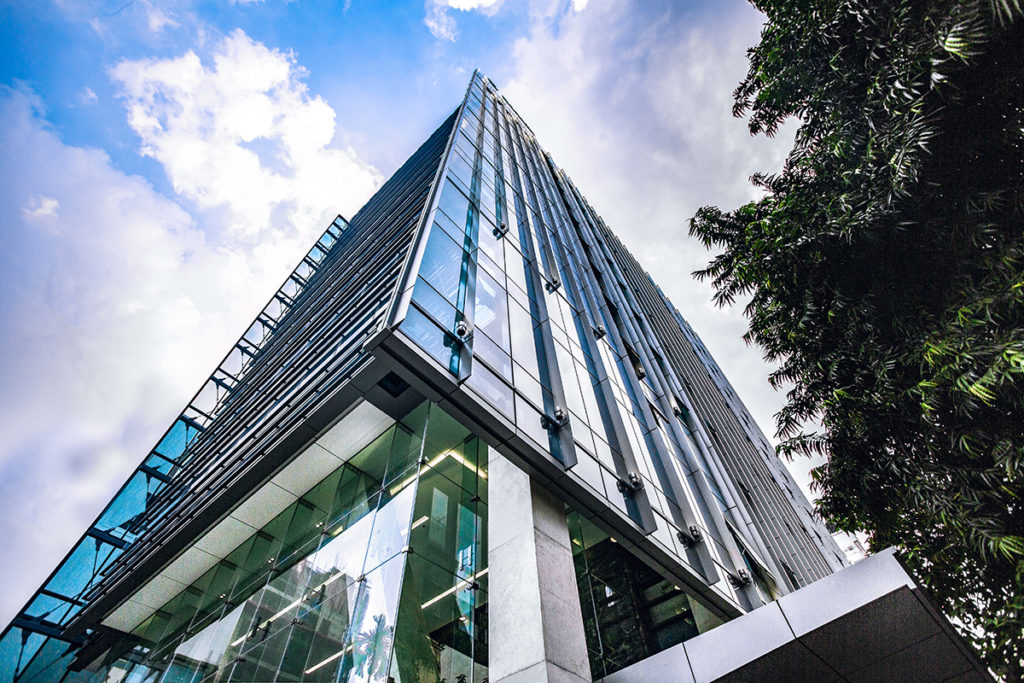 The high-end building on a land area of 26.6 kathas, undertakes office and commercial functions. The facades of the building are wrapped in double-glazed low-e glass, allowing plenty of natural light to spill into the interior and maximizing the view of the vibrant cityscape, while also minimizing heat gain.Skymark is the first building in the country with a fully unitized curtain wall system,which allows higher durability and strength, as well as energy efficiency with heat resistance, water-proofing and dust proofing benefits. Thus, providing a higher quality internal office environment for tenants. The facades are further endowed with elegant metal fins which complement it, adding an elaborate shadow relation and subdues the shine of the glass.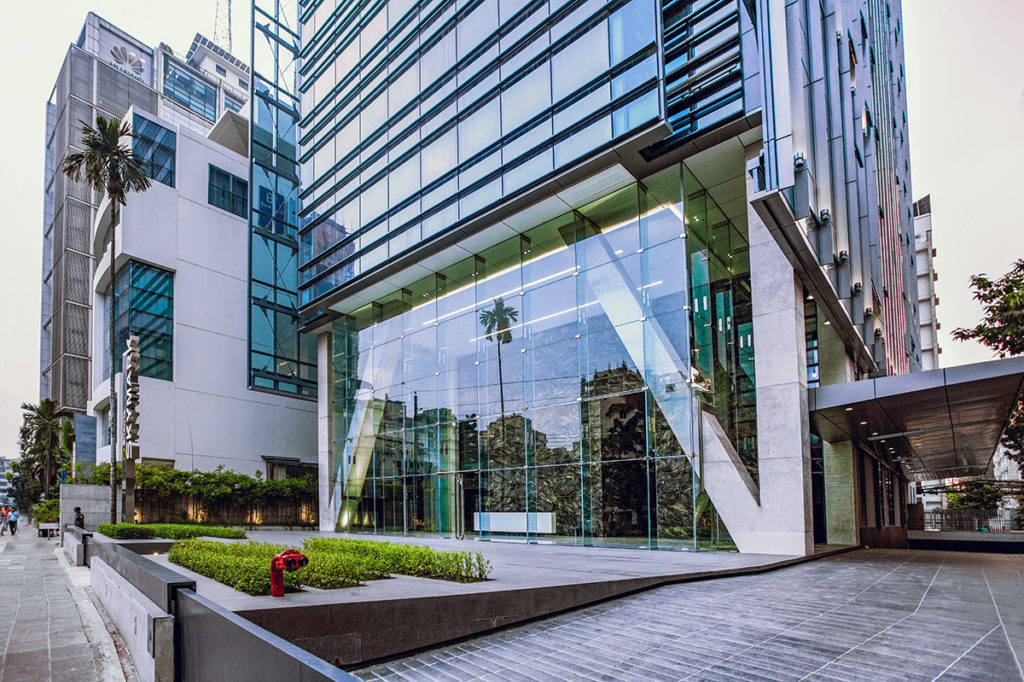 At the same time, the matte texture of the material itself is very aesthetic, and the glass curtain wall forms a contrast between reality and imagination, enhancing the visual impact and artistic expression. The building is equipped with other advanced features that include high-speed elevators with access control, Building Automation System (BAS), two fire-stairs with UL certified2-hours fire rated doors, central HVAC system with water-cooled chiller, LED lighting throughout the project for energy savings, state-of-the-art fire-fighting and smoke detection system, and four layers of basement parking with automated mechanical ventilation system.
The offices are designed in an open-floor concept, with minimal columns for greater interior design flexibility. "Not sticking to typically confined workstations, we went for an open-floor concept with minimal structural columns that brings more flexibility and allows alternation of functional arrangements according to the specific needs of the tenants over time," explains architect Ehsan Khan, principal architect of the firm EK Architects.
The layout includes a couple of nooks and break-areas – all fostering social interaction and productivity.The common area interiors are designed using a range of organic materials. "Organic aesthetics of the materials are gratifying to the senses. The bare natural materials implemented in this project are meant to stimulate the senses once one enters the space," conveys architect Ehsan. "The office goers and visitors are welcomed by the 38 feet high grand reception area which is covered in a beautiful natural stone with a unique leather finish. Common areas are designed with rather coarse materials that include wooden details and rustic concrete structures".
From the architect, a good material for people is sought through human experience and how this positive experience manifests itself physiologically and psychologically is important to consider.
From the commercial offices to the incoming traffic, the building is no longer a single framed function but tends to be a diversified site.The property terrain is not confined with any high boundary wall sand instead connects to the pedestrian passage. "We decided to introduce new possibilities to integrate the whole area and make it 'a place of experience without gates' so that asocial space can be offered," affirms architect Ehsan. Besides, the complex's front plaza sheathed with splendid landscaping encourages people to stay, talk and stimulates their senses; overall promoting a strong relationship between the people,the building, and the city. In essence, signifying Skymark as anew standard of modern commercial development, with features that are beneficial not only to its users but adds value to our ever-changing cityscape.
Architect Profile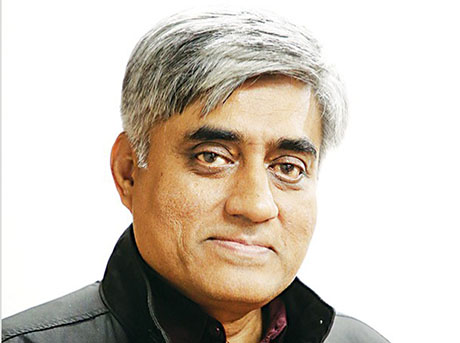 Ehsan Khan completed his bachelor of architecture from Bangladesh University of Engineering and Technology. His notable works include Mausoleum of the founder of Bangladesh Sheikh Mujibur Rahman at Gopalgonj and NishorgoOirabot Nature Interpretation Centre for which he was nominated for Aga Khan Award for Architecture in 2010. Khan believes 'one has to be a good human being, to be a good architect'. He strengthens issues on human-consumption, human interference with nature, ecology, biodiversity, and urges citizens to be responsible and sensitive toward these so that we present a better and safer world for the next generations.
Developer Profile
Shanta Holdings Ltd. is a leading real estate developer of Bangladesh, developing iconic residential and commercial buildings in prime locations of Dhaka city. Shanta's works are renowned for their aesthetic beauty, modern lifestyle amenities, safety, functionality and high-quality construction. Some of its notable projects are Shanta Western Tower, The Glass House, Skymark, Digonto and The Vantage. Shanta is also the only Superbrand 2018-19 in the real estate sector of the country, signifying its brand position and solid reputation in the market.