Despite having a rich history and a kaleidoscopic cultural landscape, Dhaka remains an underrepresented theme in the visual art scene. Capturing the spirit and mood of the vibrant urban life, Dhaka Yeah's illustrations pulsate with colour and character. So as to reintroduce Dhaka to the world, the artworks evoke a dash of nostalgia for the old and a glimmer of optimism for the new. Showcase finds out about its artistic explorations and future endeavours.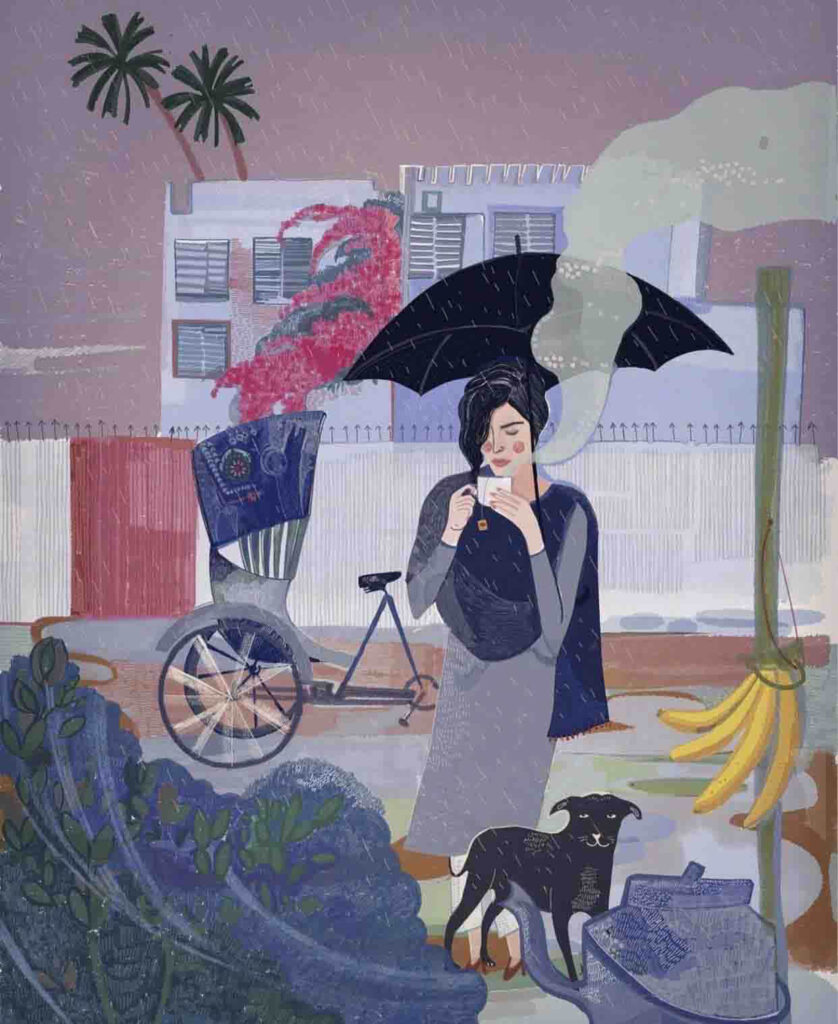 Dhaka Yeah operates as an anonymous entity. What is the reason behind it?
The whole clandestineness actually helps to bring out the essence of Dhaka. Since it is not attached to a certain gender, group or an individual, it really helps to portray Dhaka in an undistorted manner, just bringing out the city and its people without the shadow of a personality. In the end, of the day it's all about the city and Dhaka Yeah has to make sure it stays that way.
What are the themes that Dhaka Yeah pursues?
Art is perceived in many different ways by people in different stages of life and in different scenarios. This association with a particular kind of art perhaps does not apply to Dhaka Yeah because there are too many influences at play and sometimes the influences come from beyond the realm of visual arts. Wouldn't really say there is a specific theme being pursued because Dhaka Yeah sees itself mostly as an observer than an explorer. However, in terms of a broad generalization, the themes are about the lighter side of life.
Was choosing Dhaka as your subject focus a conscious decision? The contents or the theme definitely has its roots embedded in deep love and emotions for Dhaka and its ever-changing culture. Dhaka, having an illustrious history and a booming cultural landscape has somehow been neglected over the past few decades by visual artists, especially the new part of the town. If compared with cultural capitals of the world like New York and London, Dhaka has developed a very unique space for itself in the minds of its residents but sadly the city doesn't feel very represented or documented at least on a global scale as much as it deserves. DhakaYeah really wants to represent the city and its stories to the world and this urge to showcase it to the world acts as a huge inspiration.
Which artist's work do you love the most, and take inspiration from?
There are so many really, especially in the world of contemporary illustrations. Lebanese illustrator Nour Flayhan, Canadian illustrator Natalie Czerwinski and Julia Iredale and Hong Kong based artist Victo Ngai have been the biggest inspiration and their work has deeply influenced everything DhakaYeah does. Mostofa Monowar definitely played a key role in the process of inspiring; this person single-handedly inspired a generation of aspiring artists in this country with his television programme "Moner Kotha".
Can you share with us a story behind one of your significant works that you would cherish lifelong?
The name of the artwork is "Runaway Bride" and it depicts a girl in a colourful wedding dress getting out of one those old Bedford Trucks. As the name suggests, this is actually based on a real-life person who had to run away on the day of her wedding. She didn't run away with a real-life truck but a CNG, but a little bit of creative liberty doesn't hurt really. She is a real-life inspiration and the amount of courage someone needs to walk out on the day of the wedding is really commendable.
In the wake of the Covid-19 outbreak, there has been sweeping changes in the art scene. What is your opinion about it?
Pandemic has really hit the economy hard and since art is not considered to be a part of the necessity goods industry it will definitely take a hit. But the question that needs to be answered is if this industry was in any way in better shape before the pandemic? It definitely was not. You should not compare the current state of the art industry with 1970s and say it's in better shape. You have to compare it with other contemporary industries and then make a comparison. Bangladesh is losing more craftsmen and artisans every year than ever because there is not enough market demand. The reason for that is a "branding" crisis which is really the main reason behind the decline; you would see people stuffing their apartments with decoration pieces from Thailand, India and China. A handful of stores are selling products made by Bangladeshi artisans and there is not enough variety, to begin with. The government along with private institutions will have to come together to educate Bangladeshis about the importance of owning arts and crafts created by Bangladeshis from a very early age so that people start to care about preserving cultural heritage. If people do not know enough about an art form, the artists or the culture, how can we expect people to preserve it and invest in it? On the other hand, artisans and craftsmen should be incentivized monetarily or by other means so they do not abandon the profession and given better training and education so they can improve their skills. The same problem of not enough demand exists in every form of art and in the entire industry and sadly it's not because there is a shortage of talent.
What kind of work are you currently occupied with? Professionally, what are your plans?
Dhaka Yeah is busy producing original work for the Instagram page and commissioned illustrations for individual clients and corporations mostly based out of Bangladesh.
On the other hand, Dhaka Yeah just launched its very own e-commerce print store for the international audience (www.dhakayeah.com) which will allow people to get hold of their desired Dhaka Yeah illustrations in various sizes and premium quality papers which will be printed and shipped from Spain and the United States. On the other hand, Dhaka Yeah has been working on opening an e-commerce platform for the up and coming Bangladeshi artists and illustrators to sell their art prints to a wider audience. The website is in a state of near completion and this will definitely give a little bit of edge and inspiration to a lot of aspiring artists. Many other plans are in the pipeline and perhaps will be able to discuss it in the future in a different interview.