Saria Saguaro, popularly known by her alias Pretty Sh.tty Art, is a visual pop artist whose oeuvre consists of almost every specimen of pop culture from music to political figures to socio-behavioral patterns. A student of Journalism and a connoisseur of the culinary arts, she went to Le Corden Bleu and is currently running a pastry shop called The Flourist.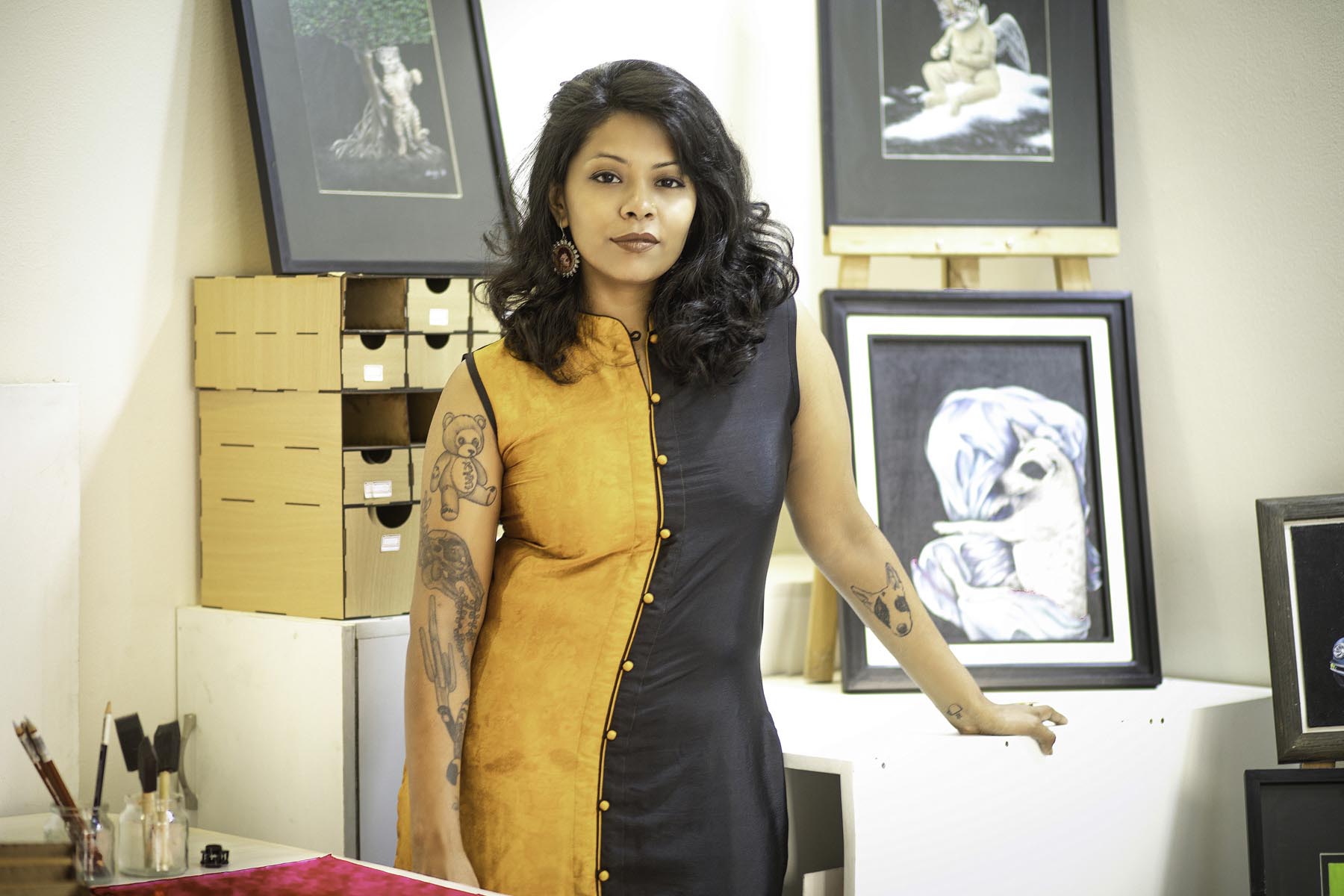 Entering the quaint café engineering the clever pun as its name, one is immediately charmed by the cozy yet somewhat quirky interior décor and the wafting aroma of baked goodies. Besides the delightful display of delicious delicacies and the exquisite designs however, the focal subject of allure is certainly the array of vibrant artworks adorning the walls of the place. The artist, sporting a lovely bob and jovial smile and having a brush in one hand and a candy thermometer on the other can positively be seen as someone breaking barriers. "I always really liked painting. I always thought I'd grown up to be a painter, or pursue it. But for around a ten year period in the middle, since I was seventeen to twenty seven, I didn't paint at all. But I feel like, it's not really unfortunate. When I came back, my perspective, what visual is what art could be, what pop culture is completely changed. Different kind of exposure helped. I forgot all the rules. The art teacher that I had was really good. The rules they taught us built the basis. I had an easier time breaking them / experimenting with them."
Sagurao's vibrant pieces are wrought through and through with political commentary. Instead of harboring a voice of solemnity, despair or idealism though – she chooses to paint her canvas with dark humor, exercising an acerbic tone and seasoning it with low-brow themes which exists to surprise and stir quizzical looks amidst its observers. "I have a painting, if you remember – when they wanted to remove the lady justice sculpture from the high court, on it. There was so much outrage about the removal. I thought that was funny." The images are filled to the brim with explosions of acrylic paint, sometimes to one's great surprise and amusement, consists of nostalgic placements of childhood goodies.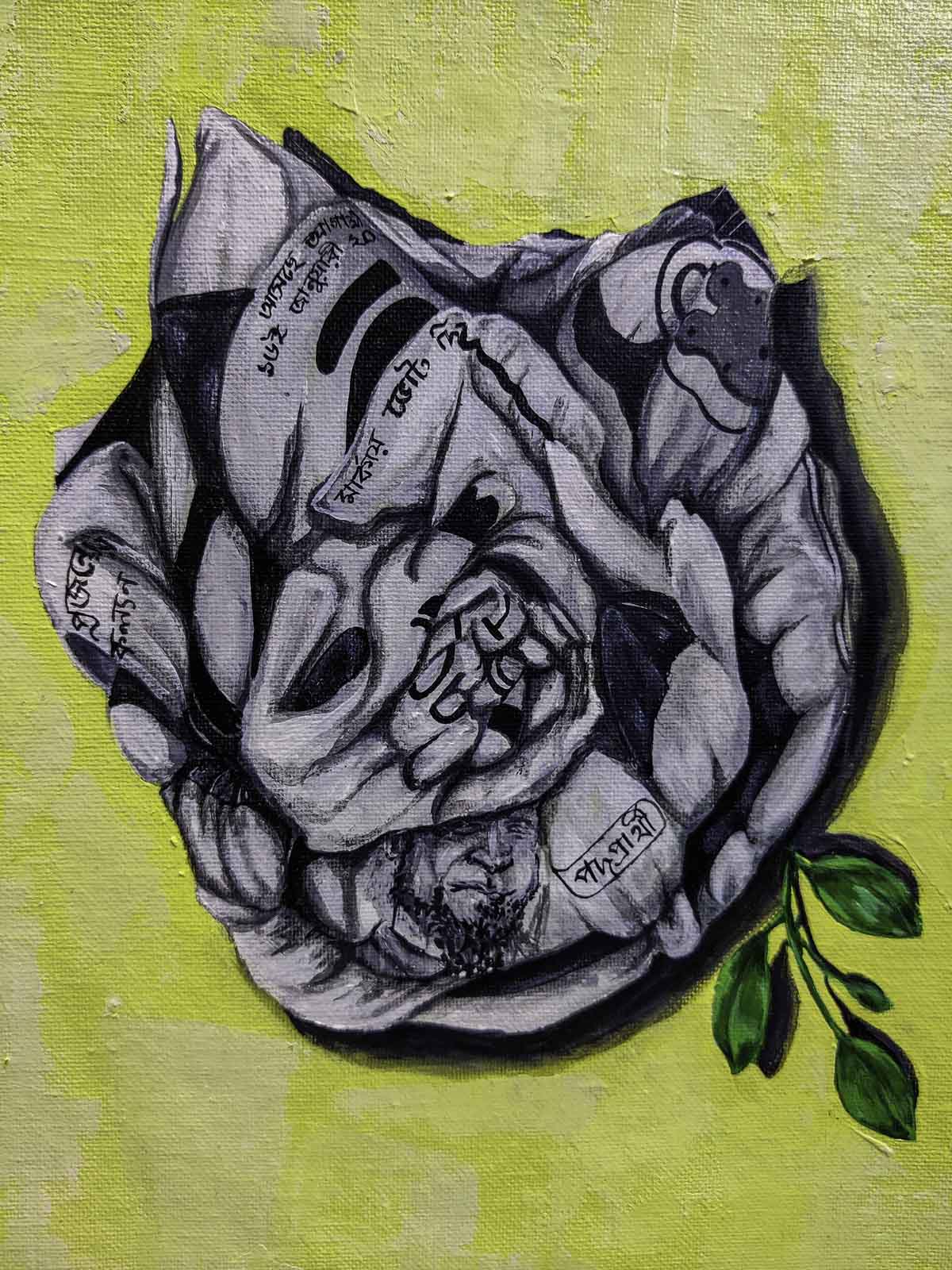 Imitation of the neon anecdotes of advertisements dripped in Warholian influence are also evidently present; being concomitantly hilarious and somewhat sinister.
What gives the Sagurao tag on these pop sagas is however, the essence of the local; be it in the bright lime "potato crackers" packet strewn in one of her composition featuring an "oh so blue" boy, or within the tangy layers of tinned mangoes superimposed with caricatures of glorified political figurines.
In conversations regarding politics, a huge number of Sagurao's works revolve around her pet dog Pookie. "Pookie is my dog and my ultimate muse. She changed my life from the moment I knew her, taught me a lot about myself and through her I got to realize that I would like to start some sort of a charity project." Animals are a recurrent motif in Sagurao's works, somehow simultaneously sticking to that vision of unblemished innocence we relate with helpless beings yet somehow being crafted with a pen which bites and is aware beyond belief.
While talking about the general makings of a day in the life and methods of inspirations and aspirations, we learn how Sagurao is a morning person, absolutely loves her dose of daily caffeine and has a rather curious manner of calling out for motivation. "I have this thing where I put on my earphone and listen to music and walk around in circles and think about the whole day. I piece the whole day and that's kind of the process how I enter the zone. After this, I think about the issues, somethings that have been on my mind, the things that I come across, the ideas, things that are affecting me. Afterwards, things just formulate. Then I visualize – what do I see, what colors are working, what palette to use. I used to do this thing since I was a child where I would sit in the room, listen to music and think. My mum would mistake it for an outrage for locking myself in a room. But I would just work on. That's where all of my ideas come," Sagurao shares a snippet of her art making tale with us.
Everything starting from the club footed marble stool and the white curtains; from the bright orange cushions to the emblem of the roaring tiger on her newest fashion life; from the remarkably intricate patterns on her flamboyant cakes to her cheeky postmodernist lens in art, exudes a sense of powerful versatility and true artistic potential.
Quick Word
A Person who inspires you the most – Rubaiya Ahmad, the founder of Obhoyaronno.
Favorite piece of art? – It's hard to name favorite artists, but pieces are harder. Maybe one of René Magritte's.

Your forever muse – Pookie, my dog. She's a rescue, so when she came into my life, everything changed.
When are you at your most creative self? – In the morning, after having a cup of coffee.

Artist/Artists you envy? Shevi, Aleya Kamal and Abir Khalid.

Music you unwind to – Queens of the Stone Age or Frank Ocean.