Art, a form of meditation for Abdullah Al Bashir, has been a companion for the printmaker ever since his memory serves. Bashir completed his undergraduate degree and masters from Faculty of Fine Arts at Dhaka University in printmaking. He went on to get a second master's degree from Yunnan University in China.
Growing up in Satkhira, Abdullah Al Bashir found solace in art when his brother left for college. He states, "You could say I spent a lot of time by myself when I was younger. My older brother went to cadet college, so I became alone. I used to paint a lot by myself. I think that's where my fascination towards art began.
Through experimentation and experience the artist discovered the nuances in artistic mediums, however he has come to develop a strong inclination towards wood cuts.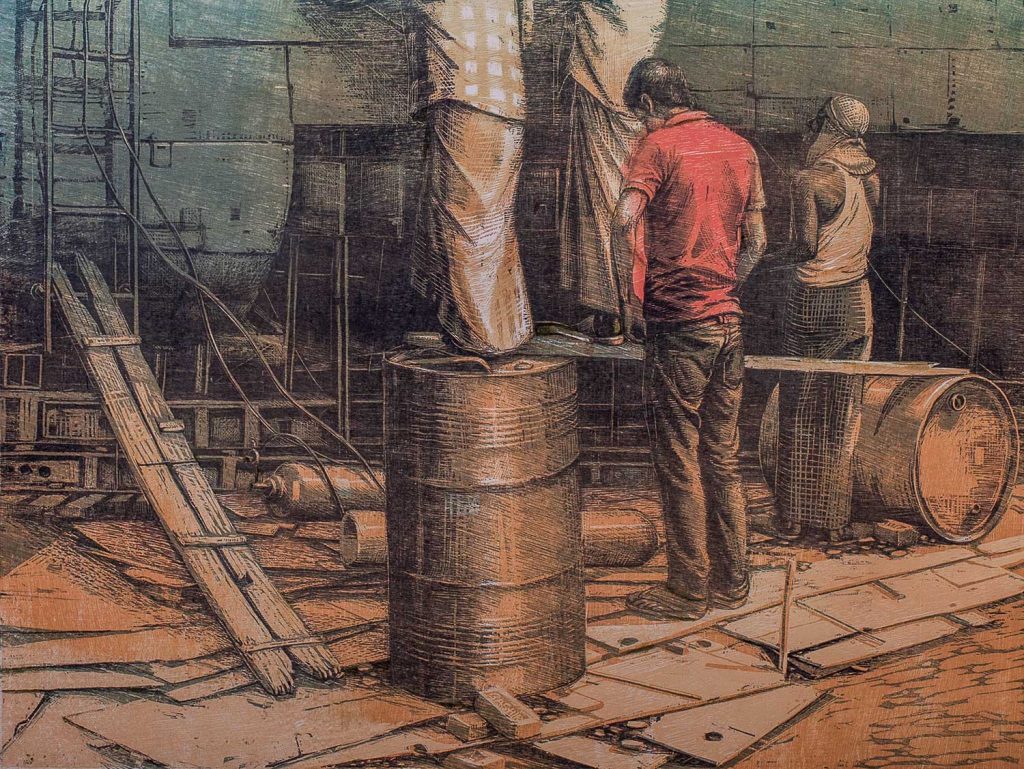 Abdullah Al Bashir's solo exhibition at La Galerie, Alliance Française de Dhaka (AFD) was titled "Evolution" showcasing the oldest form of printmaking, woodcut on paper. The artist notes, "before I first joined Charukola, I assumed that there would be a focus on painting and watercolour. It was later that I found out they have eight departments that focus on various mediums. Through experimentation I realized that I was good at printmaking, so I made it my focus. But I quite enjoyed it. I was particularly fond of wood cut prints, so I continued with that. My recent work was also on wood cuts. My Masters in China is also on wood cuts."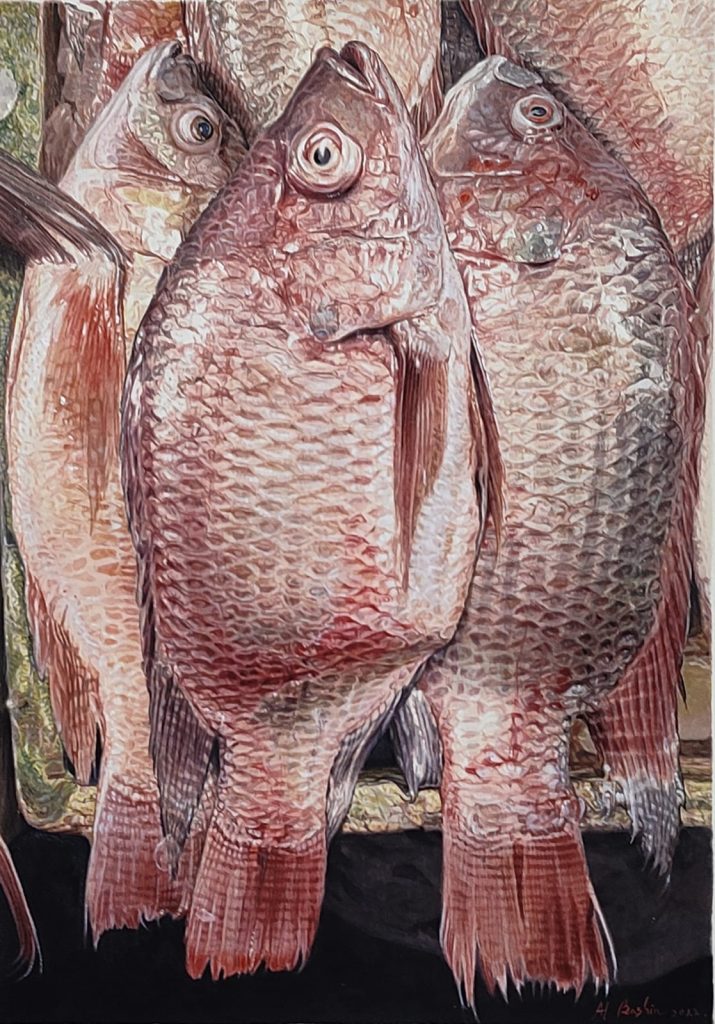 During his time in China, the printmaker faced a period where he was unable to work with woodcuts due to a lack of space. Bashir shares a sort of frustration that built up as he was unable to pursue the form he was there to study. He states, "I turned to watercolour during that period. I questioned myself, what am I doing, what is my purpose? There was a sense of uncertainty. I saw a shift in my watercolour during that period. When I was finally able to work with woodcuts again, I saw a shift in my method there as well. I saw the beginnings of realism."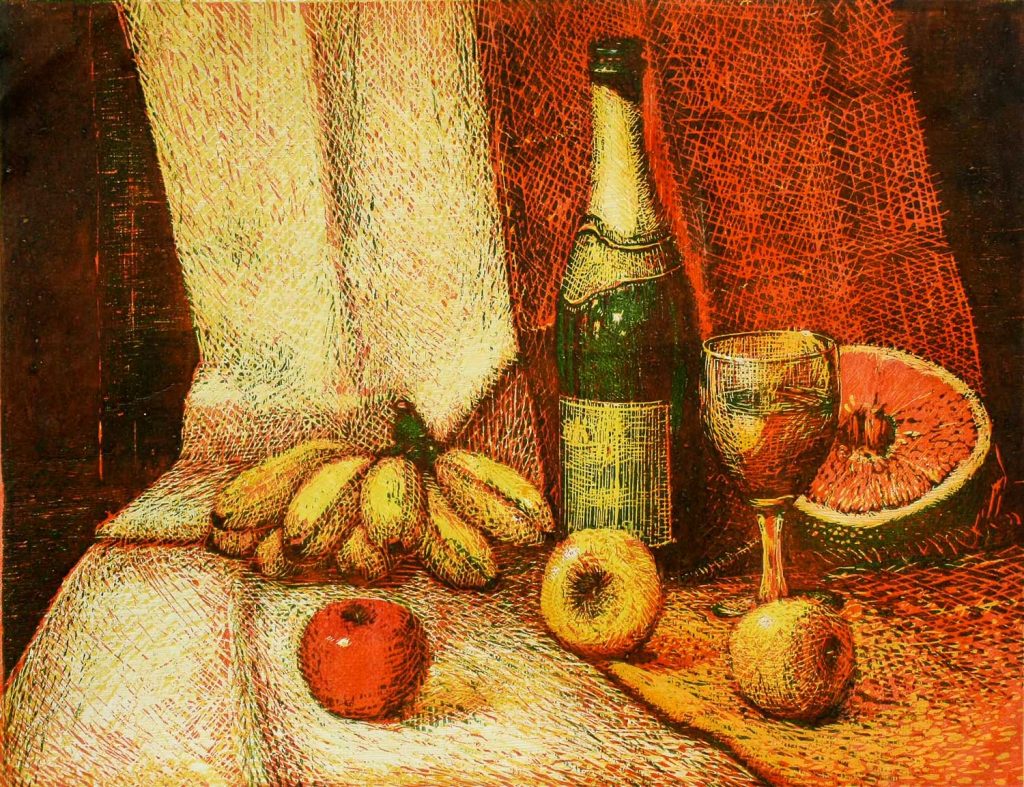 Describing his influences for "Evolution", Abdullah Al Bashir shares his philosophy, "Where I lived growing up in Khulna, Sheikhpara had an iron workshop nearby. I used to observe how they would mould and deconstruct ships. When I came to Dhaka, I noticed a similar pattern of breaking and renewal. When a shipwreck goes to a factory to be remade, it goes through a long process and every piece has its own history. These wrecks, having made numerous voyages, come to this stage. It has returned many passengers to their rightful paths, you could say it provided guidance."
He has an assigned role for each medium, "I turn to watercolour as a form of meditation. When I wake up, everyday I exercise and meditate, then I take an hour or so to work with watercolour. In 2005 when I joined Charukola, I wanted to see if there was something different I could do with watercolour. I wanted to do hyperrealism. I've done photorealism with watercolour, and I am slowly moving towards hyperrealism. I was initially confused. The internet facilities that students nowadays have at their fingertips is not a thing in our time. I began my path into watercolour in black and white. After years of practice, I have a grasp on colours in the medium as well."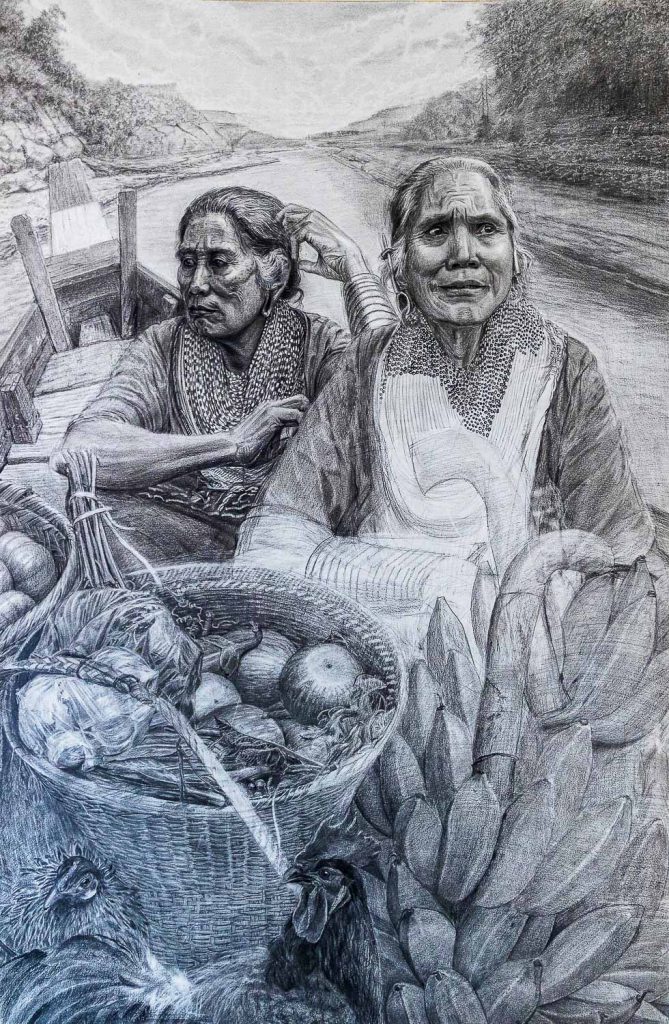 During his time in China, Al Bashir was heavily influenced by a master artist's work and an african catalogue, noting, "the watercolour was not photorealistic, it was hyperrealistic. I was mostly intrigued by how the small details are the main focus in this concept." Abdullah Al Bashir shares that he is currently working on a charcoal series, "The series is based on the working class of people, their scars, the signs of years of hard work visible on their bodies. Through my photorealism, I aim to highlight the things the naked eye may pass by. We are quite impatient in our everyday lives, which I don't blame anyone for. Life in Dhaka is fast paced, we have an attention deficit that is reflected in the time we don't have. I believe that there is nothing more satisfying than paying attention to the smallest details of life. I try to encapsulate that feeling in my work, so when someone is a viewer, they too are able to focus on the details that they may have initially missed in their lives."