Fantasy art is a genre of art which portrays non-realistic, mystical, mythical or folkloric subjects or events and style, which is representational and naturalistic, rather than abstract. Artist Rafid Rahim is largely confined with this genre of art and his artworks are deeply inspired by cartoons such as Star Wars, Jurassic Park, etc.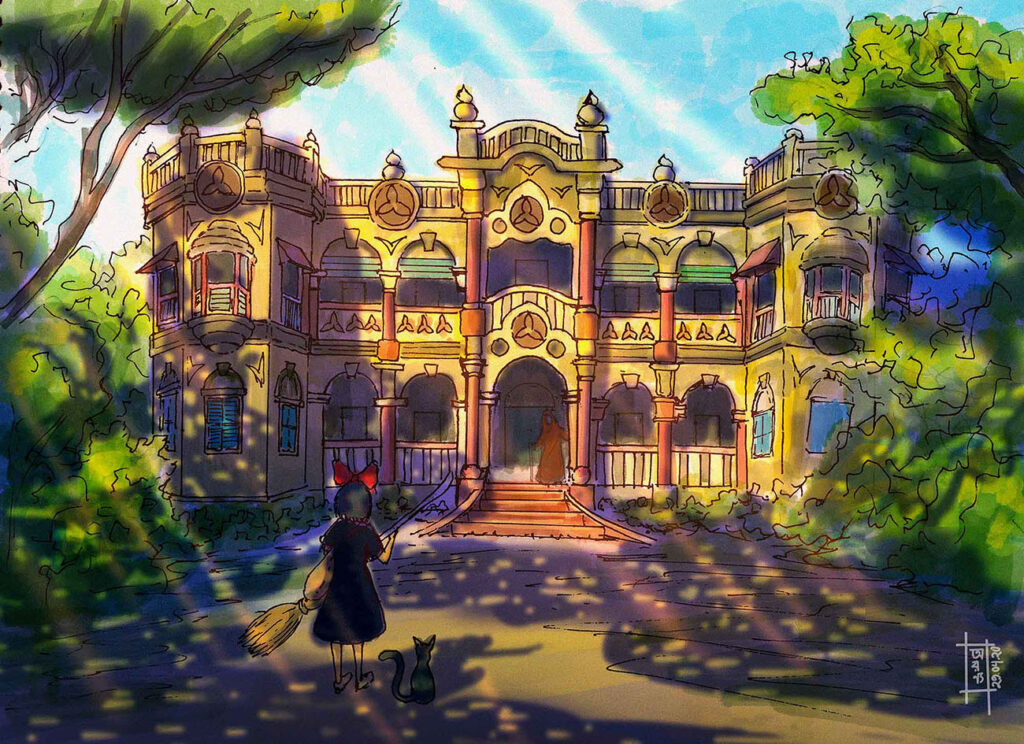 Please tell us in brief about your background
I grew up within the urban jungle of Dhaka city where you never get to see the horizon because of the buildings. I got my admission at Shahjalal University of Science and Technology, Sylhet, at the Department of Architecture. Currently, I am in my fourth year of architectural studies. 
How did you start your artworks and what initiated you in this field?
My Father is an alumnus of the Fine Art Institute, Sculpture department. As a result, I had a very art-friendly environment in my home. I was encouraged to draw whatever came in my mind. I was deeply inspired by cartoons like Star Wars, Jurassic Park etc. and I aspired to create my fantasy world ever since then. 
What kind of art do you most identify with? What themes do you pursue?
I mostly draw concept art that tells a story. I try to draw art that can spark fantasy in human minds just like how Star Wars did to my childhood mind. Themes like Cyberpunk, Space operas, Art Nouveau, Impressionism, etc. really intrigues me and I try to follow their theme in my drawings. Recently, I have been trying to integrate our local context into my drawings too. 
What inspired you to develop this specific style or theme of art?
The rise of Cyberpunk culture inspired my Cyberpunk style, especially from the game Cyberpunk 2017. I am also inspired by Star Wars, War vehicles, Anime and so on. The elements of Bengali culture also inspire me and I have been trying digital Potchitra art now on. 
Which medium do you prefer the most?
I mostly use digital medium, even though I can paint in watercolour and acrylic media as well. Digital media gives me the maximum freedom where I can erase any mistakes I make and use an unlimited variety of different tools to achieve remarkable results easily.
What is the most important artist tool for you? Is there something you can't live without in your studio?
To me, the most important artist tool is a pencil. If you are good at drawing with a pencil, you can translate that skill into any other media. It is also important to learn the major art principles like lines, forms, light and shadow, composition, colour dynamics etc. to make a good painting. 
Who is your favourite artist or is there someone you look up to in the world of art?
My favourite artist would be Hayao Miyazaki, who is also an animator, director and founder of Ghilbi Studios. He does all character designing, storyboarding and sometimes even some backgrounds of his movies. His work sparks fantasy in everyone's mind, a skill which I hope to achieve someday. I also enjoy the works of classical painters. Among them, Gustav Klimt is my favourite. As for modern artists, I love the works of James Gurney, Karl Kopinski, Zeen Chin, Ilya Kuvshinov, Liosh, Iain McCaig, Bobby Chiu and countless others. I am also inspired by works of contemporary Bangladeshi artists like Mehedi Haque and Asifur Rahman. 
Can you share with us a story behind one of your significant works that you would cherish lifelong?
I prefer not getting attached to any of my works as I am always trying to improve my artworks. Immediately after uploading a drawing, I notice the mistakes done and I wonder how I made such silly mistakes. However, my series of drawings called Archilife is based on my own experience as an architecture student and those drawings are self-explanatory. 
Tell us about your plans regarding the field of art?
As currently, I am an architecture student, my priority is to graduate. Besides, I would like to continue making paintings, publishing art books, and comics and so on. It may sound crazy but I believe I can manage multiple works efficiently. I also want to make animated movies like the Miyazaki, if it is somehow possible. If I get the opportunity to work as a concept artist in a big project, I will certainly go for it. After all, I want to create my fantasy world which would inspire fiction and fantasy lovers.