Growing up with sketch pads as toys, it is not a wonder that Maisha Tahsin's life's journey has brought her closer to art. Born in Nilphamari district, Tahsin however, spent most of her childhood at Sylhet as her father was a government officer stationed at the tea plantation capital of the country. Currently pursuing her bachelors in architecture, she has called her passion for art as a means to "nourish my soul, keep it alive and happy."
"My childhood dream had always been to become an architect. I'm studying architecture, yes but art is my source of strength. But nowadays I see a slow transition into becoming a part time professional artist. I cover a lot of events as a caricature artist." She reminisced about coming back from school, rushing to her table scattered with her colours. "My father and my mother were both very supportive of my hobby, always getting me supplies whenever I asked. I however have always perceived babu, my younger sister, as a pillar of unwavering support in my life. I've never had any institutionalized training for art, I am completely self-taught. I believe the constant backing in my life as time went on allowed me to continue to keep painting with all my heart, and practice this craft."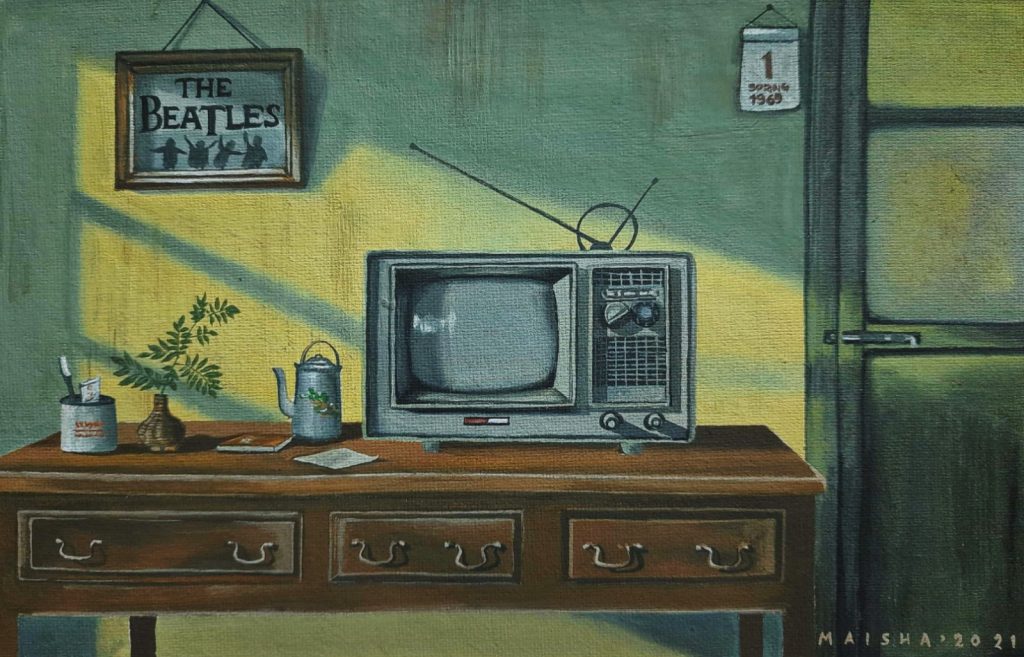 Not following any specific themes, the self-taught artist's portfolio ranged from paintings of objects, sceneries to the day to day life of the common man. Street photographs, rural sites and cityscapes, traditional places, or eye soothing natural frames are mostly her subjects.
Touching upon one of her works, "A Morning", where there is a cup of tea on a newspaper with biscuits & a defocused spectacles. In this painting, the artist created an aesthetic vibe using the regular morning things from the lives of our country people. She states, "our mornings usually kick off with a cup of tea, biscuits and a newspaper. I've attempted to recreate that serenity in my work. Throughout my paintings, I have a common aim to create something that offers recluse, peace. I want my audience to find solace in my work." Maisha Tahsin's other noteworthy pieces titled "Peace of Knowledge" depicts the bustle and hustle of the Baitul Mukarram Book markets situated in Dhaka. The artist notes that the rush of people, the clustered arrangement of shops, is what draws the eye. However, what holds their gaze is the passion for knowledge and love for books that is evident the longer one looks.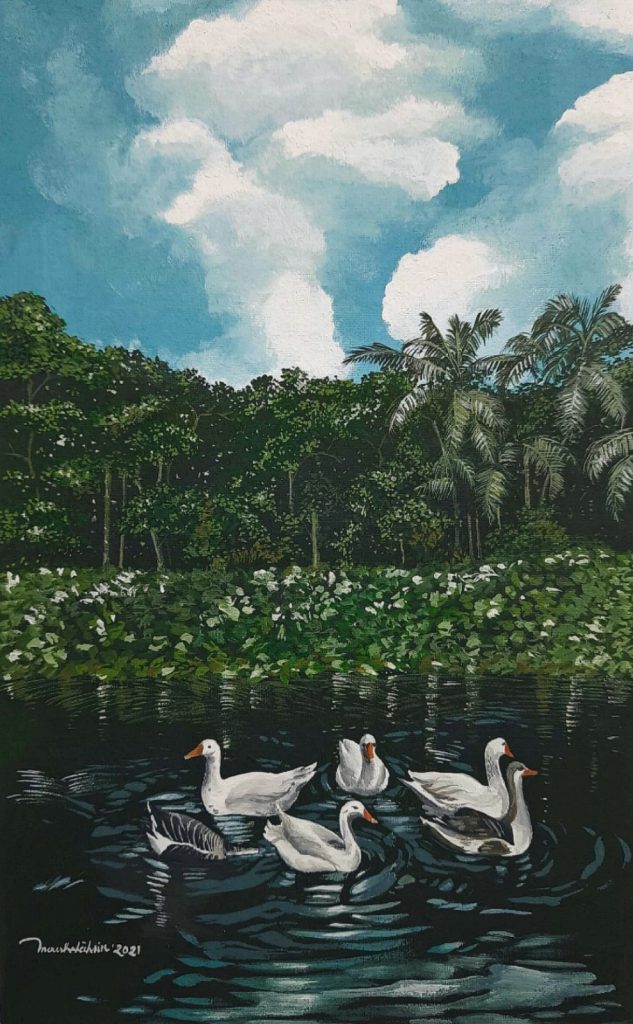 She states, "through the white Panjabis and kufi caps of merchants, I've merged 'noor' and knowledge together." She states, "I usually start my paintings using references, photographs. Whatever I create I usually opt for a non-conventionally colour palette, mostly mixing my own colours. I take a lot of time with my art and try to be extremely detail oriented. I believe that art is generally quite undervalued in society as of now. It is a niche, which not many people respect. I still get a lot of requests for 'free art' which is quite disheartening, and not reflective of the time, labour and creativity poured into it."
Tahsin views art as a poetic medium, often mesmerized at the endless opportunities presented through art. Noting that to achieve a distinct style, experimenting with different mediums and being patient with the outcome allows for growth.