Event
Abinta Gallery of Fine Arts is Hosting Exhibition 'Symphony of Rivers and Hills'
Abinta Gallery of Fine Arts is arranging an exhibition titled 'Symphony of Rivers and Hills' on October 15, at Gandhi Memorial Center, Western Avenue, Bethesda, Washington Dc, USA. The exhibition will showcase the artworks of two eminent Bangladeshi artists: artist Jamal Uddin Ahmed and artist Kanak Chanpa Chakma. The exhibition will be open to all till October 30. SHOWCASE Magazine is the proud magazine partner of the event.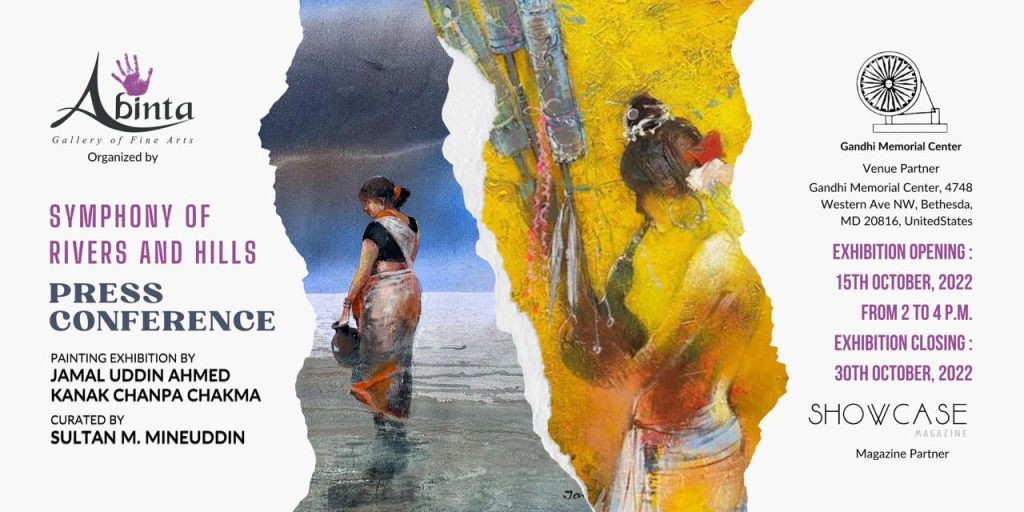 The exhibition is being organized and curated by Abinta Gallery of Fine arts, which is a part of Abinta Kabir Foundation, a not-for-profit entity in the memory of Abinta Kabir. The foundation was set up in 2017 to give free education to underprivileged girls in Bangladesh and now runs a school for them in Dhaka with 106 students with free tuition, uniform and lunch. The Foundation also provides a scholarship for meritorious students at Emory University in Atlanta, US.
Abinta Gallery of Fine Arts, originally started as Athena Gallery of Fine Arts in 2012 and was renamed Abinta Gallery of Fine Arts and became a part of Abinta Kabir Foundation in 2017. The exhibition is curated by art activist Sultan. M. Mineuddin. A total of 44 artworks will be exhibited; 22 artworks by Jamal Uddin Ahmed and 22 works by Kanak Chanpa Chakma. The mission of the exhibition is to create a platform for prominent artists to exhibit their brilliance on the international stage for international art lovers and also to create a bond between Bangladesh art enthusiasts and other country's art lovers.