Event
'Colors of Tradition' by Abdus Shakoor and Shambhu Acharya on View at Edge Gallery
Text by Jahanara Tariq
Colors of Tradition, an exhibition by the talented Abdus Shakoor and Shambhu Acharya started on 3rd April 2021 and will go on till the 21st of this month at Edge Gallery located in Gulshan-2.
Having a vision of tracing back to our roots embedded in folklore, this duet opus takes a voyage to our vibrant ancestries with its two-dimensional etchings and dips in primary shades – through the brush of two contemporary artists; seeming to become "a feast of poetic compositions".
Abdus Shakoor is a highly esteemed academic at the Faculty of Fine Arts, Dhaka University, receiving numerous awards for his work and is one of the country's most valued painters. Though originally recognized as an artist who has elements of modernism splattered across his canvas, Shakoor takes a shift from this vein and comes to a distinctly Bangla folk imagery, as is abundantly clear from the collection being exhibited at Edge.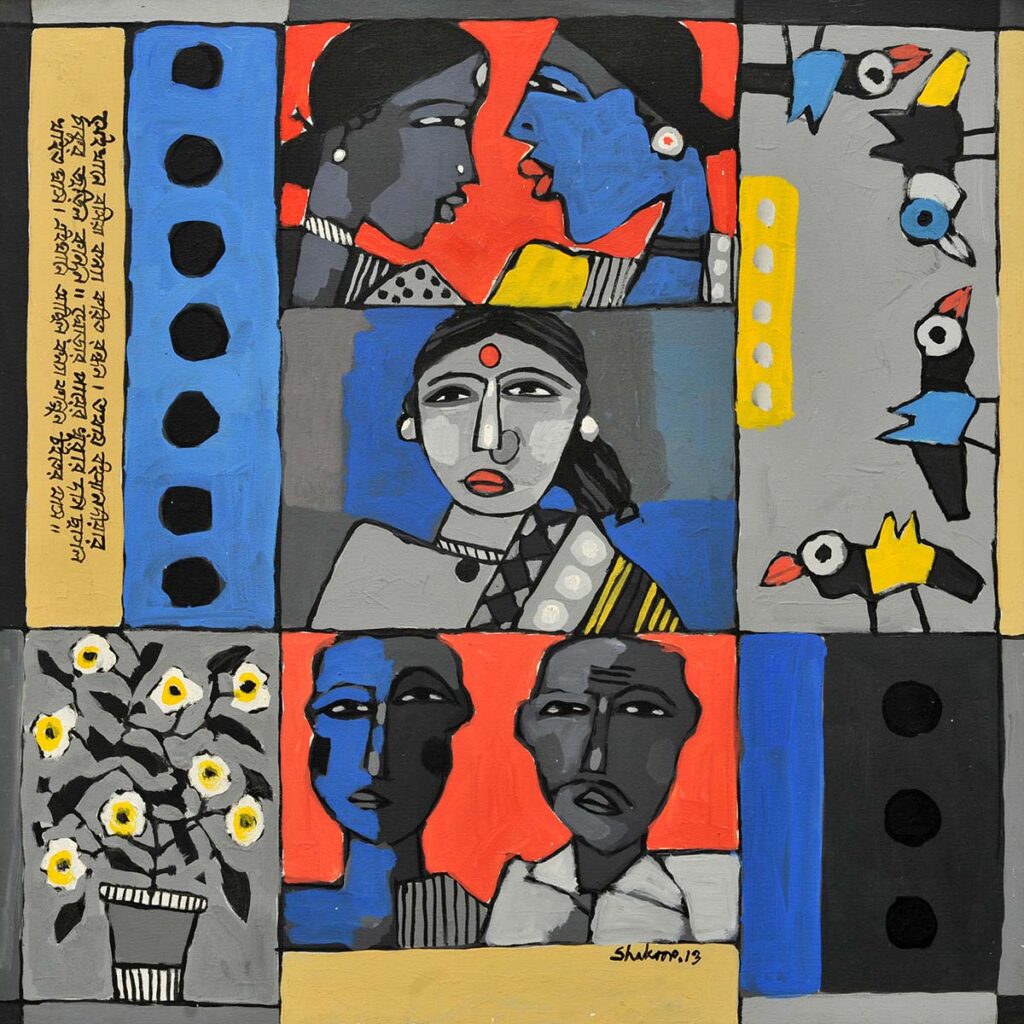 Shambhu Acharya on the contrary is an individual who is perhaps a living embodiment of folk art being in the profession of pata-painting through nine generations. From the boondocks of Mushiganj to the glitz of Splitz Gallery in London, Acharya has seen it all. A Patua or a painter of the Potchitra uses a brush made from goat bristles and uses only naturally produced materials. Blues, the rarest pigment in nature, come from indigo tree while the Reds come from betel leaves, burnt mud, or rust. Yellow tints are gathered from turmeric and white from chalk and white clay. This poetic process in and on itself is a love letter to nature. 
The traditional Potchitras done to excellence by Shambhu Acharya in unison with Shakoor's paintings create a sense of brilliant melody, complementing each other marvellously.
Colors of Tradition came to be synthesized with a very clear intention of celebrating the diverse shades of spring even amidst the chaos the worldwide pandemic has caused, after a year since its horrifying arrival. Ironically so, this joyous soiree was quite literally put to a halt due to the countrywide lockdown because of the soaring number of cases. However, it is possible to view the entire exhibition online on the official website of Bay's Edgewater, making it a possibility for art enthusiasts over the world to enjoy the taste of folk laced in gerua and saffron, from the comforts of their own homes.
Though we would like to believe that the collective discourse regarding art and aesthetics of a certain time is subjective and comes from a line of varied fancies and whimsies of each individual, art much like everything else is political in its mimicry and applaud of the edicts of the reigning elite. This case in point may be made in the case of Folk Art. Even though minimalism and monochromes; abstruse and abstract has entered our conversations about art, we have yet to fully recognize the inherent beauty and the proletariat voice imbued within the effervescent textures of folk imagery. Often deemed to be at an inferior standpoint of simpleton craftsmanship, folk art seldom takes precedence in dialogues occurring at the centre of cultural and political activities. Colors of Traditions was a defiant move at this philosophy of discarding that which belongs to one's own blood and ancestry. The folk art tradition has most remarkably been revived, by Abdus Shakoor and Shambhu Acharya. While both of them lure deeply on the numerous mythic, religious, literary and cultural tales and legends, each has carved out a unique place.