Owned by the family behind Emerald Restaurants, the Emerald Bakery began its journey with a small shop in Uttara back in 2018, initiated by a vision of the owner's mother, Shamima Rahman – a dream to step into the bakery business. Later, they relocated to a larger space inside the food mall of Chef's Table, Gulshan. In 2022, they finally decided to launch the venture as both a bakery and a cafe in an independent building located on the popular street of Banani 11. Since then, Emerald Bakery & Cafe, the new street-side cafe and bakery, has provided visitors with decent relief from the buzzing energy from its surroundings; meticulously designed by Inked Studios.
Emerald Restaurants is co-owned by Shamima Rahman, Aminur Rahman, Shaker Ibne Amin, Sabbir Ibne Amin, and Ayeman Ibne Amin. Shaker Ibne Amin, discovered this hidden gem of a location, which is one of the very few independent residences left that can be used for commercial purposes. It simply provided them with the prospect of running a small and cozy street-side venture rather than a tall concrete structure built of steel, glass, and concrete. Owing to this occasion, Emerald Bakery and Cafe underwent a comprehensive rebranding.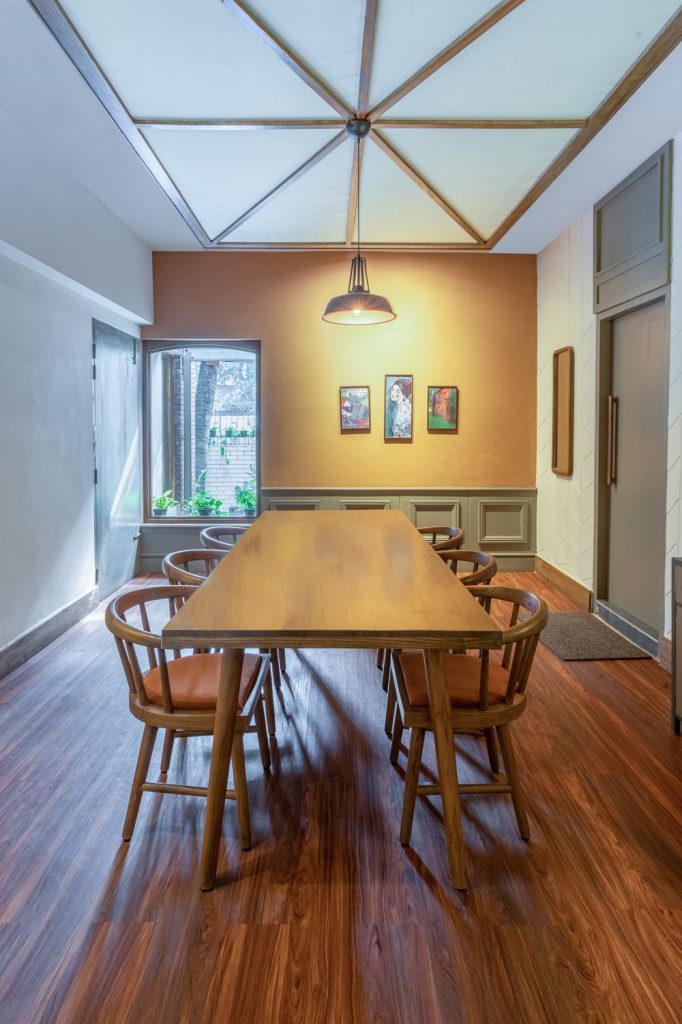 The concept of the interior design was focused on creating a cozy ambiance, followed by personalized patterns that were one-of-a-kind.
Prianka Ameen, the owner's wife, collaborated with their design firm, Inked Studios, to develop the idea of making patterns a core design value – "Bakery is a science where measurement is key, and patterns are very mathematical by nature." As perfectly made patterns would be too rigid and organized for the homely ambiance and décor, the designers decided to handcraft the patterns, where each motif is imperfectly exclusive. This concept drives the whole design process, from branding, and the menu to the overall architectural design. The play of light and shadow from the hand-drawn partitions reflects personalization and minimal design thinking. Patterns have been made on feature walls using rudimentary techniques. Blocks used for drawing patterns on the floor have been repurposed to create see-through panels that separate open spaces.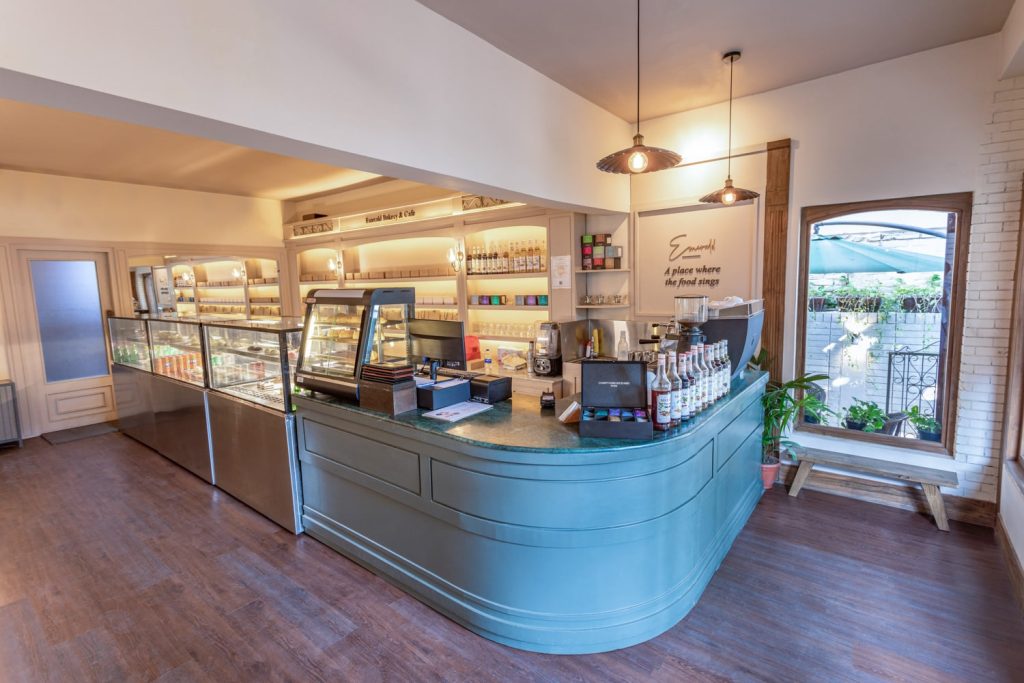 With custom-made furniture and sound barriers for reducing echo, they aimed to design a multipurpose cafe where one can work individually, plan office meetings, hang out with colleagues or friends, have family dinners, or just spend a lazy afternoon with a book. Soft emerald hues, subdued shades of grey and green, and accents of coffee colour make the space feel more inviting by bringing calmness to the eyes. Complementing the walls and interior décor, paintings of different sizes have been printed and framed in the café. The designers considered that, despite being well-known among art enthusiasts, female classic painters were much less recognized compared to their male contemporaries. Over half of the paintings here are by underappreciated female artists, namely Tamara de Lempicka, Irma Stern, Emily Carr, and Suzanne Valadon.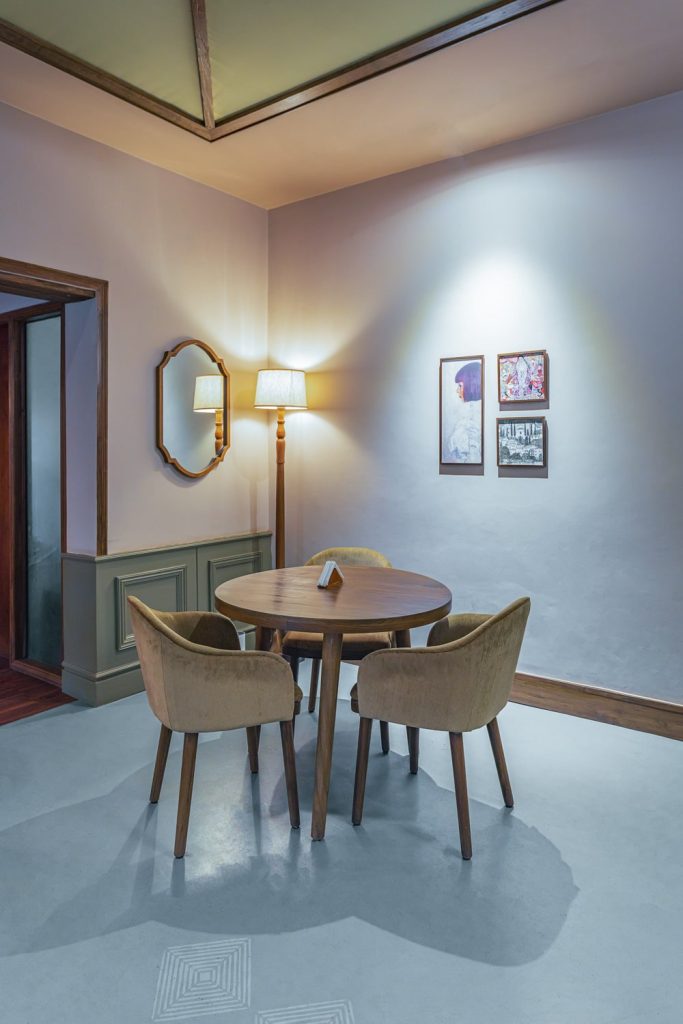 Designers who worked on this project include Zehra (anthropology and literature), Auhona and Navid (Architecture), Redwan (Hospitality Management and Client Servicing), Nashad (Art and Visual Design), Ayeman (Business Administration and Entrepreneurship), Sabbir (Mathematics and User-Centred Design) and Zara (Business Administration).
The minimal yet diverse menu was developed by their chefs in close collaboration with Ayeman and Prianka. Prianka was entrusted with creating a reinvented menu as the cafe business is competitive in the neighborhood, where they have successfully established The Grove Bistro, Gusto, and Trouvaille. "Studying European and North American cafes and bistros, we came up with our very own twist on a concise, healthy, and assorted menu. Our dishes reflect comfort and homeliness while strengthening the identity of being both a cafe and bakery," says one of the owners, Sabbir Amin.