This Segment is Sponsored by

Revisiting the Art Maestro
Mustafa Monwar
Mustafa Monwar, also known as the 'puppet man' had an immense contribution in fine arts for decades. Starting from puppetry during the Liberation war, his creativity stretches to almost all forms of art, including painting, performance, and sculpting. He has always been inspired by the natural beauty of the country, ever since his youth. Growing up in Monohorpur is what inspired his love for rural accents in his works.
Mustafa Monwar has lived to see many historical and monumental events unfold. He can still recall the war-ridden days of the Second World War and how he protested against the Pakistani leaders with his posters, which he made himself. He was even quite the singer, as he grew up listening to and being inspired by the wonderful music that Kazi Nazrul Islam and Rabindranath Tagore had made, at a very young age.
There is nothing that he hasn't done! He was the director-general of Shilpakala Academy and National Media Institute. Currently, he is the Chairman of the Bangladesh Shishu Academy.
His great passion for puppetry had him open his show called "Moner Kotha". "Parul", the character in his show was inspired by young female children and this caught UNICEF's attention; which then made him land a spot as an advisor for the animation "Meena". He is also known for his input to television, radio and his role as an educator. He has received many awards, national and international, such as Ekushey Padak and All India Fine Arts Competition. Mustafa Monwar is truly a jack of all trades. He celebrates creativity and plays a very vital role in all-time art history.
An Oriental Artist in Western World
Monirul Islam
According to internationally-acclaimed artist Monirul Islam, life is a canvas and an artist's job is to portray the various aspects and elements of life into it. Hence, he attempts to record his mental impressions in visual and tactile imagery, making his compositions both lyrical and resonant. His artworks leave a lasting impression and move its viewers.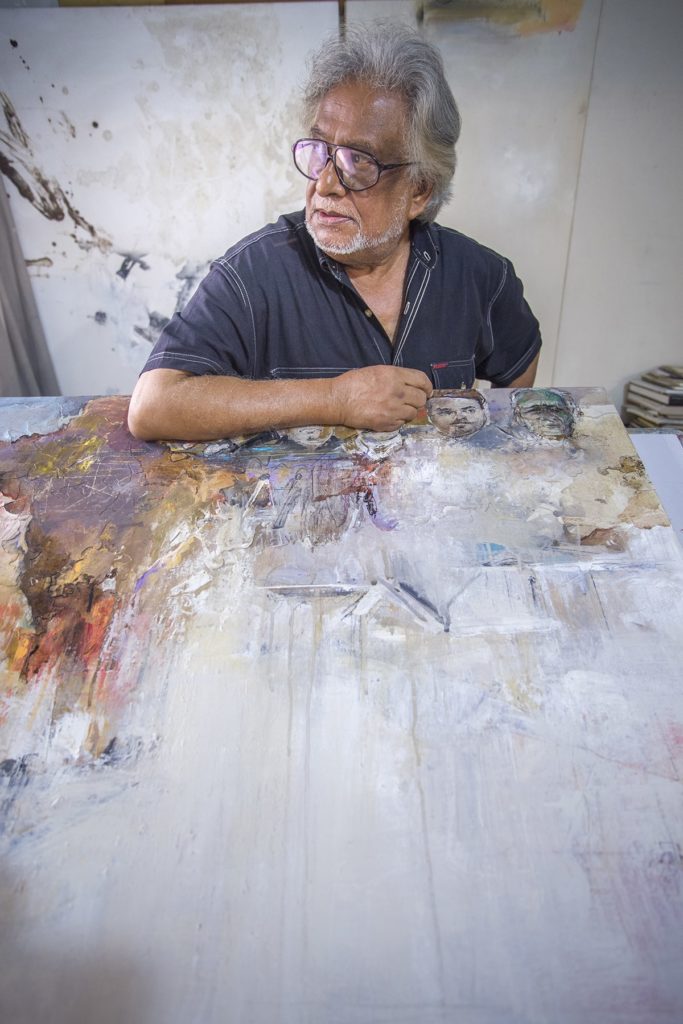 After completing his BFA in 1969, when Monir was only 27 years old, he acquired a scholarship in Spain. During that period, he studied Goya's painting and attempted to comprehend the significance of light, colour and composition. Living in Spain during the post-war era, Monirul worked with Bangladesh on his mind. Since he was already studying Goya's painting; he observed that those canvases addressed turmoil and horrors of the war and political repression of that time. And so, he developed an appreciation for those paintings and it inspired him to gradually come out of his impressionistic tendencies and concentrate on different contemporary issues. He started believing that any good piece of work draws one closer and one is unable to tear oneself away from that work. More than what an artwork depicts, it is important how that art makes the viewer feel.
The magnetism of good artwork makes the audience want to stand in front of it. It has a lot to do with spirituality. Spain drew Artist Monirul into the enthralling world of etching and worked as a turning point in his career. Artist Monirul has been staying in Madrid, Spain, but, in no way is detached from Bangladesh. He frequently visits the country and spends a significant amount of time painting canvases and engaging in a lot of experimental works. His art studio in Dhanmondi will mesmerize any art enthusiast. In his kaleidoscopic artistic journey of over 45 years, he learned different strategies and techniques from eminent artists of Bangladesh and Spain. He has then established his unique design which is referred to as "Monir's School" in Spain.
Into the Realism Realm
Jamal Ahmed
Depicting artworks that are startlingly lifelike, artist Jamal Ahmed is a master of realism. The accomplished artist and professor of fine arts is particularly known for his depictions of expansive landscapes, gypsy women, nubile women in all their voluptuous beauty, and the mystic trouveurs of Bangladesh rendered to perfection.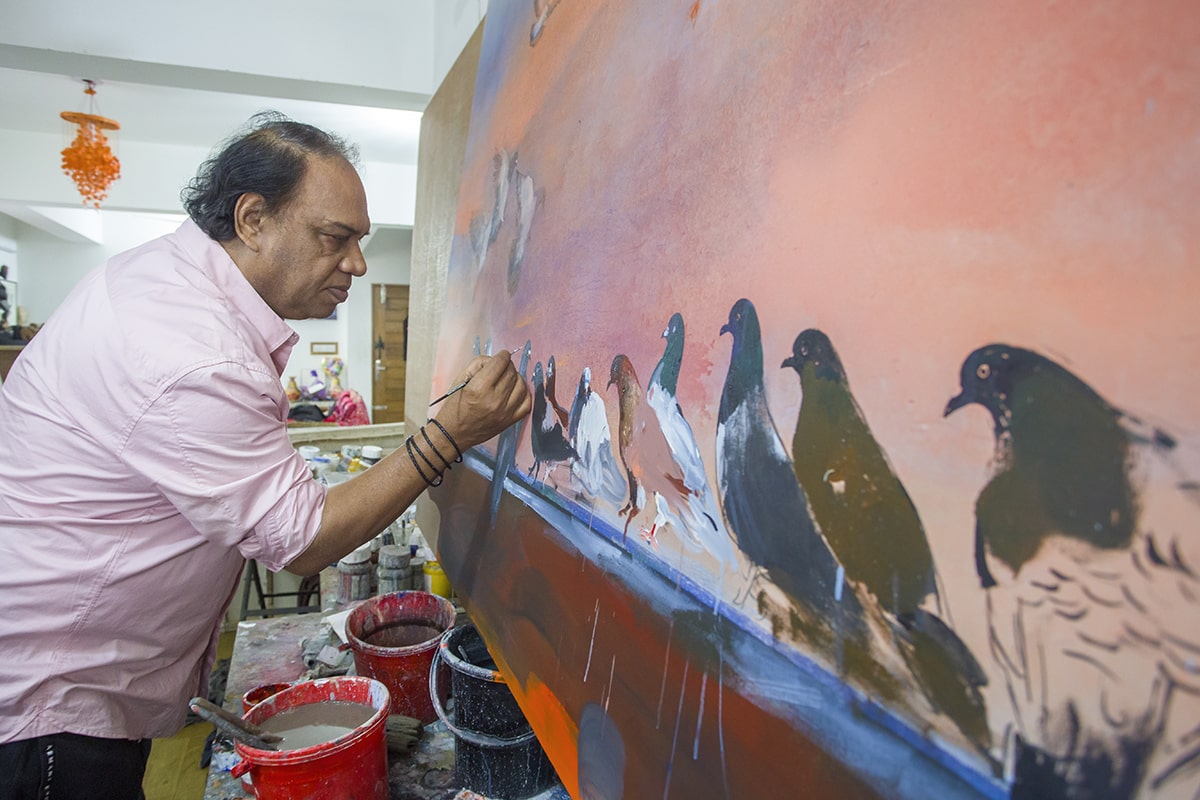 Over the years, Jamal has brilliantly portrayed many people from different segments of the society. He is able to masterfully capture unique aspects of human features and human emotions through observing and translating the tiny details of human appearance. Pigeons and horses are also prominent in some of his works. The painter also rose to prominence for limning different types of horses. Jamal always chooses a certain language to explain the stories of his paintings lively.
He has been enthusiastically studying movements of figures and arrangements of compositions for a long time. In this sense, the artist is very cautious about his composition and arrangement of figures. The artist uses soft pastel, along with thin acrylic dust layers, and chiefly works with the charcoal medium. The charcoal medium's trait is bold, courageous and impressive that helps him to provide a realistic sensation about his characters' sensibilities, articulations and gestures splendidly.
The artist received the Ekushey Padak for his outstanding contribution to fine arts. His artworks have earned him many other accolades, both at home and abroad. The finer aspects of his drawings, their intricacies and how he effortlessly finds simple solutions to complex compositions, is for his students to dissect, understand, learn and make use of.
The Ingrained Visionary
Kanak Chanpa Chakma
Considered to be one of the most distinguished artists of Bangladesh, artist Kanak Chanpa Chakma is renowned for her paintings depicting the lives of Bangladeshi ethnic minorities, focusing on the lives of women, and their mesmerizing lifestyle. Her work follows neither the norms of modern 'isms' but rather is a style of semi-realism, semi-abstraction. It is contemporary yet ethnic, traditional yet modern.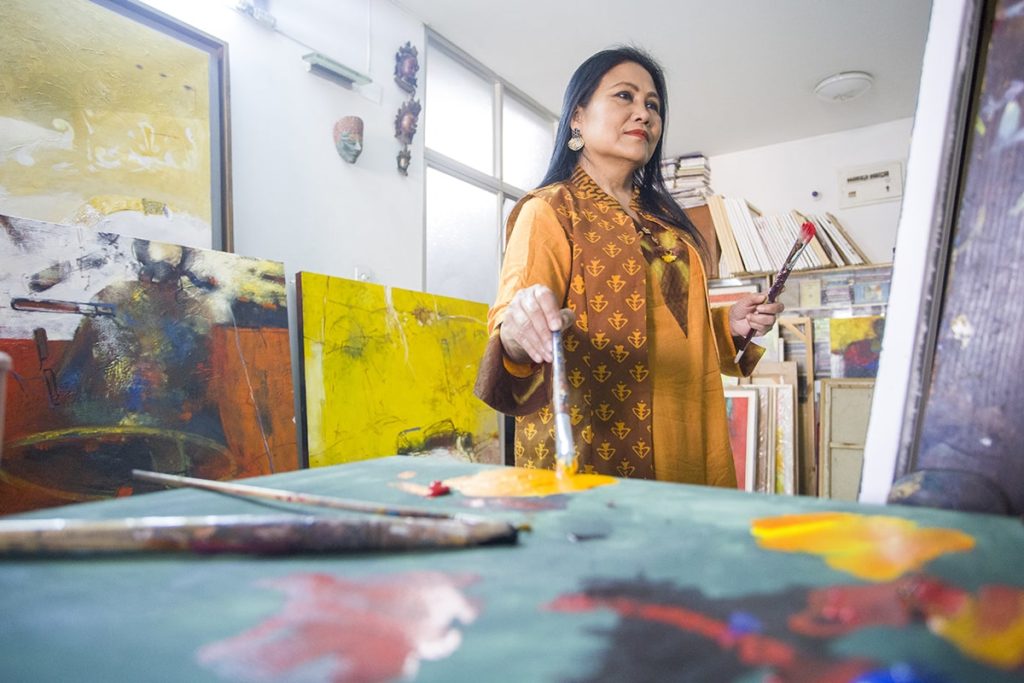 Born and raised in Rangamati city, Kanak Chanpa emphasizes on her people's culture and lifestyle as the predominant subject of her artworks. She is keenly inspired by the vivid colours of indigenous attire, the hills, forests, 'jhum' cultivation, pristine blue waterfalls, dance and music; in other words, anything that defines life in the hilly areas of Bangladesh. In her long years of work, she has worked with all 21 indigenous groups of Bangladesh. As this is a rare new element in Bangladesh art scene, she strives to portray it perfectly with her deep knowledge and insight.
She loves to bring out the minute details in the life of indigenous people. Boisterous occasions that include dressing up and wearing flowers, attending the pagodas during Purnima are her favourite subjects. The more authentic the lifestyle, the more it attracts her. Her work does not only include indigenous people of Bangladesh but other countries as well.
Rarely are all members of a family involved in artistic endeavours. The painter's family; her husband artist-filmmaker Khalid Mahmood Mithu, son Arjo Shrestho and daughter Shiropa Purnais is a notable exception. She cites her family as the 'first viewers' of any of her finished paintings.