Food doesn't just stay food when it is enjoyed in the presence of loved ones, and what better way to have a meal than to relax in a restaurant where the scrumptious regional delicacies match the decor and ambience perfectly? Whether you're a local or not, if you're looking for an authentic Bengali experience, Boithok at Banani is the place to go.
"Jibanananda Das never came here for a meal," the restaurant's owners proclaims with mirth, but they also boast that Boithok would certainly appeal to that side of you which yearns for the refreshing Bengali
aesthetic. They promise a full-fledged "Bangali Voj", how can you not be tempted? Despite offering the local cuisine, Boithok is as intricately designed as any western restaurant in the city. The cozy space featuring wide windows and open brick walls amplifies a sense of nostalgia as it brings to mind rustic coffee shops from popular songs and literature.
Stepping in the restaurant, the first thing that you see is a wall full of bookshelves that also wrap around the corner and continues along another wall. The books are placed strategically, leaving ample space as visual relief. An astonishing fact is that Boithok also hosts art exhibitions sometimes, that gives the place a more poetic air.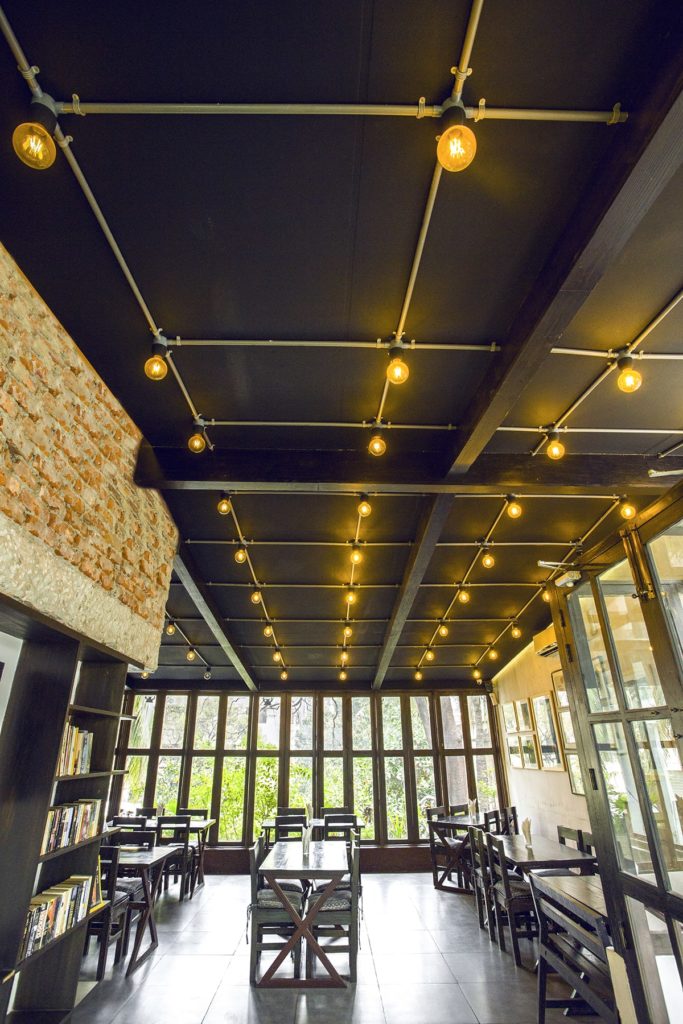 On the right-hand side of the entrance is an airy room with sitting arrangements, while the left leads to a little green veranda. The veranda is dominated by green. In keeping with the interior theme, here too are
two adjacent walls, completely overtaken with various ferns and herbs. Anyone who's in the habit of smoking after a hearty meal can pick a wicker table here and enjoy the fresh air.
Speaking of a hearty meal, that is the only kind of meals Boithok offers. Their set meals center around steamed basmati rice and a protein, such as pomfret, beef kala bhuna and two preparations of chicken, as well as a mouth-watering array of bhortas. If you thought home is the only place where you'll find thankuni bhorta, well, think again! Because you'll find this item, and many more, at Boithok. While you're feasting on the meal at an indoor or outdoor table, the taste and atmosphere will make you feel like you're far away into the past.
Meals are not the only thing Boithok has to offer. Their tea has become quite popular within just a few months. Their Masala tea has won many hearts. If you're not a fan of hot beverages, you can instead check out their impressive array of cold drinks. Even after you're done with your food, drinks (and perhaps smoke), Boithok doesn't run out of things to offer. There is a set of carrom boards for the entertainment of the customers. If you're not partial to games, you can just pick one of the books from the shelves and lose yourself in the story. In addition to their classy interior, all these activities will surely make you want to visit Boithok again.