Art has historically been a form of interpretation, representation and expression. For the up-and-coming artist, Shafrin Islam, it is an opportunity to create her own idiosyncratic world, graciously allowing all those who indulge to become a part of an intricate escapist fantasy.
The visual development artist has acknowledged using her art as her main form of communication, drawing inspiration from what most view as mundane. She immerses herself in the observation and understanding of nature, exceedingly opposed to what she deems as the "chaotic nature of modern society."
Always on the move with her family, Shafrin Islam was rarely allotted the opportunity to put down roots. Nevertheless, this was no dissuasion from collecting bits and pieces as from each of her adventures to take with her, later be used to incorporate into her art, aiding in the creation of each of the unique spaces she could call home inside the imaginary world of her own making. Shafrin shares the emphasis she puts on the importance of noticing the details in the fleeting moments of everyday life, to drive her creative process and fuel her motivation.
"Even now, I carry my sketchbook everywhere I go. My love for collecting stories is profound. I like meeting new people, going to new places solely to collect stories to inspire me to create my illustrations."
Akin to her nomadic lifestyle, Shafrin also has an interdisciplinary background, with proficiencies in eclectic artistic mediums, some of which being stop-motion animation and 2d elements in illustrated works. Leaving behind her fear of working with digital art, the young artist submerged herself into graphic design and video editing. Indulging her fascination with filmmaking, especially in the criteria of animated film, allowed her to reach her ever-growing potential as a creator.
According to Shafrin, long term experimentations with various techniques and mixed media has opened a gateway of technical skills and knowledge, "I feel like this is one of the best perks of self-learning, you know you keep getting better at anything you do once you constantly pour effort into it, and there is no limitation to it."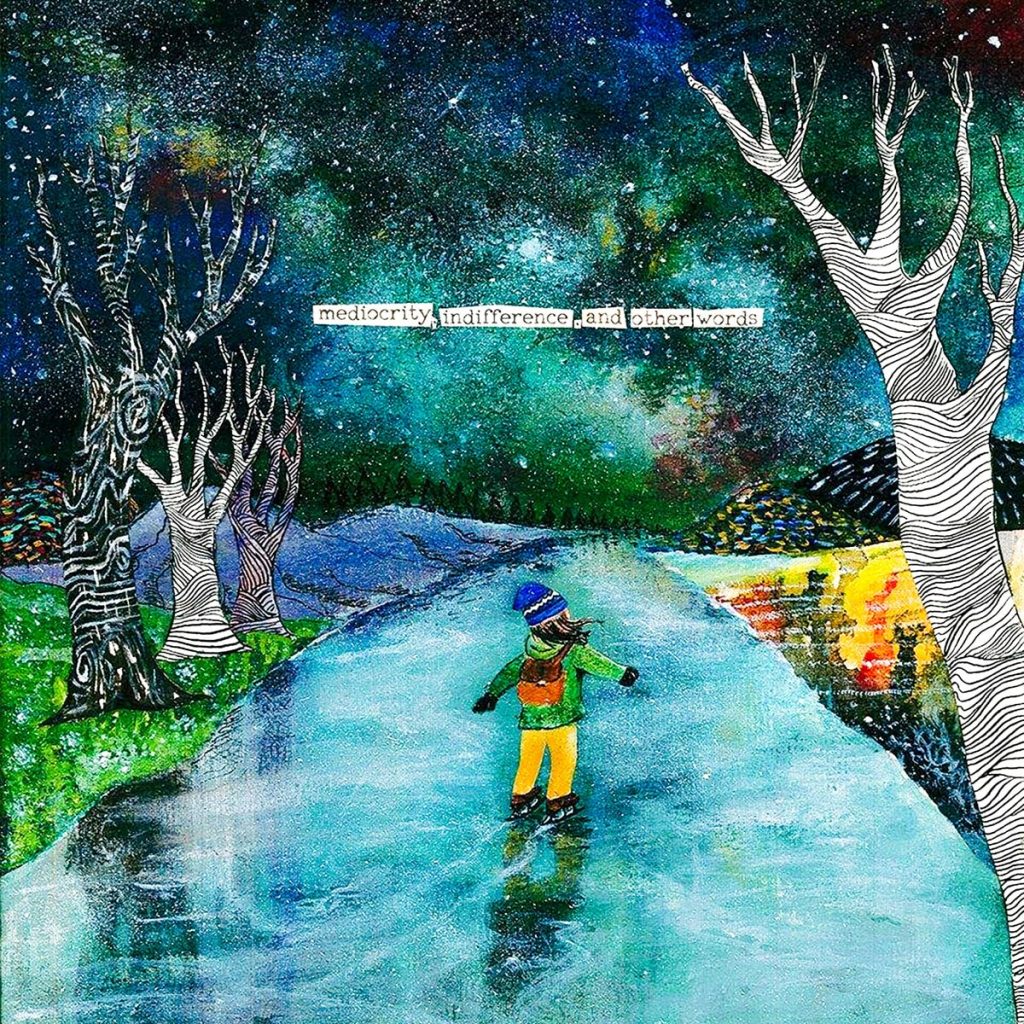 Holding true to her childhood companions of animated films, cartoons, anime, storybooks, graphic novels; she scatters these themes throughout her artworks, creating a network of motifs that are a distinctive signature of Shafrin Islam. These delightful easter eggs add another layer of whimsy to her already fantastical world held within a canvas.
Her admiration of Japanese animator Hayao Miyazaki shines through in both her style and her exploration of the relationship of humanity and nature, alongside a vivid colour palette of pastels brought to life through animations. Elaborating her preference for pastels and the role of serenity, Shafrin states, "I most identify with watercolour, because of the calm and meditative method of painting. I love the different kinds of texture it can create depending on the medium of paper used. I also love adding handmade elements like clay objects or paper cutouts."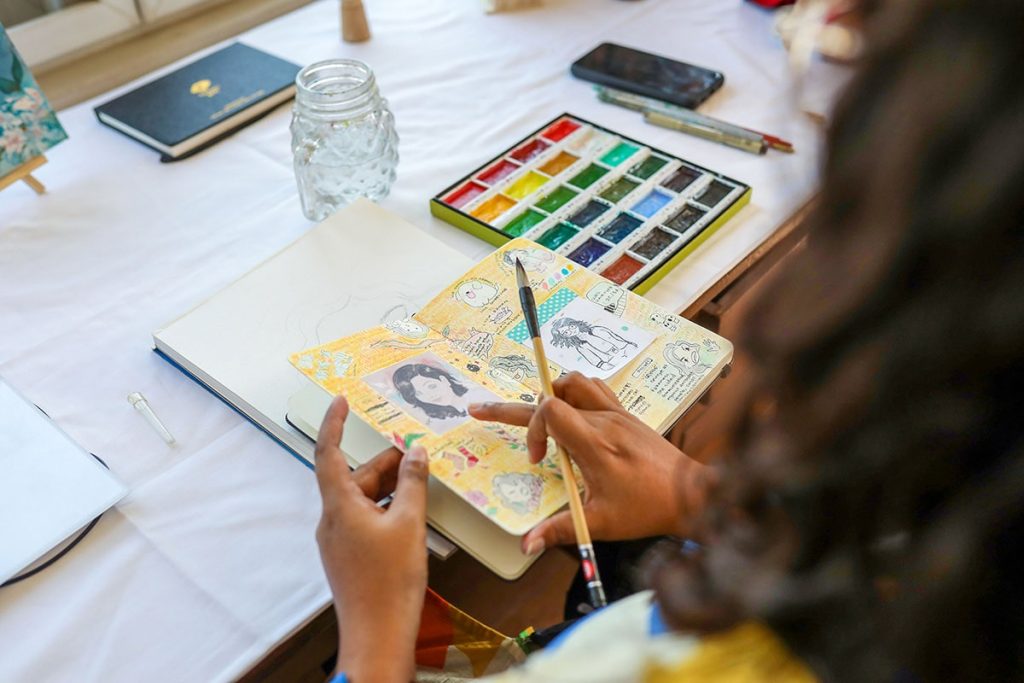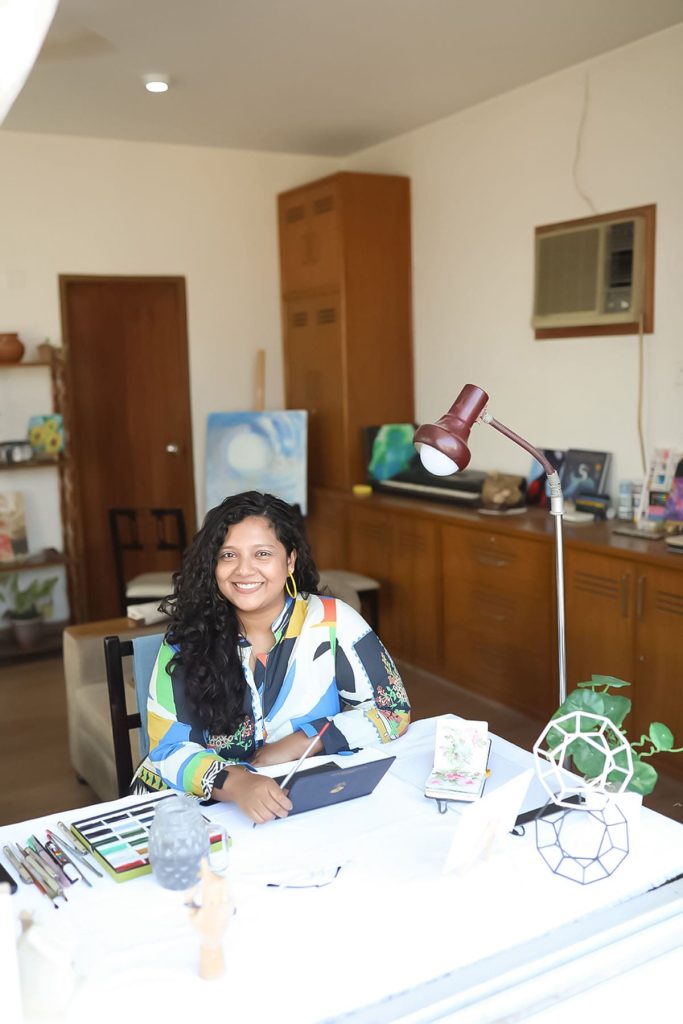 Starting her career with the creation of album art for a close friend of hers, Shafrin has now expanded into various ventures both local and international. Her first animated short called 'BOTTLED UP' was an animation that incorporated mixed media components, focusing on elements relating to the topic of mental health. Currently, Shafrin Islam is the owner of a new venture by the name of SOCK n' ROLL, where she designs socks. Letting her partners focus on the business aspects allows her to put her all focus on art direction and coming up with fun new designs.
Also, the co-creator of Bakorkhani Manuscript, a comic series, a project funded by a grant won under the Fellowship of Brac, blast, and Crea. Shafrin Islam uses satire to explore themes surrounding gender-based violence, filming a live-action video with 2d animation shot entirely in Puran Dhaka to stay true to the tradition of the Bakorkhani. Shafrin explains, "I plan to expand this project with the other creator of this project and focus on socio-behavioural issues to give voice to the unheard."
Primarily aiming to create works of art that resonate with people, Shafrin continues to experiment, pushing forwards to exceed the boundaries that she has set for herself, making sure to see her current and future endeavours through.