Considered as one of the passionate and influential voices surrounding abstract expressionism, Tajuddin Ahmed creates a significant legacy as an artist with his host of abstract paintings interspersed with a brilliant fusion of colours. His works embrace simplicity while simultaneously communicating vastness, complexity and a sense of interwoven interdependence. The visionary who creates remarkable visions not only endowed the viewers, with the pleasure of new things to see; the artist offers entirely new ways of seeing.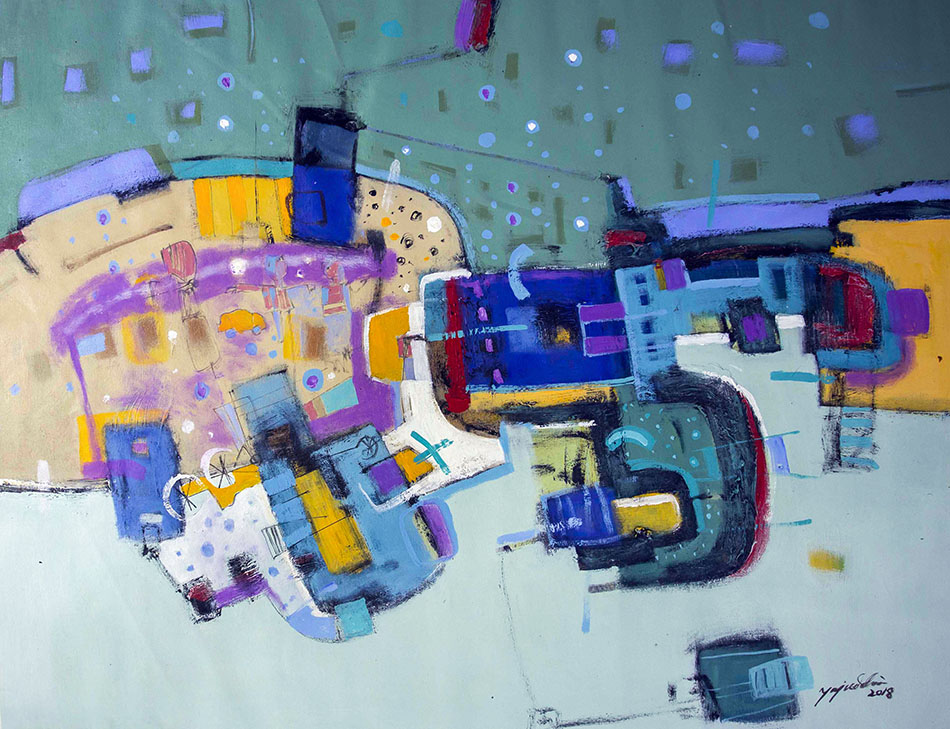 The artist opens up and shares his inner-self, experiences, his philosophies, his likings and much more.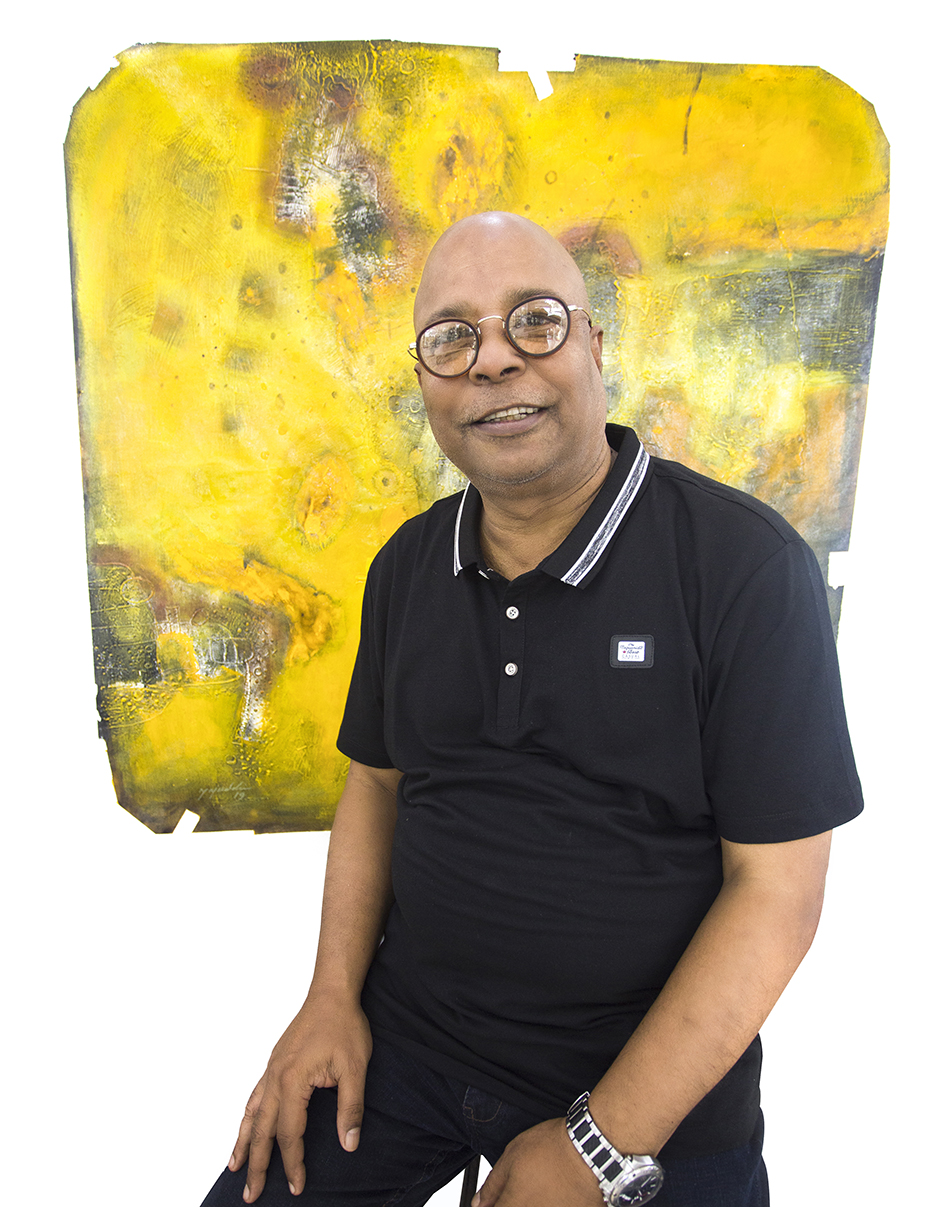 1. Tell us about your childhood and what initiated you to enrol in the field of Fine Arts?
I was born in Dhaka and was raised in the most historical part of the capital, Old Dhaka. Having grown up around the age-old traditions and the lively community of Old Dhaka spurred me to replicate the vivacious culture of Old Dhaka, nostalgia, nature and human relationships into representation. My father Badruddin Ahmed and my mother Arfan Begum embraced my admiration for art. My father was a businessman but he never impelled me to pursue his descent. He had always inspired me in my endeavour. Later, I was to enrol in the Institute of Fine Arts where I graduated in the year 1980.

2. What was it like studying in the Institute of Fine Arts (present Faculty of Fine Art, University of Dhaka)?
The campus secured a lively social environment. It was like a dynamic hub for discovery and collaboration between teachers and students. The ground level held a canteen where creatives got together, engaged and argued about art; while puffing over our beloved steaming 'singaras' and 'puris'.
We spend sleepless nights brushing our drawing skills in Kamlapur Railway Station, in Shadarghat Terminal, to portray the city's densely populated areas, its socio-economic and cultural structure, to reflect the daily chores of the community, their behaviour, emotions, despair, anguish and distress in the canvas.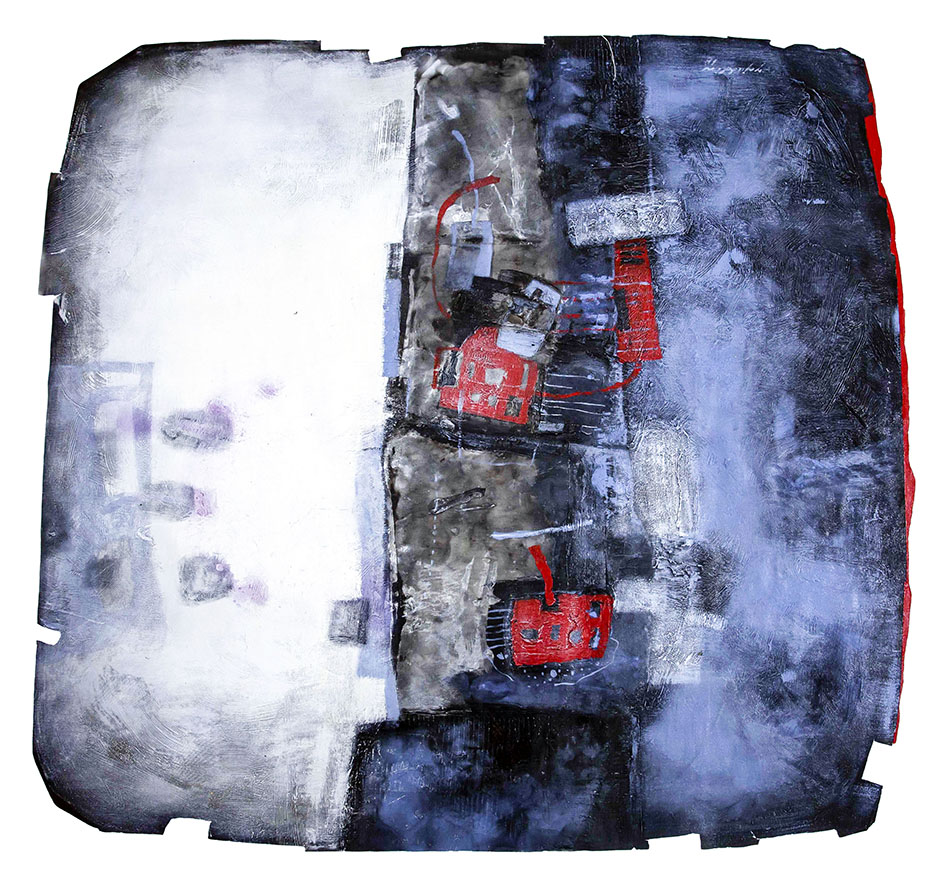 3. What is your inspiration behind developing the 'Abstract Expressionism' form of art?
I witnessed the country from the '70s when the country was in the throes of the freedom movement. I closely observed human irrationality and vulnerability and wanted to express my concern in new art and substance. I was profoundly influenced by Abstract Expressionism that flourished in the 1940s and 1950s. Jackson Pollock, Willem de Kooning, Franz Kline, and Mark Rothko were among the most prominent Abstract Expressionist painters. Their paintings were seen all over the world in travelling exhibitions and publications. I began to explore in the abstract realm, encouraging meditation and introspection.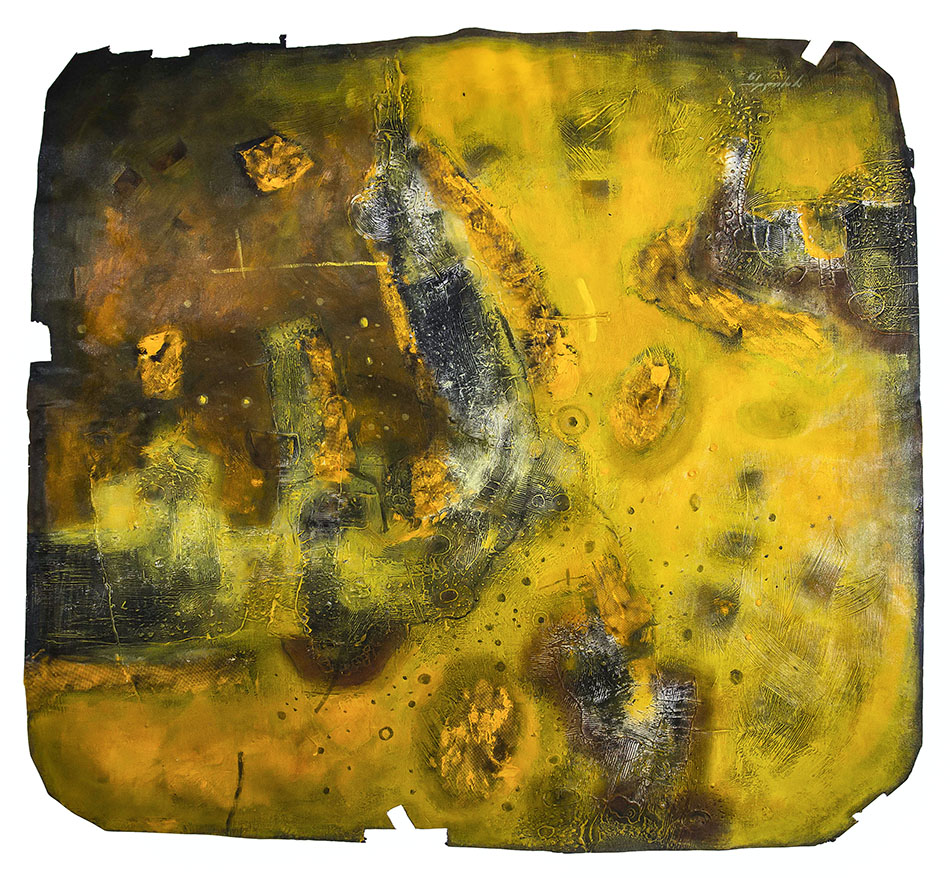 4. What is your process of creating art, from the beginning of a typical piece to its completion? 
I do a lot of sketching. I begin with rough layouts that end to infinite layers. I am more concerned with applying colours and mingling of forms as well as the textural intensity of the paintings. Sometimes I take months to complete my one painting; to get the desired strokes, the right shades. I might not touch the painting like for weeks, often would indulge in coffees, or a walk in nature or a summer celebration may spark my interest and I would decide on a palette for my blank canvas.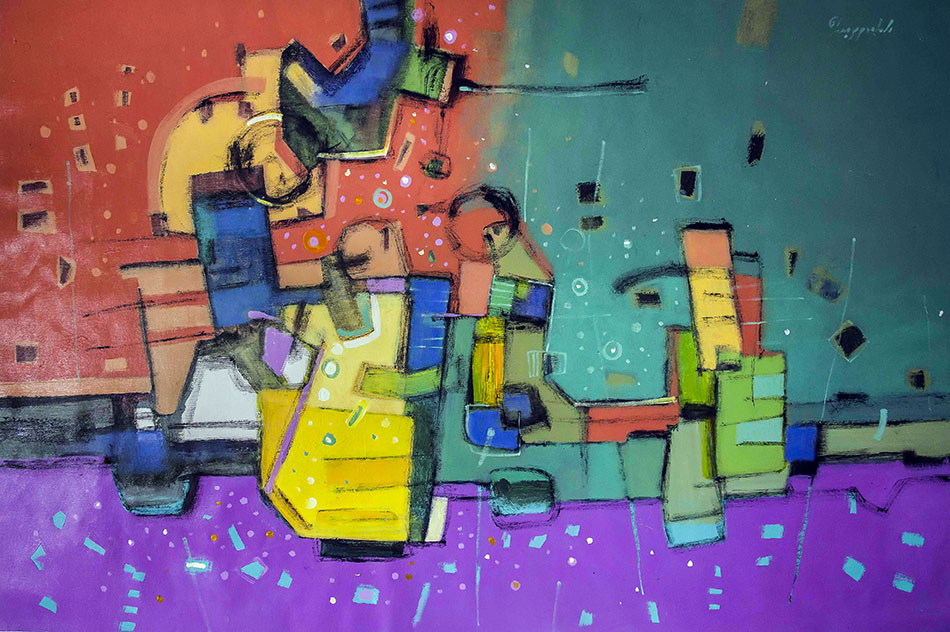 5. Can you share with us a story behind your significant works that you would cherish lifelong?
Back in 1981, I organized a solo exhibition in Dhanmondi at Alliance Francaise exhibition gallery. Noted artist and one of the pioneers of the modern art movement in Bangladesh, artist Mohammad Kibria was asked to inaugurate my exhibition. After observing two of my artworks, artist Kibria suggested me to mark those in red spot and to retain it. Again in 1985, after inaugurating one of my exhibitions, artist Kibria asked me to set aside one of my artwork. I listened to my most inspiring artist and retained those artworks. Each time I look at those and resolve why artist Kibria advised upholding those treasures. The amount of depth the artworks deliver can never be recreated.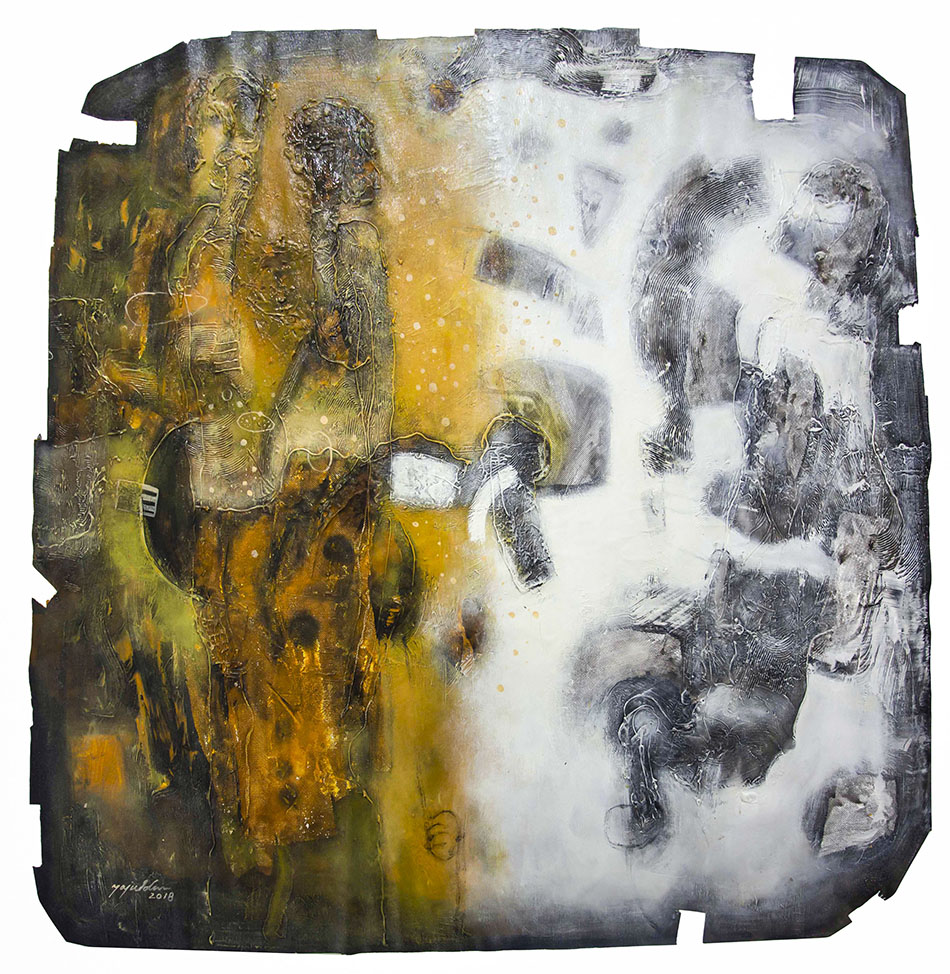 6. At present, what kinds of works you are occupied with? And could you tell us about your future plans regarding the field of art?
At present, I am residing in Canada with my family. I moved there in the year 2008. I am assigned as a drawing teacher in a school there where I enjoy developing drawing skills of children. Parallel to this, I tutor them at home. I am always occupied with my drawings; wherever I find a piece of paper I start to draw; maybe on a small card or simply at one corner of a to-do list and even scribble in between flights. Many of my paintings have been featured in prominent art galleries. I have had the privilege to showcase my work in England, Australia, France, Netherland, South-Africa, Pakistan, Japan, New-Delhi, with several solo and group exhibitions. Some of my art-piece is conserved in Bangladesh National Museum Dhaka, Africa Window Museum of Pretoria in South Africa, France Embassy in Dhaka, and many other prominent places. Whenever I find any event or break, I flee to my roots. I fly to my motherland very often; often for holding exhibitions or to complete large commissioned artworks. Regarding my plans, all I pray that my hands be in tune so I can play my passion till the end.

7. A piece of advice you would like to give to the young artists in Bangladesh who want to build a career in this field? 
Art is something that needs deliberate and prolonged practice. From blank canvas to charcoal sketch, to background, shaping, detail and finishing touches; each step of the painting process is required to be meticulously carried out and performed with great attention to detail. Each brushstroke is a testament to the artwork and is reflected in the final result.