As a pioneering artist of his time, Qayyum Chowdhury had paved a new path in the sphere of contemporary art in Bangladesh. A man of resilience, he, along with Zainul Abedin, Quamrul Hassan and Safiuddin Ahmed, was among the first-generation artists who made their way through challenging circumstances and stood at the forefront of modern Bangladeshi art. Qayyum successfully evolved a distinctive style of illustrating vibrant rural narratives into modernistic expressions. In commemoration of the 7th anniversary of his death, Showcase Magazine reflects on the life and five-decade-long artistic quest of the celebrated artist.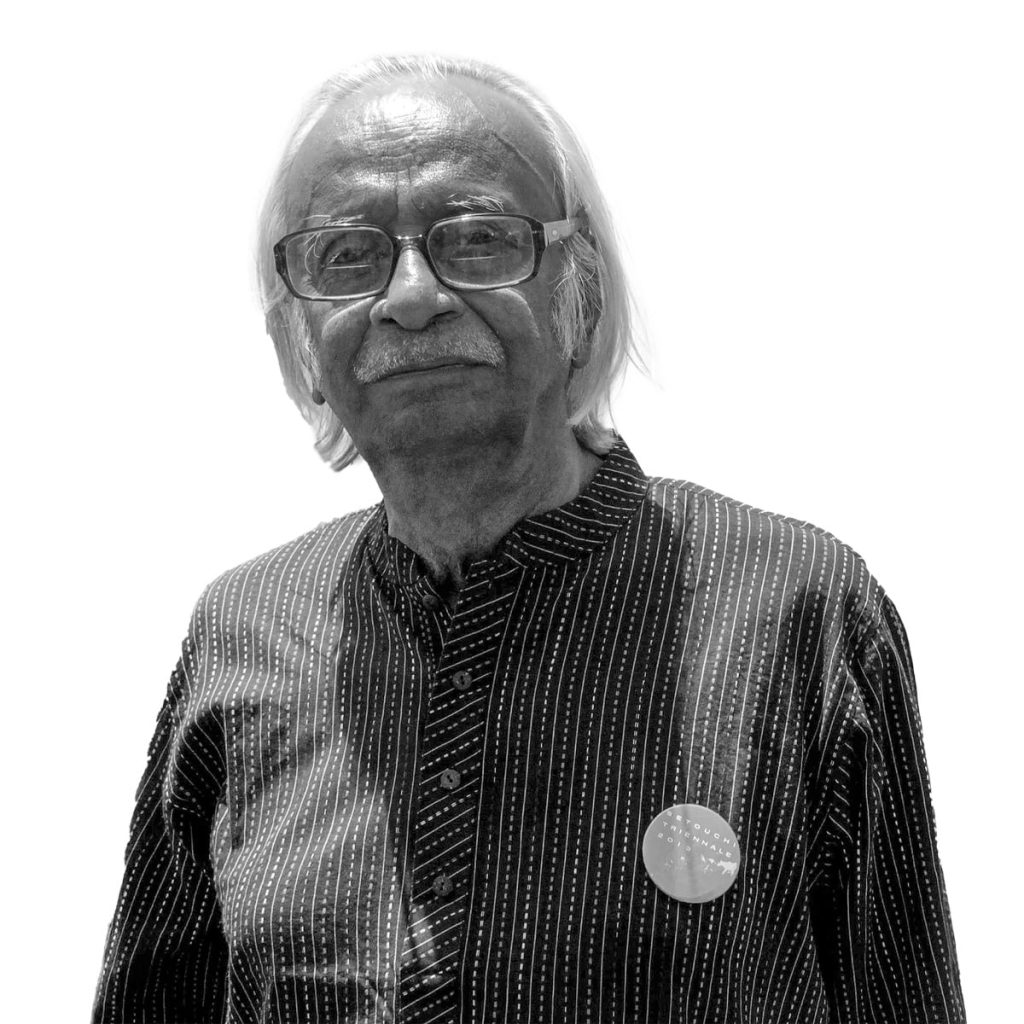 Qayyum Chowdhury remained a spirited, relentless explorer of art, life and beauty till his last breath. He was born on 9 March 1932 in Feni. Coming from a landlord family, his father Abdul Quddus Chowdhury was a cooperative-bank official with a transferring job. Qayyum's boyhood was hence spent in various districts including Chattogram, Cumilla, Narail, Feni, Mymensingh and Sandweep. This was when he got to first-hand experience the rural beauty of Bangladesh which immensely influenced his themes of work. Being exposed to an impressive collection of books and music records from his father's collection, he developed a natural avid interest in literature, music and art. He would often find himself attempting to replicate the paintings he found on the literary journals he was absorbed in. Perhaps it was by fate that soon after his matriculation exams, his father took him to visit Shilpacharya Zainul Abedin in Mymensingh. Noticing young Qayyum's keen eye for observational drawings and paintings, Abedin asked him to get enrolled in the art school in Dhaka he had set up. In 1949, Qayyum moved in with his sister in Siddeswari and started his art school, which at that moment only consisted of a few rooms in the Dhaka National Medical College Hospital building, located at Johnson Road in Old Dhaka. Later, with the help of then Prime Minister of East Bengal, the art school took the form of Government Institute of Arts (now Faculty of Fine Arts, University of Dhaka). He graduated as part of the second batch of the institute along with his peers Murtaja Baseer, Rashid Chowdhury, Hasan Hafizur Rahman. Three years after his graduation in 1957, he joined his alma mater as a lecturer but summarily left his teaching position to work under Quamrul Hassan at the newly established Design Centre.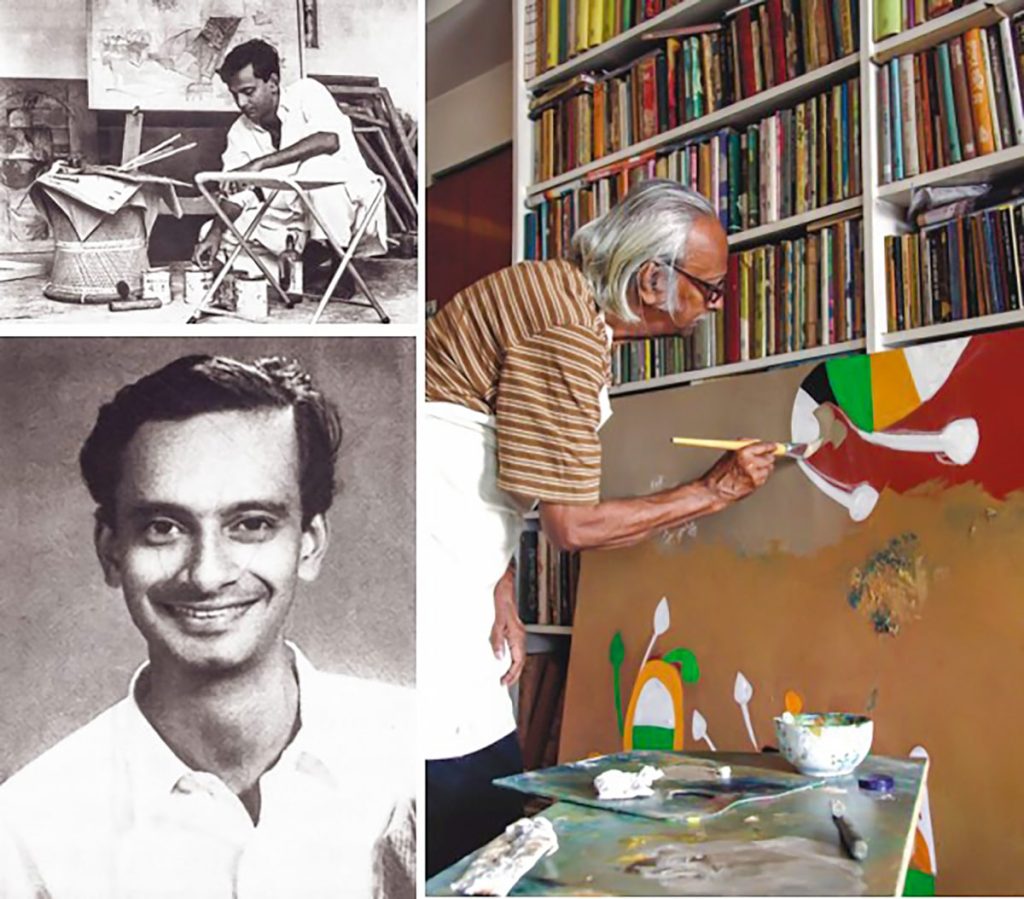 During his time in the Faculty of Fine Arts, his obligation to finance his courses and materials drew him towards the field of graphic art. He started doing commissioned illustrations for book covers.
He also worked as the chief designer of Pakistan Observer and Prothom Alo, where he was responsible for a repertoire of illustrations and motifs, bringing him wide acclaim. He was among the prominent names that gained recognition for their contribution to the pre-and post-independence visual culture. He went back to teaching in the Faculty of Fine Arts in 1965 and was promoted to the position of Assistant Professor in 1970, to Associate Professor in 1986 and finally to Professor in 1991. His contribution to teaching in the institutions was immense; his ideas of creative design, lettering and logos resonated among his students and colleagues. As a designer, he brought forth new dimensions of practice during the 1970s and 1980s. He retired from the institution in 1994 but was involved with teaching until 2002.
Thematically, Qayyum's early works have neat compositions and delve deep into folk, pastoral life and traditions. Rarely do they portray the harshness or intense sufferings of human life; they are optimistic and charming. Recurring motifs in his paintings were birds, greenery, flowers, fishes, rural women carrying pitchers, peasants, freedom fighters, lush foliage and bulls.
His distinct style and aesthetics in his realistic and semi-realistic paintings have shown continuity and relevance. During the '50s, Qayyum took a shift from realism and entered the phase of semi-abstraction. The use of abundant space in his works provides grace while the stirring colours give depth and shape. He would mostly gravitate towards red, ultramarine blue, cadmium yellow and viridian green; however, creating new tones by combining primary colours was also something he thoroughly enjoyed. In his paintings like 'Bathing Women' and 'Village Autumn', the women in shades of red, blue and beige blend with nature, the rivers, trees and fields. The captivating beauty of rural life is expressed through paintings like "Boat, "Setting Sun", "Secret Talk", "Worried". At the onset of his career, he was greatly influenced by the lives and work of Leonardo da Vinci, Michelangelo, Van Gogh, Paul Gauguin and Pablo Picasso. In the '60s, his work veered away from folk art to the common man's struggle for survival. He was moved by the helpless victims of tragedies and sought to honour them with his treatment of work. His watercolour series depicting the Language Movement and Liberation war 1971 mirrors his rebellious spirit. On the other hand, his black and white drawings for magazines, newspapers and books brought forth an alternative style of his work.
Two of his most significant solo exhibitions were in 2004 and 2007 in Bengal Gallery of Fine Arts, Dhaka, which exclusively showcased his signature paintings. Notable among numerous awards that he received throughout his career were the Imperial Court Prize, 5th Tehran Biennale, Iran (1966), the Silver Jubilee Award of the Bangladesh College of Arts and Crafts (1973), National Book Center Gold medal cover design (1975), Bangladesh Shilpakala Academy Award (1977), Ekushey Padak (1986), Bangabandhu Award (1994), the Sultan Smrity Padak (2001) and the Independence Day Award (2014). As a prominent illustrator and graphic designer, he won the National Book Center Prize for the best cover design for ten years in a row. Qayyum Chowdhury breathed his last on November 30, 2014, after collapsing on the stage during a music festival. In his eighty-two years, saturated with more experiences and achievements than most people could aspire, Qayyum's work touched several lives across the globe. His poetic style of work and larger-than-life personality left a legacy that seems too large to be explained in words.