The modern-day museum, Museum of Independence, is a poignant display of the history of 1971 Liberation War. It engulfs its viewers to experience the pain and triumph of the war as they walk the series of display. The very location of it holds a significance, by laying out on 65 acres of land at Suhrawardy Udyan, Dhaka. It is where the father of the Nation, Sheikh Mujibur Rahman, gave his iconic speech, and the Pakistani army eventually surrendered.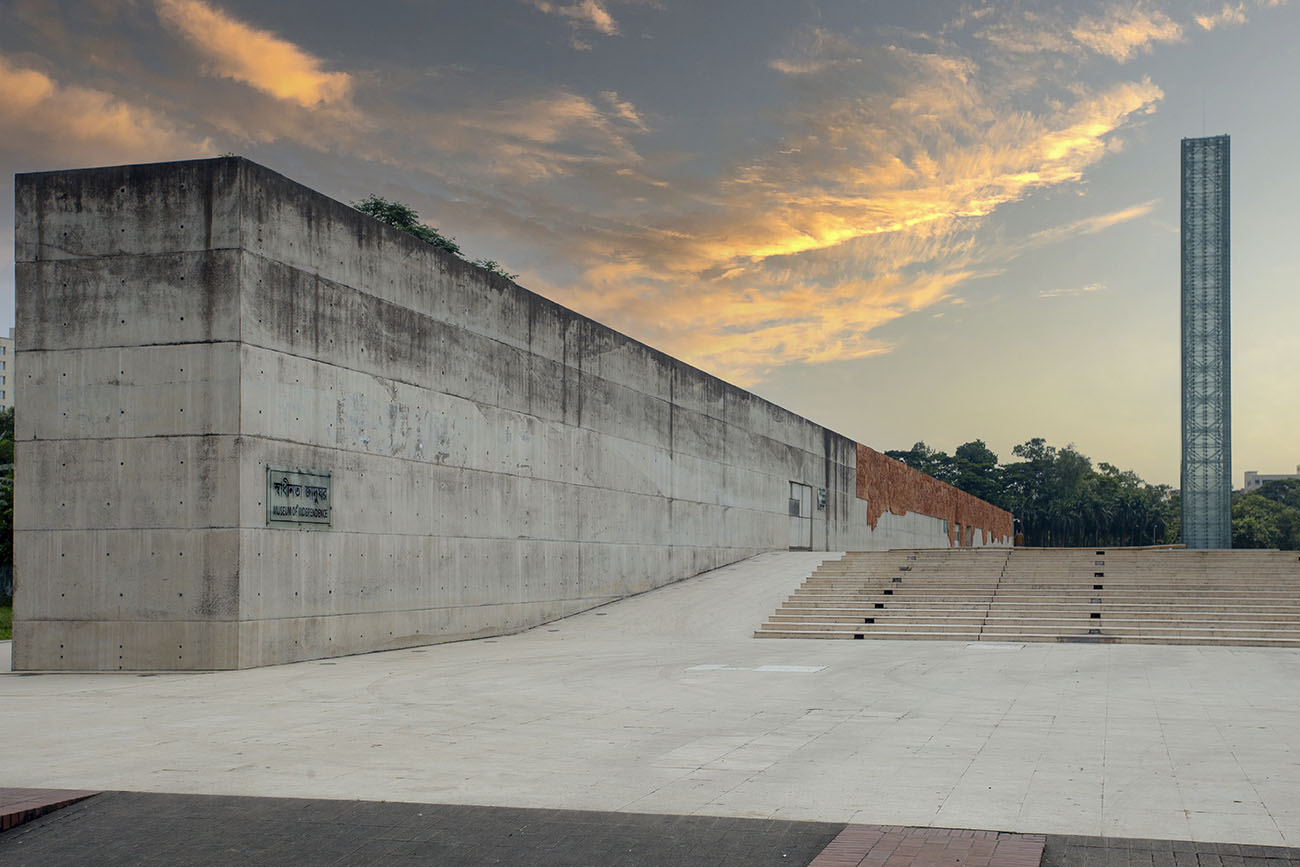 Museum of Independence, is the very first underground museum in Bangladesh. It has been constructed in a contemporary design by Kashef Mahboob Chowdhury from the architectural firm, Urbana, collaborating with the notable architect, Marina Tabassum. The interior of the museum has been kept to a bare minimum, composing of sturdy exposed concrete wall and ceiling, with lights fixated above illuminating only the right places.
The highlight of the open area is the Tower of Light standing 50 meters tall and made of glass, which illuminates at night. Accompanied by the tower is a pond and then the eternal flame, Shikha Chironton. It also has a prolonged Terracotta mural running along the vast area, telling the tale of the war.
As one makes their way down to the underground, the museum opens itself to a story to be told. The place starts with glass panels showing the journey of the war through black and white images on them. Then comes a long narrow passageway of black wall on either side.
The grim space illuminates more pictures of the journey, captivating a person in the moment, in the tormented depths of history.
Followed by the pathway comes a serene place of relief, the architectural wonder of a fountain. The fountain is attached to the pond above. To maintain the tranquil, the room was made of stark concrete, which delivers more focus on the water and light flowing from the ceiling.
There is more to the museum than the history of Liberation War. It also exhibits some historical photographs from Moghul period, also of notable archaeological and historical sites of Bangladesh.
The museum is a throwback to the bitter-sweet time: starting from the terror and pain of the journey of the 1971 Liberation War, to all the sacrifices of bloodshed and tears coming full circle with the victory of the war. It reminds its viewers the depth of the sacrifices the forefathers made. Today, the museum embodies the glory of that victory which brought Bangladesh its independence.