The term 'bohemian' is widespread and oft-used, frequently pointing at a person, object or incident as being unconventional, un-orthodox, nontraditional and usually frugal. We tend to label interiors with carefree colours and patterns as bohemian decor. Bohemian style is bright, colourful and creative. This kind of décor does not clutter the space and can be achieved without much expenditure. A prime example of bohemian décor can be found is this cheerful little corner at Hems & Hues.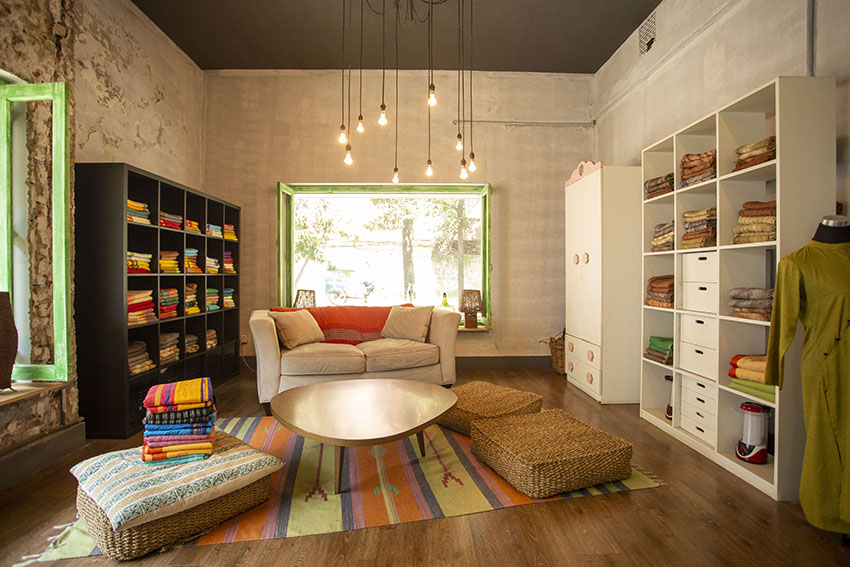 Prime colours and simple patterns seem to be the base character of Bohemian décor. This aspect is evident in this neat little nook, in the choice of colourful area rugs in traditional patterns, jute and rattan seating arrangements and ethnic patterned cushions. Soft white closets add a soothing element to the whole setting of the clothing store, tidy rows of wares providing the necessary pops of colour.
There is plenty of natural light coming in through the large windows, illuminating the tasteful wooden floors. The vintage pendant lights act as ornamentations more than actual lighting during daytime, while giving off necessary warmth in night. Along with the rustic walls, the whole corner becomes a perfectly relaxing bohemian nook.