The new-age concept of collaborative workspaces is gaining popularity in Bangladesh. People are now advancing towards independent and flexible workspaces. Designed by the team of Studio Dhaka, the workspace of Impact Hub Dhaka is conveniently located near the National Zoo in Mirpur, spanning one large floor of the Grameen Telecom Bhaban.
Impact Hub Dhaka, which is a part of the worldwide Impact Hub Network, radicalizes a dynamic entrepreneurial community through engaging spaces, insightful content, and diversified networks. Like any ideal co-working facility, it is designed to facilitate connectivity as well as provide a diverse range of social spaces where one may interact, watch webinars with acquaintances, or even hold events.
Conceptually, the design approach began with the thought of creating a comprehensive co-working space for an extensive expansion of lateral knowledge for millennial minds. 
The idea was to form a shared space where a range of diverse people—entrepreneurial, thoughtful, and motivated—minds come together to work towards a common goal.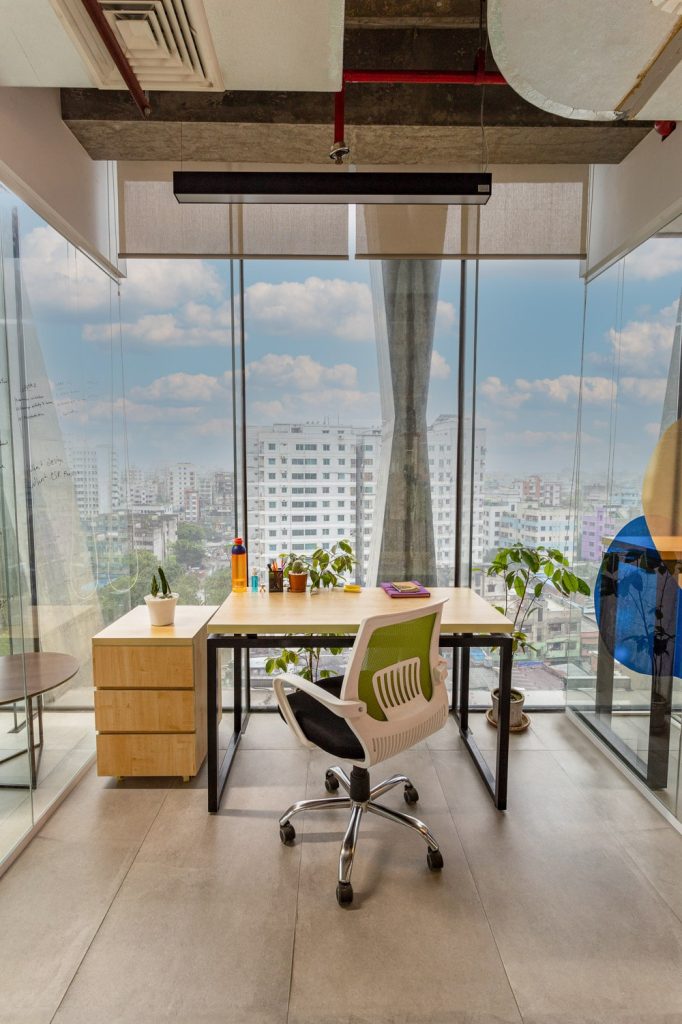 The lead architect of the project was Ar. Muhammad Moniruzzaman. Later, he was assisted by architects, Ar. Moshreful Alam and Ar. Sanjida Alam, for the thorough execution of the design with the necessary deliverables. Even though there was a time constraint on the project, it was completed in just one month while still providing all the essential facilities. The office is divided into essential functions like office pods, event space, meeting space, open workspace, cafeteria, and pantry. From a single working table to confidential pods, everything has been incorporated for the purpose. These facilities are given to rent as per users' preference.
The event space bears the most significant importance as it accommodates different national and international seminars, symposiums, and talks by renowned personalities to impart knowledge and expertise. The design is rather versatile, inspiring productivity and collaboration. With more than 2500 square feet, the space can accommodate a variety of arrangements, including gatherings of more than 80 people for any upcoming event.
The meeting space serves as a place for individuals to brainstorm ideas, share knowledge, collaborate, and solve problems effectively. The cafeteria portion is a fun-wrapped and interactive space in the office for mental refreshment, with a substantial pantry. In short, the office is well-equipped with all kinds of necessary amenities and facilities. The office pods are an interesting and exceptional approach to the design. The pods are self-contained rooms secluded by glass, mostly independent units that allow users to work peacefully, avoiding all distractions.
As the interior design of the office opted for a subtle ambiance following a minimal design approach, a natural colour scheme was selected to keep the environment as subtle as possible. Avoiding any kind of imposing decor or heavy hues, natural tones such as green, white, light-toned Kerosene wood texture, exposed ceiling, and ample provision of natural light were ensured to make the atmosphere soothing and calm.
With the beliefs embedded in modern design thinking, the workspace designed by Studio Dhaka for the Impact Hub serves as a catalyst for ensuring collaboration to unlock creativity and create innovative solutions under the umbrella of shared concerns.