Cinematographer Rashed Zaman and Actresss Swagata are stars of different arenas with distinctive personalities, but home is where the couple's taste amalgamates. Free-flowing spaces with added warmth and inspiration in every corner renders this celebrity residence its unique feature. Showcase Team spends a fun-filled afternoon with them speaking design, art and inspiration.

Two years back, the couple decided to move into their new apartment in Bashundara, having one thing in mind with regards to design- they wanted a space that was functional and clutter-free. Having an architectural background from Middle East Technical University (METU, Turkey), Rashed Zaman was clear about how he envisioned the house to be. He approached his friend, Interior Designer Liton Kar to collaborate and do their magic to make the 1800 sq ft space feel like home. The result is a tastefully designed house with smart ideas that gets rid of clutter and gives an illusion of extended space.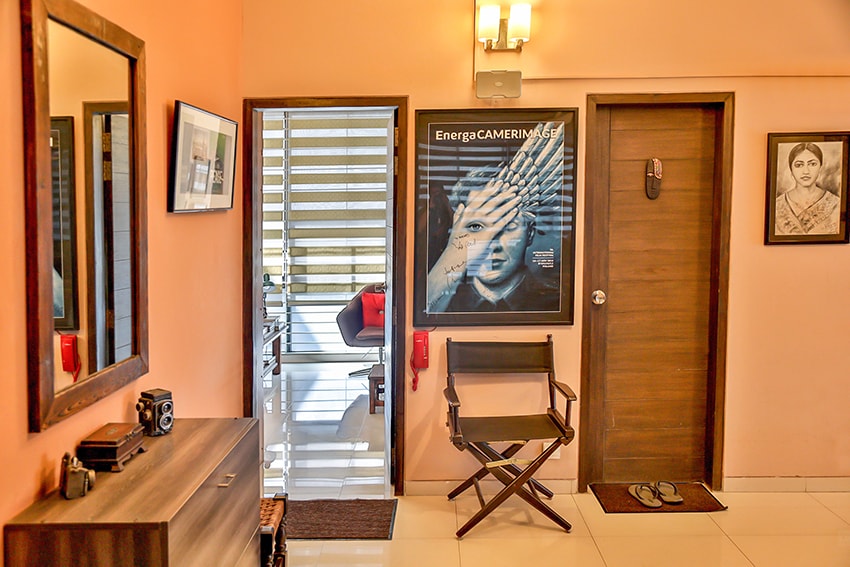 Rashed Zaman is passionate about films, photography and architecture while for Swagata, her heart has always pined for singing and acting. Their home design succeeds to depict their individualities impeccably, giving much consideration to space utilization. The house comprises of two bedrooms, one study, dining, living, kitchen and four washrooms. Rashed loved the space since it had less walls and an open plan layout. "I am against the concept of building unnecessary walls in a house.
There are no partitions between the living, dining and sitting area of this house and as one enters, they are welcomed with one big space that naturally flows into the other", he explains. He gravitates towards the nuts and bolts of creating a space and believes a good design pays attention to functionality. "Interior design goes beyond just mere decoration.
A thoughtfully designed house makes the most of the space in spite of all the constraints. For instance, our kitchen was small in size and we needed space for storage and food preparation. Hence, we utilized the servant's space beside it and transformed it into a pantry. It helps to remove all the clutter from our home. Clutter is the enemy of creativity, and in our house, the storage and decor go hand-in-hand", Rashed adds.
Intimate and welcoming, the house is wrapped in earthy tones with different shades of brown. As an answer to the dusty weather of the city, the earthy tones keep the house low on maintenance and in architectural psychology, the colours of the soil adds warmth, making one feel at home. Since the couple often hosts get-togethers, they wanted the common areas to be fluid, where one could have conversations. "Our living room is very lively during get-togethers.
We have installed a projector and sound system that is ideal for movie nights", says Swagata. The feature wall of the living room has an impressive collection of rendition artworks of Rabindranath Tagore. These were collected from different local artists in Dhaka. In one corner of the dining, hangs one of the stills by Rashed Zaman that was featured as the cover of the National Geographic's picture book titled "A Little Peace". According to the couple, the heart of the home is the study that houses a rich collection of books and a large vintage film camera that is still functional. The crimson sofa adds a pop of colour in this space.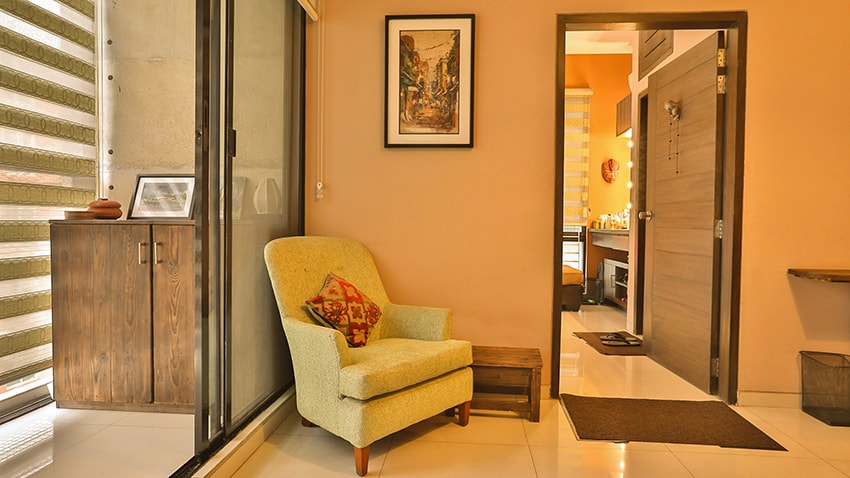 "You can call this our chilling zone. At night, we listen to music and contemplate in this room. The cameras and books help to inspire me to constantly strive", explains Rashed. The bedroom was kept minimal and the balcony was taken in to create a music zone for Swagata. It makes a cozy corner, ideal for practicing music. Another bedroom functions as a dressing room for Swagata and a guest room, based on the family's requirement.
An open plan layout was drawn up and enhanced with wooden elements and interesting accents.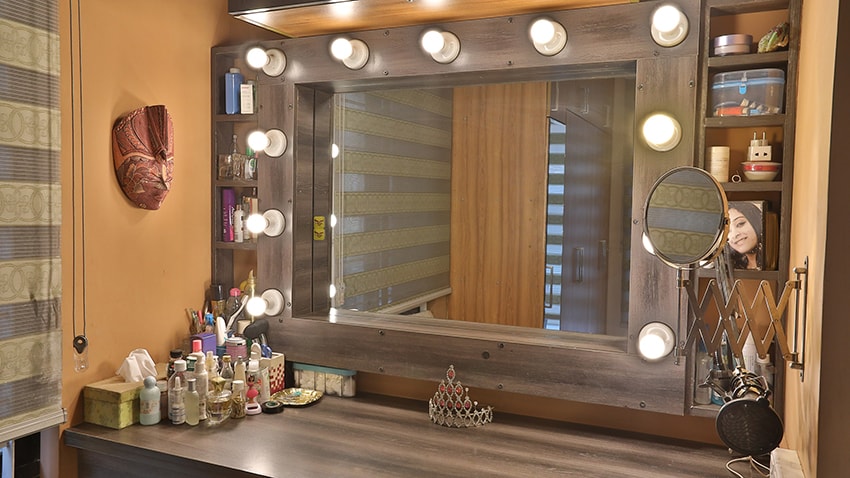 While the overall design aesthetic of the home is contemporary, there are vintage elements in the house that lends a classic touch and an element of nostalgia to the apartment. One look at the apartment and one will notice the skillful use of wood used in different corners of the space. It helps to bring uniformity in the décor by keeping this element common throughout the house, contrasting the warm colours. "Many wooden furniture were reclaimed and some were bought and customized according to our need. For example, we have made the tables perforated to reduce the dead load. Most of the furniture are designed in modular system so they are also easily moveable", says Rashed.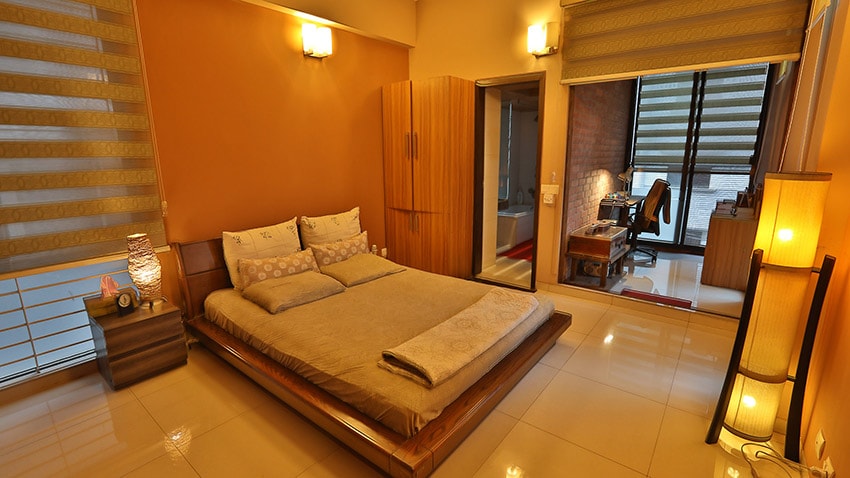 One thing to learn from the home design of Rashed and Swagata is that one doesn't have to spend a fortune to design their home tastefully. "Our budget often stands in the way of achieving our dream space.
Instead of thinking about the expensive piece of furniture or rug that you can't afford, think about how you can make the most with the budget you have. Your idea is the key factor here", says Rashed. The couple's residence allows them to do what they love the most- work, entertain and relax."