School of Design and Architecture, Jahangir Nagar University, was planned by Bangladeshi architect Muzharul Islam, who is known as the grand Master of regional modernism in South Asia and the pioneer of modern architecture in Bangladesh and the father of Bengali modernism. He sets an example of outstanding architecture on this site by using exposed brick in harmony with the natural landscape and existing environment. The university already had a Fine Arts department, but it is currently running out of space. There are also proposals to start a new Faculty of Architecture. So new facilities are required for the two faculties. In this design proposal, an attempt has been made to construct a new structure while respecting the existing architecture of architect Muzharul Islam. The project is proposed by Md Fahim Hasan Rezve, a student of American International University-Bangladesh His studio guides was: Ashik Mannan Vaskor, Md Rashed Hasan.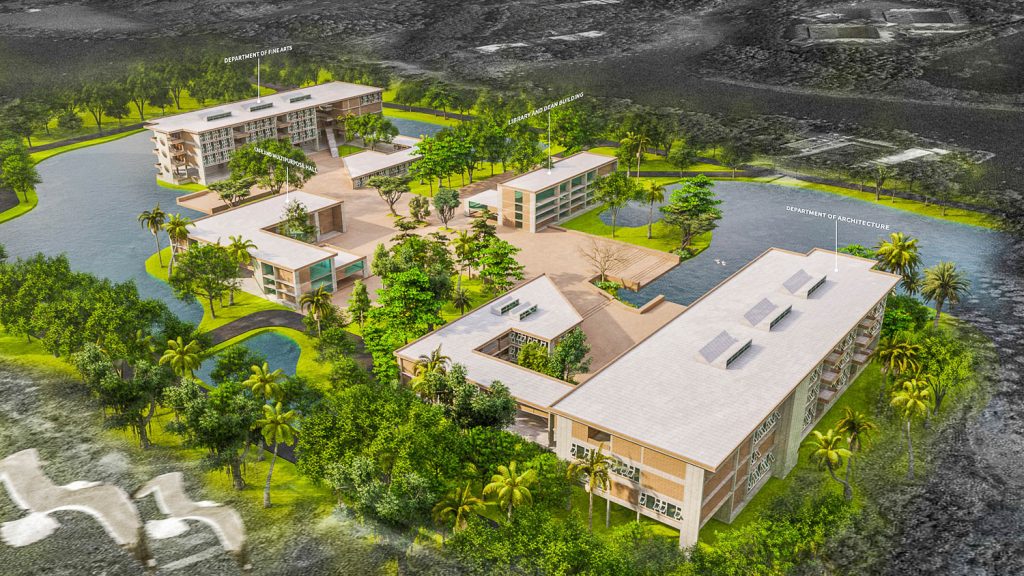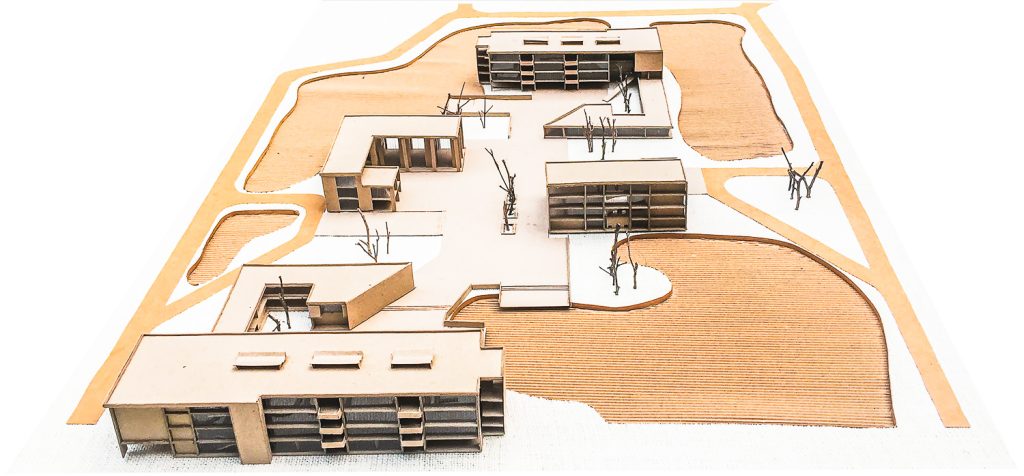 Jahangir Nagar University is a reputed and prestigious educational institution in Bangladesh. It was established in 1971 on about 698 acres of land at Savar, near Dhaka. The campus of this university is naturally rich in resources. The land's topography, with its gentle rise and plains, is pleasing to the eyes. The site also has a huge number of natural water bodies.
Early in the design, a common plaza that would unite the two faculties was envisioned. The other two sides will have a multipurpose hall and cafe on one side and a library and dean building on another side. The plaza is centered around these four structures. As both faculties hold many exhibitions and workshops, most of the ground floor of the two faculties has been left program free to serve as student gathering spaces. The classrooms are oriented north-south to ensure adequate natural light and ventilation. Since heavy items are used in the studios, they are placed on the lower floor for easy portability. The classrooms are provided on the upper floor. Circulation is very important in educational institutions; it is ensured by uninterrupted vertical staircases. Here Mario Botta's circulation design has been inspired. Exposed brick and fair-face concrete are used as materials to make the attic feel like a part of the old establishment over time.