A memorial is an object which serves as a focus for the memory or the commemoration of something. Seemingly, a building in which objects of historical, scientific, artistic, or cultural interest are stored and exhibited is known as a museum that has a cultural value, however, spaces such as memorial-museum take a significant role in our contemporary society. This project proposed by Md Ahasan Uddin Akanda will play a significant role as a tribute epicenter for Tareque Masud that will represent his thoughts, works, and dreams toward future generations as an independent filmmaker/author/screenwriter. His studio guide was: Prof. Sajid Bin Doza and Ph.D., Asst. Prof. Fahima Salam.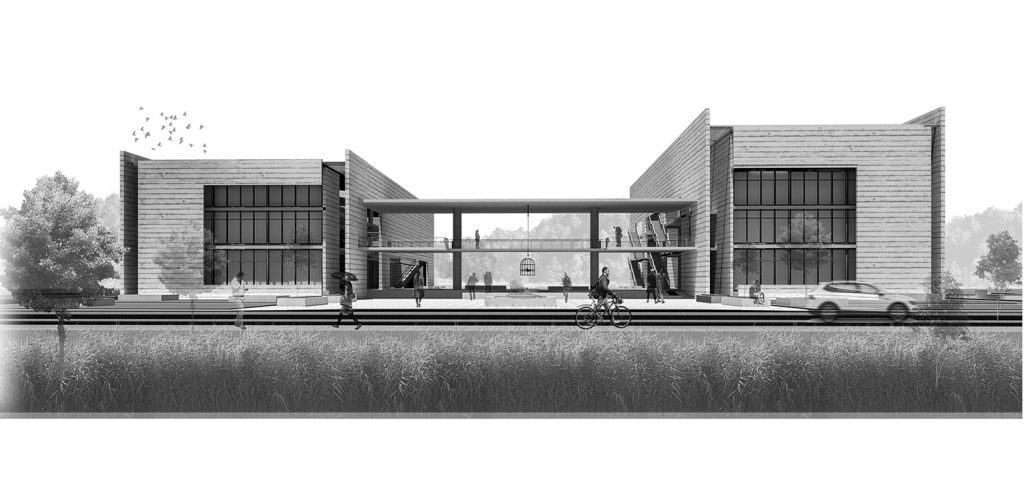 The design represents Tareque's philosophy which refers to liberation, human body theory, root finding, brevity, humility, democracy, and secularism. Following such philosophies, the building is above the ground and the lower side is obstructed except for the grand opening of the main entrance. In addition, light conveys spirituality, therefore, the scattering of light in the built form creates the space divine. A water channel has been made from the middle axis to his burial place which connects the sculpture 'Matir Moyna' hanging in front of the built form. Through this, an attempt has been made to establish a connection with the creations of the Creator. The west block consists of the exhibition gallery (Temporary Gallery, Obstacle, Proximity, Movie Journey, Path to Liberation War, Eternal journey) and the eastern block consists of the theater, library, film research lab, and film training center.
Last but not least, the designer rediscovered how light and silence can change the expression of a built environment and ascertained how light can make the condition of a place more natural, and more vibrant. From the designer's point of view, two quotes from the master architects represent the whole project: 1. "I sense a threshold: Light to Silence, Silence to Light- an ambiance of inspiration in which they desire to be, to express, crosses with the possible light to silence, silence to light crosses in the sanctuary of art." – Luis Kahn. 2. "I don't believe architecture has to speak too much, it should remain silent and let nature in the guise of sunlight and wind." – Tadao Ando.