For the 60th issue of Showcase magazine marking its 5th Anniversary, jury members: Wakilur Rahman, Bishwajit Goswami, and Tejosh Halder Josh, have selected 10 names to represent the realm of Art, for the issue.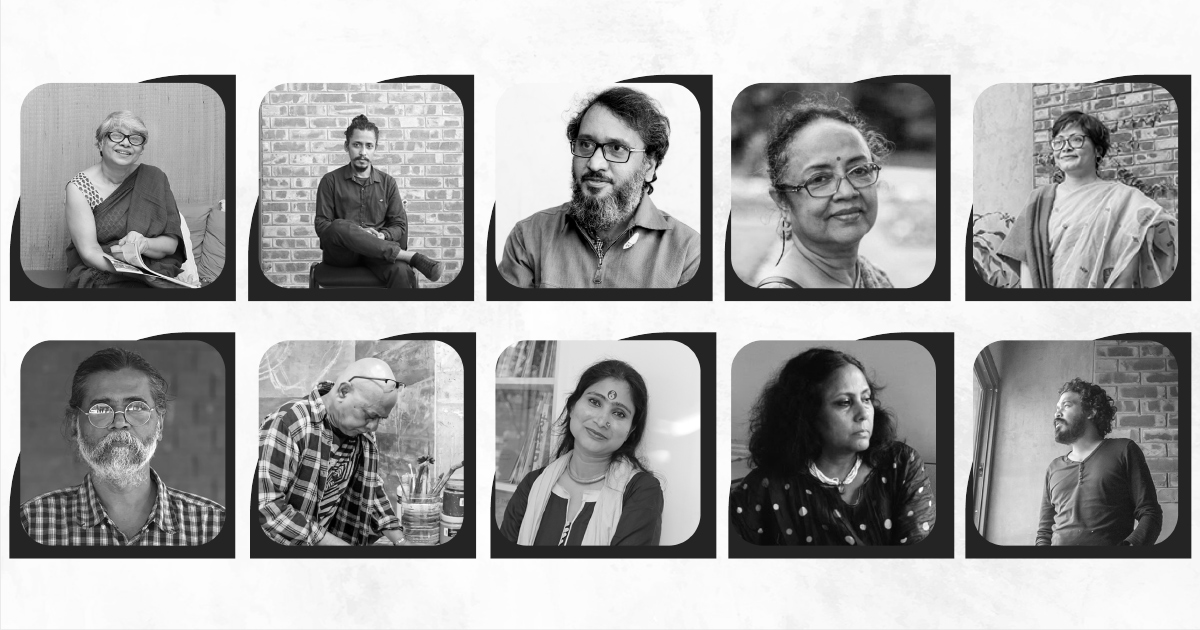 The jury artists pondered thoroughly before compiling artists and their contribution in the art scene of Bangladesh, to be featured for the Anniversary issue. The criteria for selection were to select names whose works have not been featured before in Showcase. Besides that different generations and promising continuous engagement was taken into consideration for the selection. The juries with much difficulty and honour, came up with 10 names who they believed in.
Dilara Begum Jolly
Dilara Begum Jolly, a prominent feminist artist of our time has presented impeccable work to the art scenario of Bangladesh. She vocalizes crucial social concerns eminently through her art. Jolly is a full-time freelance artist, who utilizes all her time researching and working on art. As an avid traveller, Jolly derives plenty of inspiration from nature.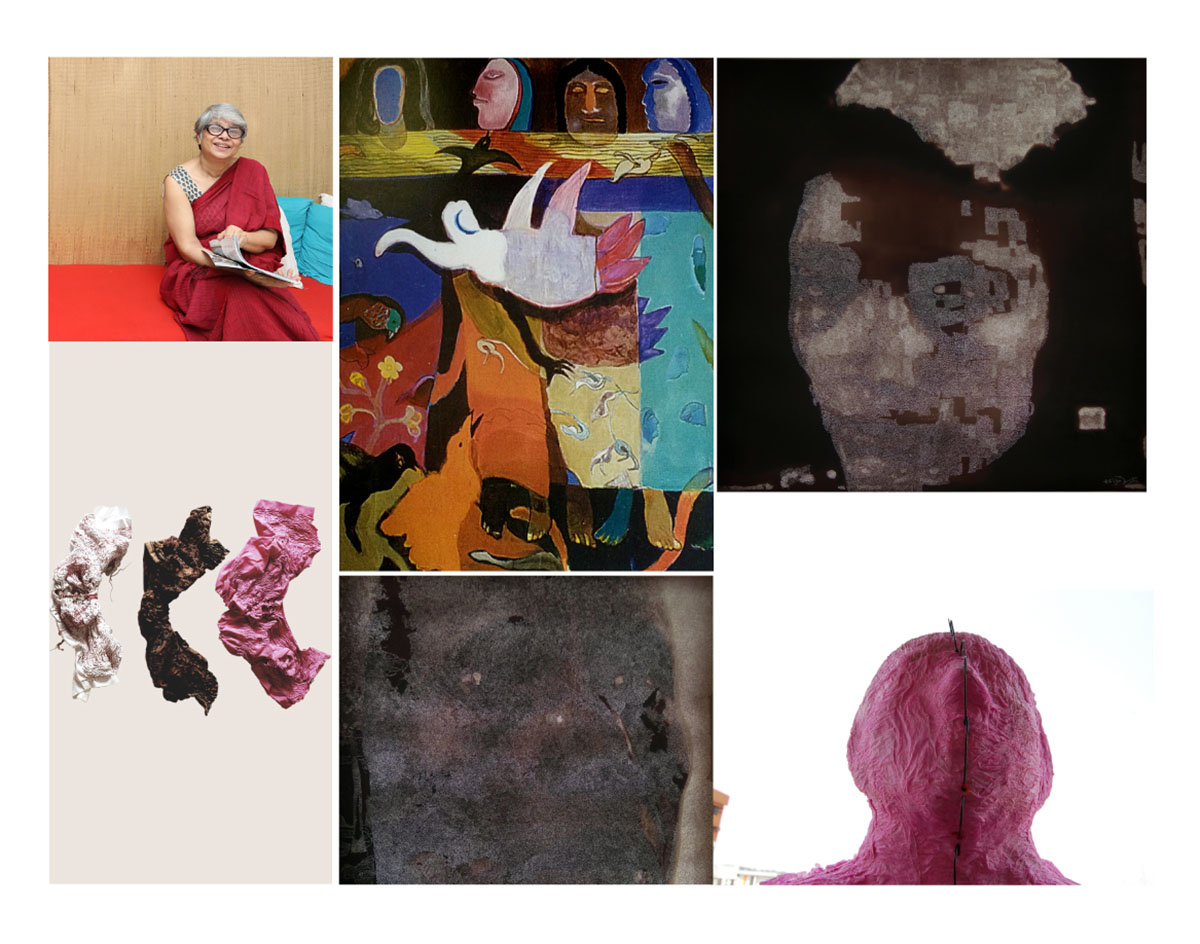 Jolly was not accustomed to painting before getting into Government Arts College, Chittagong. However, after she was officially introduced to art, she thoroughly enjoyed the experience of her academic life. She completed her MFA from the Institute of Fine Arts, University of Dhaka. Jolly mentioned, "My mother played a huge role in inspiring me to be the woman I am today. Even after being a woman of the conservative time, she emphasized on the importance of being educated and economically independent." 
For the greater part of her art journey, Jolly mostly did traditional canvas art. It is in recent times that she started experimenting with several mediums and techniques. One of her most popular techniques of art has been needle prickling images to bring depth to the story behind it. The technique implemented in her artwork on the Bangladesh Liberation War is truly impeccable.
The primary theme Jolly works with is the hardship of women's life journey: oppression and injustices they face, such as the life of Birangona, struggle of sex workers, etc. Her current exhibition was dedicated to the former sex worker Hajera, where she hung stitched blouse and petticoat like hanging meat in a butcher shop. Jolly believes, "I alone may not be able to change the scenario for women, but I can express myself and give them a voice nonetheless." 
Emran Sohel
Sitting at the top floor of the Panthapath Pathshala and listening to Emran Sohel ardently talk about his artistic oeuvre was a fascinating treat to say the least. Starting from blissfully discussing about his devotion towards Dadaism to diving deeply into the politics of performance art, Sohel does it with a masterful precision yet with a sense of unbridled passion.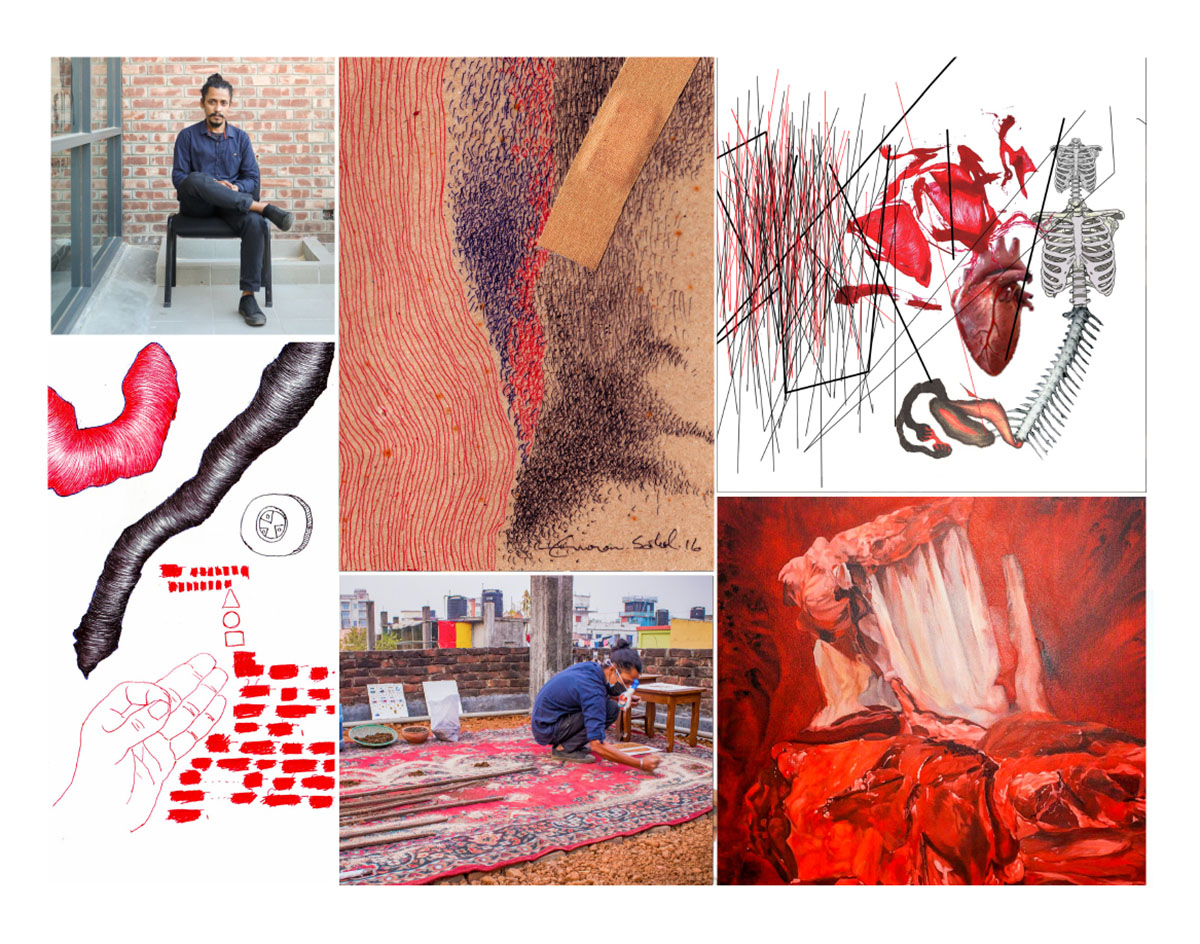 Born and raised in Dhaka, Sohel's academic journey in the field of arts started with Rajshahi Charukola, from where he went to Santiniketan to finish the rest of his undergraduate and his master's program in fine arts. "At Bangladesh, we played the roles of a student more than that of an actual artist. We painted day and night without a second thought on our minds. However when I went to Shantiniketon, it seemed as if nature seeped into the landscapes spectacularly and I got a chance to experiment with my style more, I finally got to strike up a dialogue with my canvas and the concepts I wanted to explore. It was liberating beyond belief though a tiny bit intimidating" Sohel said with a laugh.
Going through Sohel's numerous compositions, one can find a politically charged postmodern taste to it, his performance pieces are unnerving it their radicalism and dry wit. One of the recurring motifs in his works is something intangible — his creative use of space. Sohel talks about his exhibit at Chobimela and how it took place spanning over the entire space of the fire exit of the building and then goes into a detailed depiction of one of his first exhibitions — "A friend of mine and I covered our bodies in a solid shade of colour, painted our cycles as well and then we travelled around the entire area of Shantiniketan." Sohel adamantly mentions that his vision deals with the many shenanigans of public spaces and he does not want to create art on a canvas but enlarge his canvas which is why installation pieces and performance pieces are his preferred genre.
On the topic of his further explorations, Sohel tells us "For commission work, I am constantly working on intricate face sketches and portraits, but for my personal exhibitions, I work with different medias—and try and sculpt a ground which is relevant and which sings a song of needed defiance" Sohel says. The tales which Emran Sohel has crafted so meticulously holds a sense of versatility that at once screams rebellious, postmodern kitsch but also has a supremely sombre tone etched alongside it, a tone that seems like an absolute necessity in these trying times.
Mustafa Zaman
Known as an insightful intellectual, an avant-garde curator and as a talented writer, Mustafa Zaman, however, tells us about how he is an artist, first and foremost. Growing up in a quaint Dhaka which was immersed in natural landscapes and intense political unrest, it is quite evident that Zaman has manifested both a sense of verisimilitude and rebellion.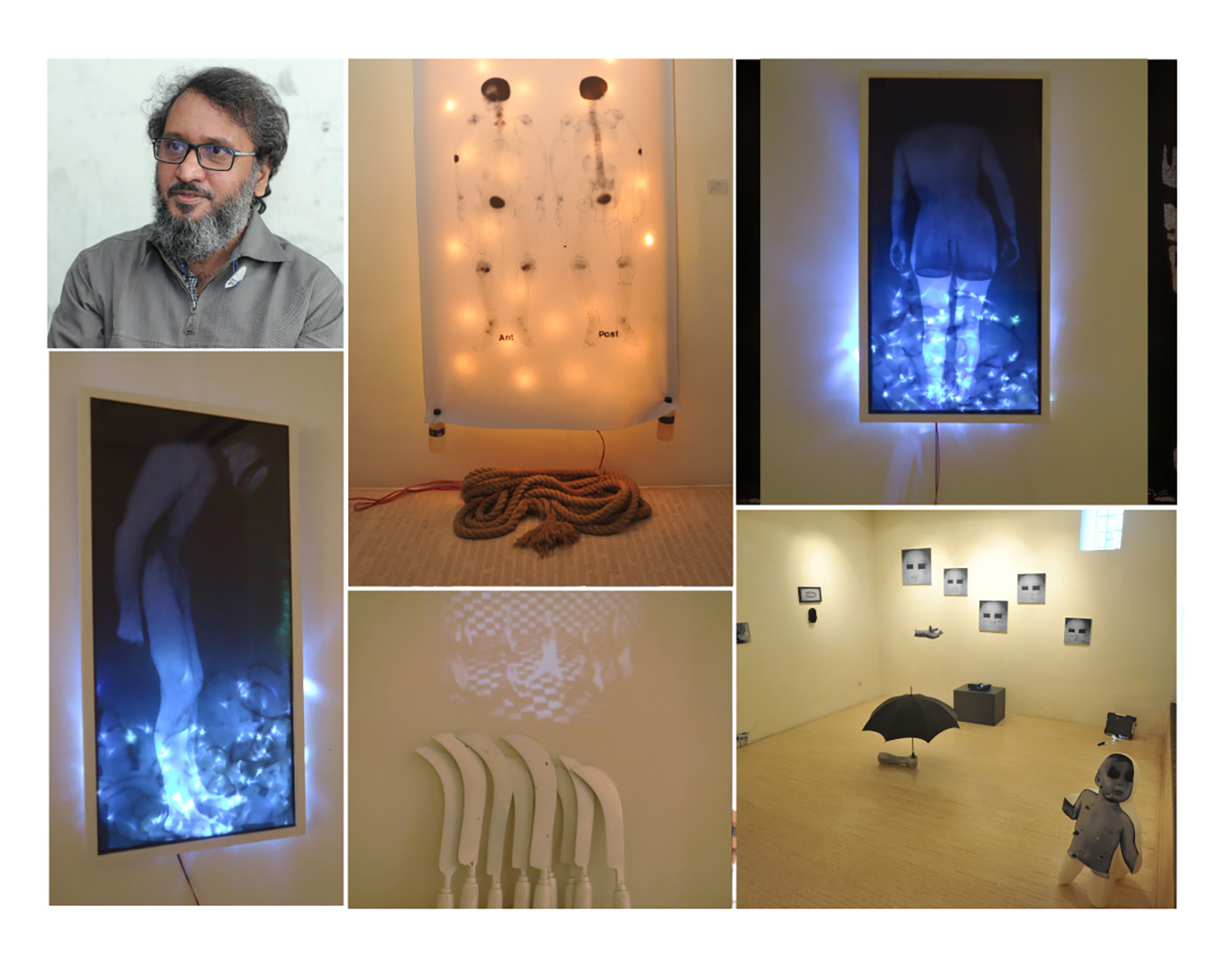 The figurines which occupy a huge number of Mustafa Zaman's paintings and sketches are filled with an almost Frankesteinian solitude; the modern Prometheus floats around the surface of the media with an unknown grace, yet its bodice seems shackled and distorted in the face of the farcical absurdity of our capitalist society. This also applies to the subjects his installment pieces and mix media works. The irony lies in the immensely metaphysical and almost sublime factor within these figurative works of Zaman.
When asked about inspiration, Zaman talks about Russian children literature and how the sketches initially paved the path for him as a figurative artist; he says— "After 71, these wonderful books were available everywhere. Soviet Union might have failed as a state but their fields were teeming with talent." On that note, he also tells us how artworks by gurus like Picasso, Di Chirico and Dali made him explore concepts of psychology, social reality and surrealism alike.
Interestingly, Zaman's studio cum library contains everything starting from age old copies of the New Yorker to penguin editions of Sophocles. As for Depart, "I was an avid reader but I never really did care much about theory. However when I started the magazine, I had to not only catch up on the essential Marx, Foucault and Lacan but also writings on art and aesthetics."
While talking about exhibitions, Zaman states he prefers group exhibitions to solo ones. His most recent hypermedia installations and immersive compositions were presented at Bengal Lounge in 2013. Starting from using cut-outs from fashion magazines and medical books to using dolls and horses as muses, honey and soap as media, his experiments have made a mark.
When asked about his future ventures, Zaman talks about how the voice of Lalon has haunted him since decades past and he wants to work with, perhaps write about the Akar, Shakar, Nirakar aspect of Lalon and convert it into his own language. There is something immensely curious about his art works; though imbued with a slight notion of macabre, there is a sense of sincerity to it, and in extension, to him.
Najmun Nahar Keya
Works of Najmun Nahar Keya hold a certain sense of nostalgia and renewal of lost memories. Keya is an artist who immersed in art from the earliest age. Ever since her journey started, she has been in the process of art making on a daily basis. She has earned the prestigious Monbukagakusho Japanese government scholarship, to study art in Tokyo.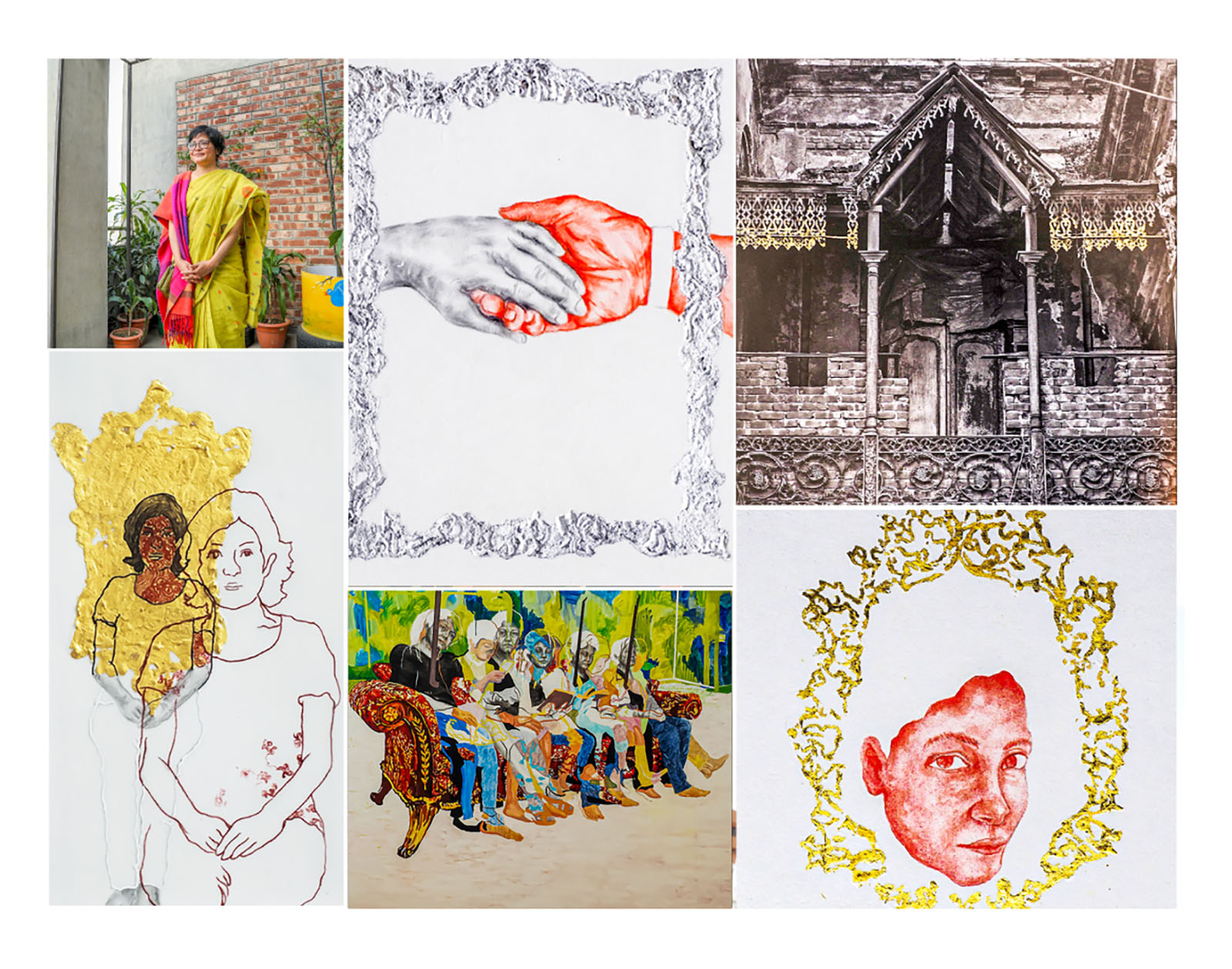 During her childhood, Keya has won several art competitions, as her artworks were sent abroad through Bangladesh Shishu Academy, where she studied as a child. Her family's encouragement had a big influence in her nurturing her artistic side. She has completed her BFA & MFA from Institute of Fine Arts, University of Dhaka, and second MFA from Tokyo University of the Arts.
Her holistic journey of studying and living in Tokyo had an enormous impact in her life. She believes, "The education system in Bangladesh is much backdated; it still functions in the same old systemized order." Studying in Tokyo enabled her to value her culture and memories even more. She incorporated the Japanese concept of kintsugi and wabi-sabi in her art; acknowledging the beauty of imperfection. Being born and brought up in Old Dhaka, to seek her precious memories she uses gold gilding technique on photographs of worn out old buildings in Old Dhaka.
Besides drawing and painting, Keya also has been experimenting with different materials and mediums such as gold gilding, photographs, video, animation, prints, textile etc. One of her recent works includes soft sculpture installation where she created Bengali alphabet molding Tangail saree.
Nazlee Laila Mansur
A tale about pulsating hues of magenta and green, a tale inundated with the day to day feminine experiences, a tale narrating the myriad scenarios from the perspective of the moving observer is a tale Nazlee Laila Mansur weaves with her saturated strokes. Having studied Fine Arts at Chittagong University under some legendary maestros, Mansur has taught art at the Government Art College at Chittagong herself and most importantly, she is one of the most eminent artists in the country.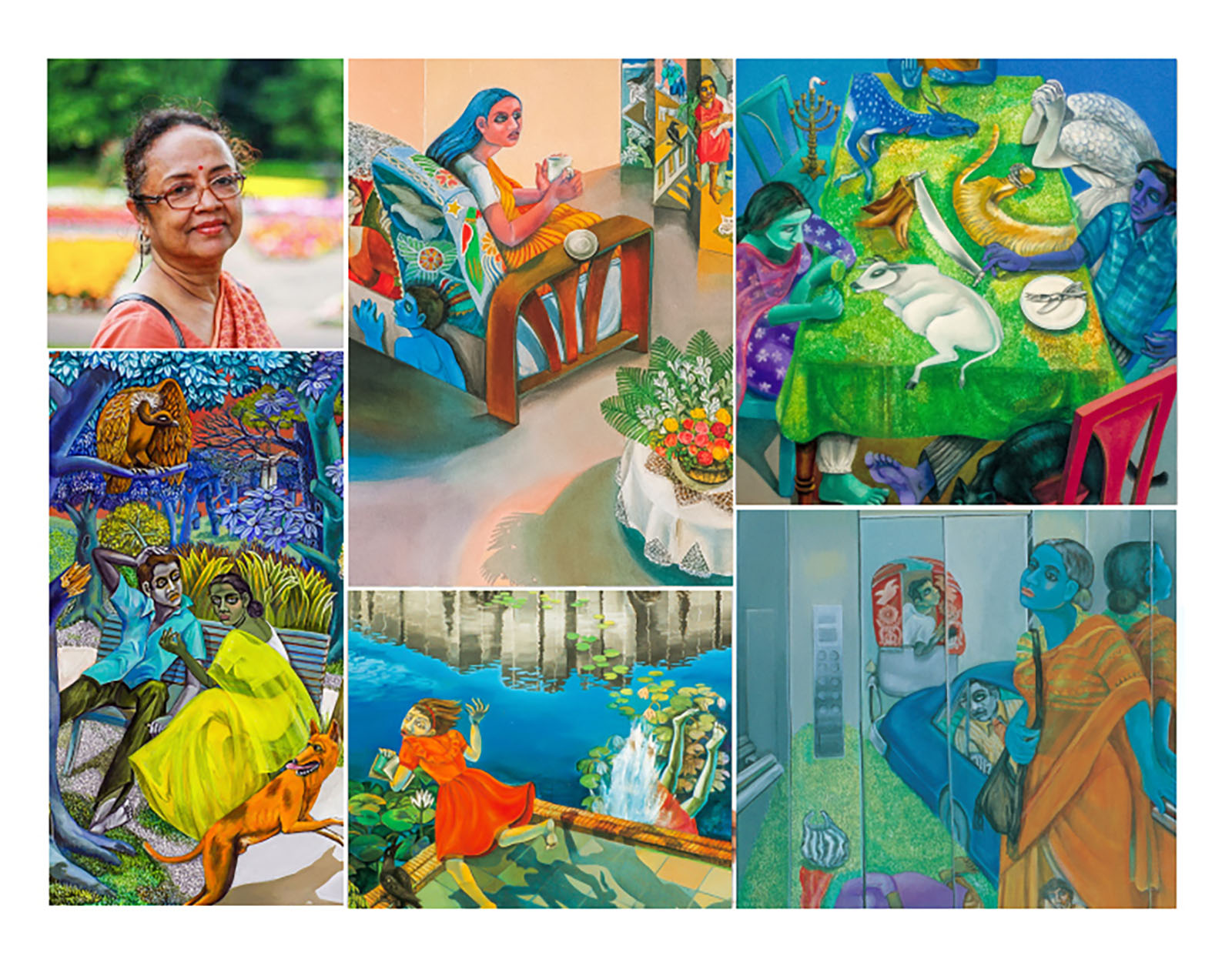 Mansur enthusiastically lets us know about how the root of her artistic leanings were embedded into her childhood. "My family was very inclined towards different forms of art; my sister was one of the first architects of the country and for as long as I can remember, most of my days I would spend my days either immersed in paint or singing and dancing.
In the present day of neon images constantly enunciating their definitions and worth in an almost garrulous manner, Mansur's pieces evoke a sense of quiet clarity. Her images hold a parallel mirror to our reality where the skies are candy floss clouds and the city crows veer closer to the Technicolor windowpanes. A recurrent keynote in her sagas are that of rickshaws— "I would spend a lot of my time outside riding rickshaws, it was the chariot of the middle class, and I would quietly take notes, on the women around me, the eyes on me and the various colorful shenanigans people would be busy with."
In talks of inspirations and favorites also, she mentions rickshaw painting and her fevered affliction with the abolition of this rare form of folk art. She went on to add that she dislikes the idea of her art being gate-kept at bleached galleries and instead wants an immersive experience for audience from all socio-economic classes. On this note she shares a precious anecdote of how a young boy who was selling tea to Mansur and her friends, caught a glimpse of one of her works and jubilantly exclaimed that he would at some point in his life purchase all her works! There was a lovely affection in Mansur's voice while she recalled this incident which does make one feel like she isn't retelling any narrative whatsoever just for the diversity points. Mansur casually dissects her love for the animation of Miyazaki, the opulence of Mughal Art, the Ajanta-Elora Sculptures shrouded in veils of mystery while concluding the note on the works which gives her delight.
Though engraved with leitmotifs of feminism and infused with echoes of the subaltern existence, Mansur asserts how she aspires to the kind of artist who is timeless— "My works are not journalistic, neither are they educational or didactic; it is my imagination – raw and uncensored" she shares.
Nisar Hossain
Specializing in contemporary and folk painting of Bangladesh, Nisar Hossain's art is for the ones who truly appreciate and value the free spirit of his works. He is the dean and a professor in the Faculty of Fine Art, University of Dhaka.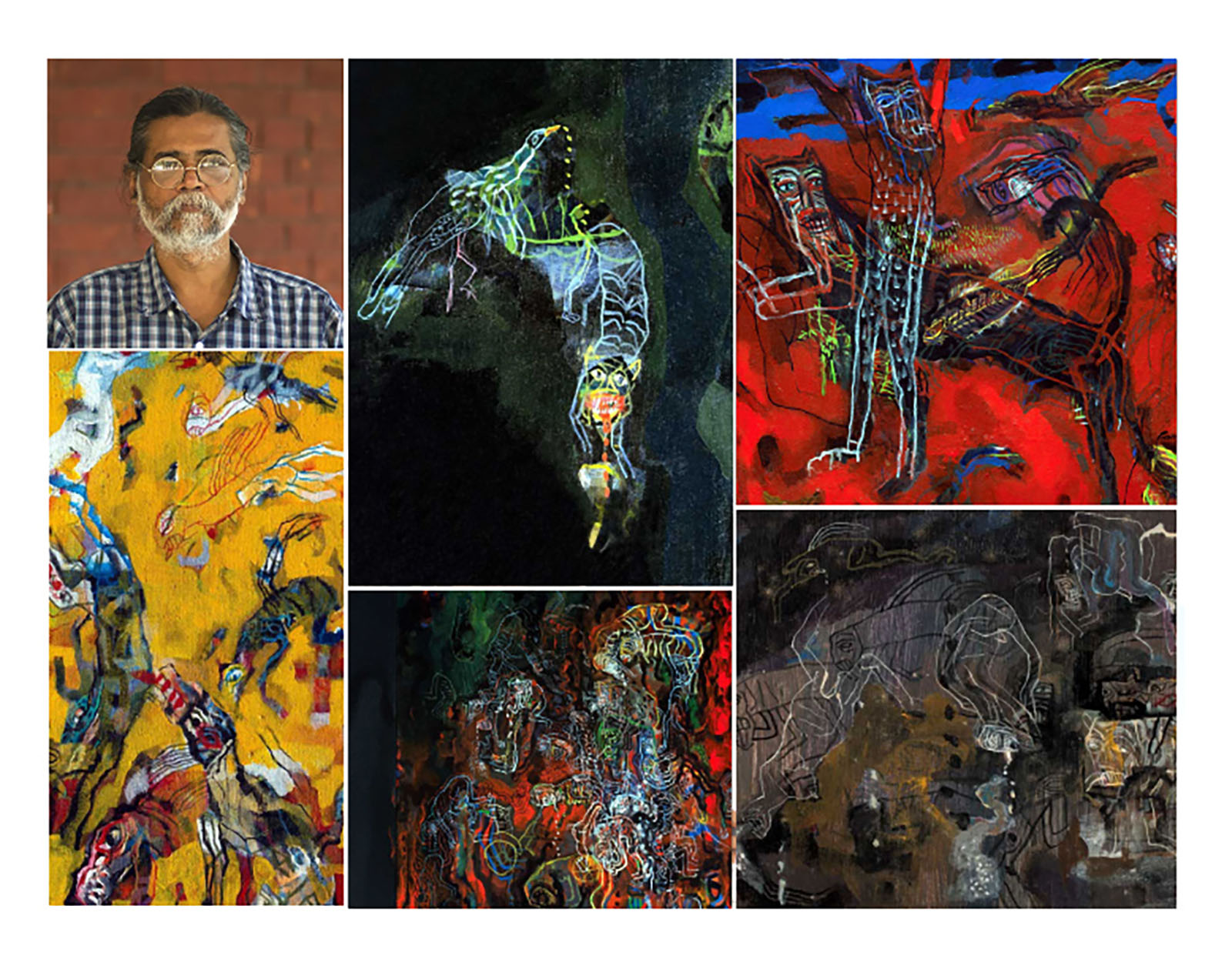 Nisar has held a solo exhibition at Gallery Chitrak in Dhanmondi, where he displayed several of his artworks which he has done in the past 25 years. These are timeless pieces, years of dedication he has put out there for the ones who can intellectually perceive the works for what they are. The paintings are alive with intense brightness, screaming stories to be told. His artworks are oozing with vibrant colours, covered in shapes of human and ominous creature figures.
He has completed his BFA from the Department of Drawing & Painting, University of Dhaka; and MFA from Department of Painting, Visva Bharati University, Santiniketan. Nisar believes that despite the common heritage between India and Bangladesh, Indian artists seem to specialize in concrete art, for instance, landscapes, while Bangladeshi artists generally work on abstract art. However, as for the newer generation, who has studied in India, have a significant influence of the Indian art on them, they are gravitating towards figurative art.
Nisar Hossain stresses the fact that art is subjective, making it a matter of perception. Hence, every artist is "true" in his/her place.  His political stance on the art scene is that it is largely controlled by the taste and preference of elitists. Art will need to reach the common people as well so that it doesn't fall exclusively under the control of one category. However, Nisar is hopeful about the current art scene. He feels artworks now have a lot of exposure in this country, through various mediums.
Shahid Kabir
Shahid Kabir is a renowned artist and printmaker, well known both in Bangladesh and Spain, depicting through his art the oppressed people, regular objects and activities that usually go unnoticed but are very significant parts of daily ambience. His works feature the underprivileged, portraying the melancholy of suffering and miseries with utter affection.
Born in Banaripara, in the district of Barishal in 1949 to a relatively wealthy family, Shahid spent a large part of his time with daily wage earners and they left a big impact on his mind and thoughts, and have been a huge influence on his art. He gained his fame and recognition through his art series on Lalon and Baul in the 1980s, where he portrayed their philosophy. The year he arrived in Madrid, he joined Galleria Estampa as an assistant printmaker and there he learned the difficult and rigorous technique of embossed aquatint etchings on paper where he produced Wine and I (1980) and Still Life(1980). Soon after mastering the art, Kabir started creating his own works and by 1985 he was producing large size multi-colour prints. When he returned to Bangladesh after 17 years, he introduced simple idioms in art illustrations.
Kabir prefers spontaneity over a planned approach, the excitement that only the unknown can give. He has his unique style of painting and he does not stick to the traditional modes of painting. In some of his paintings, he used a paint which is a mixture of both acrylic and oil colours with burnt sand, wood and brick powder, straw and other economical materials; and along with brushes and spatulas, he was also known to use his fingers, knives, spears and blades which give his paintings a distinct texture that is very unlike the usual clean, clear, smooth strokes of a paintbrush. His subjects vary from the misery of the underprivileged, beauty of struggling women to mundane objects of daily life.
Shahid's empathy for the less fortunate is visibly prominent in his artworks because of his immense effort to merge himself with the subjects of his paintings. His paintings are reflections of his own witness of the lives and the stories, portrayed through the details of facial expression and body language. The painter can both thicken and minimise his colours and approach varied layers of human emotions. Leading the bohemian lifestyle, Shahid Kabir, with his painting and printworks, illustrated the street lives and landscapes that never fails to touch the heart. 
Sumana Akter
Self-focused art reveals much more than the artist itself. As Sumana Akter projects herself, she speaks for the whole community. Sumana is a prominent performance artist who believes each concept requires different medium of art. Most often, she best expresses her views through performances. Boldness of her performance art speaks volume, as she expresses social concerns through it.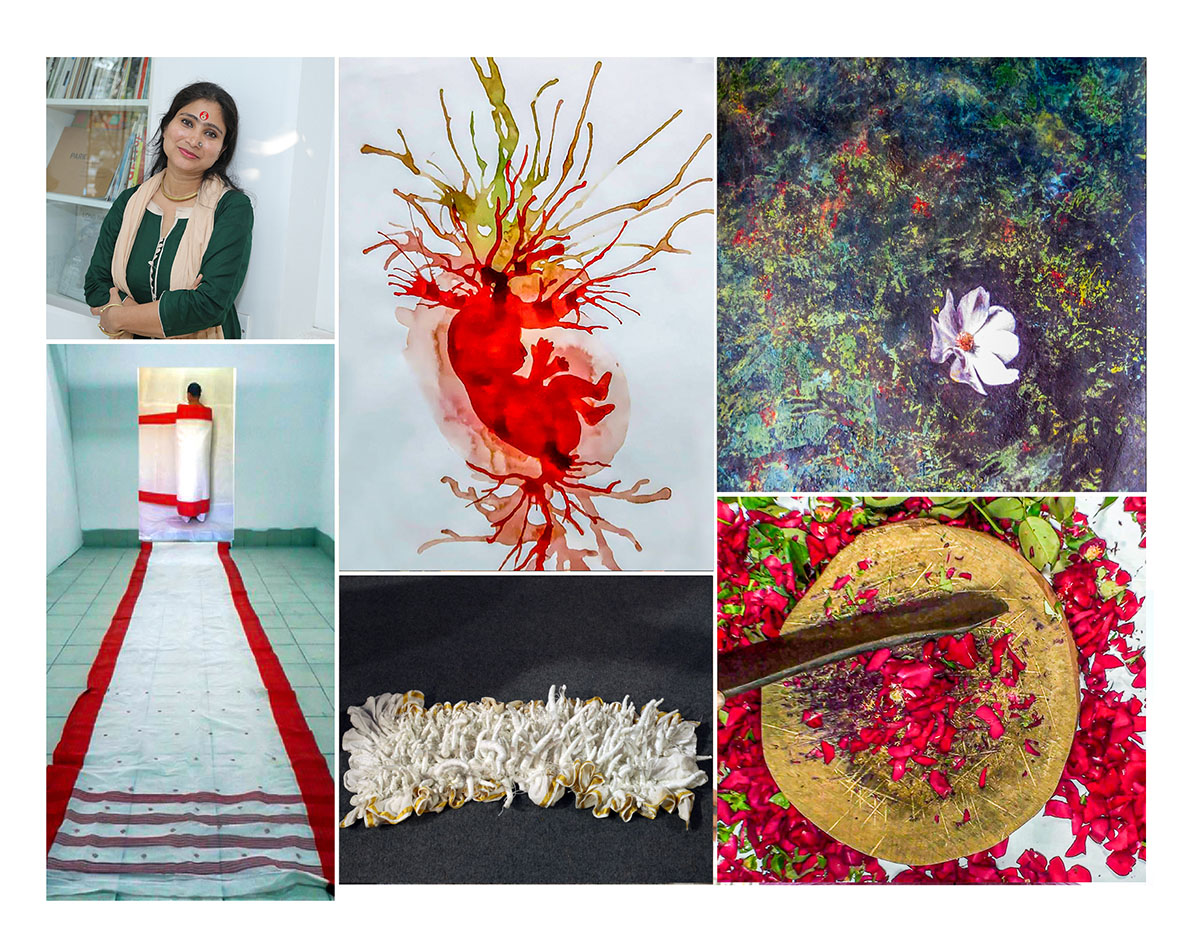 Since her childhood, Sumana took part in hefty jobs giving a hand to her father. She never limited herself to the stereotype for female gender role, rather she aspired for equality in her approach. As a child, Sumana took interest in and practiced stitching 'Nakshi Kantha'. Based on her expertise in stitching, at one point she considered being a fashion designer. However, she later got admitted in Fine Art Institute Narayanganj.
After she completed her MFA in fine arts, she pursued performance art. Her theme of art is "self-expression". Even though she necessarily doesn't label her work as feminist art, it has underlying feminist values nonetheless. Her performance art is a fight against the conventional ideologies of the society. "I believe there is more scope for art now in Bangladesh than ever. Now one can monetize art very easily, which wasn't the case in our time," claims Sumana.
She prefers to keep her performance videos short and impactful. Her performances can seem unsettling, but that is precisely the motive behind it. People have become desensitized to recurrent social issues, and in turn are normalizing it. Hence, the artist's motive is to discomfit people, so as not to normalize crucial injustices.
Tayeba Begum Lipi
The multi-media artist, Tayeba Begum Lipi, engages painting, printmaking, installation and videos articulating themes of female marginality and their identity.  The stainless steel razor blade extensively plays a significant role in her works. She uses this medium to recreate everyday objects including beds, bathtubs, strollers, wheelchairs, baby perambulators, women's undergarments, and many such routine objects.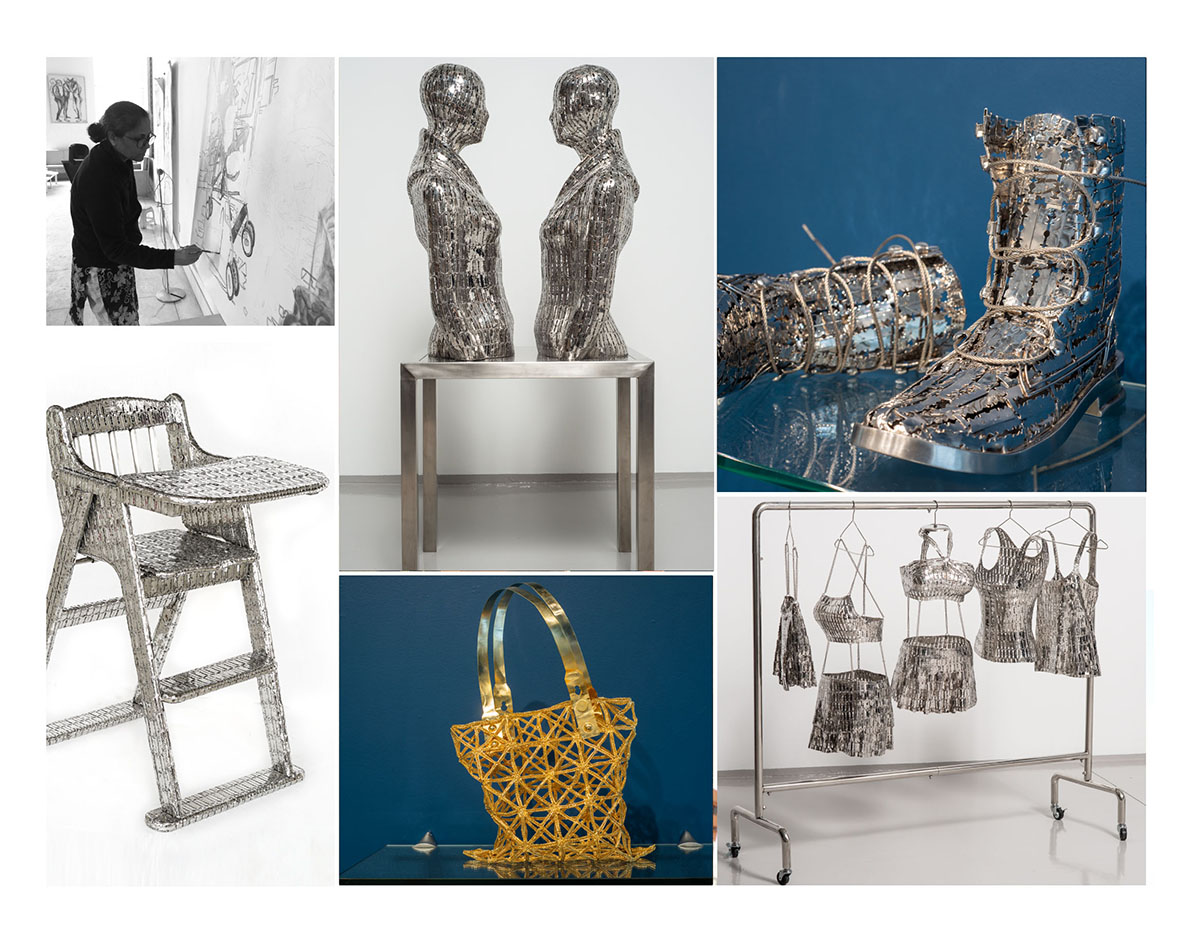 The artist was born in Gaibandha and is the second youngest of twelve siblings. After completing the 12th grade, she came to the capital to attend different admission tests. It is at that time, his fifth brother Tahmidul Islam introduced her to the beautiful fine art campus at Dhaka University and insisted her to consider getting admission there. And as destined, Lipi got her admission to the Fine Art Institute in 1986, where she began her artistic journey.
As her works evolved, it developed a kind of edgy feel that leaves an imprint on a viewer's mind. It questions gender, identity, status, origin. Her work 'Love Bed' (2012), enlaced with hundreds of razor blades, highlighted the issue of female identity and the violence they go through, yet being resilient. Lipi continued her explorations of the instability of gender with the multi-media 'Reversal Reality' (2015). The project critiqued the marginalization of transgender people in Bangladesh.  The artist was awarded a grand prize at the 11th Asian Art Biennale Bangladesh 2003, Dhaka, and was the commissioner for the Pavilion of Bangladesh at the 54th International Art Exhibition of la Biennale di Venezia, 2011, and one of the curators for the Kathmandu International Art Festival 2012.
At the recent time, during the Covid-19 crisis, the artist is engaged in producing stitching/embroidering works. At first, she thought of starting a new series of drawings, but later, she changed her mind and thought to go for stitch works, which she used to do a lot before, but unfortunately could not pursue because of her busy work schedule.
Zihan Karim
Zihan Karim, a prominent young artist of Chittagong, has brought a new face of art to the existing art culture of Bangladesh. He started out as a traditional painter, but with much experimentation, his path led to a lesser known side of art. The thriving artist specializes in audio visual art, which more often than not projects social concerns.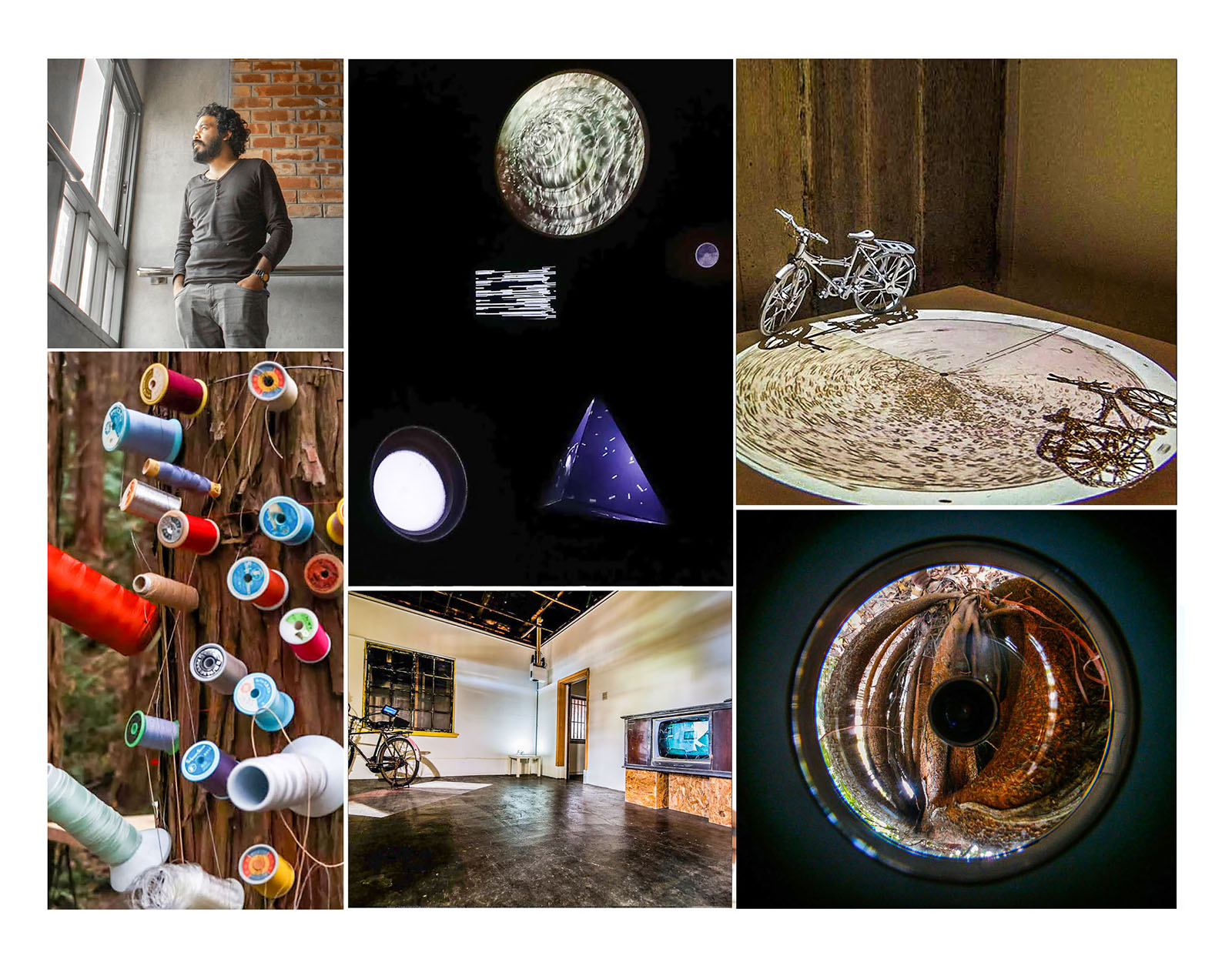 As a child coming from science background, Zihan was very much fascinated by technological science, and mused on inventions. The young mind from the very beginning, inclined towards innovations, which of course later in his life surfaced through his art. An interesting characteristic trait of Zihan is that, he habitually looks for alternatives to initial plans that do not pan out. Which perhaps initiated him to experiment in several fields before he found out what resonated the most with his self-expression.
Zihan Karim has completed MFA & BFA from Institute of Fine Arts, Chittagong University, where he is currently working as a lecturer. During the early days of BFA, his interest steered to cinematography. Zihan considered being a filmmaker at the beginning. However, he later realized, filming requires more discipline than the free expression of art he hoped to portray. Eventually, he became an audio-visual artist.
Over the years Zihan Karim has had many exhibitions, both abroad and in home country. He claims himself to be a spontaneous artist who needs to implement the ideas before they run out. He is as much interested in the emotion his art evokes as he is in creating it. Zihan Karim endeavours to bring out the connection between the virtual world and reality.