Simpletree Anarkali designed by Volumezero Ltd is an ode to a purist architectural response to the oft-chaotic urban fabric of Dhaka. The timeless elegance of reticulate concrete accentuates the clarity of transparent glass planes that forms the exterior envelope. The poetry of horizontal and vertical lines entwine with this grammar to create an urban interest within the emerging commercial spine of Gulshan Avenue.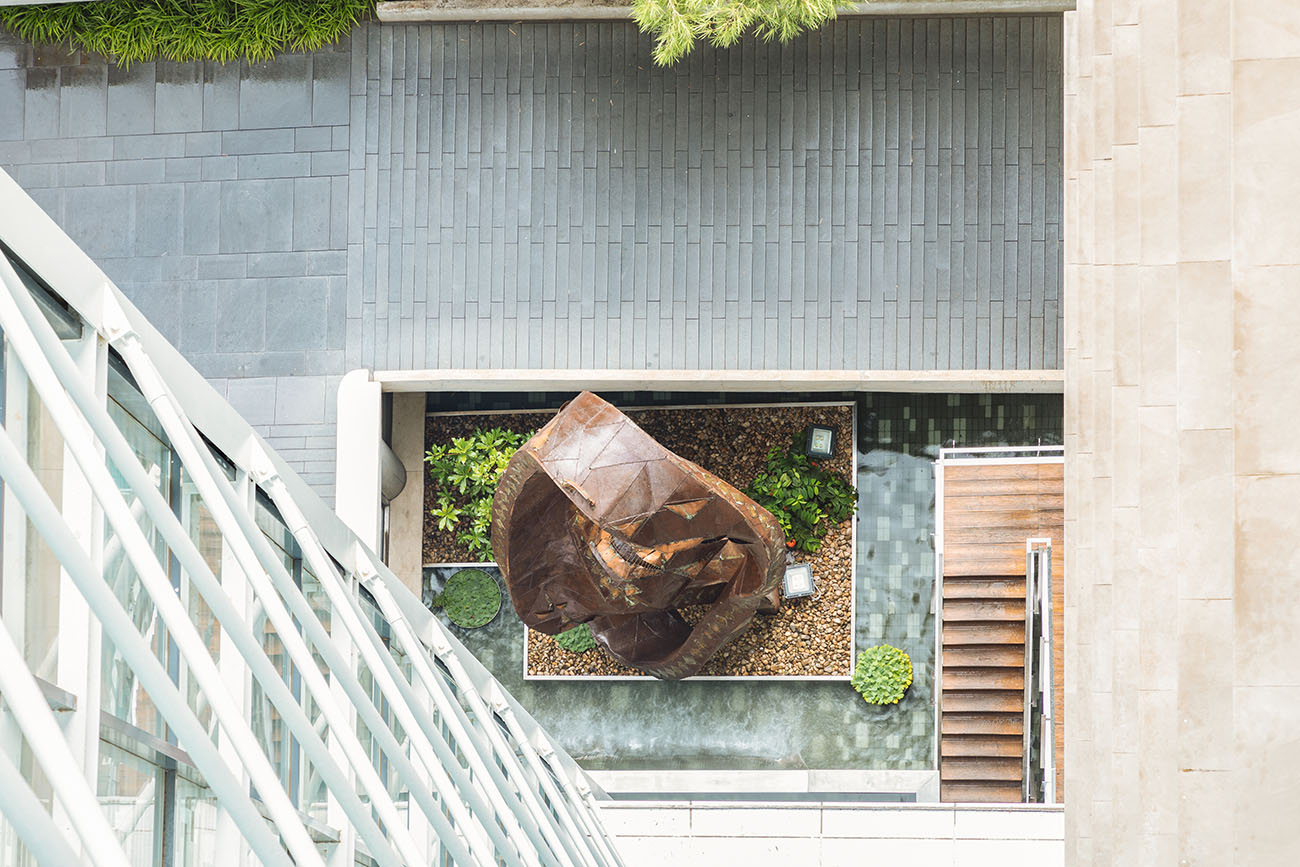 The resplendent forecourt with a generous setback presents a well-curated landscape embellished with cascading waterscape and amorphous sculptures by celebrated artists.
Consistent with the purist approach the canopied drop-off within the realm becomes a preparation portal for the ensuing ambience and elegance. Each of the 1022 square-meter floor plates is a rectangular base supported by a central core and a peripheral service spine, allowing corporate addresses efficient customization within dedicated floors. Apart from being the front-runner in high strata corporate address, Simpletree Anarkali sets a benchmark through a strong sense of environmental responsibilities.
Validation of its ability to conserve water, electricity and implementation of environment-sensitive construction methodology came through LEED Certification for shell and core by USGBC, in the gold category – The first commercial building in the country to achieve that feat. The intelligent use of double Low-E, ceramic fritted glazing panel along the west facade maintains the required SHGC (solar heat gain coefficient) value while exhibiting an urban scale artwork along the boulevard.
Additionally, an under earth enclave is designated for a cafe where general users can admire and contemplate the overall grandeur. With this journey in mind, a large-scale unique sculpture around cascading planes of water forms the centrepiece of the forecourt. Consequently, people can inculcate a sense of ownership and endearment that should in turn motivate others. It is only when a sustainable framework guides multiple initiatives that we create a conurbation which sets standards, shatters benchmarks, and truly serve the people that inhabit it.
"As a conscious architectural response, Simpletree Anarkali becomes an urban canvas whereupon pixilated art form reflects the evolution of Dhaka's socio-economic values – within the chaotic randomness there lays a regulating grammar, repetition of order that breathes life into its expression"

says Mohammad Foyez Ullah, principal architect of Volumezero Ltd.
Simpletree Anarkali chronicles the interplay between nature, culture and time, alongside the beauty that ensues through spontaneous metamorphosis into the future. The composite idea relies upon the ambivalence between 'creativity 'and 'normative regulation'. While creativity drew inspiration from the purity of planes and boldness of primordial forms; normative regulation in this day and age had to be sustainable features with valid accreditations. Accreditation consequently followed in the form of LEED Gold Certification which as per USGBC is the first LEED Gold commercial building in the country.
The spine of a rapidly evolving urban commune-like Gulshan Avenue in many ways needed the modern centrepiece in more ways than fathomable. It needed to reflect upon the aspiration that endorses an evolving economy, impress upon the merits of sustainability and raise the bar for commercial developments in Bangladesh.
Architect Profile: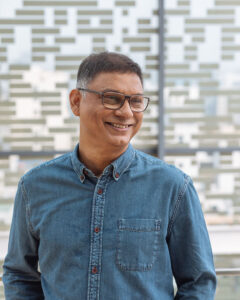 Mohammad Foyez Ullah is one of the preeminent architects of Bangladesh. His academic achievements include distinctions in his Bachelor in Architecture and the "Ahsanur Rahman Gold Medal" in Masters in 1997 from BUET. Soon after graduation in 1993, he continued to be an educator and professional and motivated aspiring architects in architectural schools across the country. Concurrently a successful legacy in the professional field was also initiated when he co-founded Vistaara architects in 1994. As a principal architect of Vistaara, his noteworthy contributions are GP House, Bashundhara City, UTC, The Westin, Peoples Insurance Bhaban, Shanta Western Tower and many more diverse building typologies.
Over a decade long successful partnership in Vistaara, Foyez regenerated his practice through Volumezero in 2008. Volumezero has already bagged critical awards for the interior design of its own studio and the high-profile Liberation War Museum Design competition in November 2009. He has won country's first sustainable building design award "Holcim Green Built Award 2010" for GP House and "Berger Excellence in Architecture 2007" for designing Peoples Insurance Bhaban and "IAB Design Award" for designing a multi-storied family housing in 1998.
Photography by F.M Faruque Abdullah Shawon and H.M Fozla Rabby (Apurbo)