On the south-eastern edge of Dhanmondi Lake, a stature of brick stands profoundly as a unique and iconic landmark. Designed by Nakshabid Architects, the 'Urban Legacy' multi-residential project is one of their noteworthy designs that is located on Dhanmondi in a 10-Katha land with gracious views of the Dhanmondi lake.
With 18 apartments of approximately 2100 square feet, the building was completed in early 2021, requiring four years for construction. The remarkable features of the building are focused on durability, longevity, and building material. Real estate building designs have evolved over time, and lately, concrete and brick have been adopted as building materials for longevity, which helps reduce yearly maintenance, instead of plaster paint. Since the building has no plaster finish, one of the main challenges in the construction of the Urban Legacy was achieving the last outlook of well-burnt brick of premium quality and colour. While describing the ideas and concepts behind the project, Ar. Bayejid stated that "using brick as the principal material as a building envelope was to assure the design of a sustainable, breathing building. Integrating greenery, contrasting with the site surroundings of Dhanmondi, was a considerable concept here. Moreover, natural light and ventilation were ensured in the design."
The units designed for the building were quite generic but ingeniously thoughtful. In most of the apartments in Dhaka, the dining space is located in the center of the apartment, where there is usually no scope for natural light to reach. Yet, contextually the homesteads in our rural areas have always had the concept of an open central space "Uthan – Courtyard" which is dedicated to gathering and dining activities of the family. Even though that concept is difficult to achieve for an apartment in an urban setting, the presence of openness and natural light can be ensured by the designer, which is represented as a promising concept for this building. Besides, the bedrooms were located on the northeast side of the building, facing the road, and louvers were introduced in the façade for environmental and strategic purposes.
The amenities for the residents include a multipurpose hall and a well-designed roof. An extended overhead roof was considered to protect the building from heat gain as well as to make it sustainable.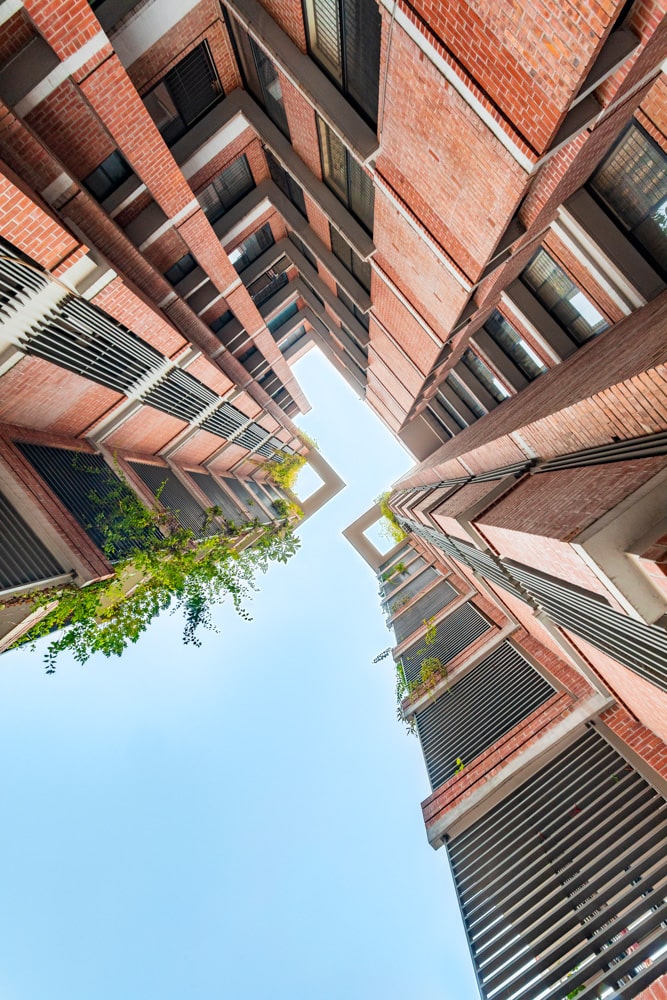 Providing scenic views of Dhanmondi Lake, the roof is designed as a retreat for the residents to hold gatherings and events.
Architect Bayejid Mahbub Khondker designs environment that interact with the societal values and demands of a particular time and place. He states, "Everything we see around us except nature defines a blended architecture that is man-made and always evolving with time." Describing his ideologies of design, he adds, "Whatever profession may be, the basic essence of a person lies in his efficiency and altruism. A building design should be similarly sustainable and self-sufficient as well. Natural resources such as sunlight, water, and air are like assets to us and must be given priority while designing any space. Moreover, it is extremely important to ensure the needs and comforts of a client instead of forcing our artistic designs upon them."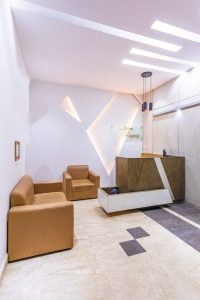 According to Ar. Bayejid, the present scenario of architecture in Bangladesh has countless prospects. He is optimistic about these new opportunities. "Everything is intertwined, starting from socio-political conditions to the development of the built environment. Talented, new passionate architects are on the rise and can also progress with time and technology. Giving them the liberty to learn naturally will provide the best outcome for the young architects. Rather than forcing ancient systems on them, facilitating them and letting them evolve is more significant."