Nabaraj Roy's art holds the promise of engaging his distinctive interpretation of "cultural heritage" through folklore. Bearing witness to his journey with art within the past 10 years, Roy held his first solo art exhibition titled 'The Reflection of Endless Mystery' at Alliance Française de Dhaka's La Galerie. The artist completed his Bachelor of Fine Arts at the University of Development Alternative (UODA) in 2013 and his Masters in the same discipline at the Rabindra Bharati University in India in 2016.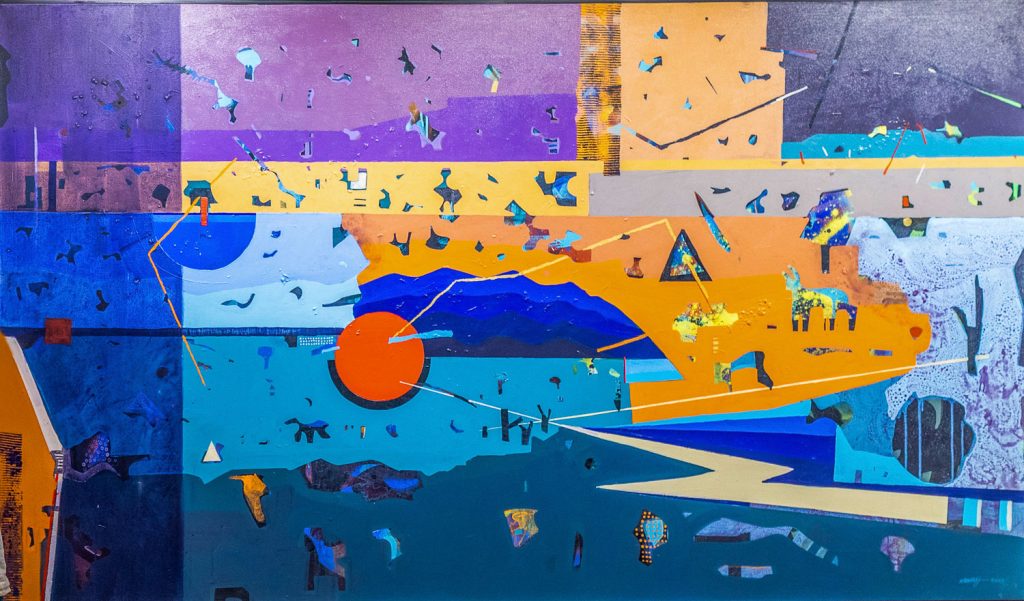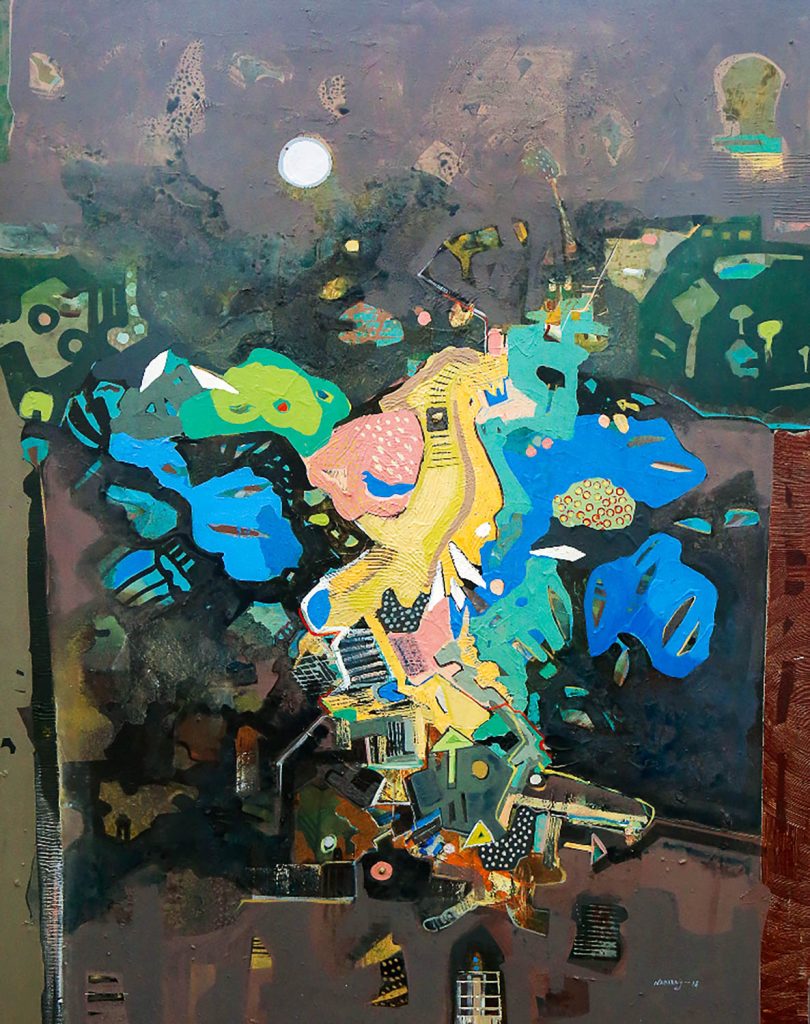 "It would be an understatement to say I've had a longstanding fascination towards folk-art. Living in Faridpur, a place steeped with this sort of art, I was always exposed to it. I even had a habit of collecting folk art. It was after I began studying fine arts when I realized the depth and uniqueness of this medium, as our own creation, unique to our culture. My fascination took on a different intensity afterwards. I then began going around collecting and preserving various pieces of this art, not just in Faridpur but all over Bangladesh. The various colours and forms found within folk-art have become recurring motifs throughout my works," expressed Roy.
Always inspired by colours, Nabaraj Roy shared an anecdote of a moment that shaped his understanding of the potential of art, "So, I've always painted. But particularly in grade 9, I saw one of my friends' drawing something. Watching him, I was quite inspired. I remember that as the exact moment when the realization, or you could say, the thought that art could be more than a hobby. It could be a profession, came to mind. I started seriously practicing art alongside my regular studies – I finally joined the University of Development Alternative (UODA) in the art department. I finished my undergrad in fine arts in 2013. I received a scholarship from ICCI which allotted me the opportunity to study at Rabindra Bharati University." The folk artist's recent exhibition held on 1 September, 2023 hosted 34 paintings and 3 sculptures. His talent has received accolades such as the 2020 S.M. Sultan Foundation Award and the 2019 Special Award from the Mount Fuji Painting Exhibition in Bangladesh.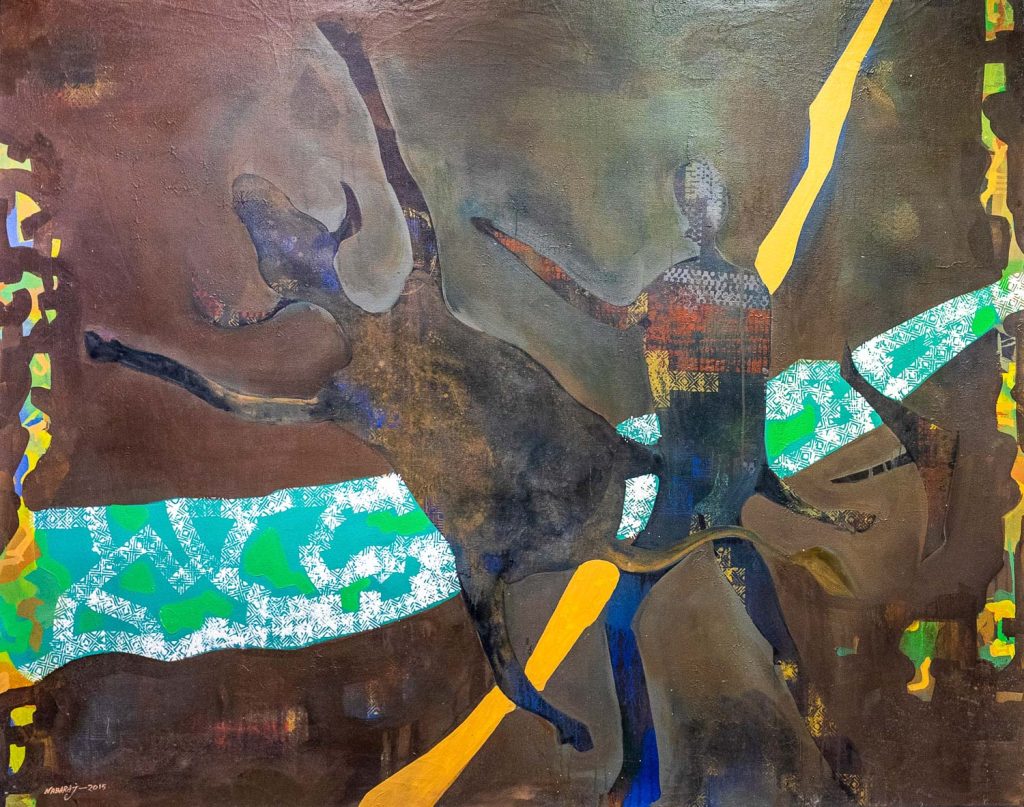 During his time studying in India, he dived into moulding and creating visual pieces through an abstract lens working on "a lot of more form-based works". Nabaraj Roy began to independently experiment with themes with in his personal philosophies after his return in 2016. The UODA graduate noted, "I was fortunate enough to have been able to observe nature very up close. My art spans the history of mankind, from cave paintings to contemporary art. My visual exposures have an important place in my art. I enjoy working with form based abstract art. While it is impossible to represent everything on a single canvas, some symbolic elements bear the weight of more than meets the eye. These symbols themselves can tell an entire story. Colours themselves speak a separate language. Colour itself is a story, form as well."
His understanding of the stark contrast between the world as it is now compared to what it has once been, is deeply imbued in his art. He states, "There has been so much that has been lost. As of now, a lot of elements that are basically defunct. Due to technological advancement, the raw element that we have within our culture is slowly fading. The current society reflects different cultures. It's become difficult to identify the elements of what is still 'my culture'. My brushes cast a lens of how rural culture has been trampled under the weight of urbanization. The nature of Bangladesh, the lives of ordinary people and folk art are my greatest source of inspiration."