An architect by profession and an artist by passion M M Maksud Biplob graduated from Bangladesh University of Engineering and Technology (BUET). He also acted as an associate professor of architecture at the State University in Dhaka. He founded his venture 'Paradigm Architects n Engineers' and is currently working there. He balances his architecture life and makes time to delve into the realm of art, into the realm of his passion, most often.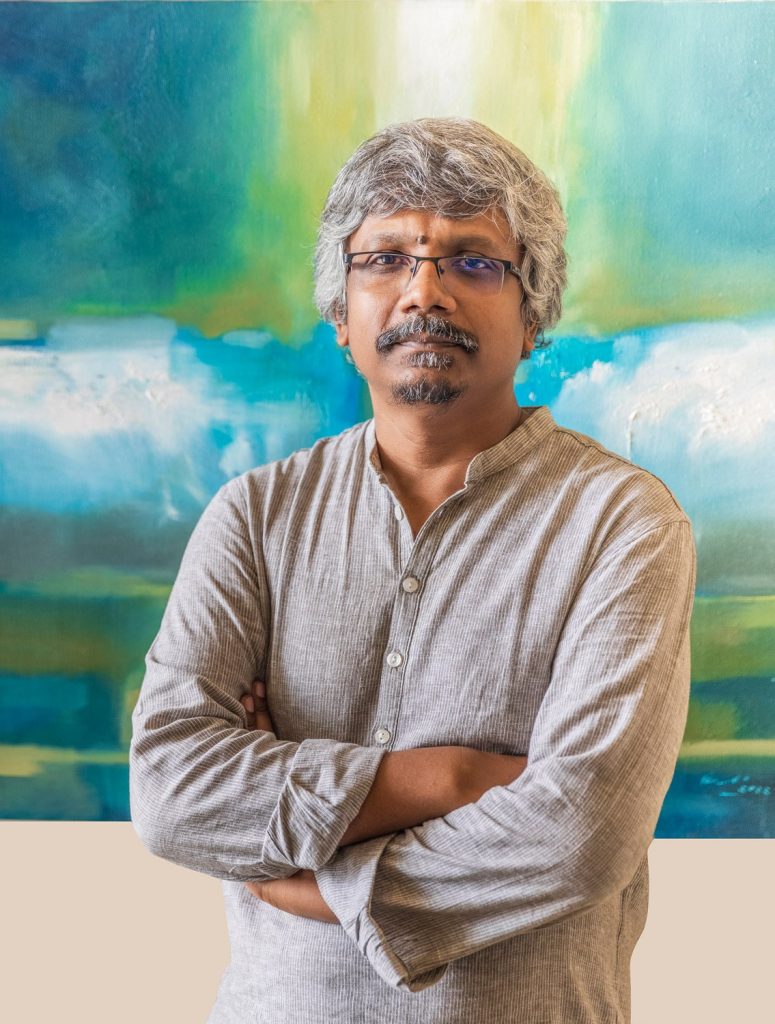 Biplob explained that while he spent his childhood in Jamalpur, he moved to Dhaka after having been admitted into BUET. Explaining his ever-present inclination to art that began in his adolescence, he speaks of the influences that nudged his fascinations, Maksud Biplob states, "I grew up in the middle class socioeconomic stratum supported by my family's business in Jamalpur and Chittagong. My father's brother, my uncle, used to participate in Chhatra Union, which was primarily culture based. In the '80's they used to organize cultural shows, where there were screenings of Satyajit Ray's movies, other events included painting and drawing. I was quite inspired by all these art activities." Beginning his path towards art as a hobby in his younger years, the multifaceted BUET alumni undertook photography for a while. His camera lens as well as his paintbrush retain a camaraderie in their motifs, Maksud Biplob states, "my subjects are usually what is relevant to me, what I can see. But, there are some things that have fabricated a home within me since I was a child. My school was situated on the banks of a river, subsequently I grew up conjoined with nature. I saw a lot of 'Kashbon', greenery, and somehow, whichever path I take I always end up at my roots when I sit down to create art."
The abstract realistic artist's paintings offer a perspective into our daily lives, often invisible to the naked eye. Expertly using chiaroscuro to create dimensions within seemingly mundane sceneries such as busy streets, train stations, bazaars and so on.
The frame of reference creates the illusion of a gateway within his art, which seems but a step away from reality.
When inquired regarding some significant paintings of his creation, the architect cum artist explained that everything is interconnected. "Everything I create comes from a place of preference, something I enjoy. Some are childhood memories that come to me through my imaginations. I have a fondness towards watercolour, if possible, I would like to spend the rest of my days doing watercolour."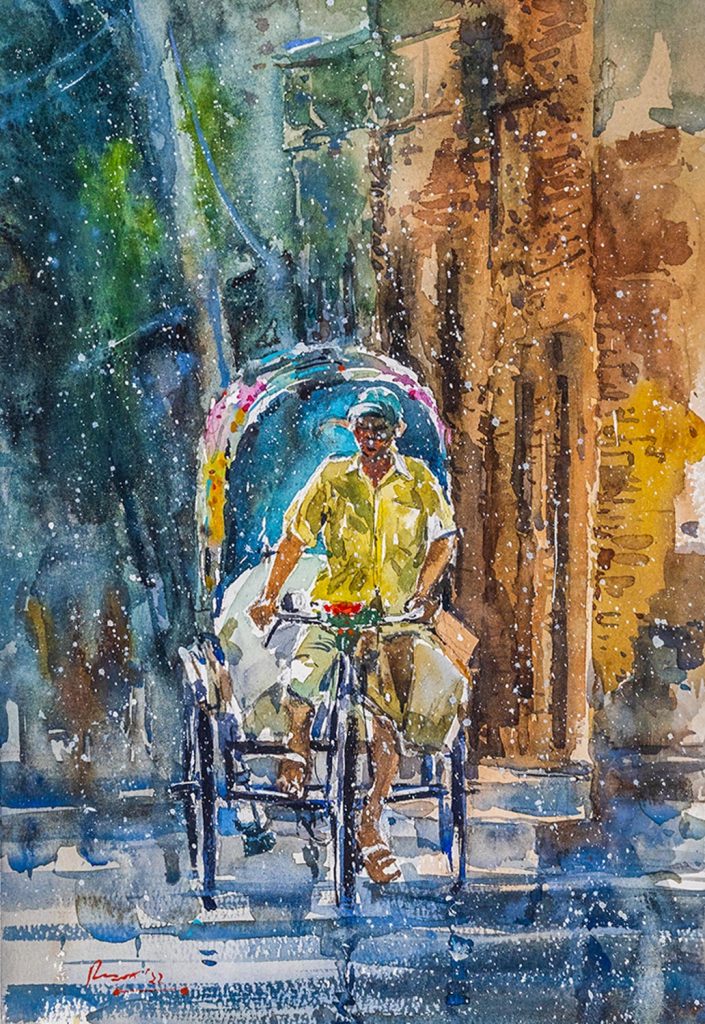 Explaining a particular painting, he states, "Where I live right now, Mohammadpur, Town Hall, there are a lot of bazaars, people. I recreate reality but it's draped in abstractism. I am quite fascinated by the contrast of light and shadow, the way one plays against the other. I ruminate over my art, and now that photography has made it easy to capture a scene. I often take a scene home and extract the heart of it. Then when I find the time I sit down, express my version on a canvas. In the particular scene that inspired this painting, I was quite enamored by the sunlight, and colours."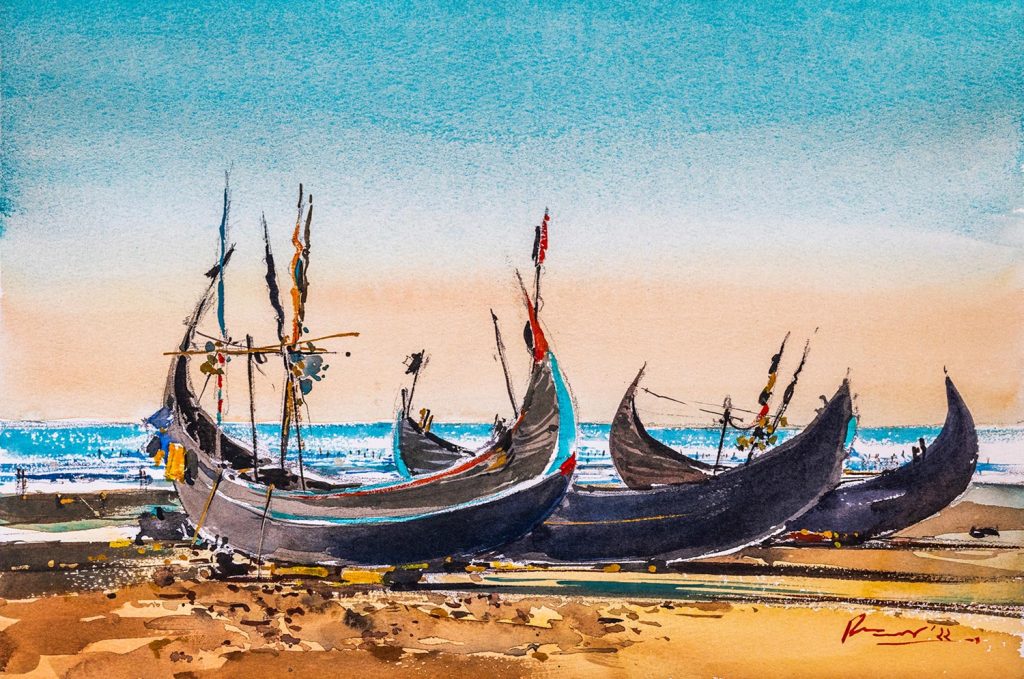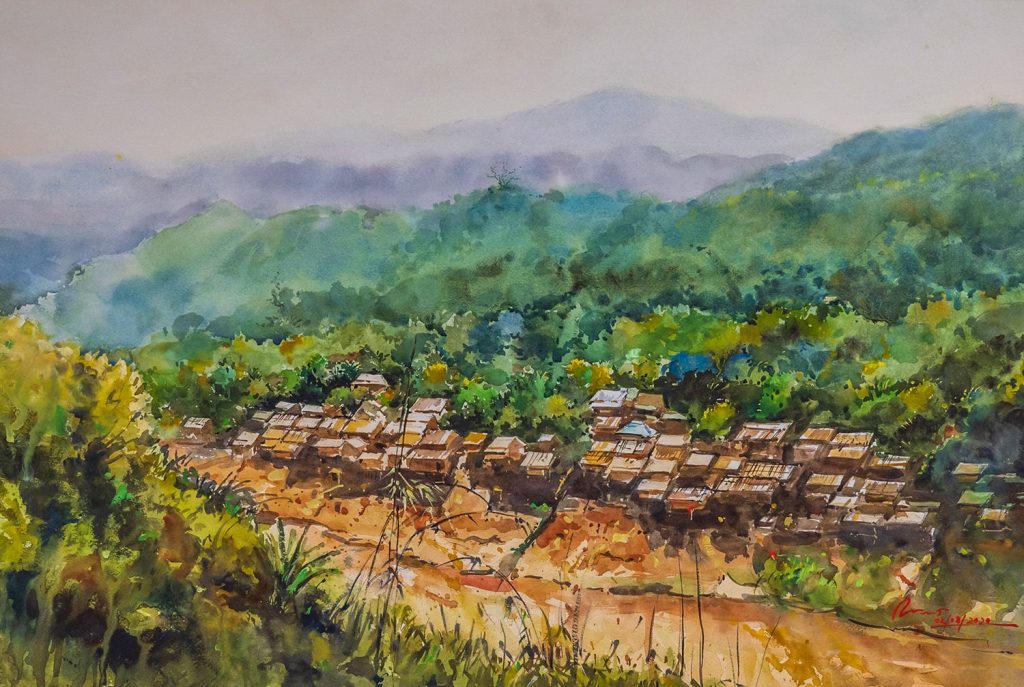 The watercolour artists divulged his process, explaining the importance of methodology based on mediums. Currently, Maksud Biplob is undertaking his observations with oil paints, calling them a more malleable medium, the fluidity allowing for easier expressions, he states, "For water based mediums, the paper is quite important. Sometimes I begin with an outline, then place the first wash of colour, then the second wash and so forth. It is a coating based format, as it is fairly difficult to fix mistakes once made. Oil paints are more forgiving. With oils, we go from light colours to darker ones, it's the opposite with water colours."
Maksud Biplob notes that in contemporary Dhaka's art culture, there are a fair amount of experimental applications ongoing. He lauded the forward developments within the artistic sphere.