Prolificity, consistency, a clear and distinct style- all these are treasured traits for artist Sultan Ishtiaque. The young artist is already well on his way to carving out a place for himself in the realm of realism and impressionism. In his pursuit to seize the nuances of the world around him, he has created an impressive array of artworks.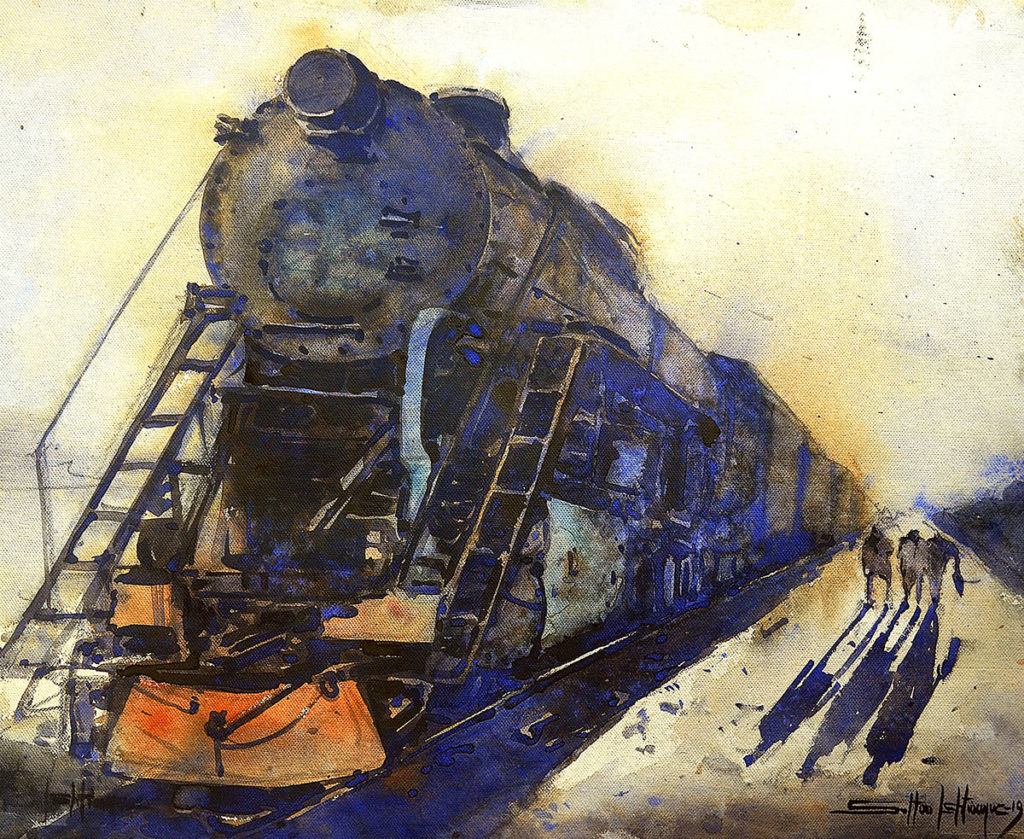 Born in 1992, Sultan Ishtiaque grew up amid the bustle of Dhaka city. Impressed by his engineer father's structural drawings, his calling came early. Like many children do, he started making art from the age of 5. But while other children branched out into various hobbies and pursuits, Ishtiaque's true passion stayed painting.
"I remember I had some great art books where I got to see old masterworks of some famous artists," Ishtiaque informed Showcase. "That excited me most to start making art."
With the encouragement of his family, Ishtiaque continued to participate in art competitions and thriving. His list of achievements includes UNESCO award, Gold from EGYPT, National awards and many more. Throughout all his years, he always concentrated more on art rather than conventional studies. So naturally, after H.S.C, he enrolled in the University of Dhaka Fine Arts faculty.
After this, Ishtiaque never looked back. His crown continued to collect feathers one after another. 'Media best award in Oil painting 2014' and 'Media best award in watercolour painting 2012' while completing his BFA and MFA are especially memorable to him. During this time he also did several group art shows as well as two solo shows in 2014 and 2015 at La Galerie, Alliance Francaise de Dhaka.
"In mid-June 2015, I got an invitation to join in a residency from President of India Pranab Mukharjee," Sultan Ishtiaque reminisced. "That trip was a good experience for me."
For his outstanding academic performance, Ishtiaque received the Prime Minister Gold medal award 2015. In the following year, he did four group exhibitions at New York, DC, Texas and Dallas. By the time 2017 rolled in, he had participated in several national and international art workshops and exhibitions. His third solo came about in 2017, hosted by renowned art gallery Chittrak, which was a big milestone in his career. His paintings from that show were collected by many private and international companies and individuals.
What is Ishtiaque's artistic language that has him climbing the ladder of success so sure and steady? "I think my painting style is realistic and impressionistic," Ishtiaque reflects. "My 'Urban Exploration' and 'shipyard' series paintings in the watercolour medium are mostly recognizable here. I have made many paintings on different themes like fishermen series, Kawranbazar series, gorilla series, native people, Rohingya series, among others."
Ishtiaque much prefers depicting his surroundings and it is mirrored on his canvases. He does go to different spots around Dhaka and even Chittagong for live painting.
"I look around and find subjects for my art," Ishtiaque described. "I compose them in my mind and start drawing. It is very satisfying for me. Sometimes I work in my atelier on big paintings."
At the start of his journey as an artist, Ishtiaque used to prefer pencil medium but fell in love with watercolour over time. At present, he mostly works in the oil medium. His practice has gone through other changes as well. He started off working on smaller canvases on the spot and has now built up the habit of working on larger canvases with the oil medium.
"In some of my recent works, I'm doing more experiments with the colours,subjects and objects," Ishtiaque stated. "Abstraction has become a recurring theme in the background of my paintings."
Showcase asked Sultan Ishtiaque what inspires him to make art. He answered, "I think the enjoyment, inner happiness and strength that I get while I draw mostly inspires me to keep going and achieving goals in this journey."
His inspiration also comes from master artists. "My all-time favourite artist is Shilpacharya Zainul Abedin," he confided to Showcase. "Rembrandt, Van Gogh, Claude Monet are also my inspiration." Looking up to these legendary works has prompted him to strive to excel and brought about the creation of many striking series of paintings.
Ishtiaque mentions a few of his personal favourite works. "Many of my art is significant to me for different reasons. If I go through some of them, 'Shipbreaking yard-10', 'Cityscape-5', 'Fishermen -4', 'Urban exploration-8' are my favourites," he listed.
"Shipbreaking yard-10 is a big work I did back in 2016. It is 10 by 3 ft in size," Ishtique said, remembering the process behind the work. "I had a short visit to Chittagong shipyard before I started it. I used watercolour and acrylic and pencil in this work. It was an arranged composition. I kind of did it mostly from my mind. I placed 4 big ships in this work and some people working in the yard. A massive workshop was going on there in a dramatic way. " Another painting that Ishtiaque mentioned with fondness is Cityscape-5, a painting he did back in 2019. It's a top view of the Motijheel area which is much like a drone shot.

Sultan Ishtiaque's meticulous study of his surroundings is the reason his work receives boundless praise. A memorable event he reiterated centres around the astonishing precision and speed with which he finishes his creations. "During one of my solo shows, I had a conversation with a renowned person. He inquired about the time that it takes me to finish a painting and after knowing it, asked with wonder if I'm a machine!" Ishtiaque remembers. "He became a big fan of my works and collected around 25 of my works till date."
Through Ishtique's growth as an artist, he has seen the art scene in Bangladesh change constantly. "Increase in art activities such as exhibitions, collaboration art projects of several art groups, art summits, workshops, performance art, site-specific art, and multiple forms of art events are happening continuously now. Availability of the internet, an increasing number of online platforms, social media platforms all are contributing in so many different ways to improve our art scene," he said. "Artists here easily get to know what is happening in the worldwide art scene, they are practising multiple forms of art and can be more creative in their work."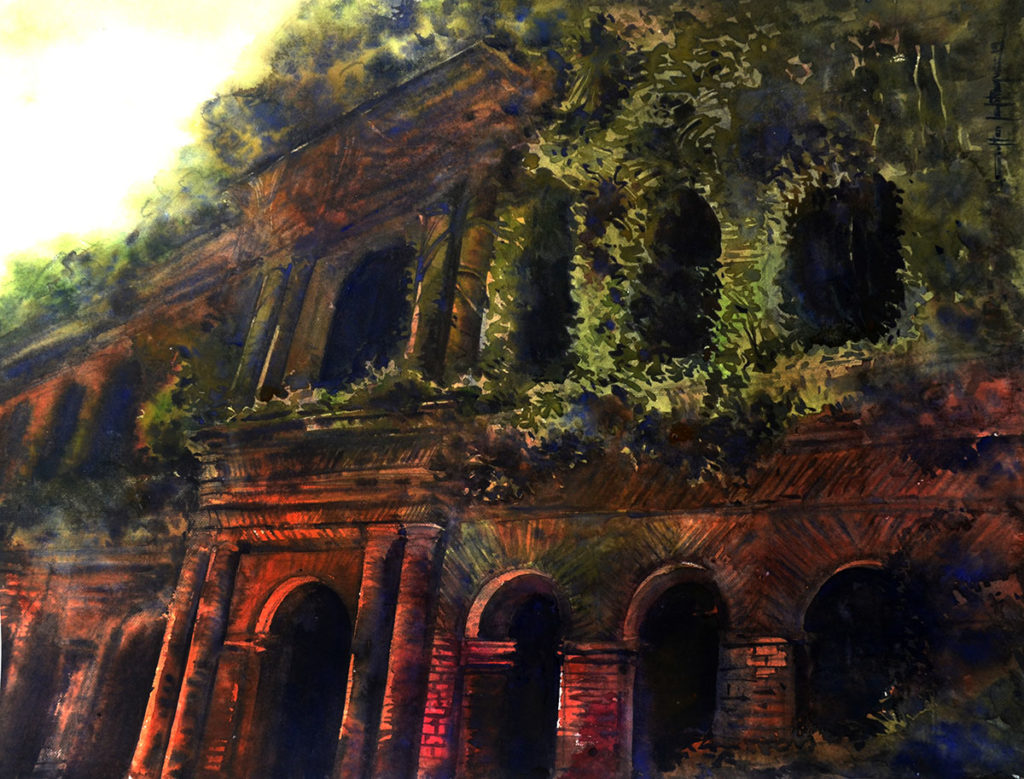 Ishtiaque's goal now is to keep climbing higher. Just as a true artist should, he says that he wants to make really good and meaningful paintings and make a living out of it. "I am not a part-time artist, he said proudly. "I've been working full time since 2012 at my studio. I am blessed that I have earned many art lover's appreciation and respect through my works over the years. I'm thankful to all my art collector friends, art lovers, well-wishers whose support inspire me in this journey.