Morshed Mishu goes utterly candid as he walked us through his life and art journey, vouching for letting your hair down when it comes to 'life'. It was a play of fate Mishu ended up in the prominent and one of the oldest magazine companies in Bangladesh – Unmad; while wholeheartedly believing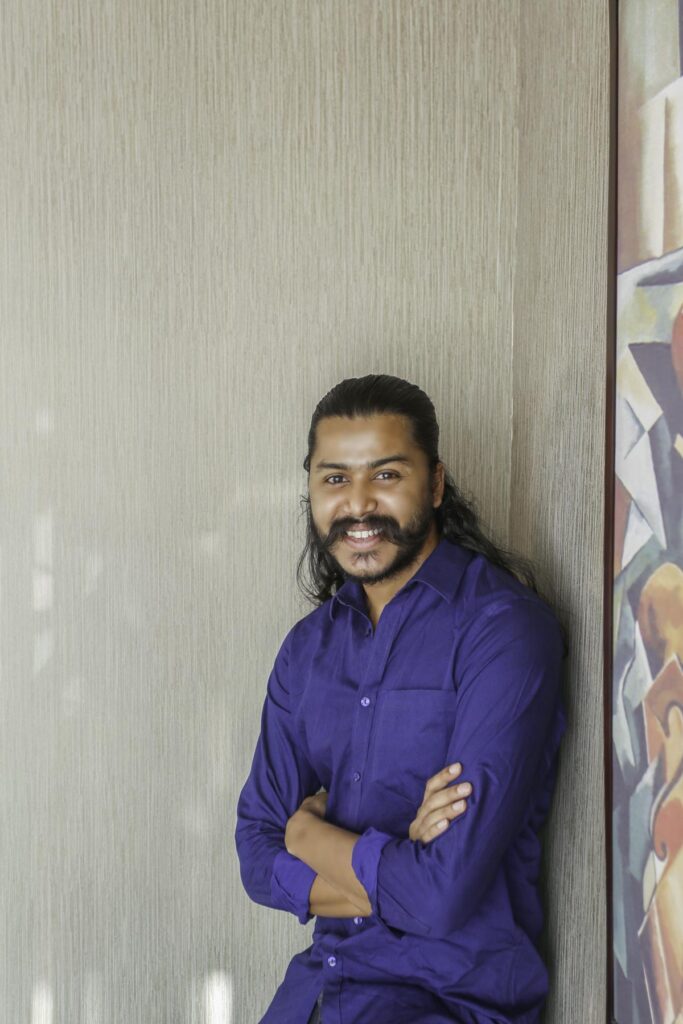 "when you dream of something, the universe conspires to make it happen".
Mishu brazenly states that he was never a typically 'brilliant' student to begin with. Since childhood, he took an eager interest in drawing. He looked up to his elder brother and learned the basics of art under his apprenticeship. Being an average student coming from a grounded family, when it came for him to make something out of life, his family wasn't much keen on financially supporting his overly-ambitious academic life. Among all the planning Mishu made for himself and certain expectations his family had from him, he ended up studying in Computer Science and Engineering from University of Liberal Arts (ULAB).
As interesting as it sounds, but his belief of going with the flow came from planning much in his life and not having them work out. Hence, it was a call of fate when he got his first job in Unmad, despite studying in a completely different field and apparently acing at it.
Mishu's clock starts at night. He's a night owl whose creativity starts flowing during the night, till he works himself tired until dawn and then crashes in his bed. His bedroom is his den of nurturing his skill, and no one steps inside his den except for his nephews and niece. They have the full liberty to use Mishu's den as their creative outlet, drawing on the walls and wherever they feel like.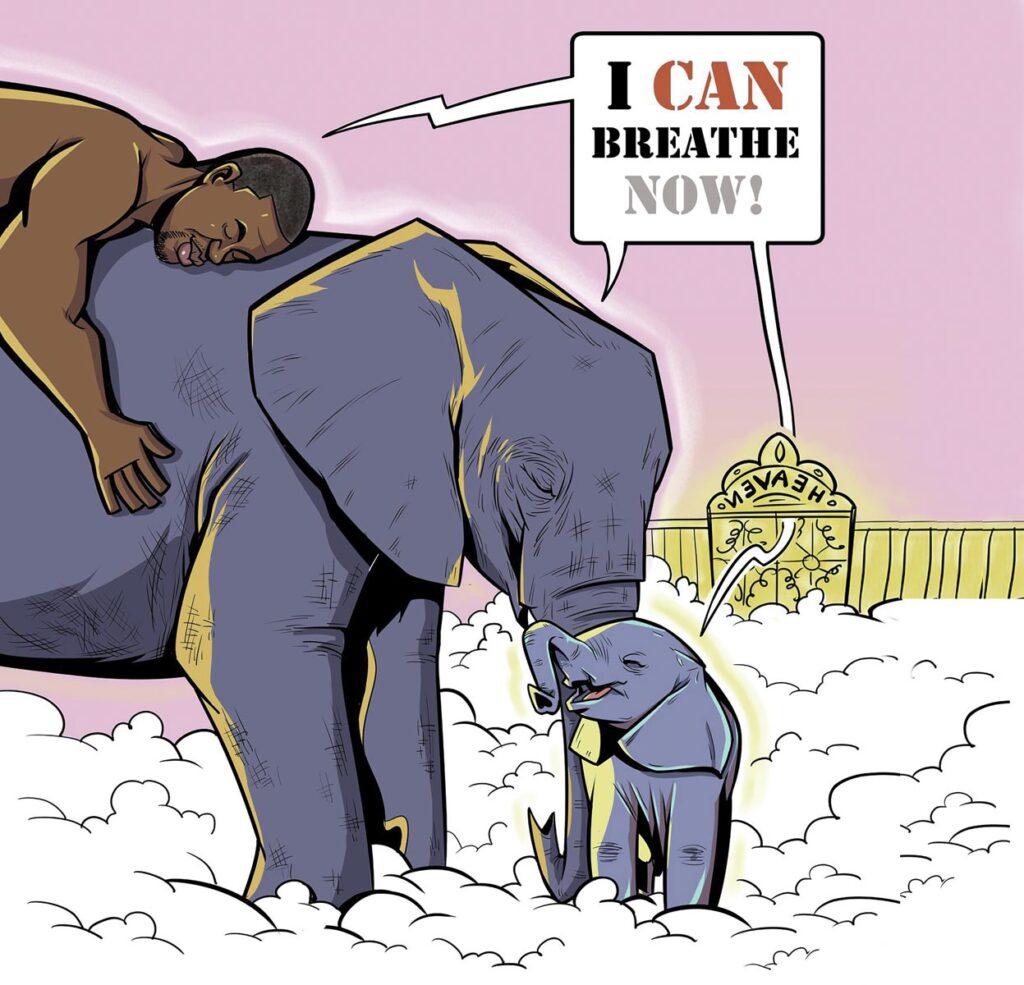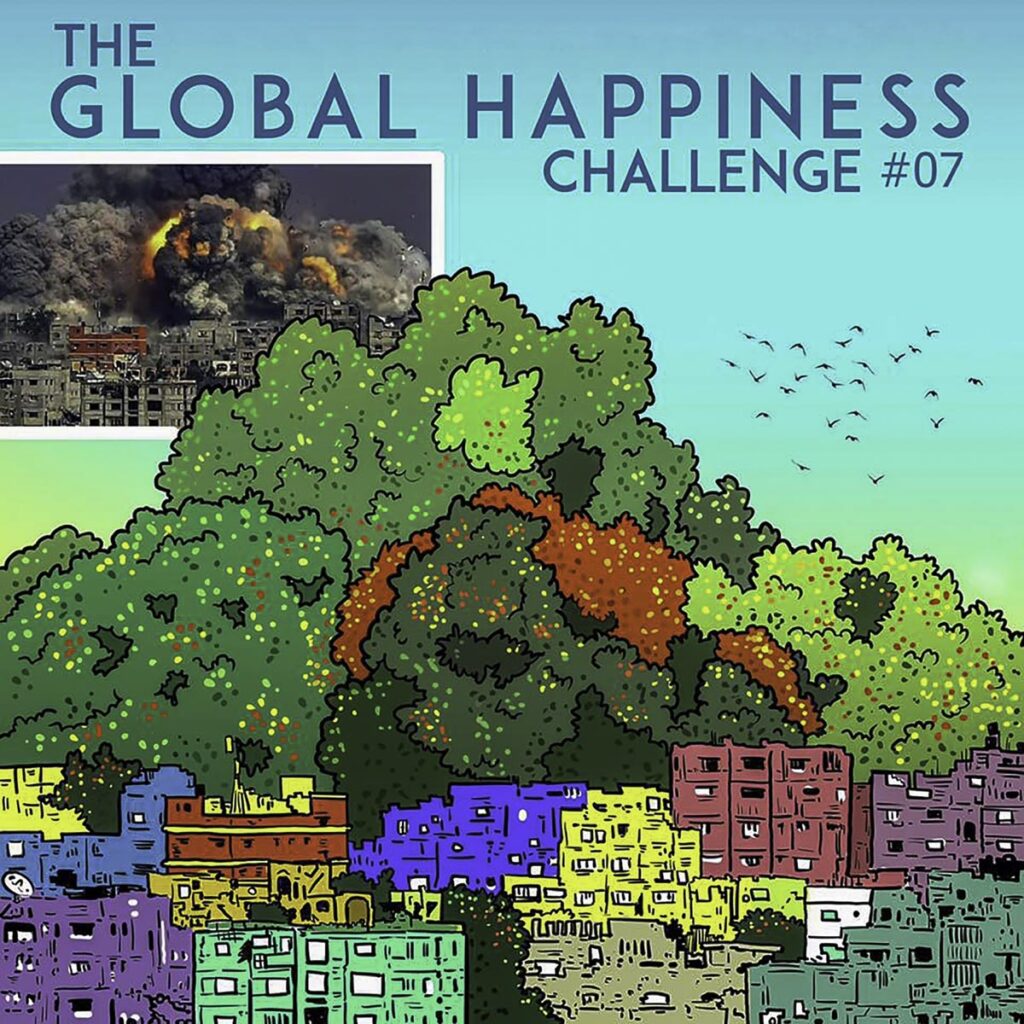 The cartoonist regards Unmad as his other family. It is after all where he has been working for about 10 years now; while now currently serving as the Assistant-Editor. Among many things he has learned from working in Unmad, the most precious wisdom he has picked up from his boss and Editor of Unmad, Ahsan Habib, was learning to be humble despite one's position. He thinks of Habib to be more than his boss; Mishu considers him his inspiration to look up to. In his initial learning days of drawing cartoons, he recollects his memory of Habib guiding him like a student, and not as an employee. "I mean, who does that? I was just an employee but he was patient with me and took the time to nurture me under his apprenticeship," states Mishu.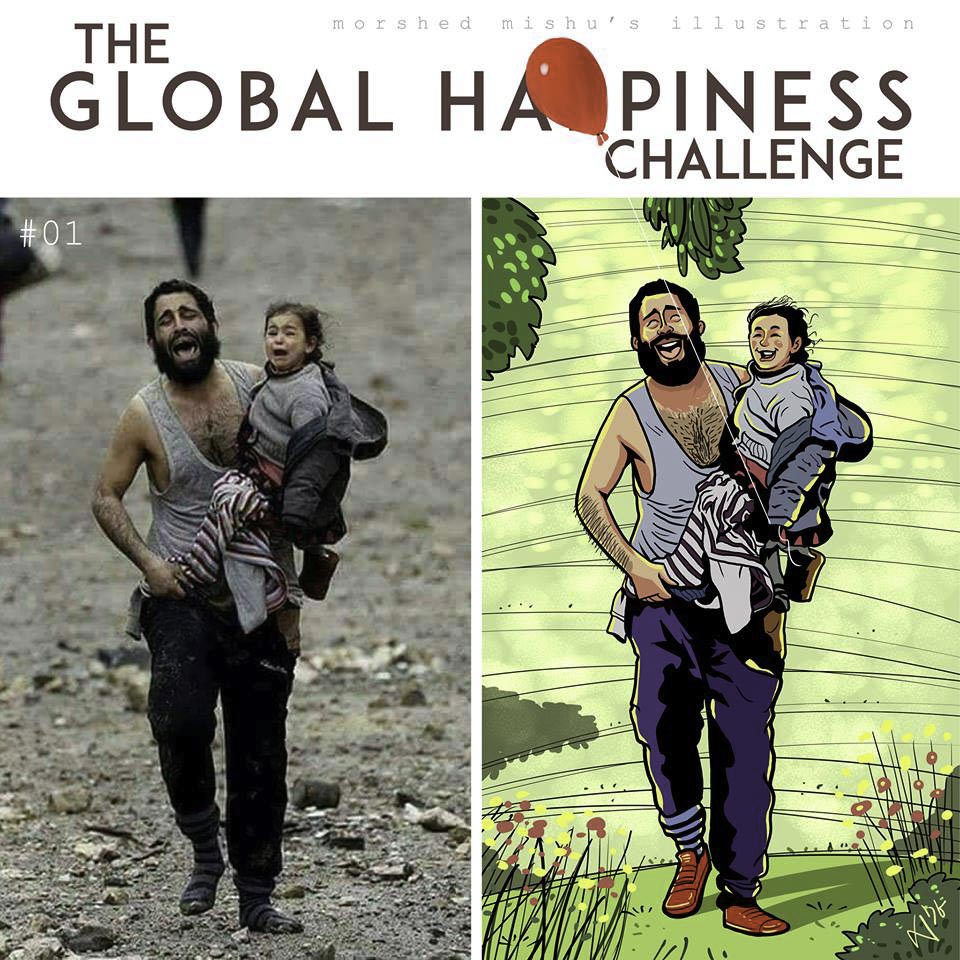 When it comes to drawing, Mishu doesn't limit himself to a specific medium. "What I use depends on the drawing and the type of work I'm doing. When drawing for Unmad, I usually use digital medium to get the work done by the deadline. For impromptu drawings, the ideas that come to me instantly, I use markers and pen," explains Mishu.
The most significant work of Mishu, which stirred a conversation globally, was his project "The Global Happiness Challenge". It is the project where he depicted the "what could've been" face of wars. Meaning, he turned the gruesome and sorrowful images of wars around the world into happiness. "The impact of wars creates immense stress on people, and so it did on me. That is when I came up with this idea; a way for people to cope with the bad news," states Mishu, "I am glad my drawings made a positive impact on the world."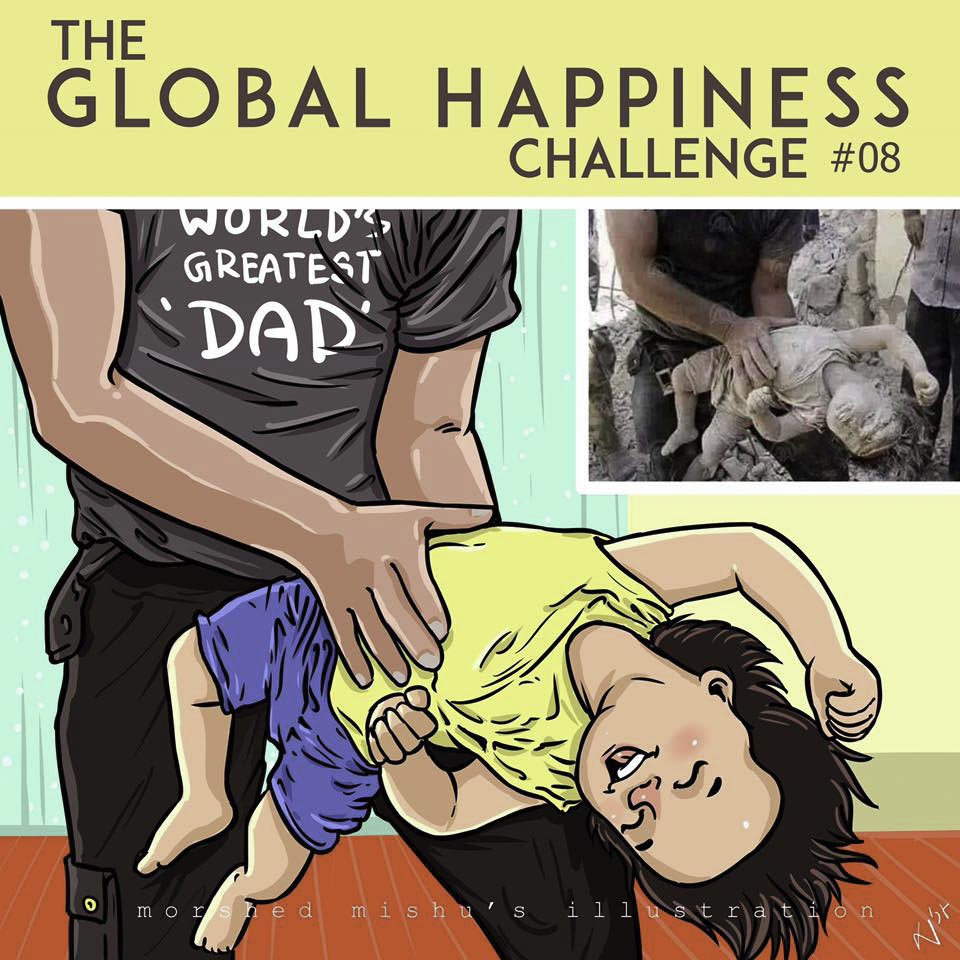 Soon after his "The Global Happiness Challenge" followed the "The Global GOD FORBID Challenge". It is a representation of the leaders who cause negative economic impact or are warmongers, going through the impact themselves. The theme of Mishu's cartoons is satiric, often voicing the social concerns with humour.
Mishu's impactful depiction landed him in the "30 under 30" list of Forbes. He has globally represented his country through his passion for art, which is a matter of pride to him since he had always wanted to contribute to his country. When asked about going through an artist block, Mishu expressed, "As I said, I always go with the flow, and don't push it. Artist block is very natural. When it happens, I let it be, and enjoy my time taking it as a break.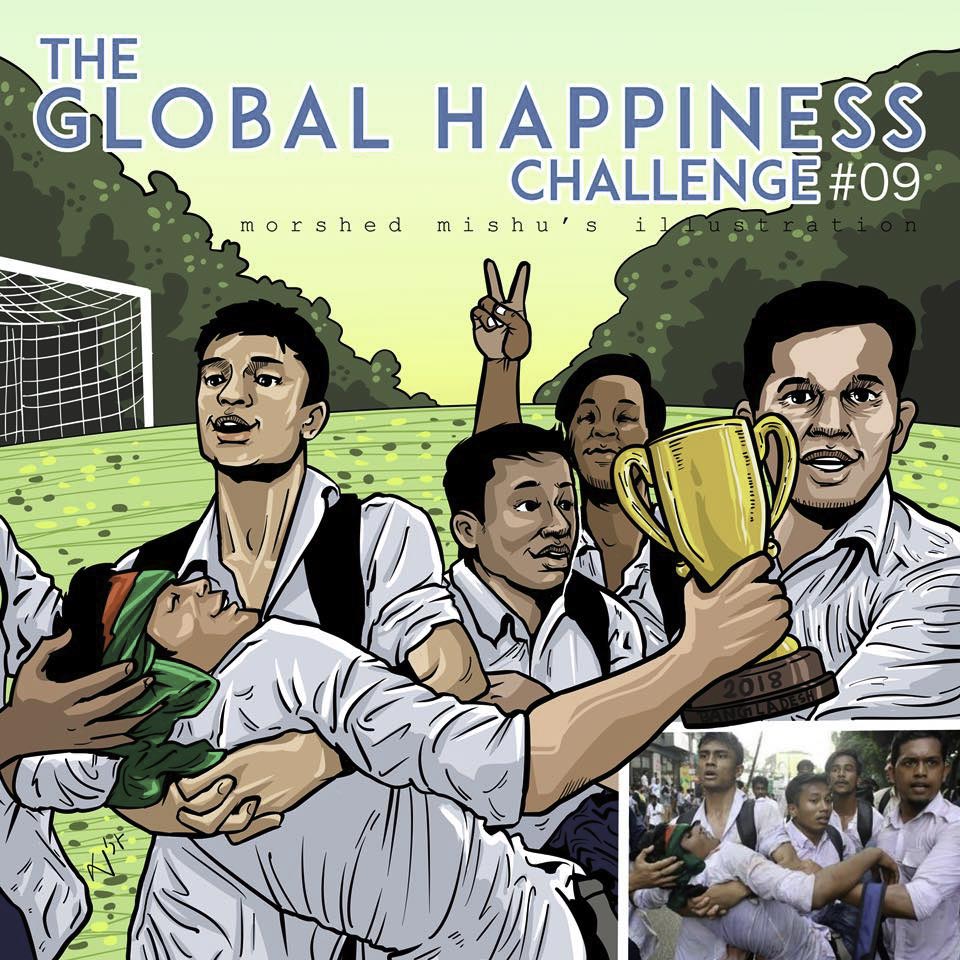 But ideas are constantly coming to me; it is the execution that stops during an artist block."
As for future plans, Mishu doesn't have any as he goes with the tide because, "planning never worked for me anyway," says Mishu wittily. He is optimistic about the future generation who want to pursue their career as a cartoonist, since there are a handful of cartoon drawing platforms now in the country.
Quick Word:
1. At your creative best: At night
2. Without art I am not 'me'
3. If not a cartoonist then what? A politician!
4. A cartoon you wish you had created: Meh, no such cartoon
5. The first word that comes to your mind when I say:
Culture- Charukola
World Leader- Bangabandhu
Satire- Unmad