Strolling with artist Fareha Zeba down her home-cum-studio, where art and nature coincide is sure to leave one spellbound by the magical beauty and unrestrained energy it permeates. In her career spanning over four decades as a multidisciplinary artist, she has unapologetically channelled her repressed thoughts and inhibitions through her work and continues to provide a fresh take on the feminist gaze in the realm of art. Sitting over a cup of tea, she reflects on her evolved body of work while her dearest pet dogs Arko and Gutlu lay idly next to us.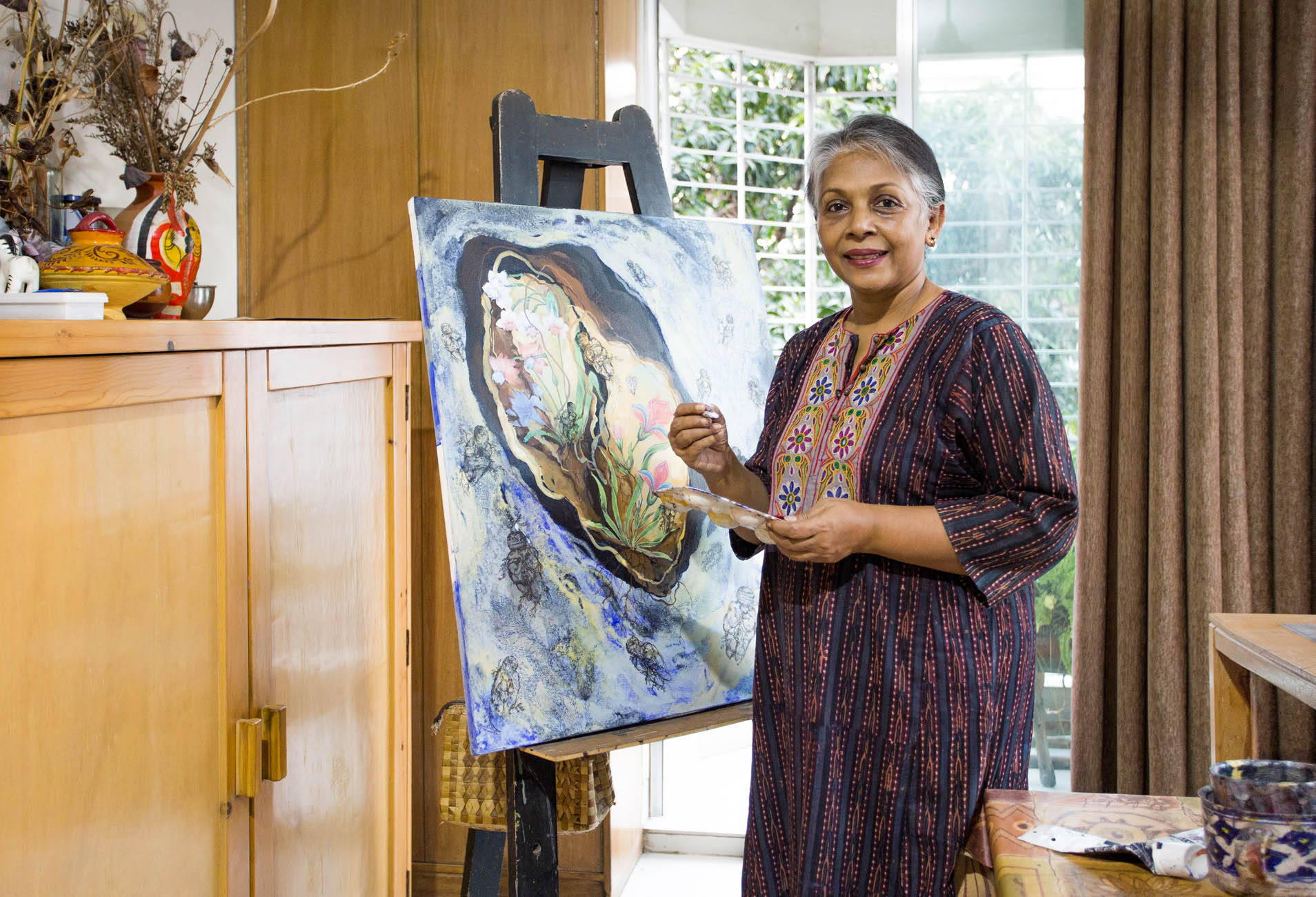 Fareha Zeba was artistically inclined since childhood and many of her themes have a deep-rooted connection to the memories and her sentiments as a youth. Her childhood was spent in Karachi because of her father's job posting as a banker. One of the earliest events etched on her memory is of fleeing Karachi and coming back to Dhaka in the wake of the '71 Liberation war. "Albeit being a 9-year-old, the triggering recollections of fleeing a place we called home still haunts me. That insecurity and lack of a sense of belonging have subconsciously impacted the themes I work with time and again", says Fareha. Seeing her completely engrossed in art, Fareha's mother enrolled her in an art school in '72. "I was always more drawn to art than academics, so much so that I was persistent enough to convince my parents to let me pursue an arts degree in Dhaka Art College (now Faculty of Fine Arts, University of Dhaka). The institution was male-dominated where women were merely accommodated. Before our batch, only a few women were able to flourish in this field. I consider myself blessed to be under the guidance of teachers like Shafiuddin Ahmed, Shahid Kabir and Mohammad Kibria, who were always encouraging and helped me explore a myriad of mediums and techniques", reminisced the artist. She considers her time in Art College the most significant one as it let her break free from the traditional and self-limiting beliefs. Surrounding herself with a diverse group of peers led to new ideas, constructive criticism and great fellowship. She got married while still in Art College to her classmate Saidul Haque Juise.
Fareha completed her MFA from Charukola in 1985. She has 7 solo exhibitions to her credit and participated in many national and international exhibitions and workshops held in Bangladesh, Denmark, Finland, Canada, Pakistan, England, India, USA, Nepal, Egypt and Germany. She is currently employed as an art teacher in Scholastica School, Uttara, where she has been teaching for over 32 years.
Dealing with themes of social realism, political concerns and feminism, Fareha's art challenges social and gender barriers and seems relevant and urgent, now more than ever. To her, no topic is taboo or off the table when it comes to art.
"My work doesn't speak of happiness as much as it does of agony. I've recurringly explored grim realities of life such as gender violence, rape, female infanticide and discrimination",
exclaims Fareha. She believes the themes are the reflections of her subconscious mind, rebelliously confronting atrocities and grievance. "It was much later after graduation that I truly realized my theme and started working with my individual style. It was an epiphany that redefined my body of work," she adds. Her creative process starts in her art journal, where she artistically records the events and news that resonate with her the most. Later when she starts expressing herself on canvas, she allows the work to take its natural course. She considers each piece a part of a narrative which can be tied together to tell a story through composition.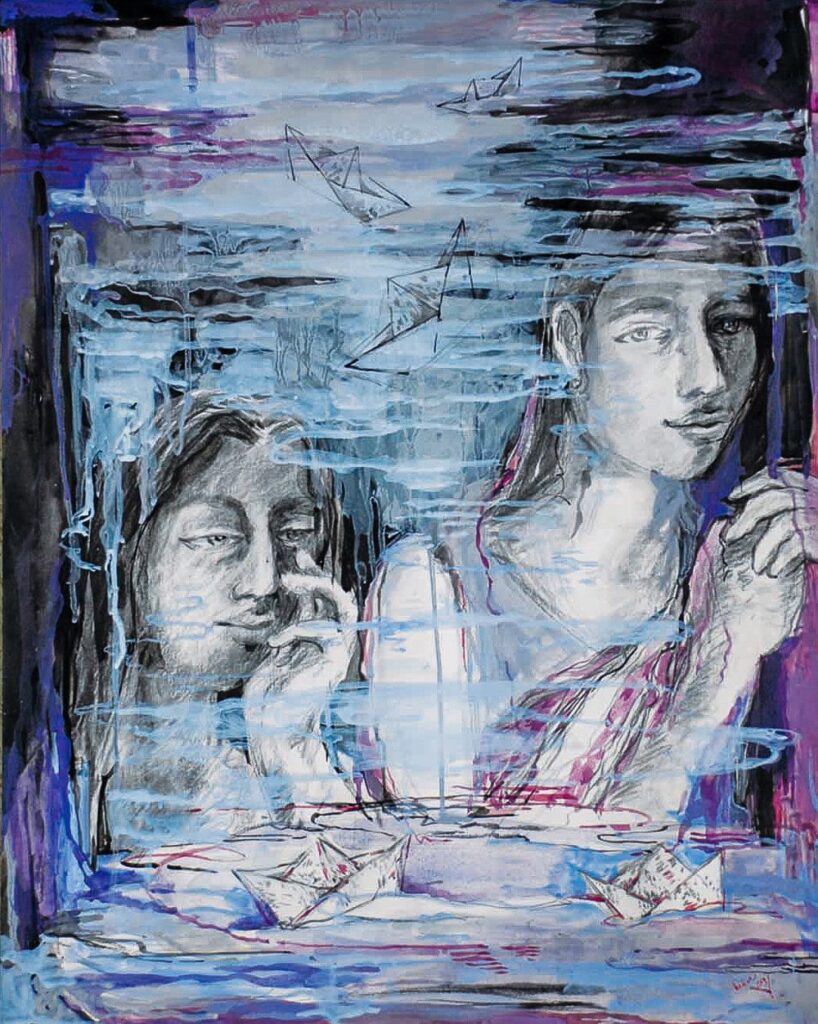 Some of her notable feminist works include the series on Frida Kahlo and Sufia Kamal, done on mixed media. She experimented with plywood in the pieces to give it a unique texture. From her extensive research on Frida Kahlo, she was completely absorbed by the compelling life story of the iconic Mexican artist. Her series is both a homage and her attempt to enlighten the people of Bangladesh about Frida. Her series on Sufia Kamal is called 'Twilight Magic', named after the poet's book 'Shajher Maya'. The series was a challenging task for Fareha as there were only a few still photos she could manage of the late poet from her research. The final outcome was highly appreciated by both the viewers and Sufia Kamal's family.
Certainly one of the most enduring creators of the Dhaka art scene, Fareha's experimentation in mediums from painting and printmaking to installation and sculpture demonstrates her constant need to express and tell a story.
"Many may think I erratically jump from one medium to another; however, if you notice chronologically, it reflects on my thought process following a narrative", explains Fareha. Her much recent work in the series 'Story of a Seed' is perhaps the most intimate one, where she takes references from her garden and nature. "When my husband and I moved into our own home in 2011, we finally felt settled and at peace. We set about building our dream garden, collecting rare or interesting plants from everywhere we travelled. For 'Story of a Seed', I spontaneously gathered the products from my garden such as dry flowers, seeds, pods and weeds to portray the human connection with nature. I often find similarity in female human organs with different forms of flowers, seeds and leaves. The wondrous forms of seeds fascinate me as they hold the power to create life just like a female body. Observing the series, Artist- Professor Lala Rukh Selim applauds, "Perhaps the process of evolution (Fareha's work) has reached a point in time when it shows deeper confidence, spontaneity and candour. Here Zeba is seen captivated by textures, forms and shapes." During the pandemic lockdown, Fareha has also worked on the 'Death of a Civilization' series that ruminates on her early memories and visually expresses her subconscious.
Fareha believes that female artists can play a significant role in furthering feminist causes through their work and contribution to the community.
She, along with several prominent female artists of Bangladesh founded an organization named 'Shako', Bengali for bridge, which does charitable work through exhibitions and promotes female artists to make a mark in the mainstream. She is also an active member of 'Kibria Printmaking Studio', a partner organization of Kala Kendra that hosts graphic art fairs, exhibitions and workshops for budding artists. With her thought-provoking and powerful works, Fareha Zeba is surely one of the important names in the contemporary art scene of Bangladesh, who embraces and extends the female gaze, shaping the future of the art world with each stroke.