The new groovy clothier in town, ROAR retail is making a bold statement with its moody interior design, at the heart of Banani. Designed by Tanya Karim and NR Khan Associates, yet again they have brought a sassy look out of a retail store, making it the ultimate clothing hub for the new generation.
The remarkably unique and youthful new retail store in town was designed by the architects, Tanya Karim, Nurur Rahman Khan, and Razia Azad. The architects attempted to create a brand image for the retail store, which exemplifies modishness while being the talk of the town. Promising a shopping experience of international quality, ROAR retail stands as the ultimate premium store for the youth generation. ROAR retail has brought forward an exquisite approach as a designer boutique. Keeping the targeted customers and their spending capacity in mind, the retail store has made it a wearable and approachable brand. The core concept the architects kept in mind while designing the store was that it is for the youth. Nurur Rahman Khan says,
Digging deep into the subconscious of the buyers, the place was designed correlating to their mind. Cues were taken from the lifestyle of the youth, what they affiliate with, what interests them, etc.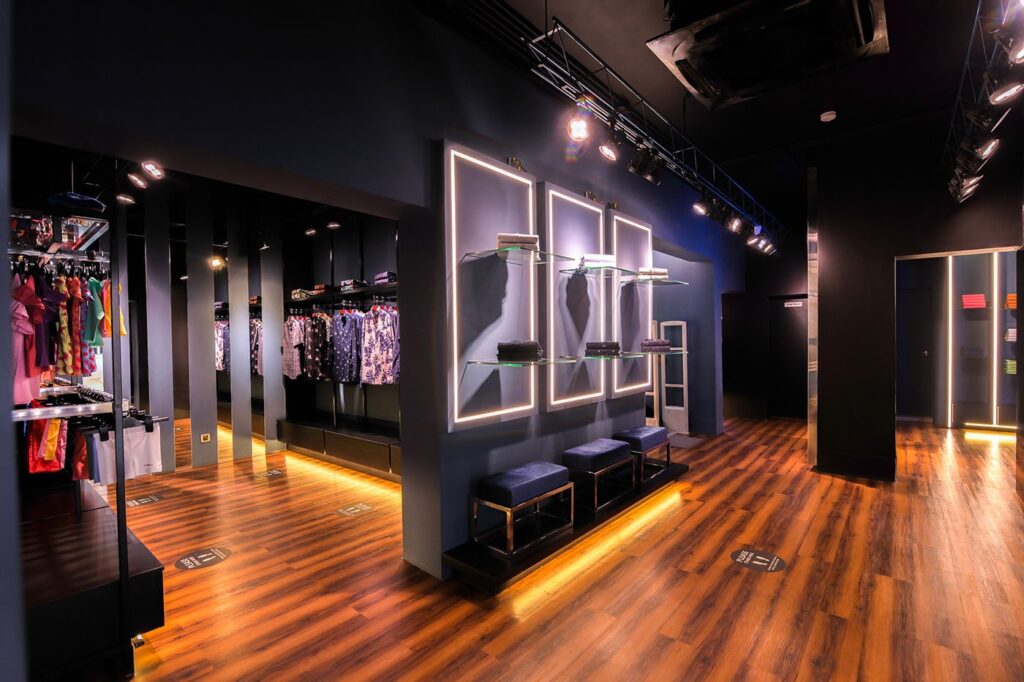 Since ROAR is a premium brand, it caters to its buyers with a high-end shopping experience. The retail translates much more than a deluxe experience. The architects gave a lounge and club theme to the interior. The moment one walks in, they can notice the full black interior with a pop of blue neon lights making a statement. It's a first in Bangladesh, a clothing retail store in club theme. One can notice the hidden nuances in the interior décor of the store. The small details define the undertone of the décor, having a strong command over the space. One of the most stunning highlights of the space is the infinity ceiling with blue LED lights.
A crucial aspect the architects made sure of was to not clutter the space, which many retail stores make the mistake of doing.
Or else the entire purpose of having a premium shopping experience gets defeated. The clothes are meticulously displayed and colour coordinated, for visual satisfaction and easier browsing.
The owner of ROAR had specifically asked for a visually appealing façade for the store. Hence, the architects designed a gleaming gold façade with 'ROAR' boldly written on it. However, the theme is completely transformed as you enter the store. The concept of transformation was inspired by the world-famous Japanese fusion restaurant, Nobu. It initially gives a traditional impression; but upon entering, it gets transformed into a flamboyant theme of décor.
Photo Credit by Mustafa Tarique Hadi