Dining is a space which is more than a set of table and chair. A home centers on it, ideally making it the hub for bondage among loved ones. Hence, when it comes to entertaining guests, and spending quality time with family at the end of the day, it calls for a beautiful set up for dining.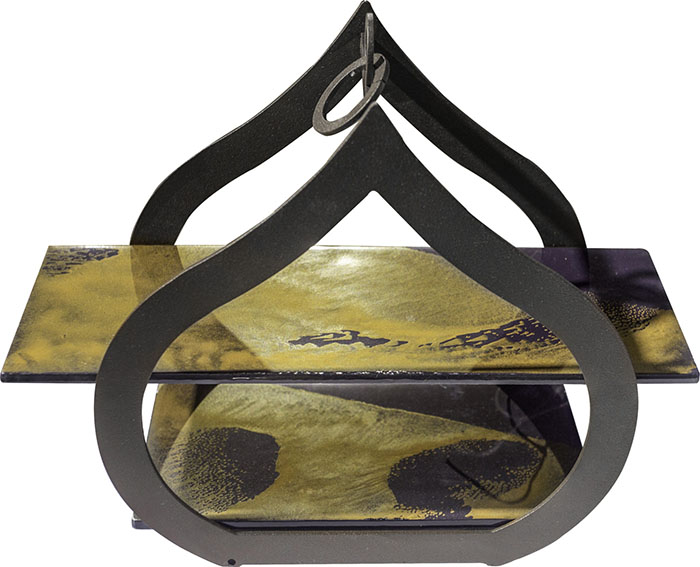 Layered Cake Stand- Anna Vasily Cake stand, FAIR – Modern Navy Blue is layered with stands in Mihrab design. The platters of the stand come in two sizes, larger one being at the top. Get this exquisite stand from Penthouse Livings. Price on request
Gold Branched Cupcake Stand- Anna Vasily Cake stand- Amel with melting gold branch from Penthouse Livings is a stunning piece to serve cupcakes uniquely. Pair it up with cake stand to have an impeccable dessert spread. Price on request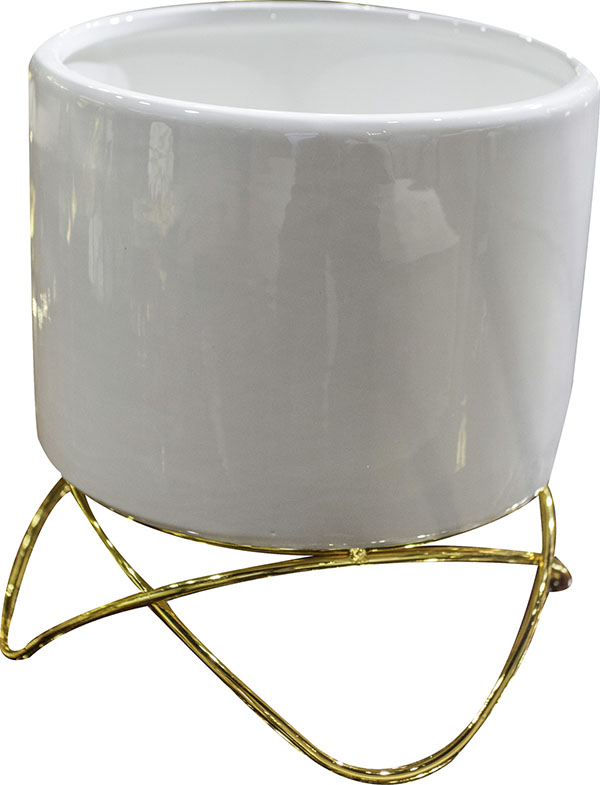 Ceramic Planter- Set your dining table with a planter this summer for a dab of freshness to the scene. The posh ceramic pot with a gold stand from Casa Divano is stunning in its own right. Price: 9,500 BDT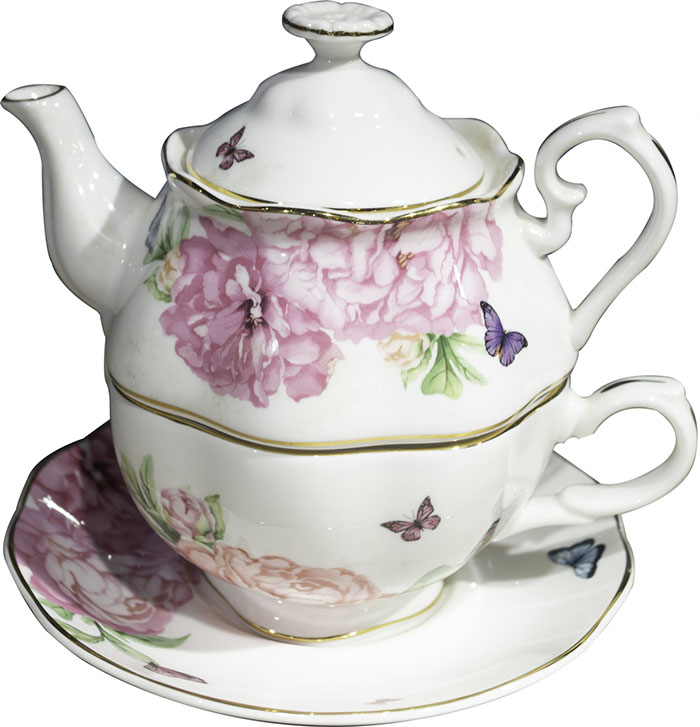 Tea for One- Penthouse Livings presents Royal Albert Miranda Kerr, Tea for One, a pretty little set of teapot and cup for one person. Conveniently, the teapot can be placed on the cup, seeming to be a one piece. Price on request
Marble Candle Holder- Tom Dixon Swirl Cone Candleholder, and Ester & Erik Candles have a romantic and warm touch to a dining space. The black and white marble candle holder with patchy prints from Penthouse Livings brings sophistication to it. Price on request
Mosaic Platter- Culturally rich, the heavily adorned mosaic platter is sure to be a statement piece on a dining table. Serve dry food on it or simply use it as a decorative piece. Either way the traditional platter is a must have from Trove Home. Price: 14,700 BDT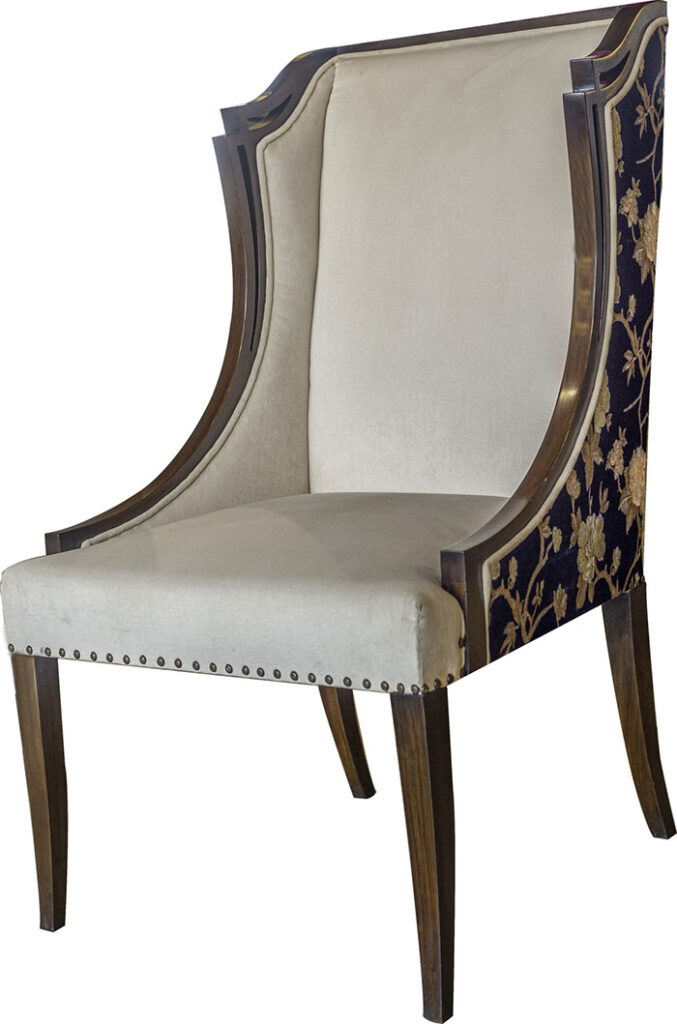 Floral High Back Chair- Radiating sophistication with a personality is the high back chair with floral print behind and white upholstery at the front. Wooden tapered legs give a classic edge to the design. Get this fine dining chair from Renaissance Décor. Price: 95,000 BDT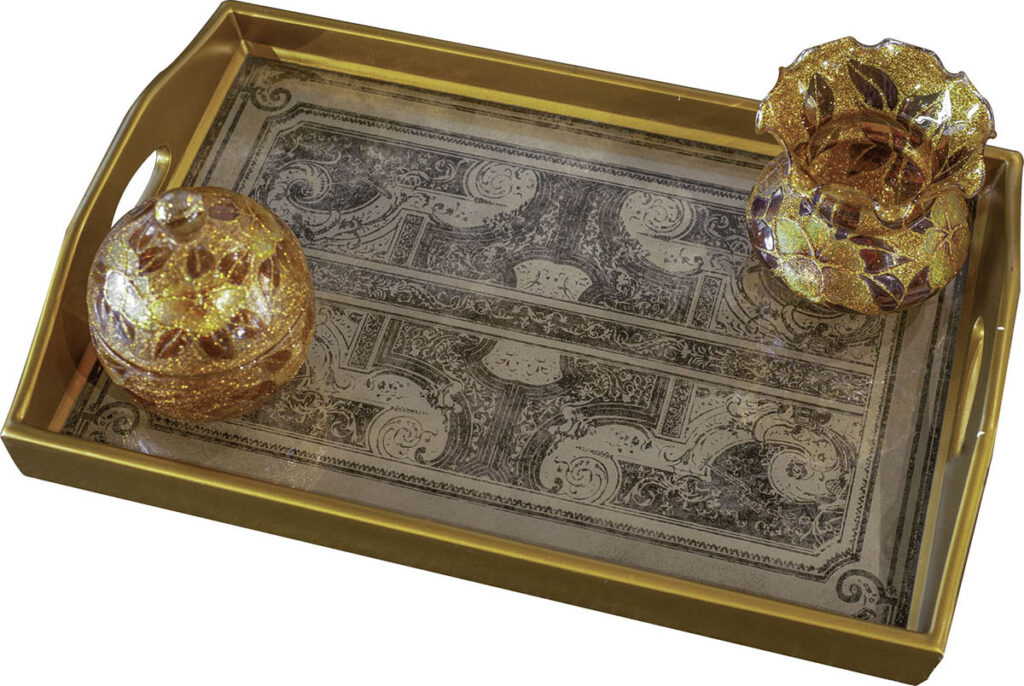 Vintage Gold Tray- A classic golden rimmed tray with vintage bottom. The luxe tray from Renaissance Décor comes with glistening gold decorative. It can be both used for functional purpose and for decoration as well. Price: 28,000 BDT
Dining Array- The set of classy and traditional dining set from Renaissance Décor is sure to turn heads. Refined and polished design of the dining set with soft neutral colours, and tropical print, will fit perfectly in European themed décor. Complimenting the set is the glitzy placemat on top. Price: Dining set- 9,00,000 BDT; Placemat- 6000 BDT
The home decorating products are found in Dhaka, Bangladesh, in different price range. Some of the products can be bought online, and some from store. Dining table, chair, crockery, placemat, are essentials for dining. Wooden dining furniture is a common demand for households in BD. Online shopping has becoming easier than ever through ecommerce. Get dining set and showpieces for dining table from the stores mentioned above.