Nestled in the vibrant area of Dhanmmondi and designed by Inked Studios, the entire YUGEN Salon and Spa is inspired by Japanese Wabi-Sabi philosophy, celebrating simplicity and imperfection. "The interior design reflects on how simplicity can embody richness and how time, as it unfolds, deeply influences change and the intrinsic value of things," shares Sabbir Amin, the lead designer of Inked Studios.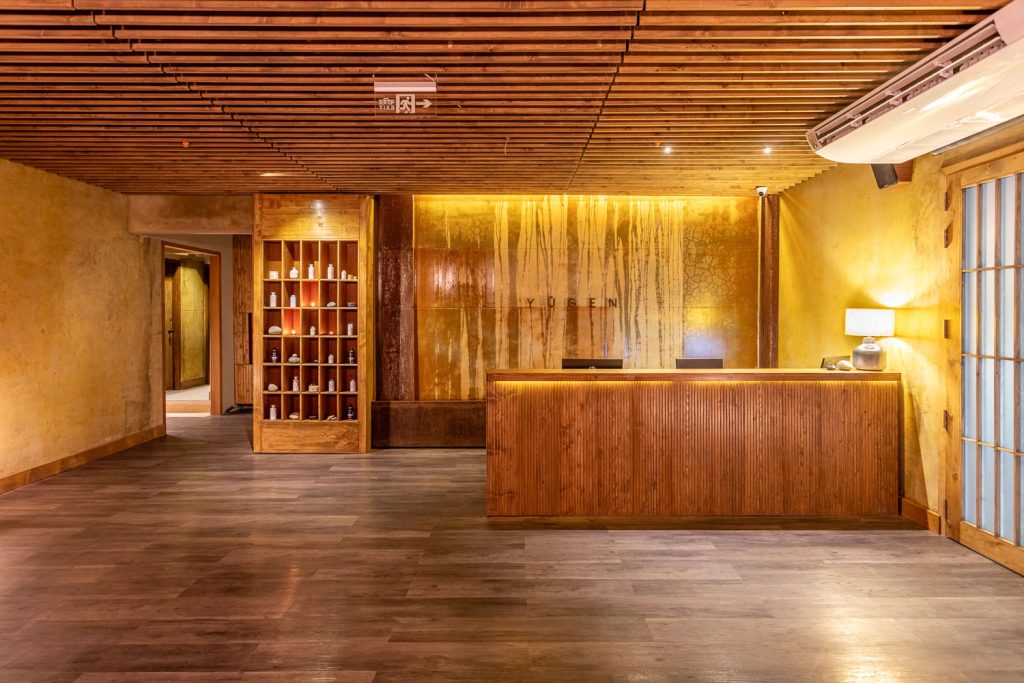 Upon entering YUGEN, visitors will find a welcoming lobby with a serene backdrop of cascading water sounds. Here, a cafe-style seating area provides a comfortable waiting space for customers. The plan layout reflects an enigmatic journey with curated management. YUGEN is divided into two sections, namely the spa and the salon. Additional utilities and service facilities are thoughtfully placed in a separate, well-organized zone, accessible through a designated entrance hallway. A sound-insulated wall divides the salon and spa areas, ensuring privacy and curtailing noise disruption. Asymmetrically placed doors in the hallway lead to the spa rooms, guided by specially designed lamps.
YUGEN accommodates both individual and group spa preferences, providing a versatile experience. In the spa rooms, ergonomically designed fountains offer a soothing auditory backdrop carefully positioned to reach visitors during their spa sessions. The lighting in this area is purposefully adjusted to maintain a restful ambiance and ensure functionality. In the salon area, full-length mirrors are strategically spaced to ensure maximum client privacy, while well-placed light bulbs provide even illumination for both customers and stylists. Services in the spa, salon, hair wash, and pedicure areas are organized to prevent any disruption to ongoing services for existing clients, as the circulation was carefully designed with foresight.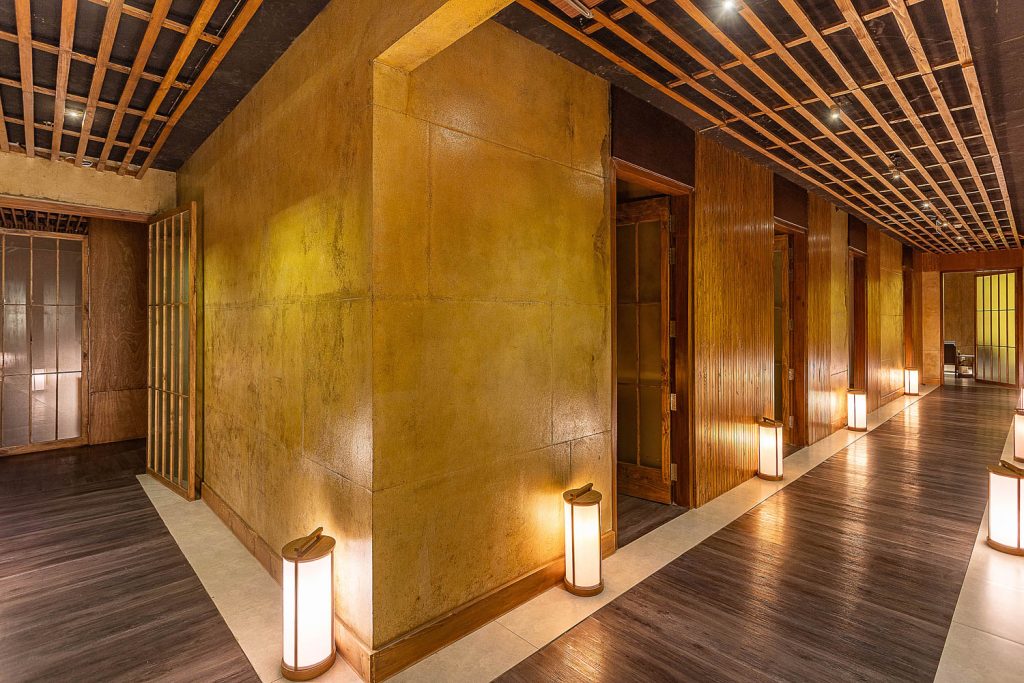 One of the creative design incorporations in YUGEN includes the faux window light installation in the pedicure area, which illuminates the room with a subtle serenity and adds an element of openness. Additionally, decor accents like vases paired with branches from nearby Dhanmondi Lake and the placement of naturally tumbled stones in coordinating shapes and sizes are arranged to guide visitors toward a sense of peace and tranquility, aligning with the principles of Wabi-Sabi.
YUGEN's distinctive trait lies in its diverse textures and materials. Ceramic pottery artisans were brought in to handcraft finishes for the walls, adding a unique touch.
"In the walls, each natural stroke is unique from the others, which creates an uneven, organic touch we opted for," shares Sabbir Amin. Rather than treated, polished, brushed, or left matte, these handcrafted walls embody unique artistry.
The lead designer adds, "We also worked with kerosene wood and treated the surfaces with paint to emulate the appearance of wood that has weathered with time." Embracing the essence of wabi-sabi decor, the kerosene wood surfaces have been treated with paint to evoke the appearance of wood that has weathered with time and experience, adding depth and warmth to the design. It reflects the essence of aged wood with a history and character of its own. A prime embodiment of the wabi-sabi spirit in Japanese culture is kintsugi, finding beauty in imperfection, ephemerality, and humble materials. YUGEN embodies this philosophy, emphasizing flaws by enhancing the gaps between adjacently fitted materials instead of striving for perfect finishes. Rusted metal is another notable material choice. The 'YUGEN' nameplate and several other elements were intentionally crafted from metal plates, anticipating the gradual development of rustic textures on these pieces over time.
Overall, the design essence of YUGEN, rooted in Wabi-Sabi, celebrates the beauty of moments forged in the passage of time, whether in a rusted hinge or a weathered tree, inviting us on a poetic expedition beyond its identity as a salon and spa.