Text by KN Deya
It is often said to those learning watercolour – you paint with water, not colour. Mong Mong Sho, who grew up in Maheshkhali, a hilly island surrounded by the Bay of Bengal, primarily populated by fishermen, shows through his work that his heart indeed knows how to manoeuvre water into a thing of beauty. Despite living in Kunming now, which is a landlocked city, his love for the sea and the men of the sea is reflected well in his lifelike watercolours.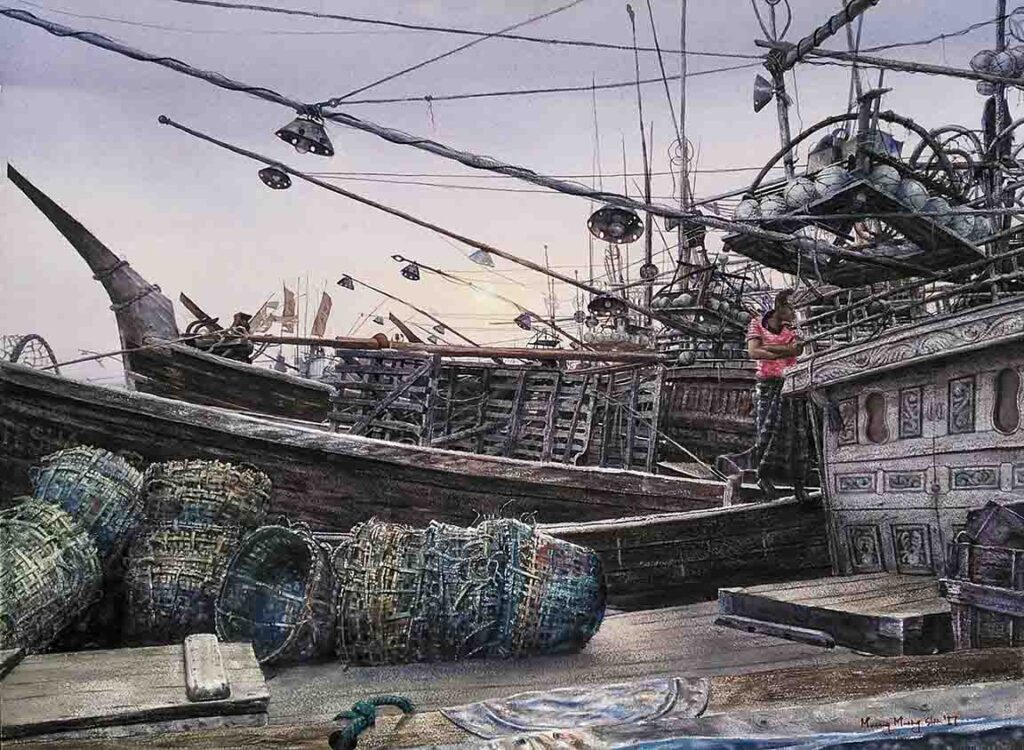 Mong Mong Sho hails from the ethnic group Rakhine in Maheshkhali. His early life was spent amid a stunning landscape and the whimsical force that is the sea, as well as the everyday life and struggle of fishermen. All this left a lasting impression on his mind. "I remember the very first picture I had drawn was that of a boat," Mong Mong Sho disclosed in his correspondence to Showcase magazine. While asked what influenced him the most in his journey as an artist, the answer was his childhood.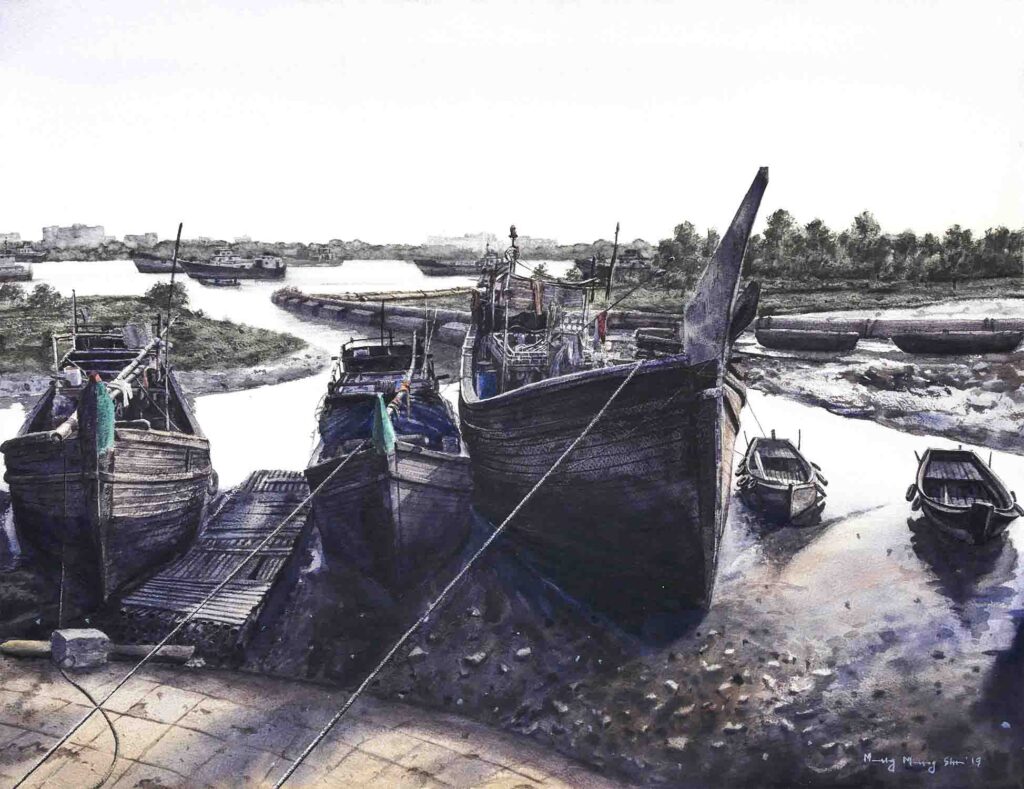 His journey as an artist took him far and wide. In 2009, Mong Mong Sho got admitted to the Academy of Fine Arts of Chittagong University, Bangladesh. In 2012, he received a scholarship from the Yunnan provincial government to study in China and later he had completed his Master's degree in watercolour and a Bachelor's degree in oil painting from the Academy of Fine Arts of Yunnan Arts University.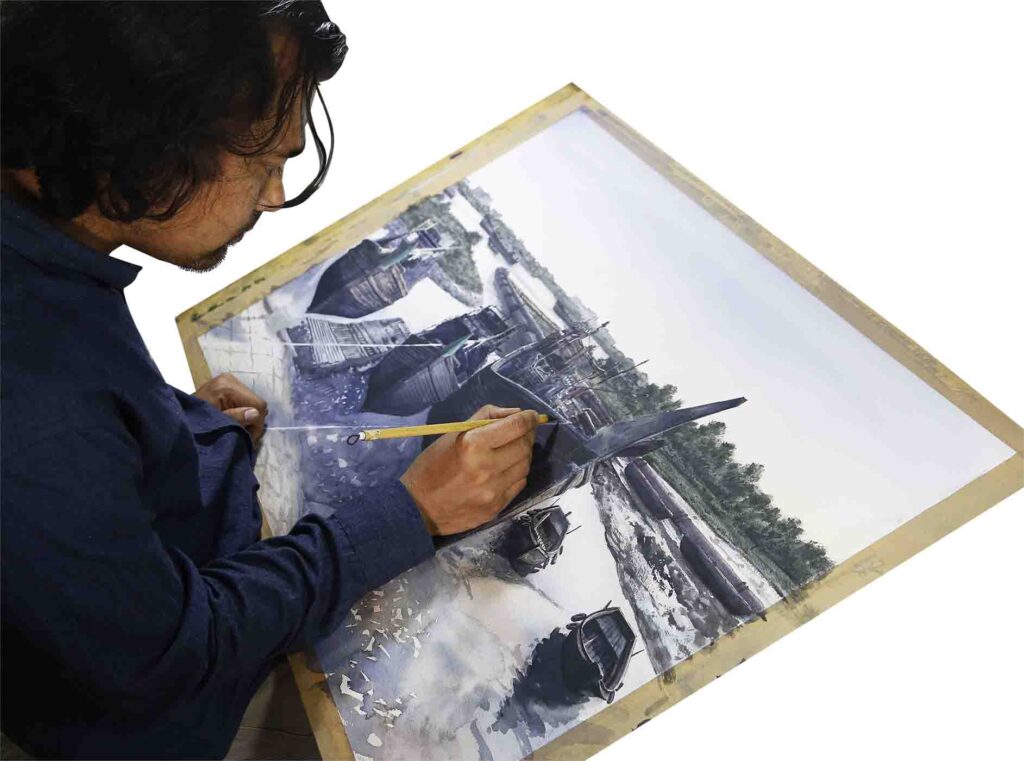 Mong Mong Sho's most recent series, "Songs of Fishermen" gained praise due to the visually breathtaking pieces it includes. It is a tribute to his childhood spent among fishing boats, as they are the primary focus of these exquisitely detailed watercolour pieces. Mong Mong Sho confessed that his dream as a child was to become a boat- maker. "I would make the best boats in my area," was his thought. Even as an artist, they have a special place in his life and philosophy.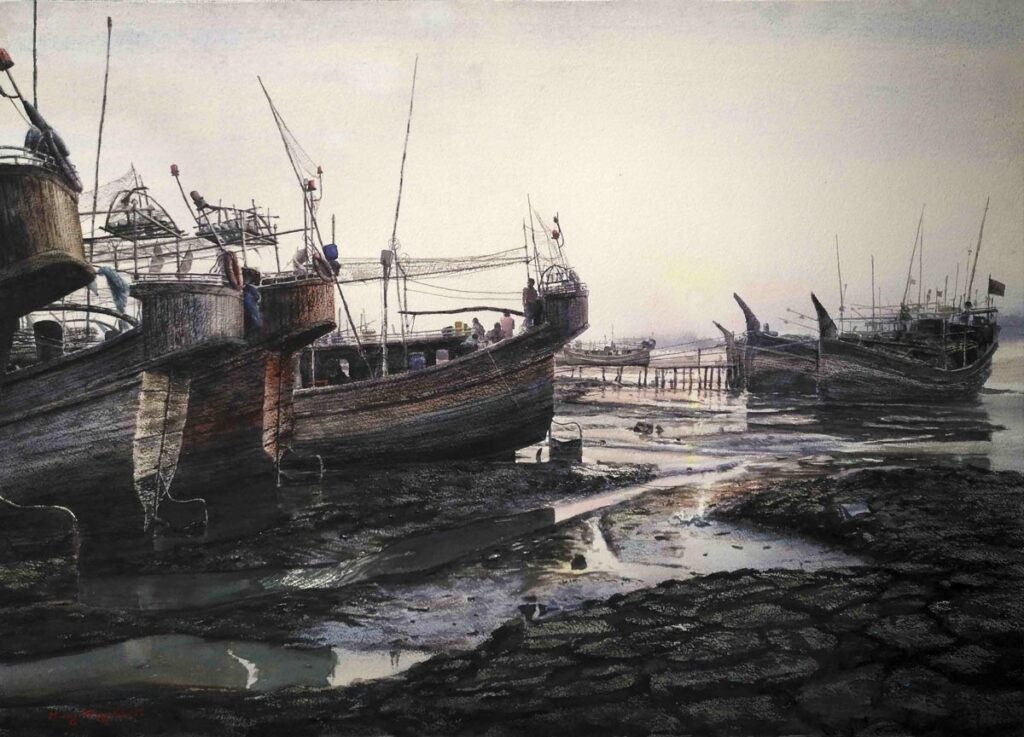 "I always thought that those boats did not only carry fish, they also taught me how life moved on its own gradual process of struggle and we have to make it smooth by ourselves," he said. "At this point in my life, I like to think we all carry a boat deep inside, which is called life."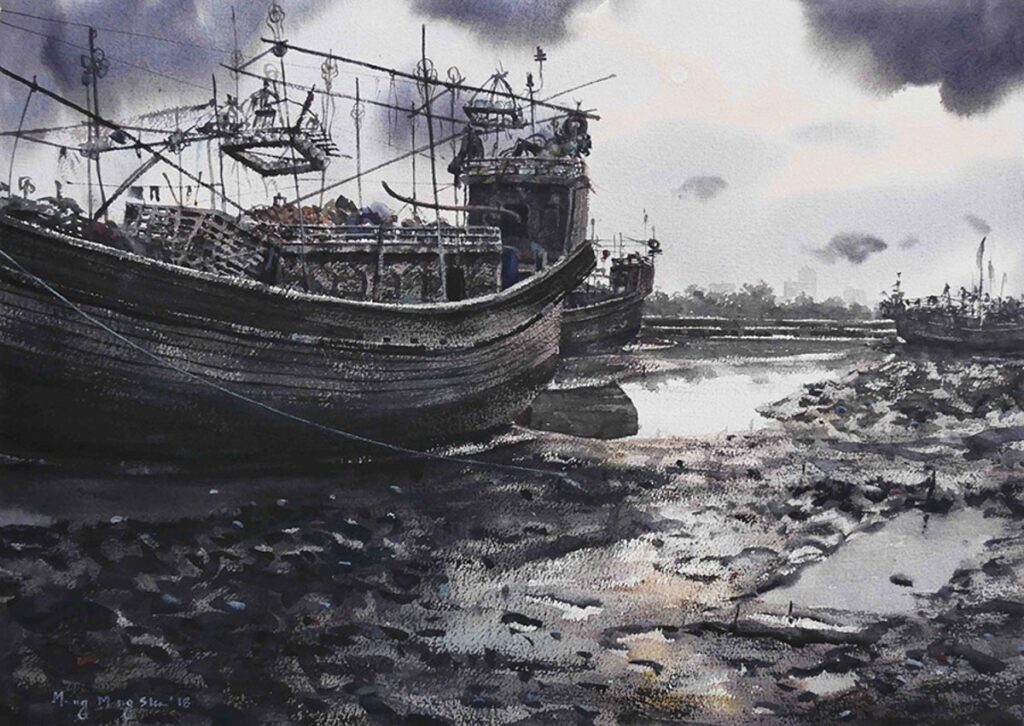 His growth as an artist was a long and gradual journey. Under the tutelage of Professor Chen Liu, he improved through the years.
"One day, he confidently showed me some of his watercolour works," Prof. Liu remembers fondly. "After a glance at the skilled application of watercolour techniques and the common choices of themes, if I did not know those were done by him, I might have regarded them as some works done by some random Chinese painters, which was completely unexpected. To be honest, those works only demonstrated his good painting and expressive abilities but did not touch me at all." However, Prof. Liu also praised his development.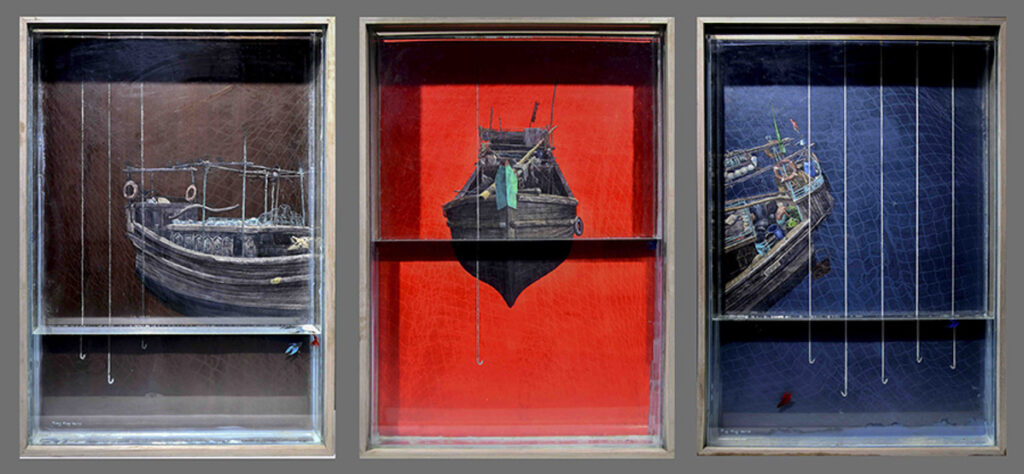 "Mong Mong Sho now is an artist of some renown both in Bangladesh and in China as far as watercolour is concerned," Prof. Liu commended. "His technique application or theme choice has been getting mature. His realistic, sophisticated and proficient expression techniques and elaborate consideration about the interrelation of those factors on a painting bring the tropical ocean breeze and the vibrant human touch from the Bay of Bengal to life and touch the audience with the strongest eagerness and the most genuine emotions."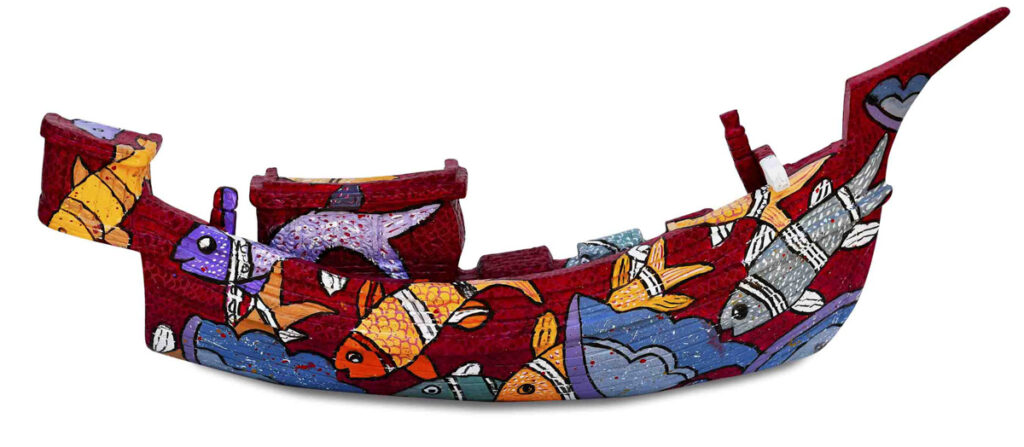 Professor Chen Liu's supervision helped polish Mong Mong Sho's potential into what it is today. "Fortunately I have been taught by living legend Chen Liu who has taken a lifelong influence in my work," Mong Mong Sho enthused. He also mentioned that visual artist Andrew Wyeth's works influenced him a lot. "A lot of elements, life events and people have influenced me in various ways that have helped in my artistic journey," he says.
Watercolour and three-dimensional art are what Mong Mong Sho is an expert in. His early life's elements such as the capricious ocean, the dramatic expanse of the sky and the noises of daily love made him veer towards the art style he now favours. Mong Mong Sho is meticulous about the tools he uses. "I try to collect all of my tools manufactured by world best companies," he confesses.
When asked about the bane of all artist's existence, artist's block, he admitted that even during the ongoing pandemic he has suffered from the block. "Usually in the period of blockage, I try not to take mental pressure, he said. "I relax. I wait with patience. I try to talk to friends and family. Watching films, reading books, travelling in nature, and playing games are my most common activities while I am suffering from a block. There is one thing that I should mention. During the last few weeks when I felt relaxed and free from blockage, I was trying to manipulate my old works. I was doing some experiments with my style."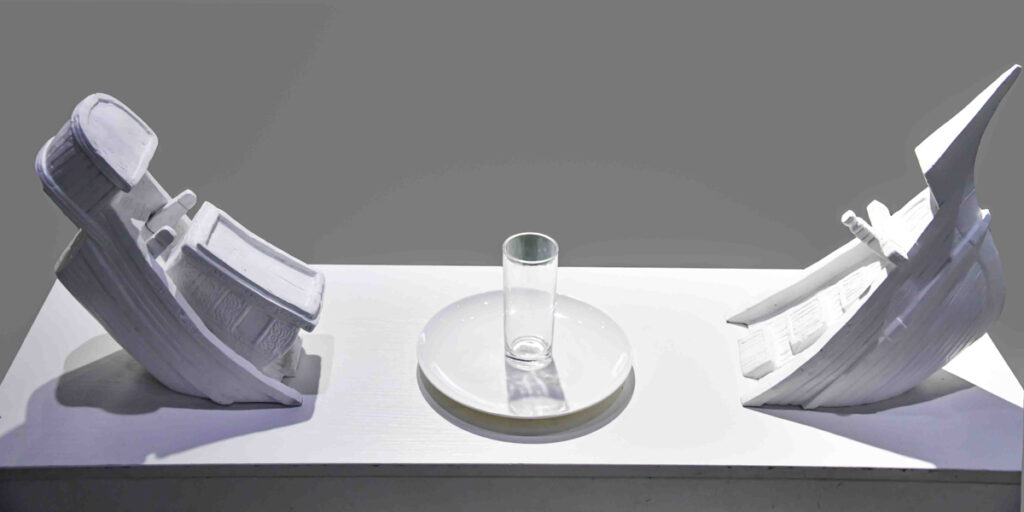 When asked about the current art scene of Bangladesh, Mong Mong Sho only had good things to say. "I observed during this pandemic situation several Bangladeshi art houses and organizers have arranged events for artist welfare. I am taking it positively. We need to be more self-conscious and know more about ourselves," he stated.
Showcase magazine inquired about the artist's next course of action. "Now I am planning for my next solo exhibition in Bangladesh next year," he informed. "After that, I would try to learn and break my work more."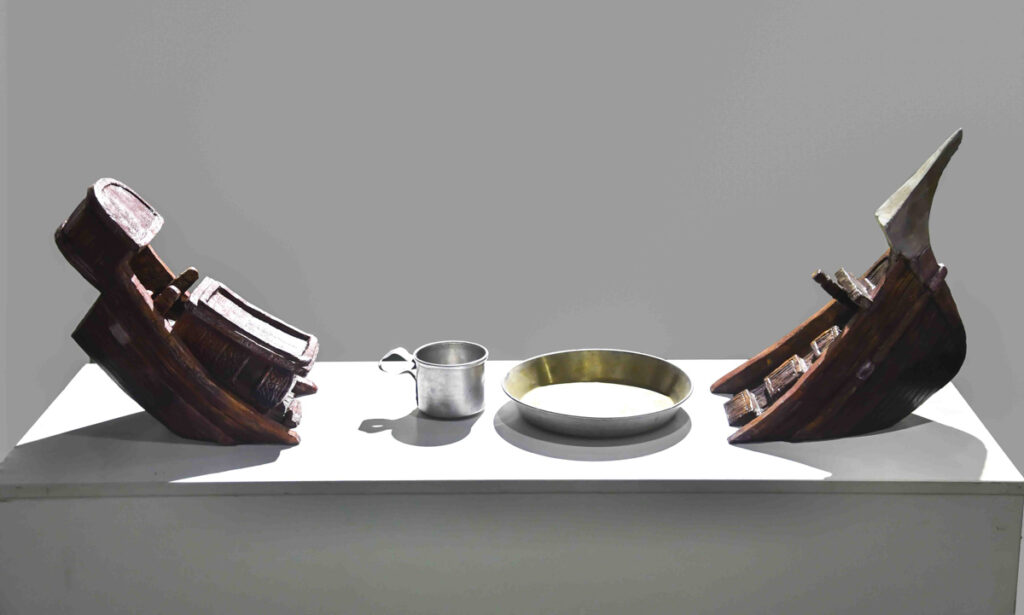 Mong Mong Sho advises budding artists to be diligent and ever careful. "As the world is going through a transformation, artists should observe the situation very carefully. This passing time would become the next common subject of art. We all have to be more patient, hard-working and stay up to date. I love the anticipation for achievement. I am not in a hurry. A modern artist should be calm and cool," he concluded.