It isn't uncommon for an artist's works to orbit a central theme of nature and all its mystical beauty. Joydeb Roaza's works, while seemingly following a similar path, veers away from the comfortable direction of beauty and sophistication, and instead strongly connect us to several contemporary political discourses of ethnic rights, inclusivity, oppression, and an urge for saving nature, land, and culture.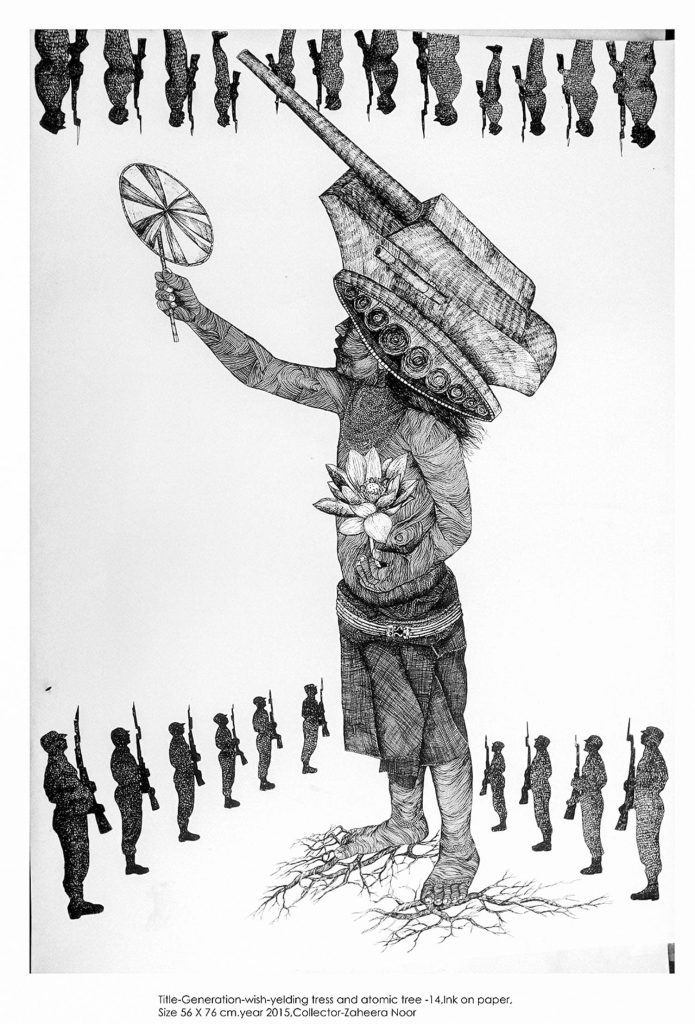 Many artists find their true calling only when they take the time to observe the nature around them. Joydeb Roaza's transition into an artist happened perhaps from the very moment of his existence. Born in Hapong Para village of Khagrachhari district in 1973, much of his life was immersed in untouched nature.
"Even before I was old enough to attend school, I was taught to know the nature around me, which later helped me immensely in my artistic process," Joydeb Roaza muses.
However, basking in the glory of mother nature wasn't the only way his days were spent. Joydeb Roaza remembers days of fear and conflict.
"The clash of the Bangladesh Army with the 'Peace Force', an armed tribal organization formed to assert rights in the Chittagong Hill Tracts, was a daily occurrence at that time," he states, adding that along with the other villagers, he also had to hide for days in the woods.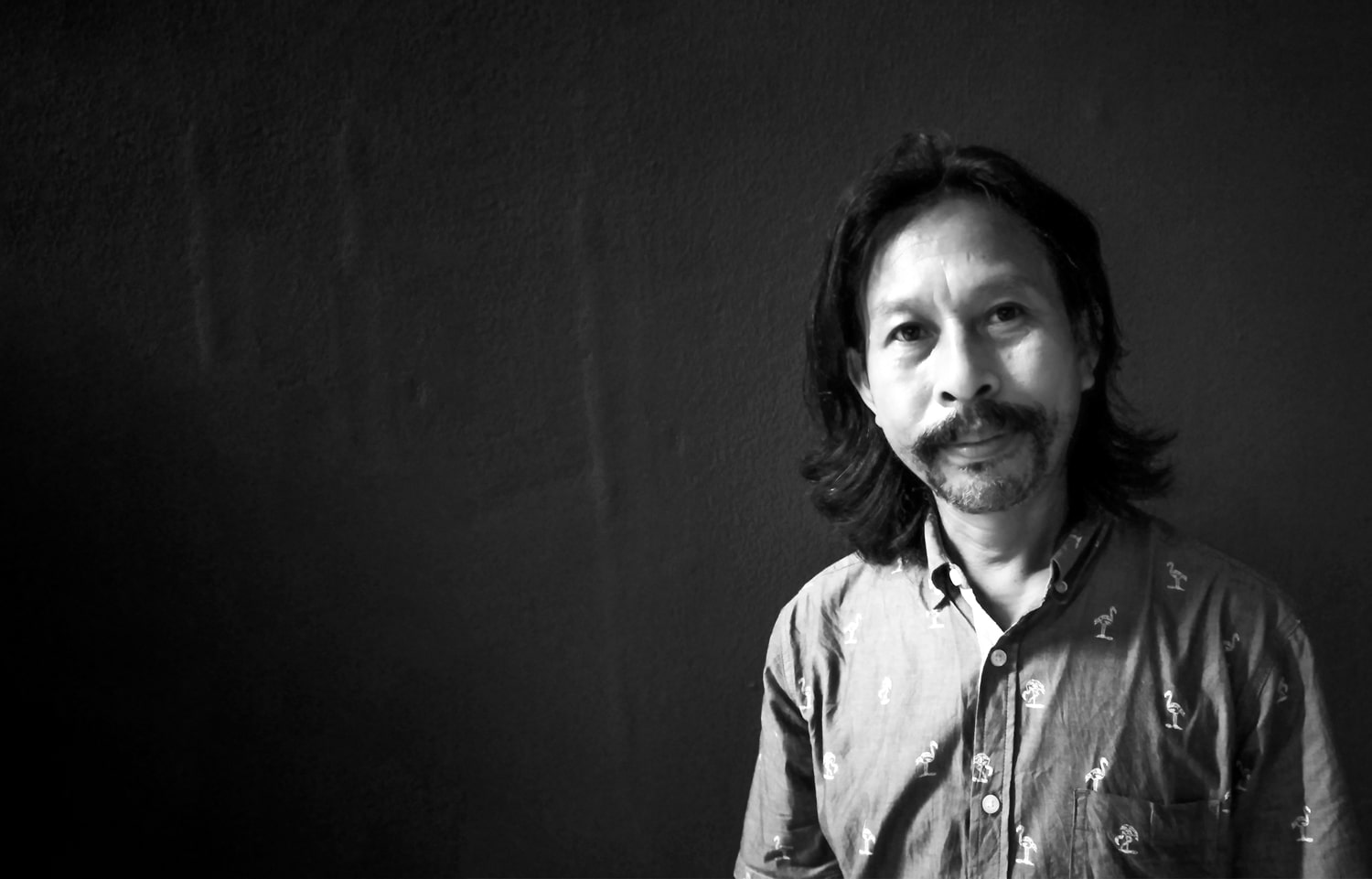 At the very start of student life, the now capable artist faced several impediments. Being from the Tripura tribe, he was unable to understand the teacher, who was of the Marma tribe. Frustrated, he would play truant often and consequently get punished at home.
In Secondary school, he found several Bangali peers and started learning conversational Bangla. Eventually, he could understand his teachers, and his studies became easier.
When he was suffering from the frustration of not understanding his textbooks, the drawings next to the texts became his solace. He liked Hashem Khan's illustrations greatly, and would try to draw them in class.
"Noticing my drawing skills, the school's science teacher gave me the work of illustrating the wall magazine when I was in 8th grade," he says. Thus, his hopes of studying in the art college took root.
However, Joydeb Roaza's father wanted him to become a doctor. Upon learning of his son's intentions of becoming an artist, he refused to finance his son's education further.
"My uncle Donamoy Roaza's contribution to my artistic career is the greatest. I was able to finish my Art College degree with his help," Joydeb stated.
Joydeb also mentions his wife Hasna Hena Porosh's contributions in his life, who used to be his classmate, and keeps supporting and encouraging him endlessly.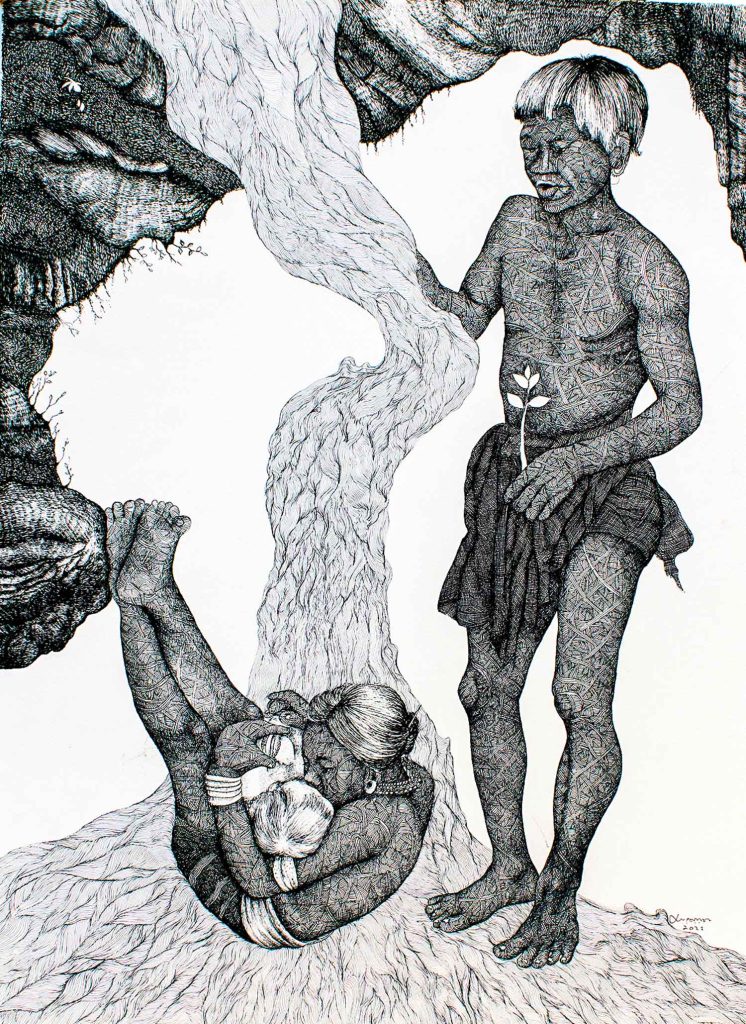 When asked about his art education, the artist surprisingly says there have been more failures than successes. Even his art degree at the Chattogram Art College, which was supposed to take 5 years, took him 9 years.
"I had the notion that just getting admitted into the art college would turn me into a great artist," he says. "I had no idea it would be so hard."
"I did gain many friends during my education at the art college. Those friendships still remain strong. It makes me very happy," he mentions.
Abu Naser Robi is one such friend, and he is also Joydeb Roaza's most favourite artist.
After his master's degree, Joydeb Roaza, Abu Naser Robi, and some of their peers joined to found Porapara Space for Artists. While working for this organization, Joydeb met many foreign artists and collected valuable experiences.
When asked about some of his notable works, Joydeb Roaza stated that each of his drawings, paintings, and performances have a story behind them. It wouldn't do to single one out of them. "When drawing or performing, I always think about contemporary events and try to reconcile my past experience with these events," Joydeb says when asked about the philosophy behind his artistic process.
Performance art is Joydeb Roaza's chief pursuit. However, this medium still isn't mainstream in the country.
In fact, when some artists started performance art back in 2005, they received more jeers than applause.
A couple of performances by artist Mahbubur Rahman and artist Tayeba Begum Lipi inspired Joydeb Roaza. Since 2009, the famous Japanese artist Seiji Shimoda has visited Chittagong several times and conducted performance art workshops at the invitation of the group "Pora Para Space for Artists". After participating in those workshops, Joydeb has been regularly involved in performance art.
Aside from performance art, Joydeb also does ink drawings on paper, intending to sell them as an avenue of income. Because, he says, it is impossible to run a family on the income generated by performance art alone, in this country.
"However, while working on art, one shouldn't only think about selling it," Joydeb says.
"Until the work is done, I completely immerse myself in the subject matter."
"Any profession has its hardships, but perhaps artists have to endure more of it. Especially for those artists who don't want to hold an office job, I'd like to advise them to reduce their materialistic desires," Joydeb Roaza says.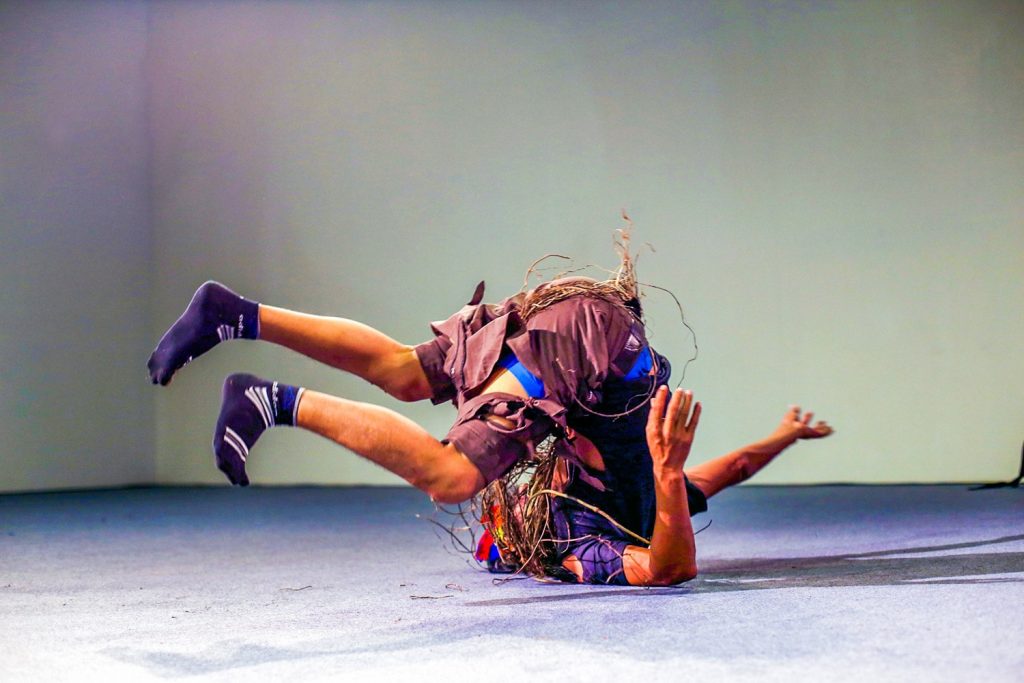 "In many countries, artists receive unemployment compensation. I don't know whether Bangladesh Shilpakala Academy has ever taken such an initiative to help individual artists," he says.
The artist further bemoans the lack of importance of art and artists that prevails among the general populace of the country.
When asked about the art scene of Dhaka, the artist mentions that he finds Dhaka's traffic, bustle and crowd unbearable.
"Several artists living in other cities tell me that it's not possible to become an artist if you don't go to Dhaka. Moreover, some artists living in Dhaka tell me that they have to show up at events, otherwise, their faces are forgotten!" he says.
He adds that it's certainly true that there are more galleries and exhibitions in Dhaka than in any other city in the country. Hence, artists in Dhaka get the chance to experience more art. "It is my request to Bangladesh Shilpakala Academy to hold at least some national-level exhibition outside Dhaka to stir interest in art in more people," he urged.