Having created a world that transcends time and space through a single syllable, Bishwajit Goswami continues to interpret his vision through the language of art. The acclaimed visual artist and co-founder of Brihatta Art Foundation is at present also the Assistant Professor at the Drawing & Painting Department at the Faculty of Fine Art, University of Dhaka.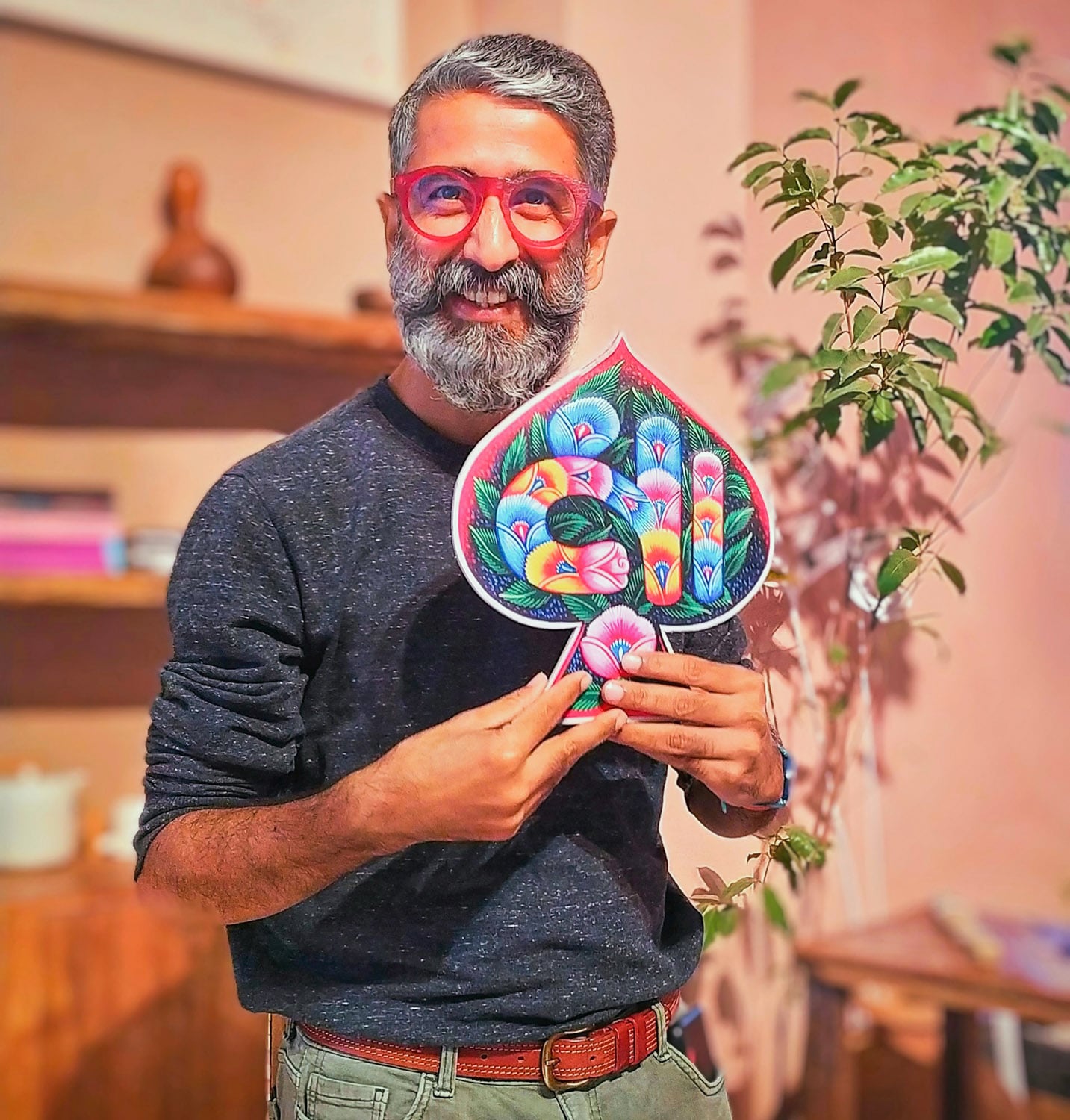 The renowned individual delved into his journey with art furnished into his life through a multiplicity of prominent creative influences. Goswami states, "My father was an artist himself. He was such an interesting personality, he participated in theatre, painting, tailoring, designing furniture– actually, everyone in my family was somehow involved with the arts, whether through music, theatre or otherwise. I have a close friend, Moshiur Rahman Rana. Whenever Rana bhai visited, he made sure to take me outside to sketch. The interactions I had through this practice nurtured relationships and honed in on my way of viewing my surroundings."
Situated between the border of Netrokona and Sunamganj, is Mohanganj, where the artist grew up, inundated with scenes of natural beauty. "The monsoons created oceans within natural lakes. This limitless flow of nature evoked an element of Sufism that awakened a spirituality within me."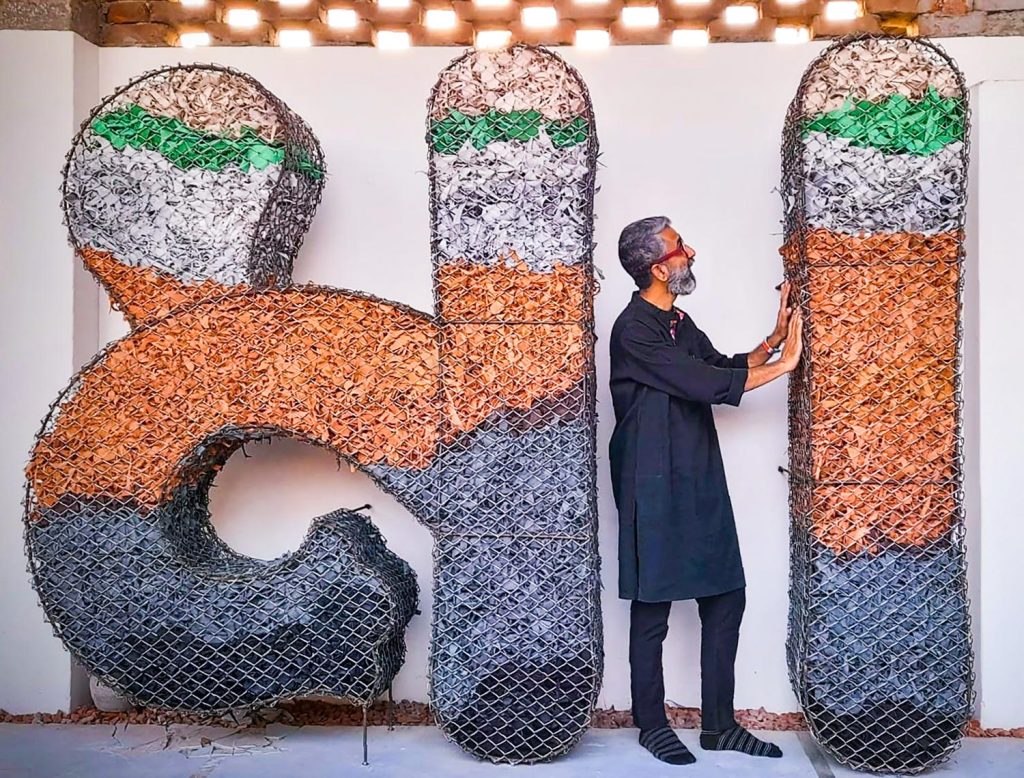 Moving forward in his artistic journey, he developed an understanding of the importance of connecting with different communities, which "Encompass everything, people, nature, even objects." Incorporating these elements within his continued motif of "মা" as a concept, Bishwajit Goswami has created an interactive artistic theme using several mediums and forms. He divulges,
"মা is primaeval, it is the spirit of creation, it is time– it is under constant transformation, transcending and flowing, similar to nature. মা is a space, where-in I can find the essence of peace."
He explained that his wife had given birth while he had been completing a residency programme in China, at which time he had become acutely aware of their absence, "I tried to understand why, despite being surrounded by so much and so many, I found myself missing them. I then asked myself, 'What about my own mother?' In that moment, I brought out my sketchbook, jotting মা. I then asked my Chinese interpreter if she would hold this. She asked me what the writing meant, I told her it meant mother. She questioned why, as she herself was not a mother, to which I explained. 'While you are not a mother, you are a woman and you hold the capability to create life'. Bewildered and excited, she agreed, and I took the photo that began the photo-series 'Travelling with mother'."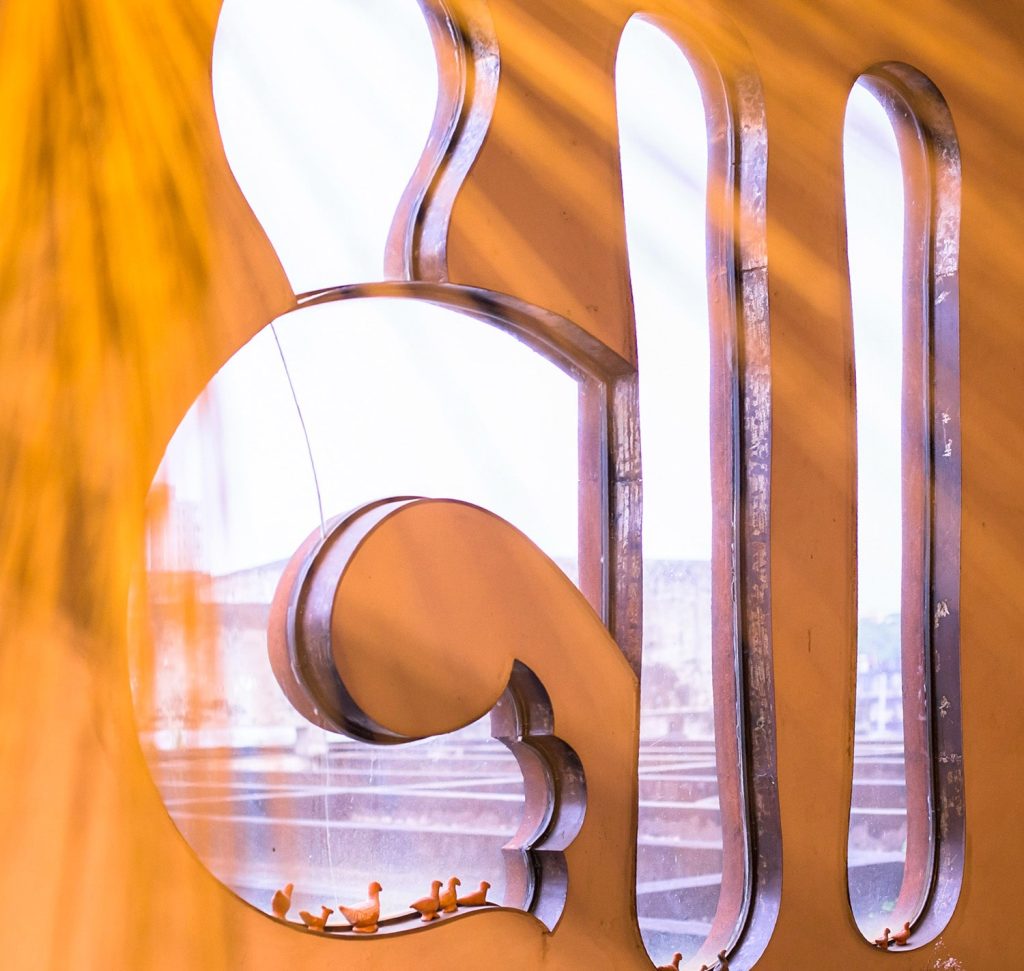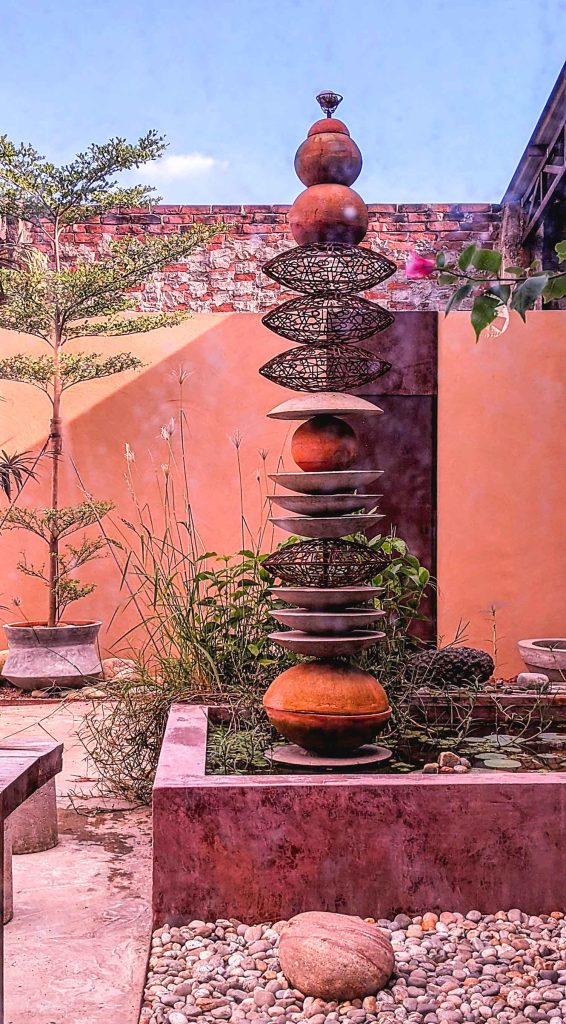 Creating a physical form of the iconography of মা adorned in the art-form of rickshaw painting with the help of his friend Bikram Sur, the avid wanderer carries it around on his travel as he expands this interactive series incorporating women of eclectic cultures and geographical landscapes enacting six interconnected characters "মা (Mother), মাটি (Soil) মানুষ (People), ভাষা (Language), স্বদেশ (Motherland) and প্রকৃতি (Mother Nature)".
Not limiting himself to a single form, the artist's embodiment of the syllable within the silhouette of a window extends his ever-growing metaphor. Bishwajit Goswami calls মা the first light at the break of dawn that gracefully encompasses us all. The iconography in sculptural form exhibits the artist's ties to the natural, integrating only natural and recycled materials. The earthen hues chosen for this project further accentuate these ties in their simplicity. The exoskeleton of the piece is looped in a steel frame, occupied to the brim within discarded leather from tanneries which are available in abundance at the locale of Brihatta Art Foundation.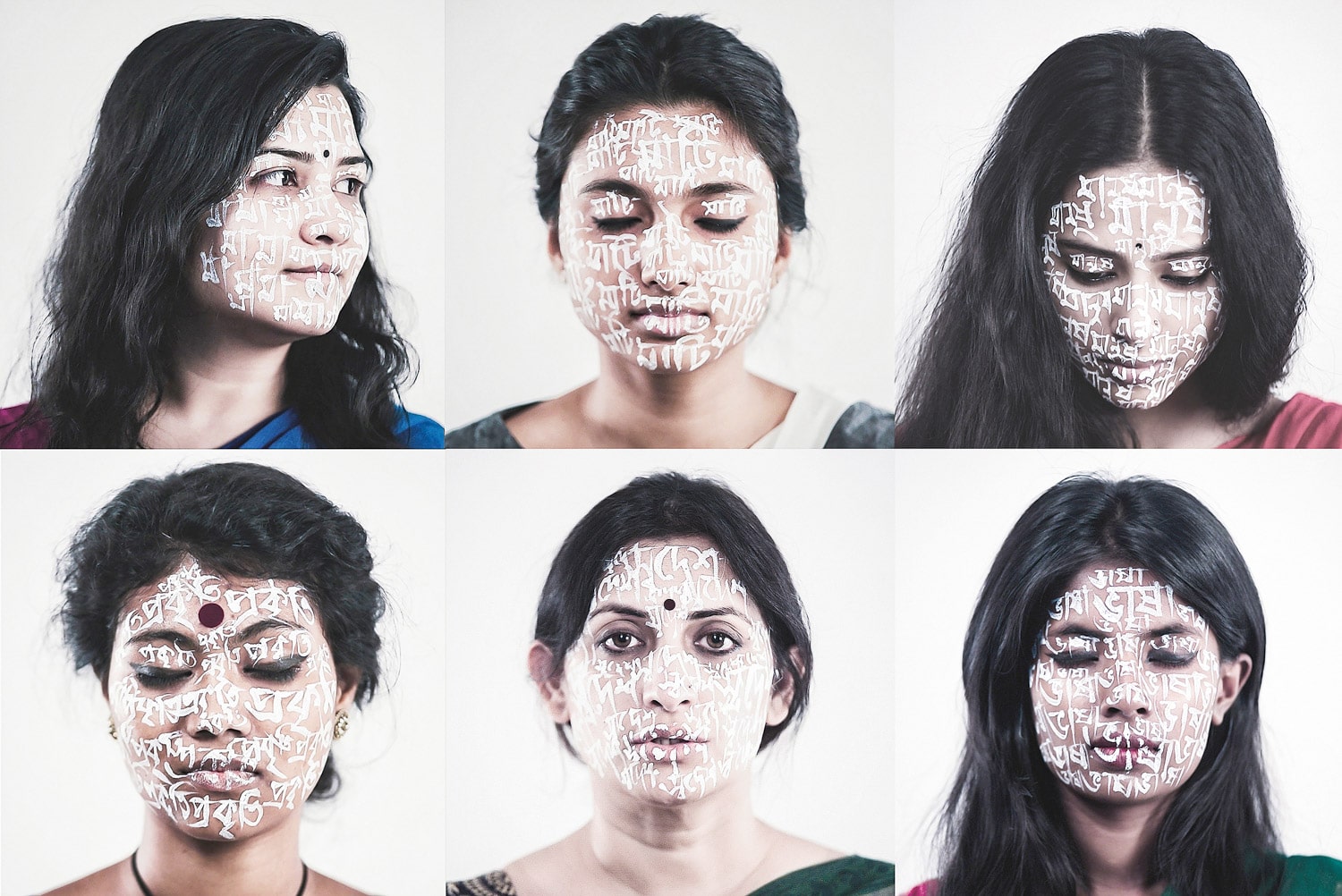 Clarifying Brihatta's undertaking to nullify socio-economic bars from art, the visionary expressed his belief that the lack of inclusivity within art is a major source of societal strife. He chose the art foundation's locale to ensure that everyone is allowed the freedom to see and understand art. "At our Mukti show, sitting beside Nabi sir, was a tannery owner and a rickshaw puller, all three of whom were sitting together having Bakorkhani and tea, enjoying themselves. We need to allow this positive energy of art to combine with every individual in our community, for that, we must go to them."