Art cannot be without the subtleties of reality, and artist Rokeya Sultana yearns to capture that reality through a woman's eyes, finding the voice of infinity, of ages past and of timeless beauty. Imaginative and intuitive with her work, her art releases a spontaneous energy that leaves the viewers mesmerised.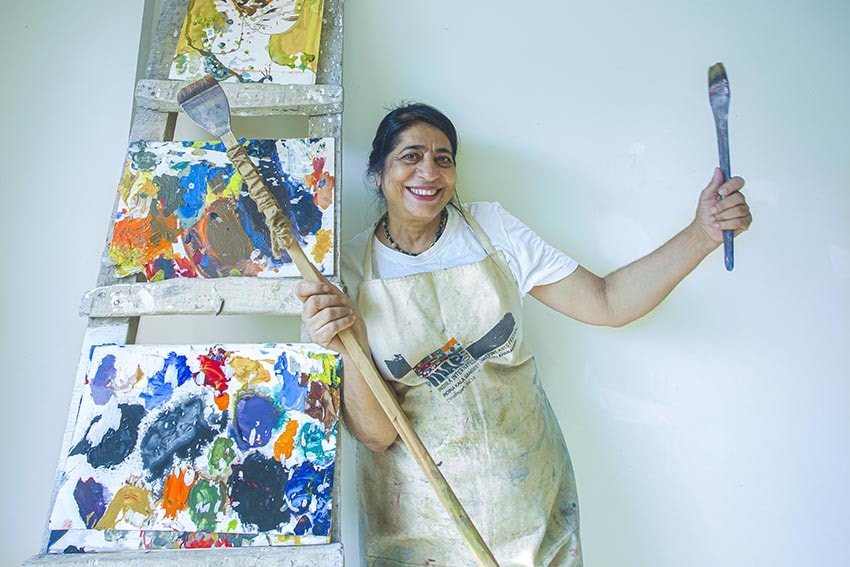 One of Bangladesh's most acclaimed artists, Rokeya Sultana is teaching Printmaking at the Faculty of Fine Arts Dhaka; having won many prestigious awards, such as the Grand Prize at the 3rd Bharat Bhavan International Print Biennial, India in 1995 and the Bangladesh Shipkala Academy National Award for Best Work in 1998 and 2002.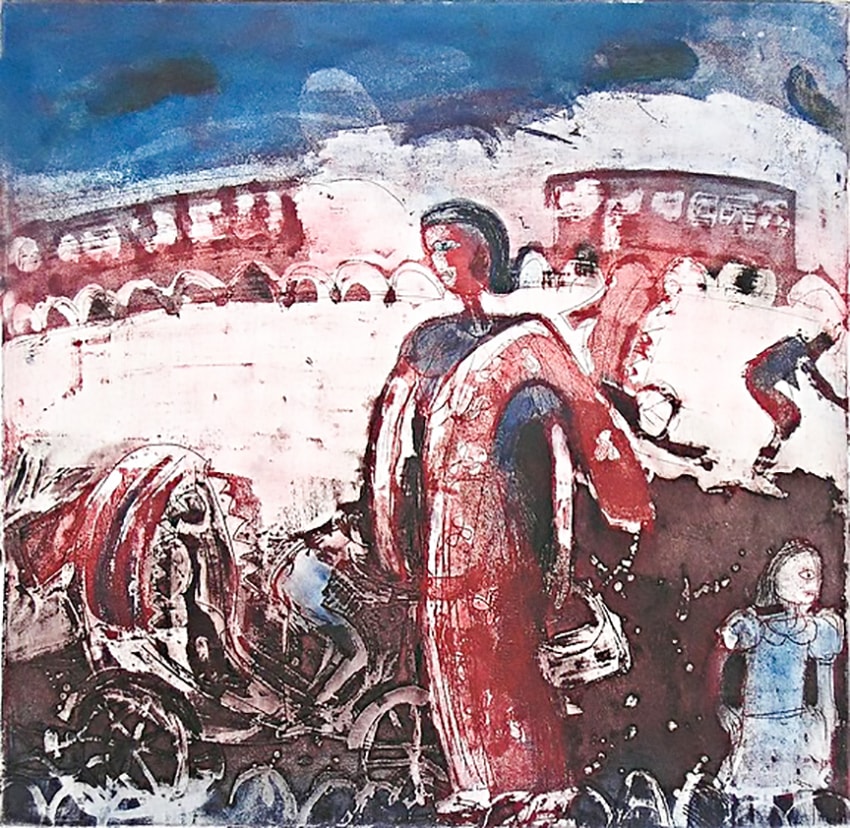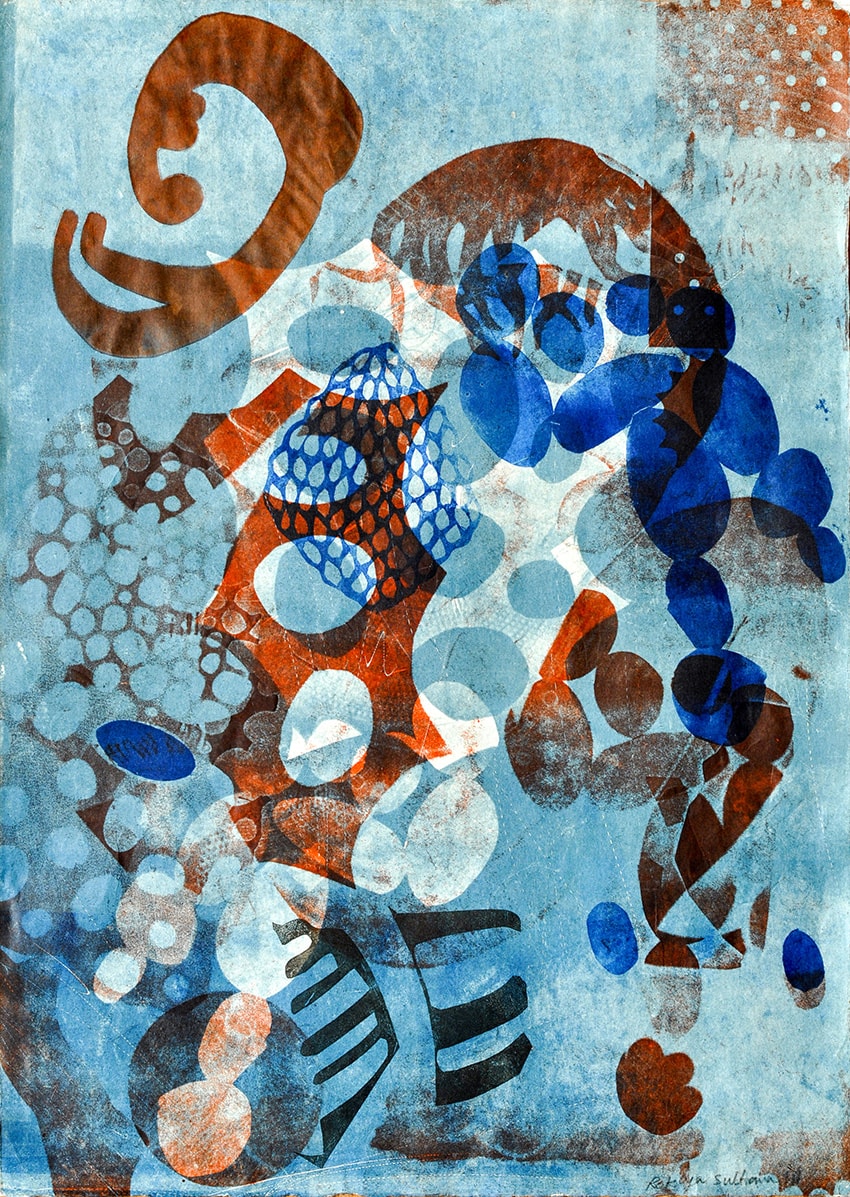 Despite being born in Chittagong, she confesses to not having enough memories there. Her father as a senior government official was stationed in West Pakistan from 1960-70.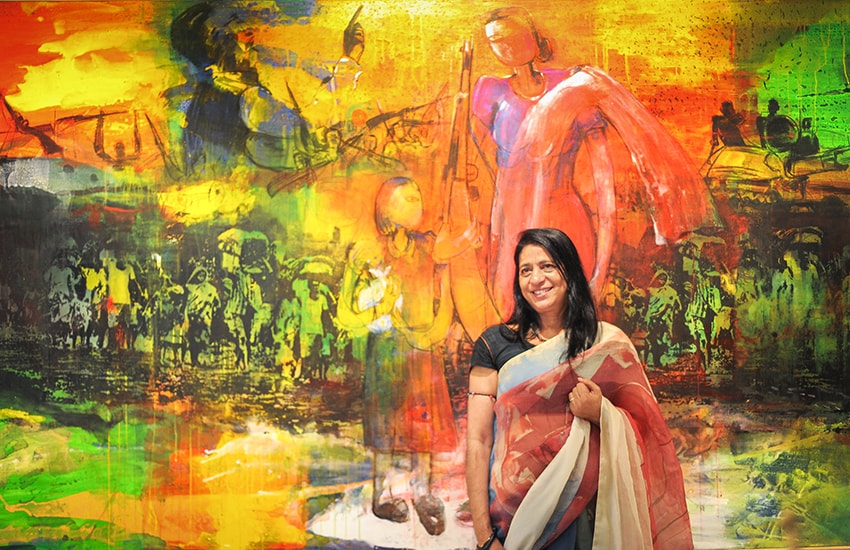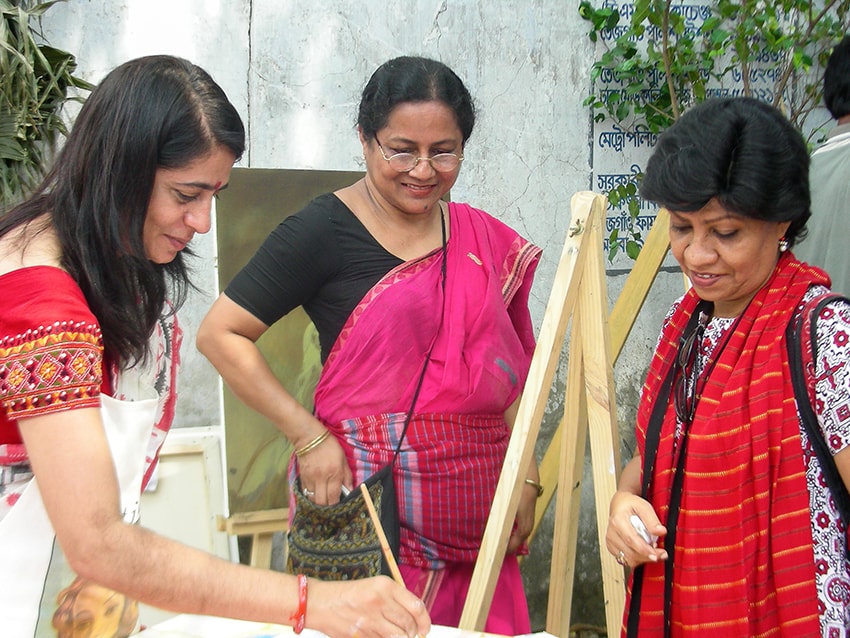 His work transfer caused their whole family to move to Karachi, and that's where most of her memories were formed. In her life in Karachi and Rawalpindi, her love for colours flourished. One of her brothers' friends was the renowned architect Ali Imam, who further fueled her passion for art and creativity. Back then, she had the habit of reading a lot. Her books became her sketchbook; she used to draw over the printed scripts often.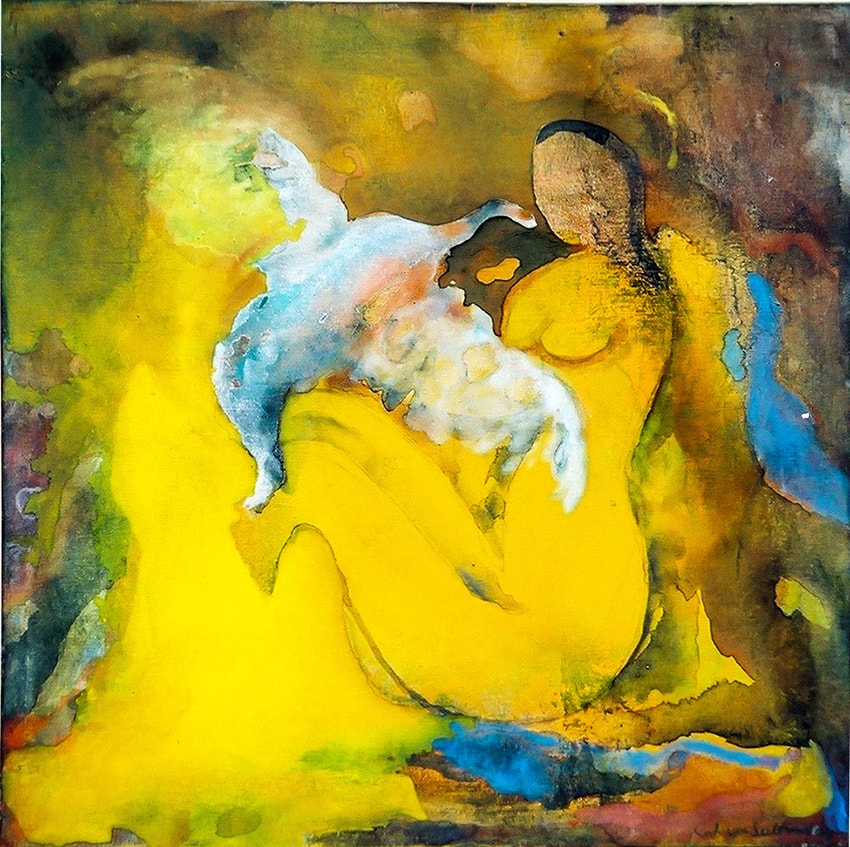 Life became a fight for her when she started attending Charukola. "As the 6th child out of 8 siblings, my parents liked to keep all of us sheltered; much like birds cared for their eggs. I started studying at Charukola despite the resistance.
My family started voicing their complaints against me going out early in the morning, studying in a co-ed institution, having male friends and so on. The first two years were nightmarish, but gradually they started understanding my work better", she recalls.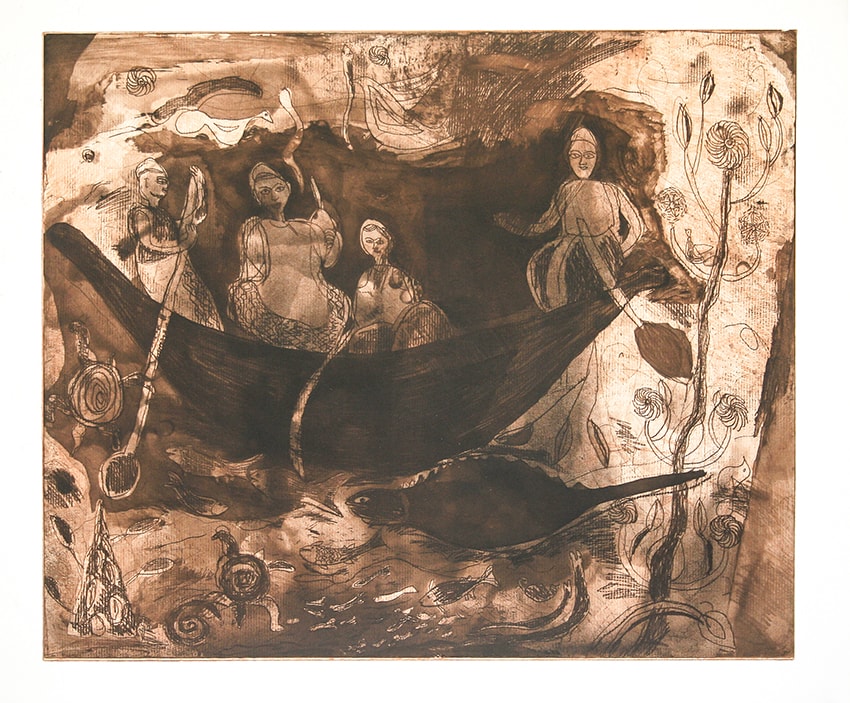 This resistance from her family helped her to acquire a determination that has stayed with her. It all made Rokeya even more adamant to excel in her artistic pursuits. "I have to become an artist," she had decided.
Summer came, and with it started her outdoor studies or 'art walk'.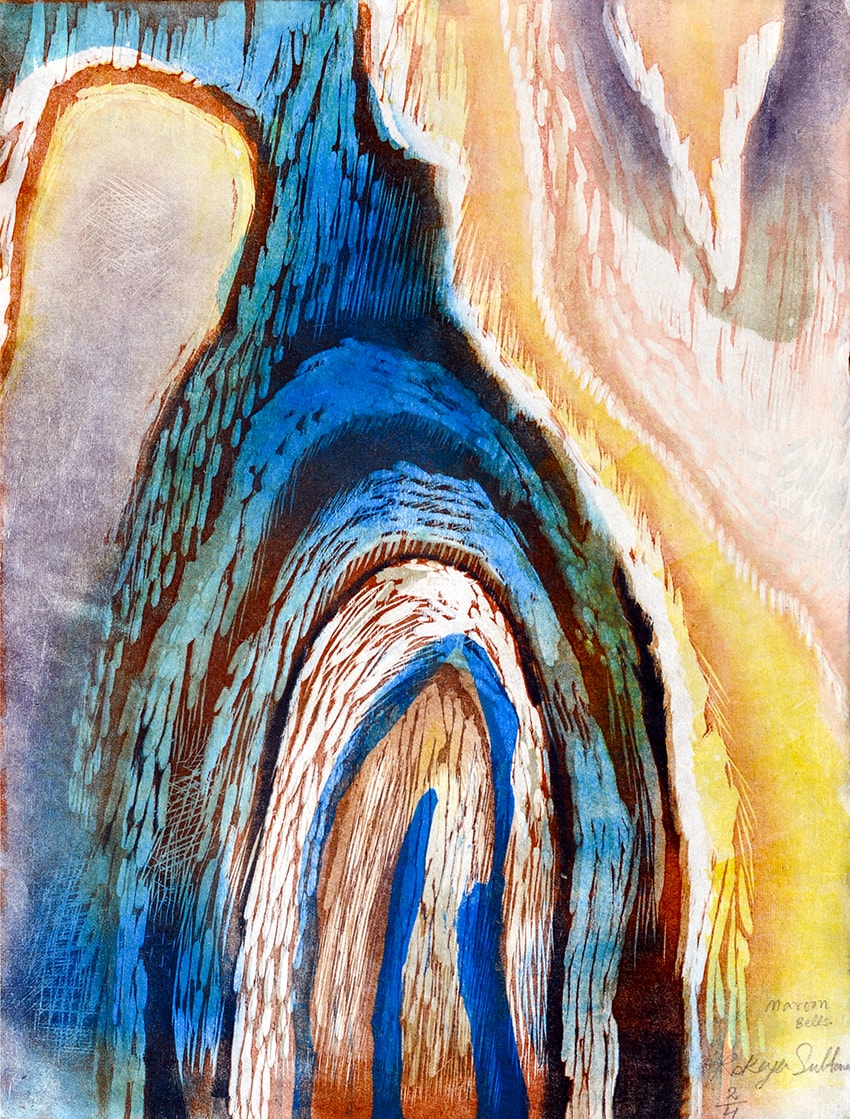 Despite all the obstructions, she persisted in the journey to find her creative inspiration. Like a battlefield, she, along with her peers strived to find beauty out of the everyday desolation of life.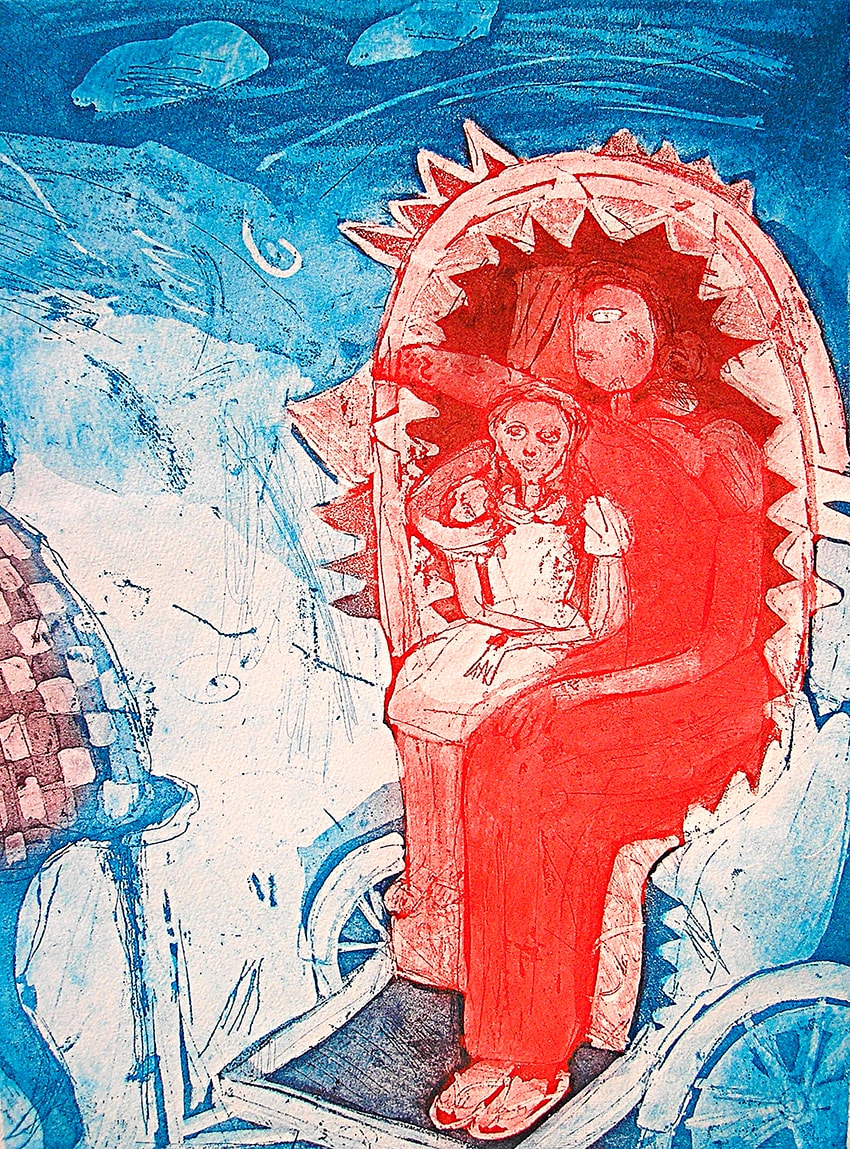 Art walk opened up a whole new horizon in Rokeya's life. The practise helped her find individuality, and she kept succeeding in her academic life. She kept aspiring to do better. Even in her chosen field of printmaking, she tried to bring about a difference.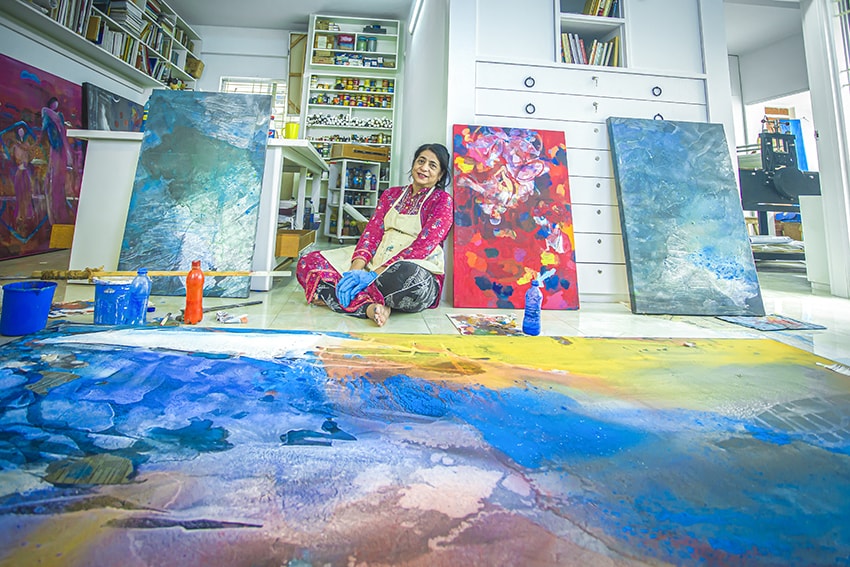 "A lot of chemicals are involved in printmaking," she explains. "My Fulbright research was on how to do this process without any chemicals at all." She fondly remembers Mohammad Kibria and Shafiuddin Ahmed as her direct teachers who played an important role in cultivating her viewpoint.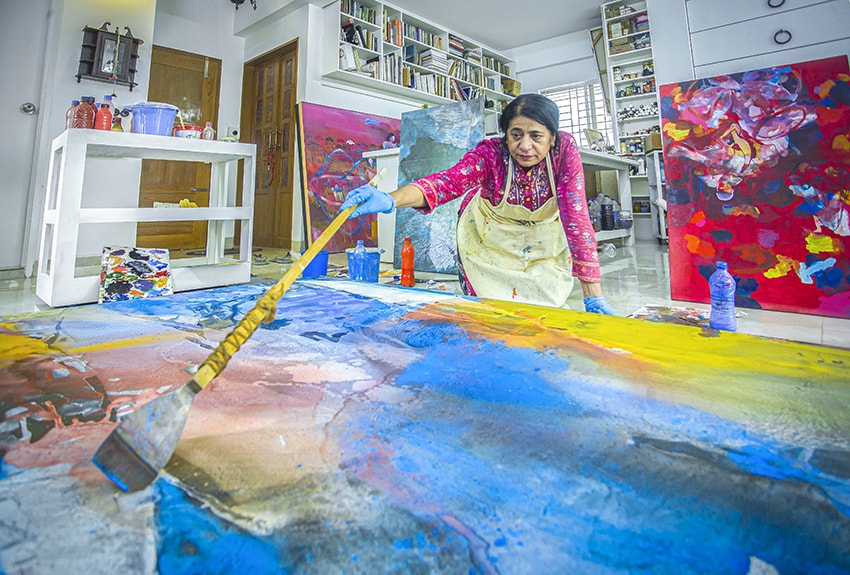 When she was doing her Masters at the Vishwa Bharti University, the vast and serene landscape sparked her creative imagination. Here started her spiritual journey that was nurtured by teachers such as Lalu Prasad, Somnath Hore and Sanat Kar and others. A multi-media artist, Rokeya treats art as a worshipful pursuit. It is the elusive destiny that her struggles bring her closer to. Her work and her spirituality are the same and are inspired by life itself. She devoted her entire being in this pursuit. Rokeya deliberates in calling her work abstract. Colours spun through landscapes are her preferred method to convey a message. "Colours speak," she states.
Surrealism is evident in her canvases and etchings. The origin of surrealism is rooted in poetry, she explains. From Jean Cocteau to Jibanananda Das, they all looked for the same unknown that she now searches. Her inspiration stems from there. In the same way that Jibanananda Das searched for infinity in his later works, she tries to grasp at similar ideas through her colours and imagery.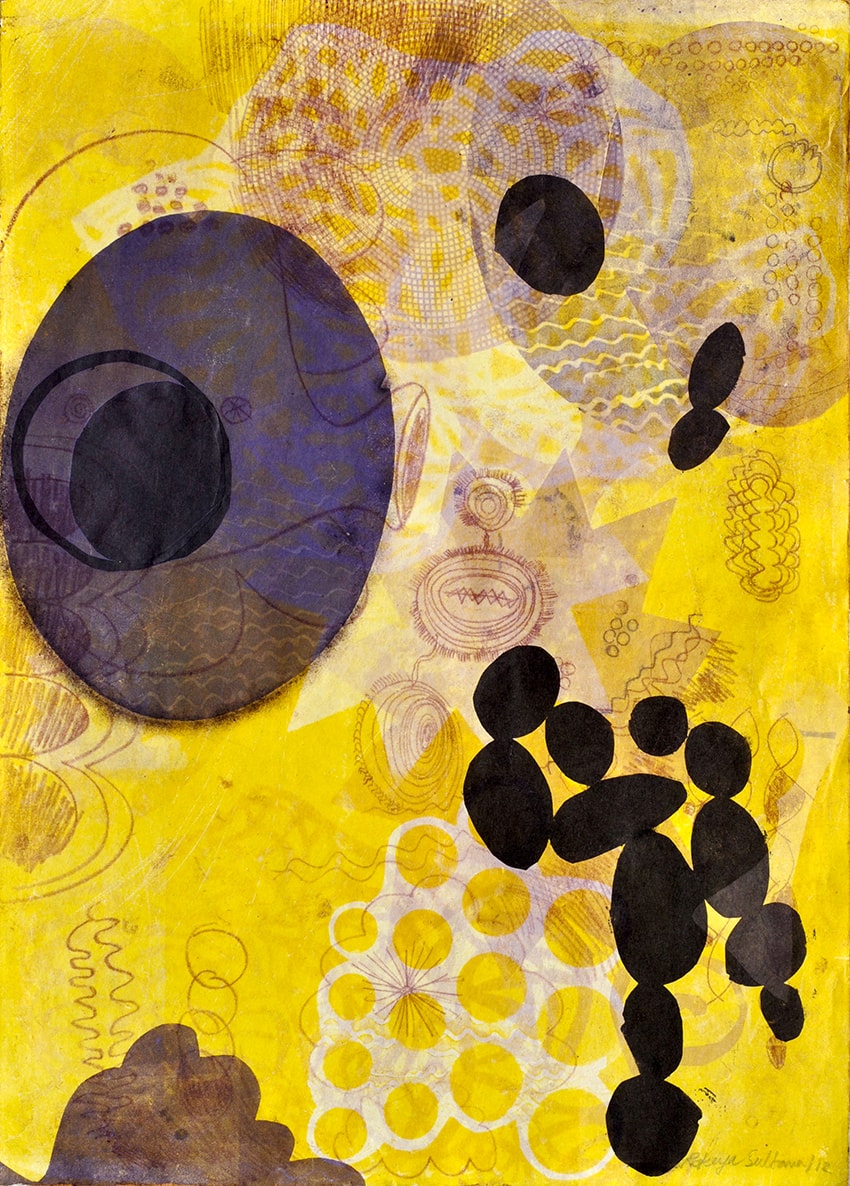 Her subjects revolve around women's issues, raising her voice against prejudices. She mentions pioneer artist Novera Ahmed as one of her inspirations, who was a prominent sculptor of the country. Much like her, Rokeya tends to dabble in experimentation a lot. She loves to play with the subject matter with use of pigments, paints, handmade papers, copper and bronze etc.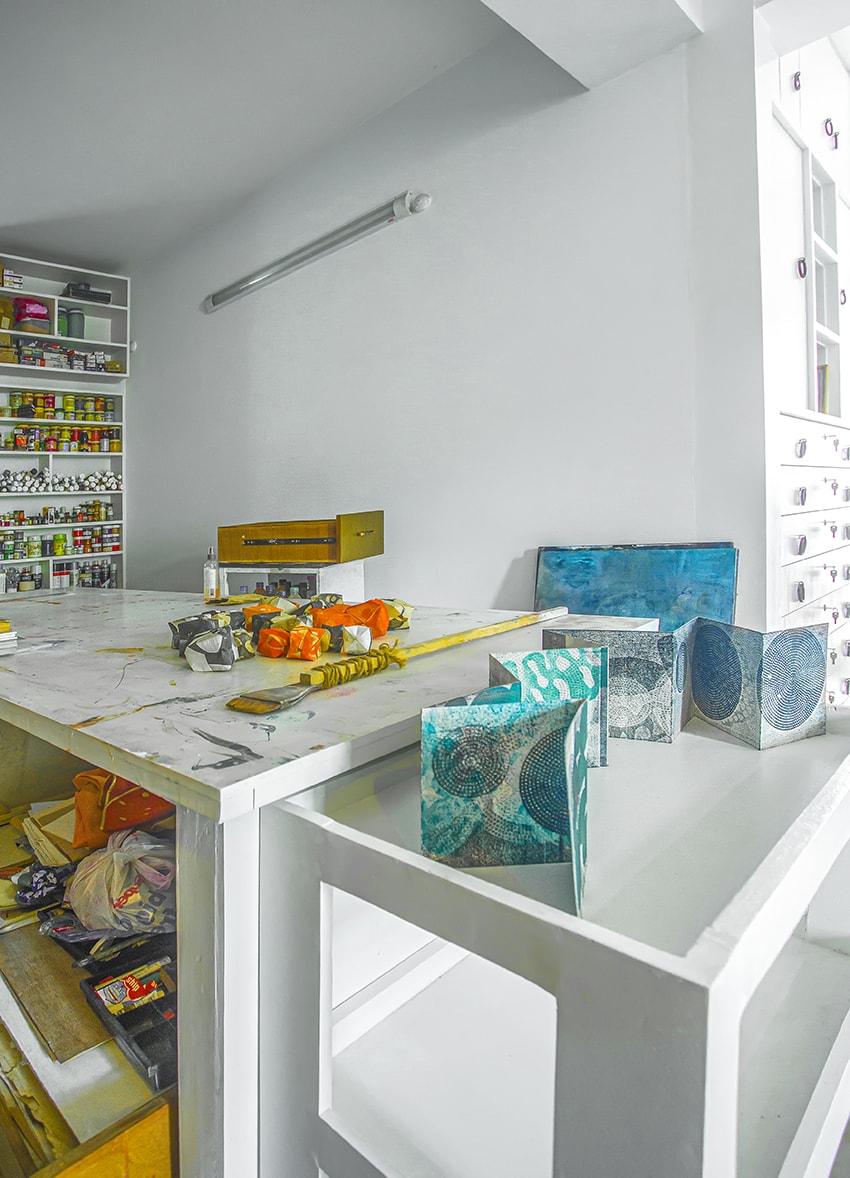 Rokeya's most remarkable work is perhaps an early series of paintings and prints called 'Madonna and Child'. Her Madonna is draped in a sari, blatantly representing the everyday visage of a Bangali woman. Rokeya's use of luminous colours and scenes from the everyday lives of women did more than disrupt the chord of a predominantly male structural hierarchy but opened new doors of creativity for the Bengali female psyche and spirituality to be explored.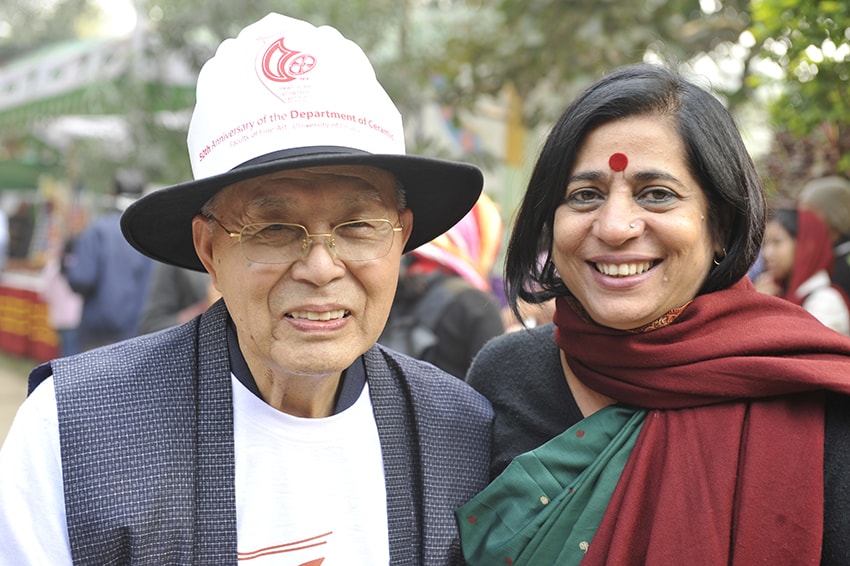 From this series, the print 'Madonna in a Bus' won her the coveted Bharat Bhavan award. In the '90s, she mostly worked with etchings in various mediums. She kept exploring printmaking and flourishing in the freedom to fuse her mark-making, washes and linear quality to shape the multiplicity of her individualistic aesthetic concerns. She has also been involved in video art and performance art, winning hearts of many.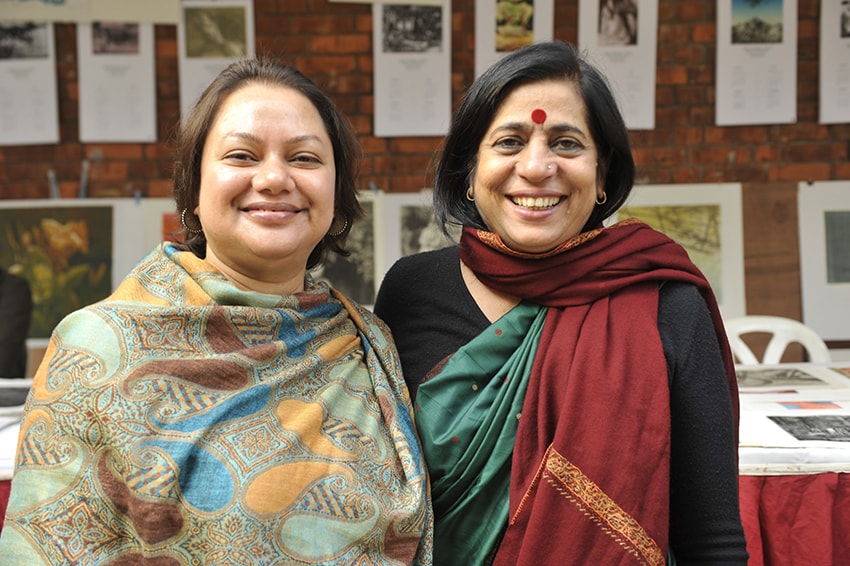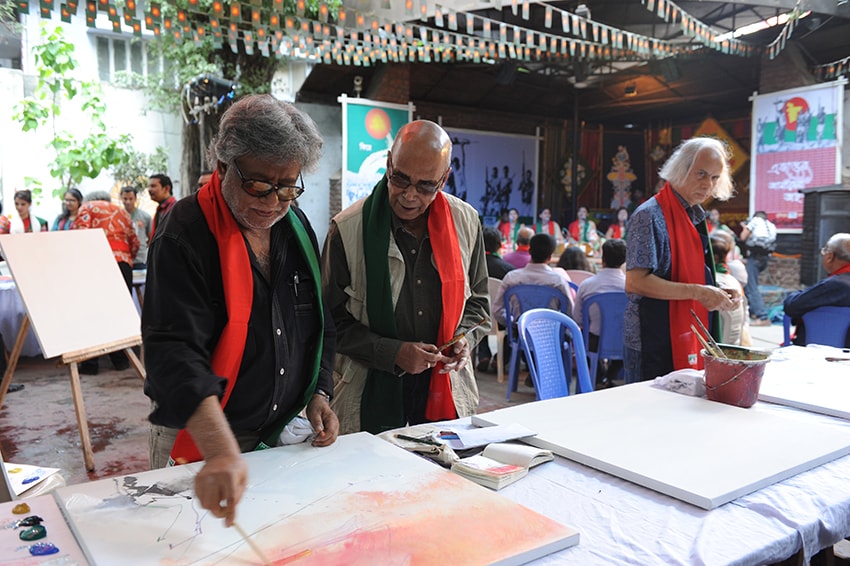 In 2012 she received the Fulbright scholarship and had the opportunity to spend nine months working with a new technique of acid-free print. She exhibited the results of this experiment in 'Fata Morgana', her 14th solo exhibition in Dhaka's now-defunct Bengal Lounge.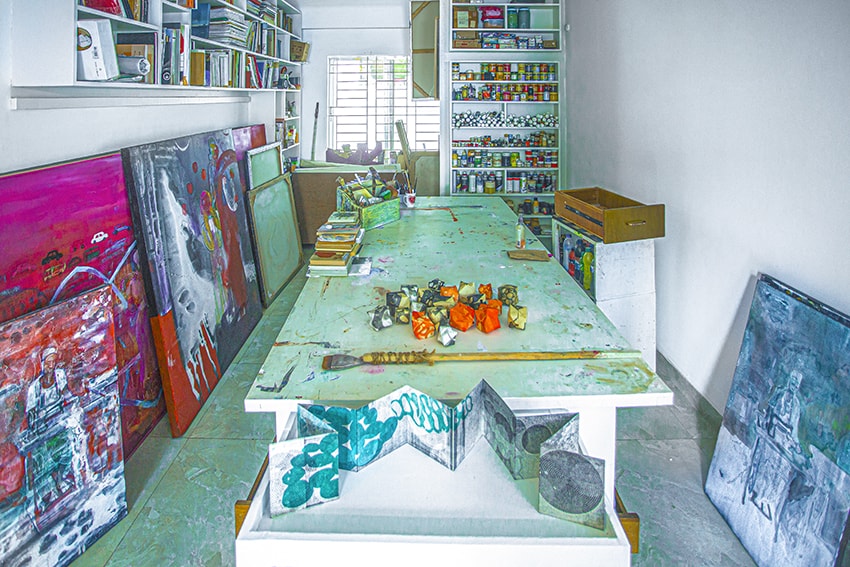 Rokeya has a lot to say to the young people today who prioritize short-lived social media fame instead of refining their work. "There is a lot to learn from continued observation and perseverance. Young artists need to be patient with their work and put effort to develop a style of their own." she concludes.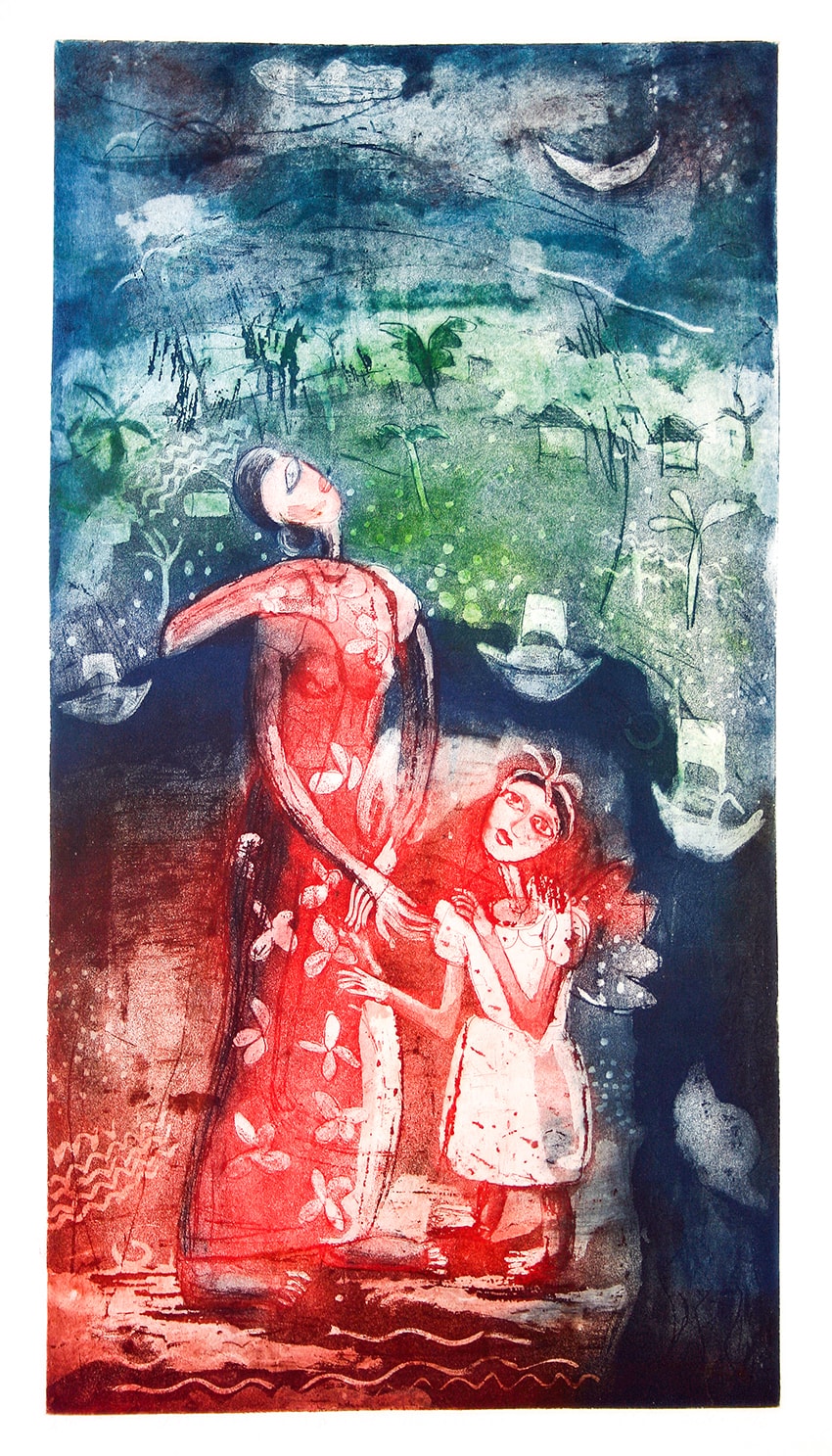 In her journey through the many obstacles and trials as is the norm for a Bangladeshi woman with ambition, Rokeya Sultana came out burned and burnished, with enviable expertise and skills and the eye to see past the flimsy veil of reality.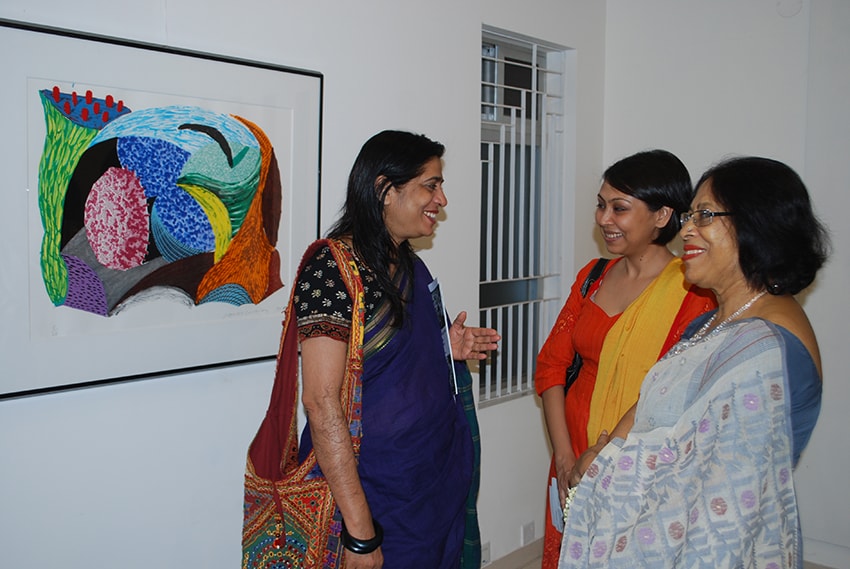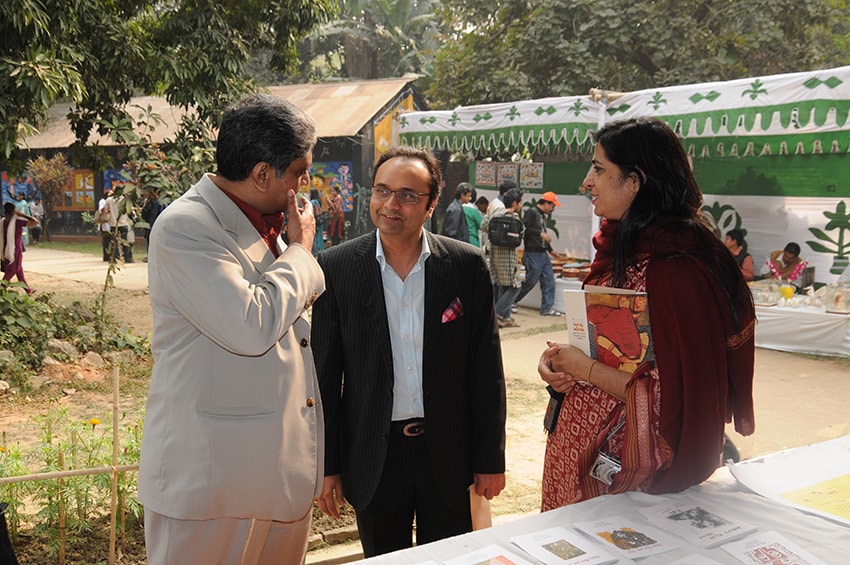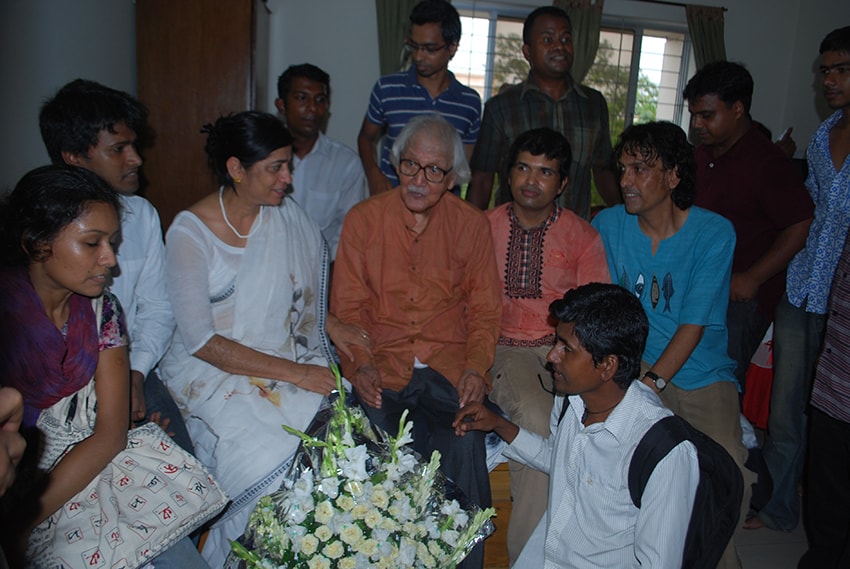 Her work added to a valuable collection of feminism-centric art in our country and will no doubt continue to inspire artists looking to walk in the same avenue.