A visual embodiment of opulence, the Tilottoma Gulshan showroom is a project under the Tilottoma Bangla Group (TBG) in collaboration with architecture firm Arquitectura Pvt Ltd. led by Architect Fariah Sharmeen Akbar and Architect Md. Shafiul Azam Shamim. Maintaining focus on both functionality and atmosphere Arquitectura Pvt Ltd.constructed a voyage through the product exhibitions.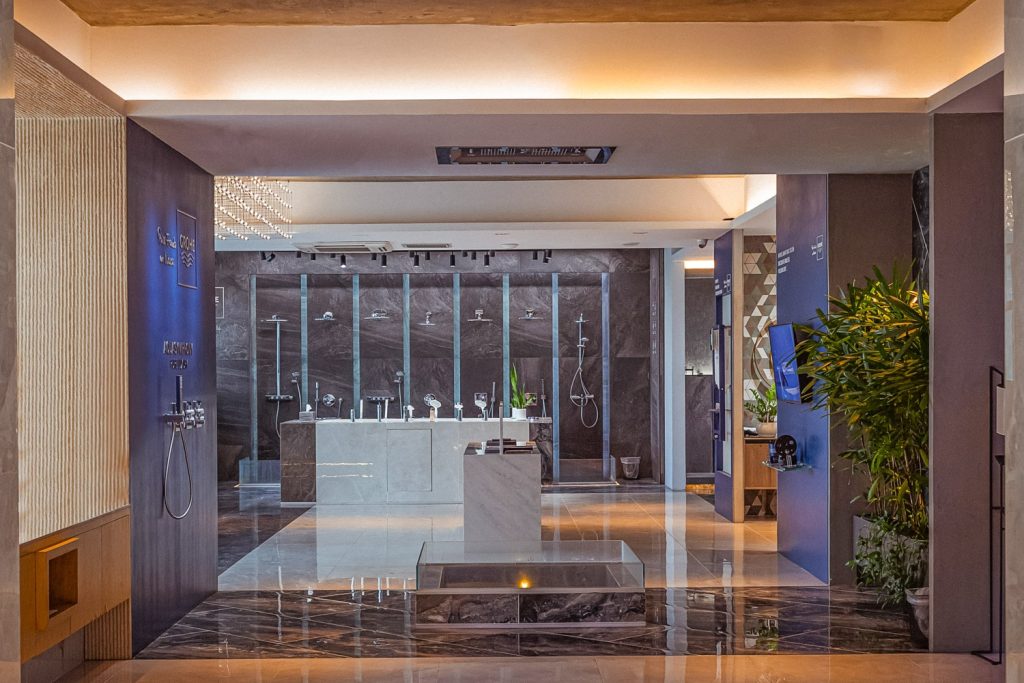 Understanding the products and brands carried by TBG, guided by the TBG Managing Director Shahriar Sajjad, the architecture firm created an ambient environment personalized for each brand through strategic interior decor. Utilizing ZEN trees, sand, and textured walls for the Japanese brand LIXIL, while focusing on a "nature" oriented green theme for DORMBRACT. The architect revealed that in order to achieve accessibility as well as aesthetic grandeur, improvisation played a role. "To create the optics of a water-body, we re-used the waters in the live zone and introduced new reflective ceiling materials. Natural stones as flooring material which simultaneously worked as a buffer between the floors and the water system in the wet zones, and all interior plants here were not only décor, we also used them as partitions. Live wall surfaces featured watery plants which also acted as detachable dividers", says architect Azam Shamim.
The resulting design sphere allows consumers who enter the showroom to easily construct a visual experience customized to their individual spaces. Subsequently, they can discern the best fit for their homes among Tilottoma's vast product range with ease and efficiency.
Numerous lounge areas were created to facilitate comfortable discussion between Tilottoma and buyers to aid in choosing and building their dream home.
Azam Shamim stated, "Foremost the idea was to connect the clients through the exhibition of products through spaces, set-ups, and functionality. When we set the layout, we arranged it keeping ourselves in the position of the visitors, which guided us to maximize the visuals and openness. From there the showroom concept arrived `a journey' where you are going through the spaces and picking up products for your home where at the same time you can visualize what this will look like at your place. We tried to reflect and connect the design with buyers' emotions toward the products and solutions."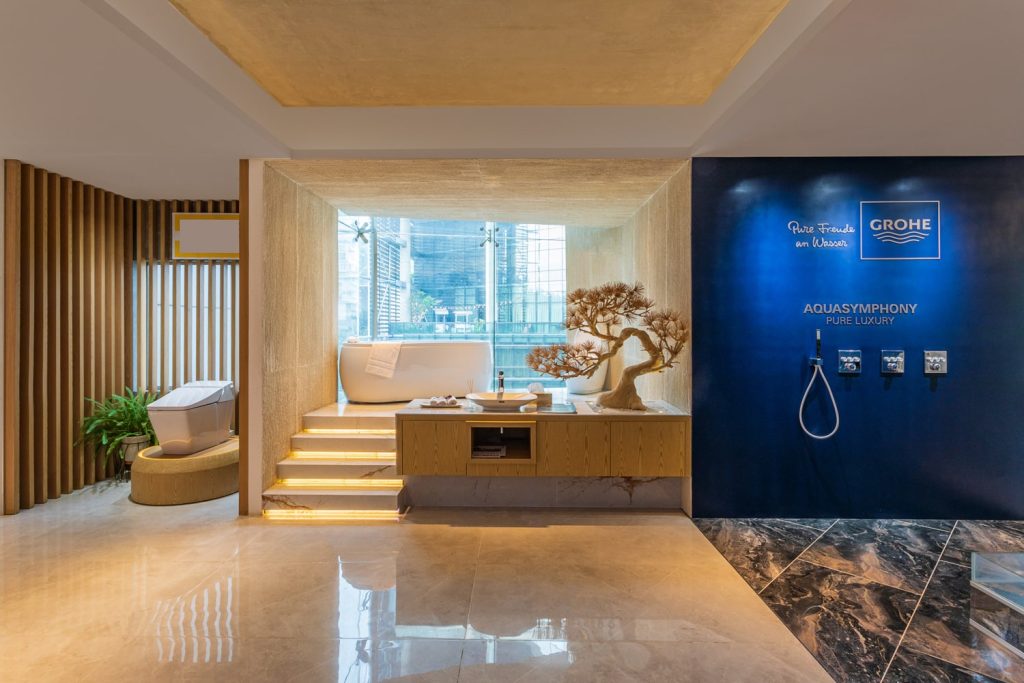 The floor plan is divided into a few zones following the "journey" showcasing individual brand values. The live experience zone where accessories are installed with "live" solutions, mockups that feature different fittings and fixtures, the Individual display area, the lounge spaces for clients that offer a material library, the amphitheaters designed with fixtures as the "experience zone". The colour scheme was set according to the brand criteria, sometimes modified to lift-up the brand value according to buyer groups. Tactical lighting and neutrality within the backgrounds of product displays were employed to create contrast, thus highlighting the items. The lighting was moderated to ensure visitor comfort. "We used a lighting simulator to make modifications wherever needed to make sure what we've designed achieves that result. We used different focused lights as per different products and their finishes, at the same time tried to provide warm diffuse lights for common areas."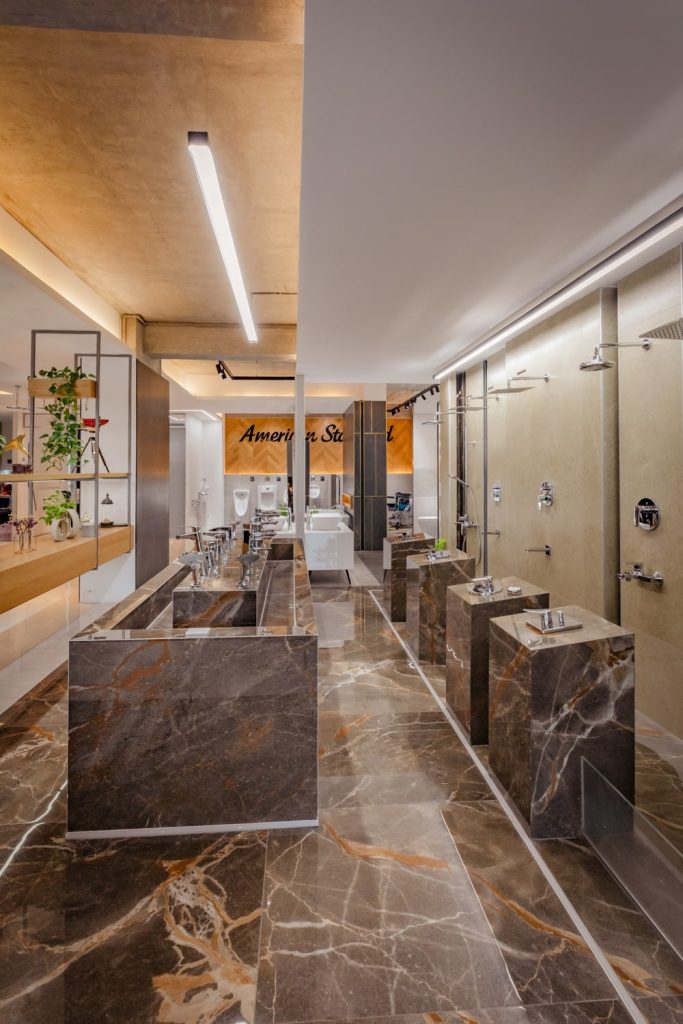 Constant adaptation is a compelling reality in the case of these kinds of interiors due to the changing requirements for new product displays. "We need to add and evolve with the new products. With a particular display of showerheads, within a short period, the brand launched two more products which we needed to address as well. We took this constant change as a design challenge. We really enjoyed working With Mr. Shahriar Sajjad who helped us every single day with his knowledge of products and their wide range of functionality", expresses Azam Shamim.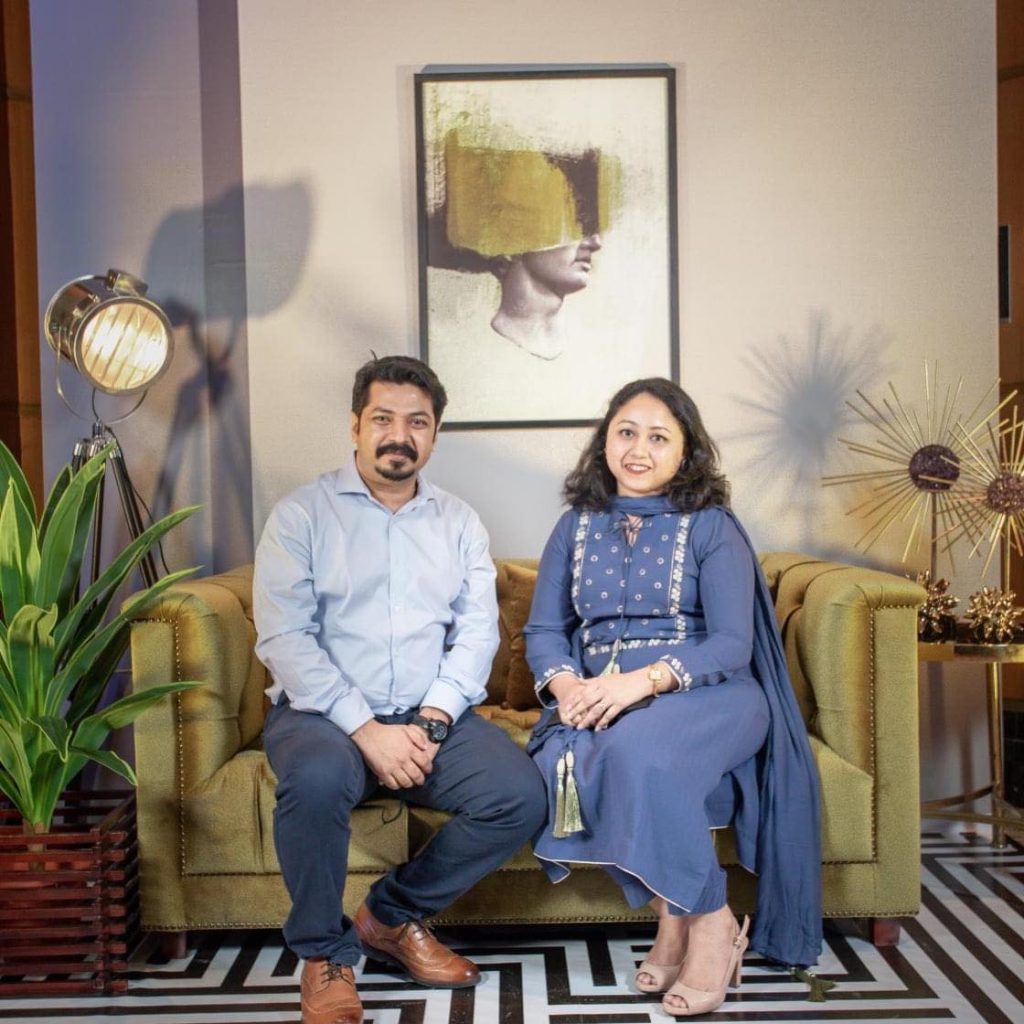 Tilottoma has been featured in a multitude of residential to commercial projects, executing changing customer needs through partnerships with a plethora of Asia, Europe, and American brands.