Saria Saguaro with dreams in her mind set out to do Pastry Diploma from Le Cordon Bleu London, which eventually led to the chic cake studio, The Flourist. The pastry chef claims it to be an extension of her mind – and her personal gallery of paintings with the handpicked furniture being as the supporting actors.
Saria hadn't known the pastry chef in her until later in her life, when one morning of her cheat day in 2011, she arrived at a café at 8 am. She waited patiently as the café opened at 8:30 am. With much eagerness, she ordered a delicious looking chocolate cake slice that she had been eyeing. "After it arrived and I bit into it, it was dry, stale and just awful," says Saria. It then occurred to her to pursue being a pastry chef instead of studying Advertising.
From a blogging project to a cake studio, The Flourist has come a long way. The pastry chef cum artist had started with what was just passion, which has transitioned to be a fully thriving business. Initially, Saria had not thought of monetizing her passion. It is when her friend had placed a paid order for a cake that she decided to start taking orders professionally. Being a full-time artist and a pastry chef, Saria has amalgamated both worlds, by hanging her paintings for both aesthetic and retail purposes, in her cake studio. However, it's a lesser-known fact that the paintings are up for sale there. Saria's studio is a reflection of her if one is to say. For instance, she personally tries to strongly practice recycling and sustainability; hence she has decorated the cosy space with upcycled interior items. The pieces made the place more the warm while retaining sentimental values. Some of the upcycled pieces were from the country house her father had while a few of them were from her mother's collection.
. The iconic teal sofa, for example, is a 30-year-old piece, restored to look as good as new, sitting fashionably in the studio.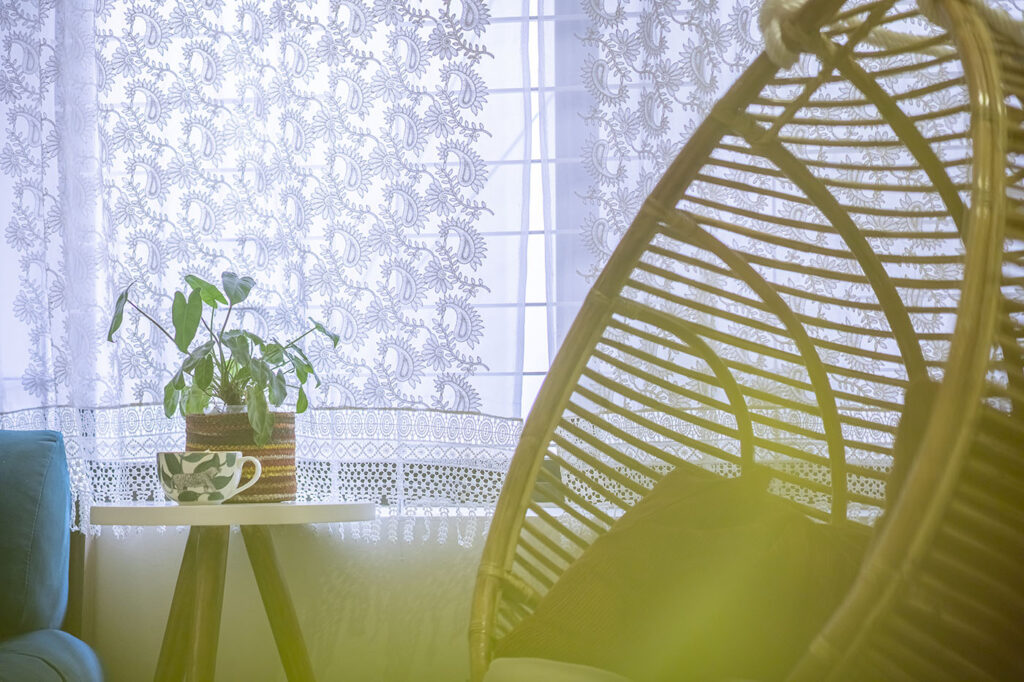 The idea was to create a rustic and earthy ambience, within the tight budget Saria had. "My colour palette for this was mostly cream/white. And then I built on it – green from the plants, blues from the sofa and some paintings, yellows from some seats and the warm overall warm lighting, and oranges to set the mood," says Saria.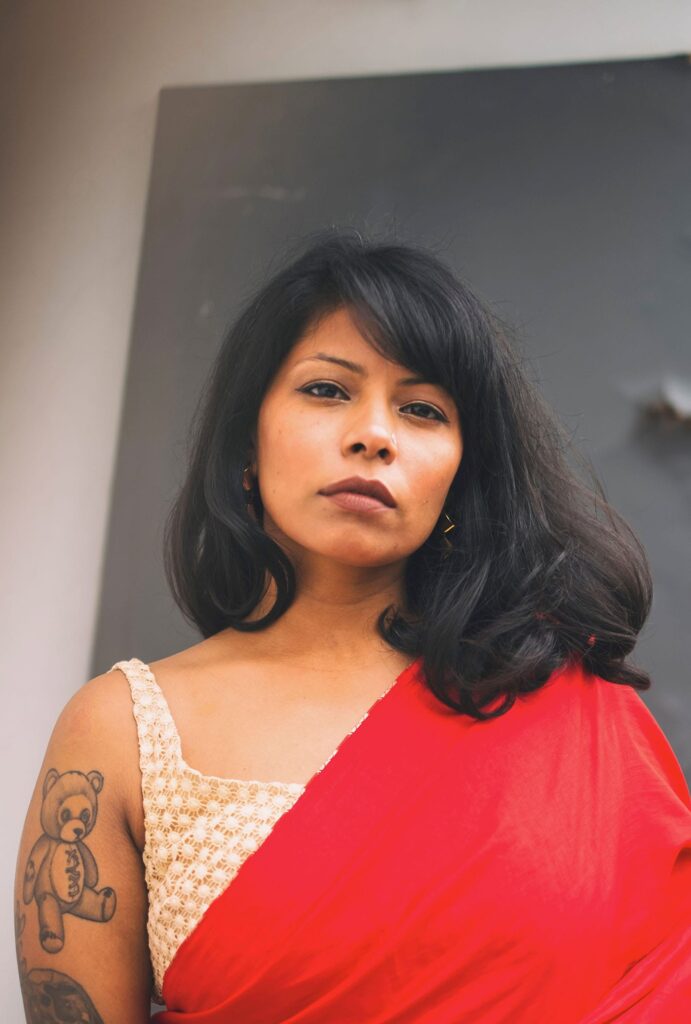 Besides collecting an antique rattan chair and a bare framed round table from her mother, her mother had presented her with a housewarming present – all the plants at the studio were hand-potted by her mother. Such personalized and pre-owned décor items add more value to the interior décor. For the complete look, she decided to revamp all of them using wood and bright colours. As a result, the highlight of the studio is that it is quaint and cosy, without looking too busy.
The cake studio took about three weeks to complete, however, the whole planning process of it brewed in her mind for a month, before it was executed. Saria sees The Flourist as one of her paintings on an easel, "I am constantly building on it and changing it from time to time." However, beautiful things don't come without a challenge.
"The biggest challenge was trying to acquire a space as a woman I suppose.
Reluctant landlords, questions of a husband and how I run my business being a female entrepreneur – I've seen/heard it all," stated Saria. Other challenges were mostly technical and limitations of what she could or couldn't do keeping building guidelines in mind and also what would work visually and for production.