The Bangladesh Securities and Exchange Commission (BSEC) office, in the busy administrative area of Agargaon, took a modern approach incorporated with its retained vibe. Hatch Ltd designed the office space of 1260 sqft with an idea to break the stereotypical concept of heavy wooden work-based design that is generally observed in all government offices and create a space that breaks out of the monotony and brings life to the office with the use of a soothing colour palette.
Amidst the ongoing pandemic, the project was completed and handed over in the span of 3 months. Even with a limited workforce and difficulty in material sourcing, the team at Hatch was successful in delivering BSEC with a space that retained the norm of wooden texture but with a modern twist that elevated the look from the old heavy design to a sleek, modern, fine-lined design. BSEC handed the responsibility to Hatch to design BSEC with concurrent visualization while maintaining the formal ambience of the government office. Each section of the office space was designed with its individuality following distinct criteria but, as a whole, speaks the same design language. For instance, the hearing room includes the symbol of the scale of justice and hammer and the conference room showcase abstract symbolic design incorporated with a monochrome colour palette to denote its functionality whereas the training room adorns brighter colours to induce a lively yet pleasing atmosphere.
Whether it's the 3 colour combination of grey, brown, and beige or teal, orange, and grey, the in-house production of membrane material helped to bring out the different textures on different CNC designs giving a tangible aspect of design dimension.
The signature use of the textures of PVC membrane on MDF board chosen for its durability as well as aesthetic accentuates the modern characteristics, unified by the use of wooden texture throughout the office space.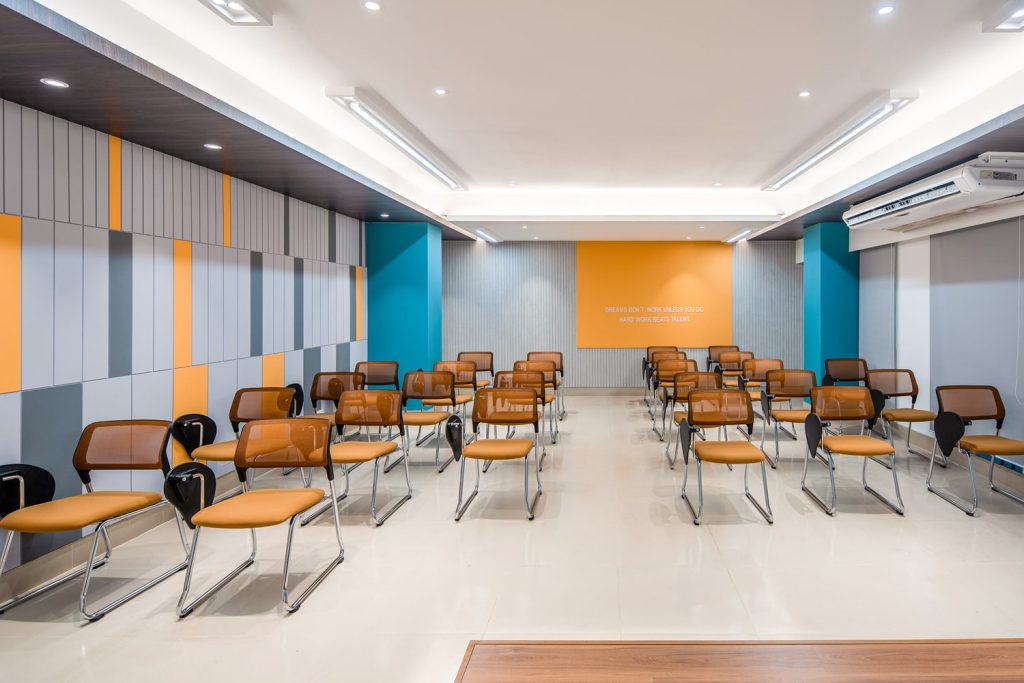 Hatch Ltd took a different route to embellish BSEC from its age-old design approach and now demonstrates the new modern era look that is not only functionally improved but also visually impacts the users for a better experience.
Architect Profile:
Hatch Ltd. was founded in 2017. The name came from the term we use for sketching – hatching (means to cross strokes to create depth). The vision was to build strong structures with designs that unfold with purpose. Their services include consultancy, construction work, planning, and design development for interior and exterior work. While practising and working on big projects – Hatch Ltd. has come to realize that the local market is suppressed when it comes to materials. So, Hatch Ltd. started to make their own materials for construction and brought high-quality machines. These innovations have been used for in-house purposes so far but now Hatch Ltd. sees the opportunity to expand to a larger audience as they could use their innovation for product designs. So, the journey started with construction and planning and now it's expanding to product designing in addition.
Photography by Maruf Raihan