As an avid art and vintage automobiles collector for over 25 years, Durjoy Rahman had long-desired a platform to promote art practitioners and creative thinkers. In 2018, he founded the Durjoy Bangladesh Foundation (DBF), a platform that has allowed him to talk, explore, and network with artists and art enthusiasts from different parts of the world. The main objective of the foundation is to showcase South Asian culture and heritage with the use of art pieces to the world, thus, creating a bridge between the East and the West. On the cusp of the lockdown due to the pandemic, The DBF Creative Studio, located in Baridhara, Dhaka emerged from the need for an alternative space to experience art and creativity on a limited scale while maintaining safety parameters.
Due to the Covid lockdown, people started thinking differently about life in general. The break from life allowed people to see things from a new perspective and reevaluate their social and personal life. This resulted in the art enthusiast deciding to transform a 1450 sft residential space into a creative studio. Art has always been an integral part of his life and he used the Covid break to discover ways to promote art in the "new normal" era. DBF Creative Studio came into being when most public spaces were shut down due to the pandemic, creating a hindrance to organize small scale cultural engagements.
"This space was originally a storage unit where we kept our art and collectibles for a long time. During the lockdown, the idea that sparked our mind was to transform it into an alternative space to display our collection and host small gatherings using the limited resources available and keeping in mind the health safety measures", shares Durjoy Rahman. Being amid artists and creative minds has influenced him to design his studio into what it is today. It was a challenge to transform a family quarter into a gallery, but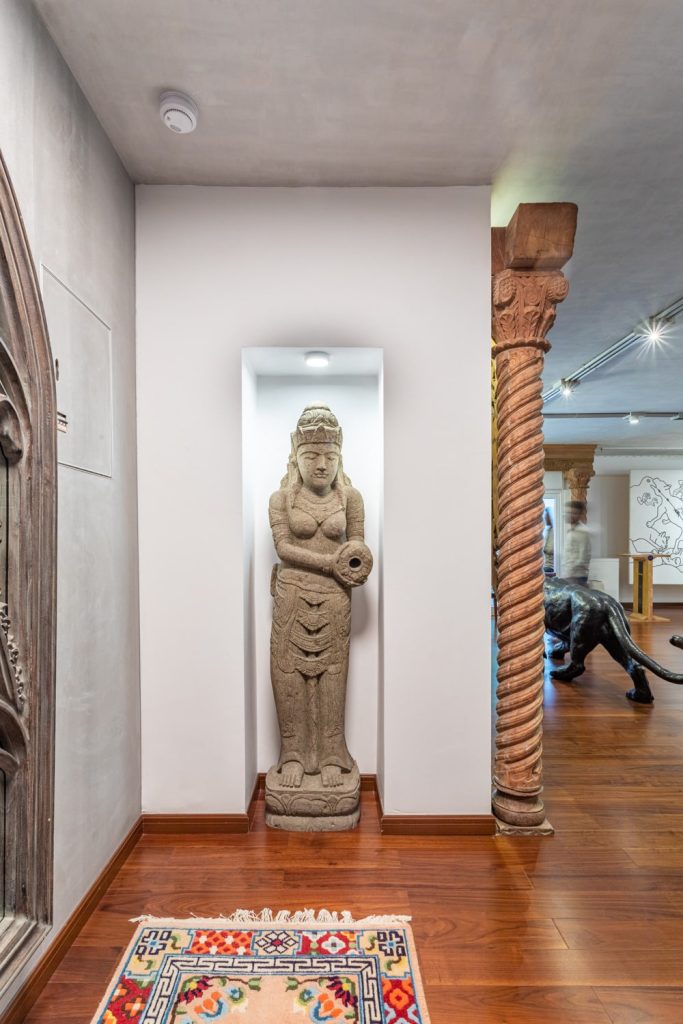 "Being able to convert a space that holds a different function is a reflection of one's creativity",

says Rahman.
Durjoy Rahman and his wife Sania Ahsan used their vintage artefact collections to intricately decorate the space together. Every piece of furniture and decor accent within the space holds a creative aspect to it.
Since the beginning of DBF's establishment, Rahman has hosted various exhibitions and events to bring together artists and art enthusiasts under one roof. Following the Covid 19 pandemic which halted the foundation's activities, the 3rd anniversary of the international art residency program "Majhi" was celebrated in the Netherlands in 2021. Artists from across the world participated and contributed to the program which focused on boatmen and their lives. Other renowned programs hosted by the foundation are "Bhumi" and "Future of Hope"; which mainly focused on the stories of Bengali artists worldwide and their lives.
One of the most significant pieces in Durjoy Rahman's collections is Murtaja Baseer's epitaph series artwork. It is one of the most noteworthy works of Baseer considering it's one of the biggest works of the 70s which was exhibited in Shilpakala Academy. Other notable pieces in his collections are Qayyum Chowdhury's works; Novera Ahmed's piece which was a tribute to the firemen in the 9/11 tragedy; Shahabuddin Ahmed's work regarding his experience in France, and Shishir Bhattacharya's famed 24 feet artwork "Daag Tamasha". Prominent architectural pieces can be seen throughout the studio. Among these are, an Indonesian wooden pillar which is a free-standing display highlighting the craftsmanship of the artists; a vintage bench belonging to historical public spaces, and an antique door that is brought from Sutrapur, Puran Dhaka, which is a token of Dhaka's history, and culture.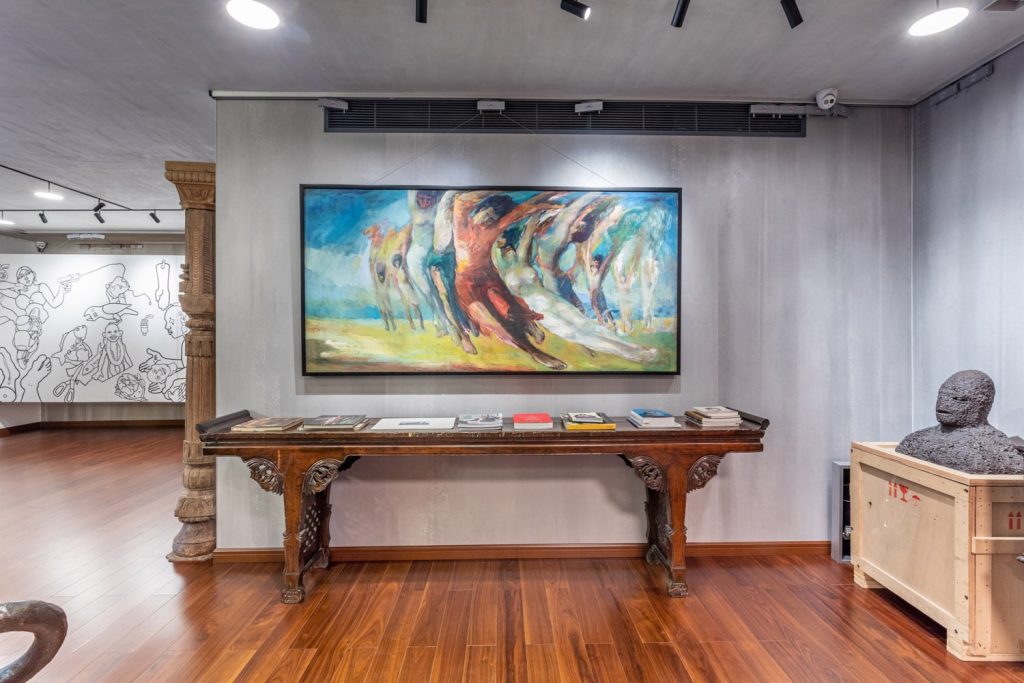 During the construction phase of the creative studio, Porcelanosa Bangladesh played a significant role in primary material sourcing. The XLight- a large format wall tiles from Porcelanosa featured on walls hold remarkable works from the DBF collection and act as a blank canvas upon which artists will write history through art in times to come.
For the art patron, the journey from the onset of DBF has been nothing but rewarding. Rahman shares, "Art collection is a journey. Patronage is necessary for the survival and success of the arts and artists. To encourage artists, people must appreciate and showcase the artists' works to the world."