Bangladesh has been a member of UN (United Nation) since 1974 and the UN has been working in various fields of co-operation through several of its subsidiary organs for more than 20 years in Bangladesh. The main propaganda of this project is to improve collaboration among 16 organizations of the UN, which are working from different rented places of Dhaka city and all over the country.
The proposed design is focused to present a unified UN image in the country and to explore the various aspects of sustainability for an intended healthy working environment and ensuring security for diplomats and employees according to the UNDS (United Nations Department of Safety and Security) protocol. This project is proposed by Sadia Afrin Mou, a student from the University of Asia Pacific. Her studio guides were Ar. Ziaul Islam, Ar. Mehrab Iftekher and Ar. Bin Sayeed Bakhti.
The proposed site of the project is in sector 27 (Diplomatic Zone) of Purbachal Model Town, covering an area of approximate 1.89 acres. The project is vastly influenced by the context, users and community. The triangular-shaped site has two 30 feet wide road at the south and west sides and a beautiful lake at the north-east side. The primary challenge of the project was to accommodate 16 individual offices of different volumes for 1089 diplomats and employees with assured higher safety-security and to design the project following climatic considerations. As the lake at the north-east side creates a stunning view, to build a relationship with the view of the lake and the project was one of the other primary design concerns.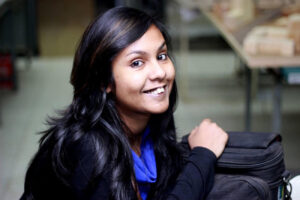 The main pedestrian entrance is on the first floor to separate the ground connection for safe and secured approach. The first floor is the base of the project to create collaboration among all the individual offices with common programs like lobby, lounge, cafeteria, bank, library, etc. Ground floor and the basement have parking facilities and an auditorium for official use only. For accommodating individual offices, second to the sixth floor has three types of volumetric spaces with inner connections and seventh to eighth floors is a single space of large area consisting offices. The west side is blocked in all floors by required service area that acts as a protective layer, avoiding from the heat gain. The east side is also blocked by service areas. The stagger effect of the building provides more interaction with the pedestrians and more clear views, but due to limitation of site area, space requirement and safety protocol of the project, two large voids have been designed to ensure the view and interaction with security and climatic considerations in mind.