Can you briefly tell us about your background?
After graduating in Architecture from Bangladesh University of Engineering & Technology in 2010, I had the opportunity to work with renowned architects like Mustapha Khalid Palash and Ehsan Khan for the next few years. In 2015, I started my own studio 'Studio Terracotta' with the goal of practicing rational, sustainable and climatic responsive architecture, as well as exploring and experimenting in the field of art and graphic design. The studio has collaborated with other young architects from Dhaka. The collaboration has been awarded First prize in urban design competition of Model Streetscape Design for Arterial Mirpur Road, Dhaka in 2017, Third prize in open design competition of Health Complex One for Grameen Kalyan & Grameen Telecom Trust in 2016 and First prize in the invited competition of Prototype Primary Health Centre for Grameen Kalyan in 2017. I had the opportunity to participate in BANCARAS Wacom Annual Cartoon Exhibition 2018 and 2019, 40 Years Celebration of Unmad Cartoon Exhibition 2018, Femitoon Exhibition 2018 by Unmad and Action Aid and had been awarded Third prize in 40 Years Celebration of Unmad Cartoon Competition.
How did you develop your specific style in art?
Truth to be told, I personally don't feel the urge of developing and sticking to any specific style.
I always try to push boundaries and explore different aesthetics. The theme or concept of the artwork determines the artistic or visual style to approach.
Following a specific style limits the scope of experimentation and exploration, I think. Inspirations from visual art, architecture, music, cinema, literature help me to develop my visual vocabulary I guess.
How do you balance function with aesthetic appeal?
Understanding the nature and context of the work, whether it is architectural design, illustration, graphic design or mural helps a lot. For example, if it is an illustration for children's storybook of a certain age, the intention would be to understand the child psychology of that age and create something which would inspire the child to imagine, think and have an enjoyable experience. The purpose of the book may be educational or mere pleasure. A good story or a beautifully done illustration can be a part of a child's memories growing up. I try to put myself in the shoe of a child and think about what he or she would expect and like. To see in the world through a child's eyes and help him or her to visualize the story, sometimes to inspire imagining beyond the boundaries of that story can be counted as a success for the illustrator.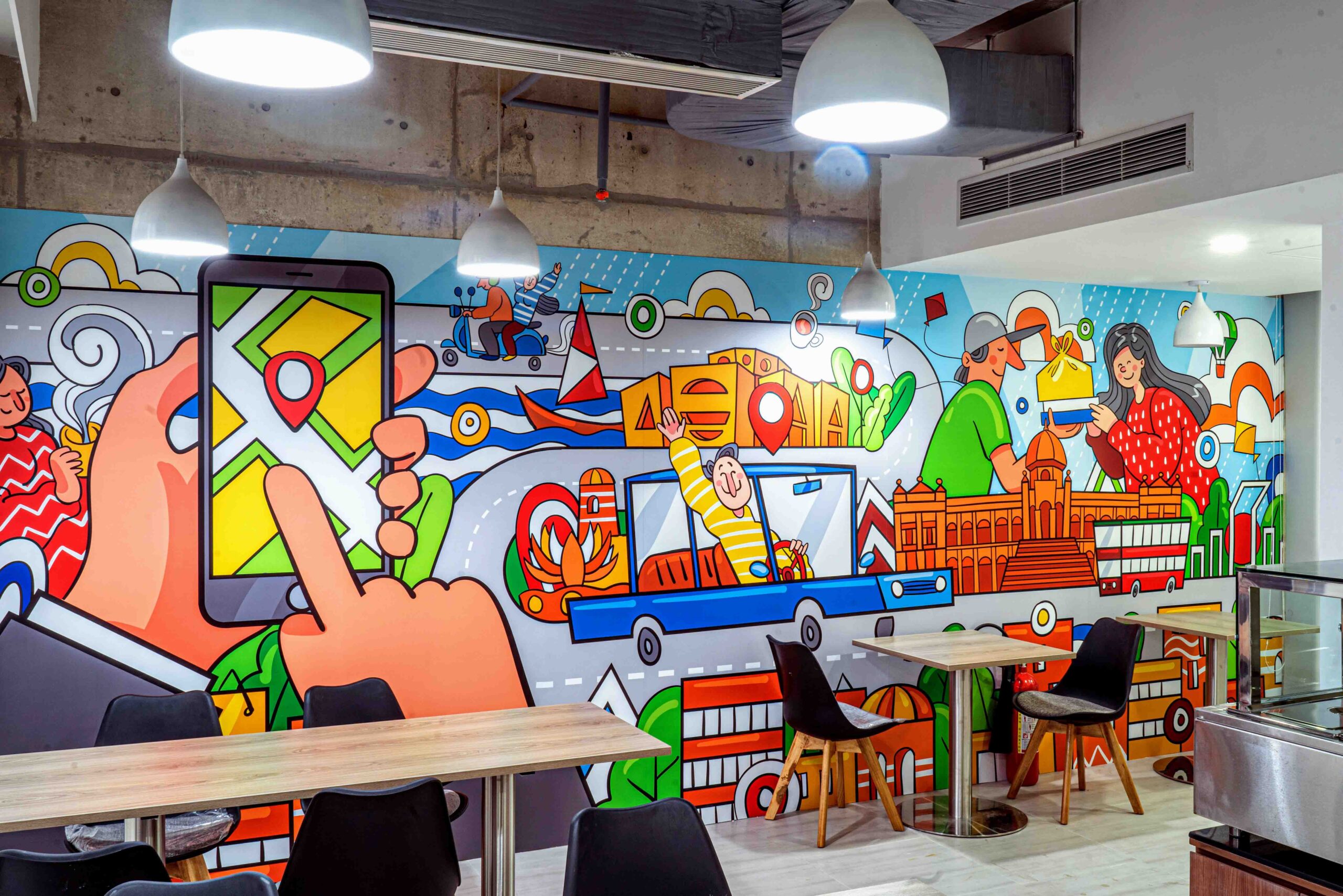 You have painted murals in a handful of commercial outlets and workplaces. What is the creative process like?
Similar to architectural design or any other design work, the approach is to solve a problem in a creative manner. I try to find the answers to the three questions related to the design challenge, which are 'what', 'why' and 'how'. 'What' concerns about the nature of the problem or task at hand. 'Why' is concerned with the reasons behind the problem or task. And then having the answers to these questions comes the final one 'how' which concerns about the process to solve the problem or execute the task. Study and research play a crucial role. I tend to keep notes and a checklist of possible design elements related to the theme of the mural before starting any drawing. Going through rough hand sketches to explore different design ideas, the composition starts to build up slowly. Then comes the phase where I start to draw digitally. The exploration continues till the design is finally done. Consideration for medium and method of installation is important, whether the process involves painting, printing, laser cutting or ceramics.
How long does it take to complete each mural art?
Depends on the scope of the work, deadline and of course the client. Each artwork is different, so work duration varies. It is difficult to put in broad stroke I guess. It may take weeks, sometimes may take months to complete one.
How do you set on the composition?
As mentioned earlier, the composition is built up based on understanding the nature of the task, requirements of the client, context, study and research, iteration, and exploration of different ideas and styles and finally media and methods of installation.
You have designed book covers of many renowned writers, including the likes of Habibullah Sirajee and Khasru Choudhury. How has the experience been so far?
Doing illustrations for a renowned writer can be a rewarding experience. But illustration work is not really affected by the author, whether he or she is renowned or not. Rather the main focus lies on the content, based on which the illustration is to be made, itself. Sometimes the literary piece is visually appealing enough to come up with intriguing visuals, making the life of the illustrator much easier. In other cases, the illustrator always has the freedom to imagine and create something going beyond the boundaries of the original content, making the whole thing more interesting.
Can you share with us a memorable memory with one of your previous projects?
Working for the public exhibition of architecture on the occasion of ARCASIA Forum 20 at Manik Miah Avenue, Dhaka in 2019 had been an interesting experience. The idea was to make the exhibition more inviting to the public, hence the location was chosen in the context of Jatiya Sangsad Bhaban. Twelve shipping containers were brought to the site to create six pavilions, displaying the exhibits within the containers themselves. To make the pavilions more appealing, the outer surfaces of the containers were adorned with murals depicting six seasons, architectural landmarks, festivals and urban life in Dhaka. The design and installation process of the murals was an intriguing experience itself. The response and engagement of the public with the street art was overwhelming. People of all ages and walks of life came and made the place vibrant, celebrating with selfies and group photos, having a good time. Being a part of the whole endeavour, the experience was rewarding, no doubt.
Architecture and art have in many cases, become inextricably bound to another in a kind of symbiotic relationship. What is your take on it?
Architecture and art are very closely related. One has influenced the other over thousands of years. Different art movements had been inspired by the architecture of the respected time and vice versa. I do not have any academic training on fine arts but on architecture only and it had and still is helping me in so many ways.
Exposure to the world of architecture has inspired me to look closer to the horizon of fine arts.
Architecture, being a very inclusive discipline, brings many different disciplines under one roof. Exposure to these various fields tends to make ones way to see and think more mature. The learning in architecture school and professional field may inspire an architect to pursue beyond the boundaries, to become a visual artist, a filmmaker, a musician or maybe a photographer. Architecture nurtures the artistic bent of mind which may flourish in so many different directions.
Which artist to do you look up to for inspiration?
There are so many artists from diversified art forms for inspiration. I try to find inspiration from visual and performing arts, music, literature, cinema, photography, truth to be told from everywhere. When I was a kid I used to read a whole lot of books and the illustrations in those books inspired me a lot since then. Satyajit Ray, Rafiqun Nabi, Qayyum Chowdhury, Mustafa Monwar, Shishir Battacharjee, Abul Barq Alvi, Debashish Deb, Bimal Das, Chandi Lahiri, Samir Sarkar, Subrata Ganguly have been my inspirations from childhood. Henri Mattise, Paul Cezzanne, Pablo Picasso, Mark Rothko, Piet Mondrian, Jamini Roy, Nandalal Bose, Quamrul Hassan, Safiuddin Ahmed, Sudhir Moitra, Angel Boligan, Andre Carrilho, Asaf Hanuka, Uday Deb, Sabyasachi Hazra, Sabyasachi Mistry, Mehedi Haque, Arafat Karim, Asifur Rahman are few of the artists and cartoonists whose work I adore.
Professionally, what are your goals?
Well, we are trying to create more opportunities for collaboration of young artists and architects for some time, working under one roof. The vision is to develop the studio as a multi-disciplinary platform to practice sustainable and climatic responsive architecture, as well as exploring and experimenting in the field of art and graphic design. We intend to contribute as much as possible in society, as we believe that architectural practice is not a mere profession, it is a responsibility to society and nature. Influenced by our culture and context, the studio seeks to learn and explore the reciprocal relationship between human and nature, as well as various construction methods and materials.