Artist Anisuzzaman Faroque, a wanderer who found solace within art. Born in the Moheshkhali upazila, Cox's Bazar, he ventured to the capital to find a purpose. He completed both his bachelor's degree and master's degree at the sculpture department at the Institute of Fine Arts, Dhaka University. The artist identifies the most with the designation of sculptor, noting himself to be a sculptor first and artist second.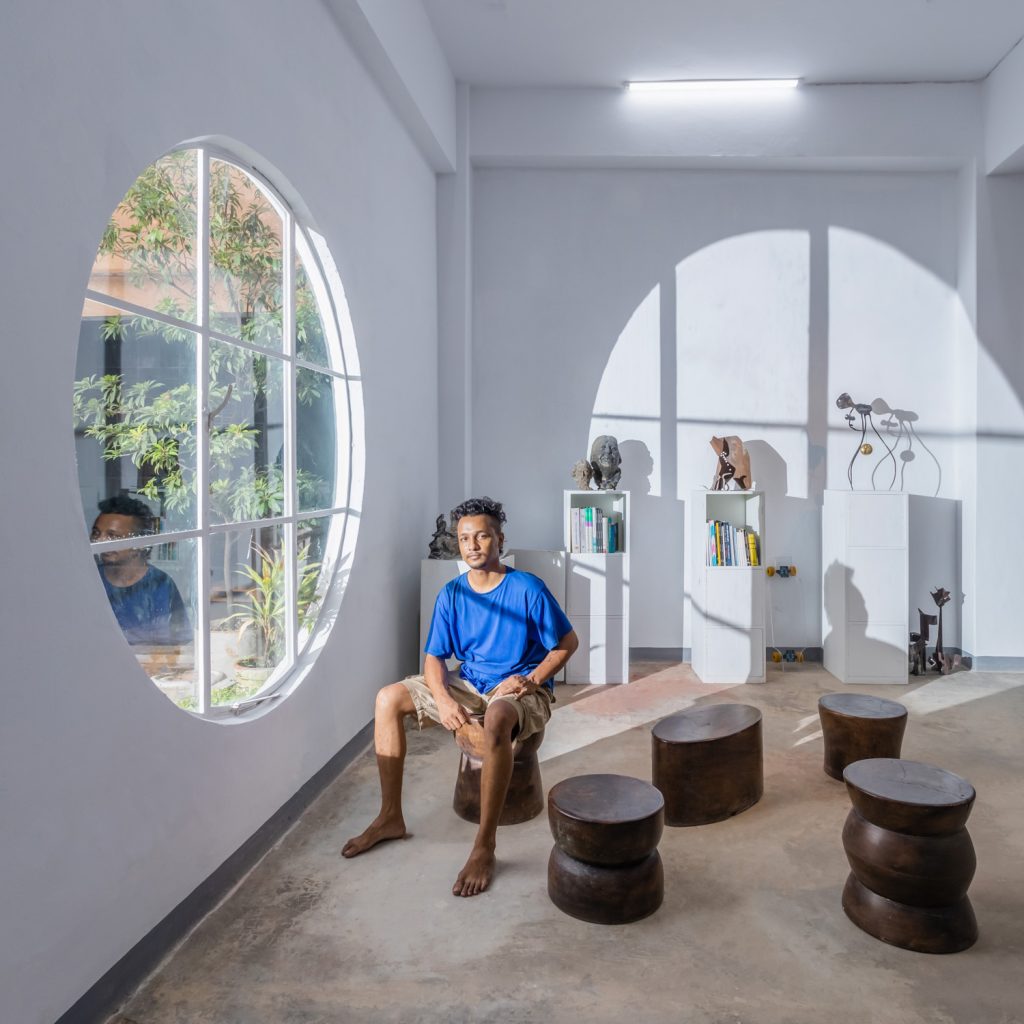 "I wasn't very attentive in school, I would rather wander about my village. As a child, when asked what I wanted to be when I grew up, I had no answer. I could not find a sense of purpose. Now, I can say that I am a sculptor, and my purpose remains in spending my life creating art. I migrated to Dhaka with the intention of becoming an artist and admitted myself into Charukola."
As a multidisciplinary artist, Anisuzzaman enjoys working with various mediums however has a fondness for using less malleable materials for the base of his work.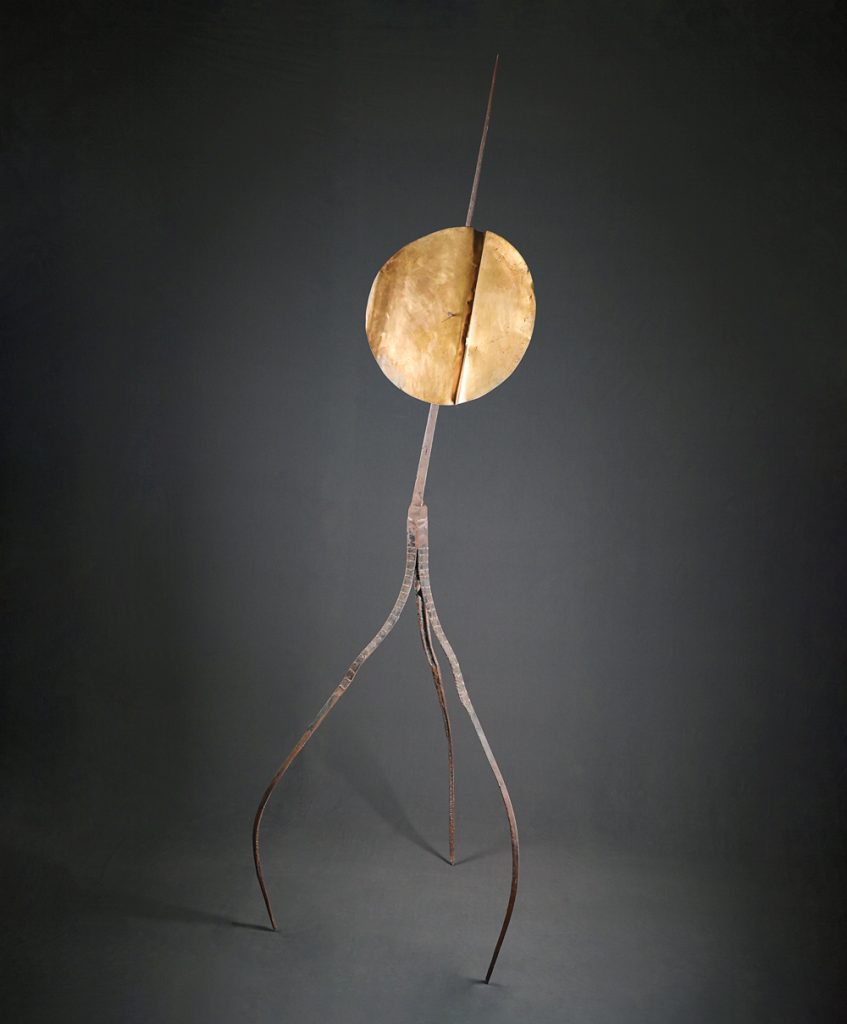 He states, "It's a vital step for my process. Being able to work on tougher materials and taking it to a place of sculptural value, gives me a sense of self merit. Primarily, we see iron as an industrial material. When I use it as a creative medium and mould it, it creates dimensions within this element, taking it outside of the assigned role."
Thematically speaking, the wanderer maintains an open-endedness. Believing that art belongs to an entext to the viewer, the artist himself attempts to view his work from the perspective of a member of his audience. Delving further into the development of his work, he states, "There is a lot of space for thought and interpretation in my work. I believe it allows for the audience to incorporate their own ideas, desires and feelings within the work. My sculptures are for the audience, the people, I want them to adopt the art into their framework of reality. I like to ask viewers what they thought about the work, why their thoughts are what they are. This in turn becomes a part of my process. To be an artist, it requires a lot of support. I've organized that quite organically I believe."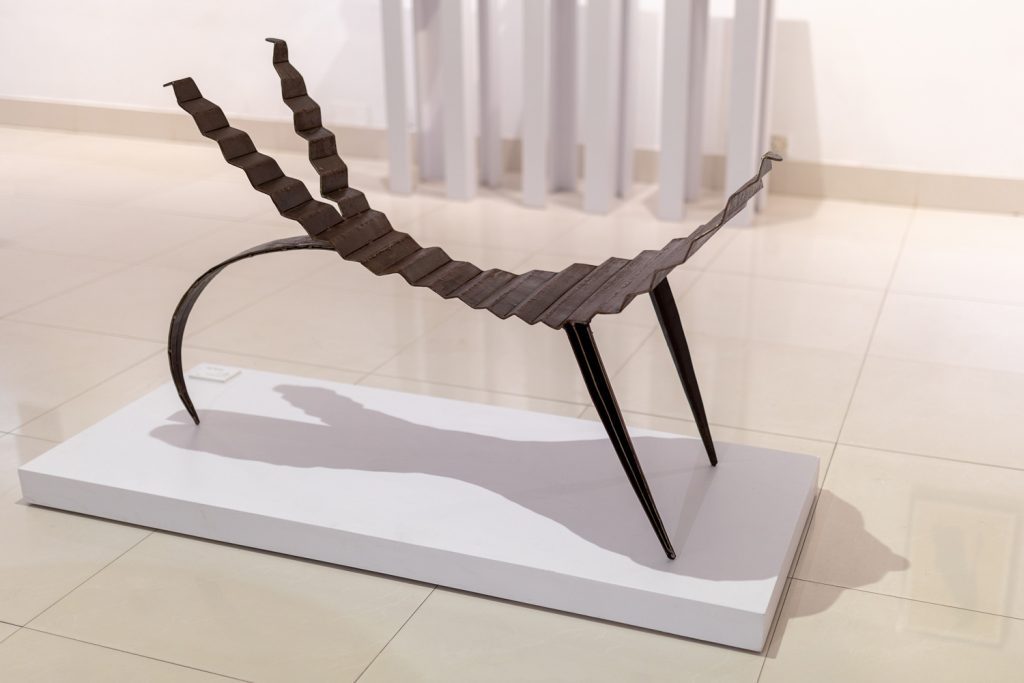 As he detailed the constant search for new techniques and methods to bring these materials into a more tensile state, the sculptor highlighted the necessity of a space. He noted, "I began my studio practice after finishing my masters in 2018. In order to be able to create, a space is a must, especially if they're sculptors or multidisciplinary artists. There is quite a lack of adequate studios to serve the needs of the arts sector." He speaks fondly of the end result of his hard work, noting the rewarding outcome of being able to physically experience his work and "feel its weight". Beginning his work at random, artist Anisuzzaman Faroque treats his surroundings and deliberations as resources. During his time at Charukola, he credits many individuals as having had an impact on him and his learning, many of whom do not even realize their contributions. He detailed occasions where he observed his peers and his seniors' work, taking in their teachings with the utmost attempt to not inconvenience his subjects. "I began the Iron series when I was still undertaking my master's programme. The series rose from a difficult period in my life. At the time, I was struggling with money, materials, but I couldn't halt my work. I had to create a large sculptural project with the minutest amount of materials. I moved towards drawing based works. They were linear in shape, but required very little material and I was able to mould pieces of all sculptural qualities. Of all my creations, this was by far my most favoured."
Not limiting his imaginations to fit any narrative, the sculptor casts "anything and everything as art. Sometimes it amounts to something, sometimes it does not. I begin creating and at one point declare the results, whatever it may be, as my art."