The culinary escape, the Wind Lounge, located on the rooftop of Islam Tower, Rampura, provides an immersive experience for the occupants living in the hustling and bustling capital. Surrounded by soothing vegetation and fauna, a calm and secure environment is adopted by architectural firm Cubeinside Design Limited, where one might dine and drink in peace.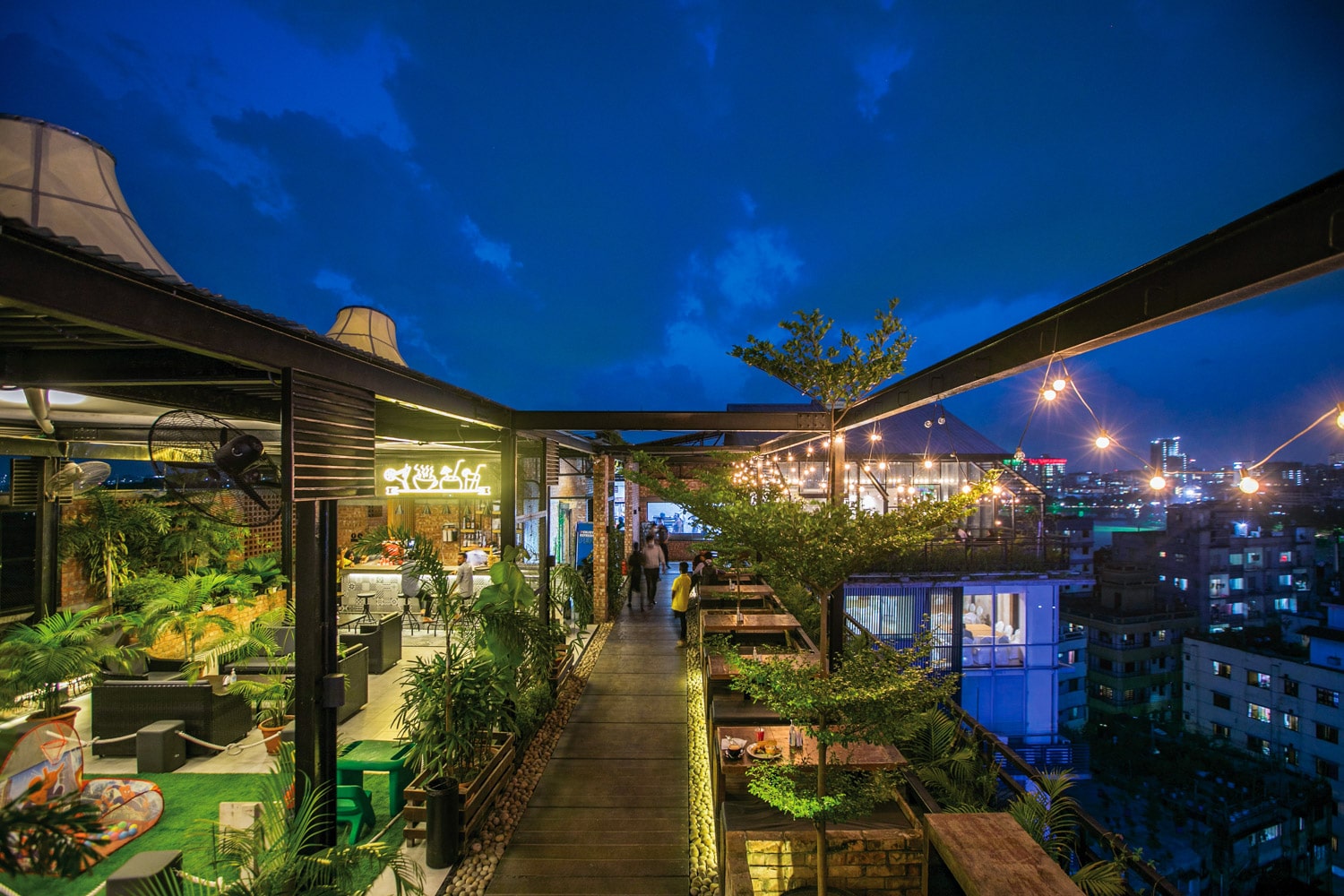 The restaurant underwent long construction. Following the long construction period, the design experienced every season of the tropical land – be it the scorching summer, high humid days or pre and post-monsoon with heavy precipitation. Hence, the plan layout was adopted according to the varied seasons to secure climatic comfort for the occupants.
The restaurant is sectioned into different zones – semi-open, open and closed, to get multiple experiences.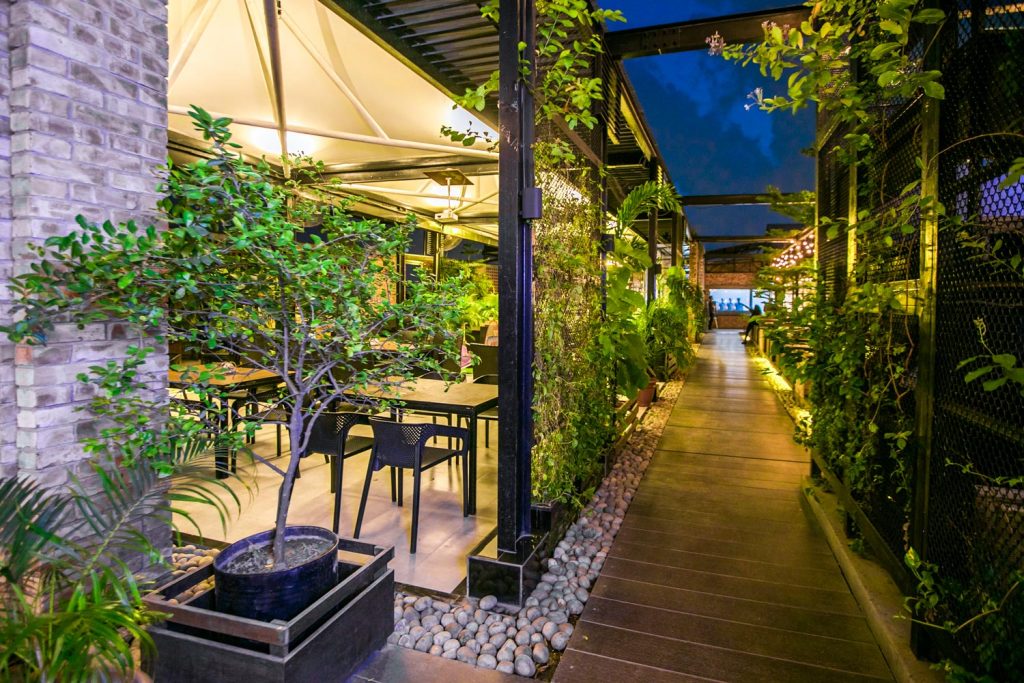 "When it rains, diners sit in the closed zone, beside the window area, usually with some hot coffees/teas on the table. The storming hot brews, the sliding raindrops off the glass panels, the drizzled sound, amalgamate into sensual pleasure, both in visual and audible," shares the design team. "On hot and humid days, eaters opt to dine in the semi or open outdoors. The background wall in the tented semi-open space, opposite the Hatirjheel view, is designed as a perforated screen to aid in cross-ventilation. For this, eaters find the shaded place naturally cool due to the smooth airflow. The ultimate goal was not only to meet the functional requirements but to give diners a mesmeric experience by its natural design phenomenon."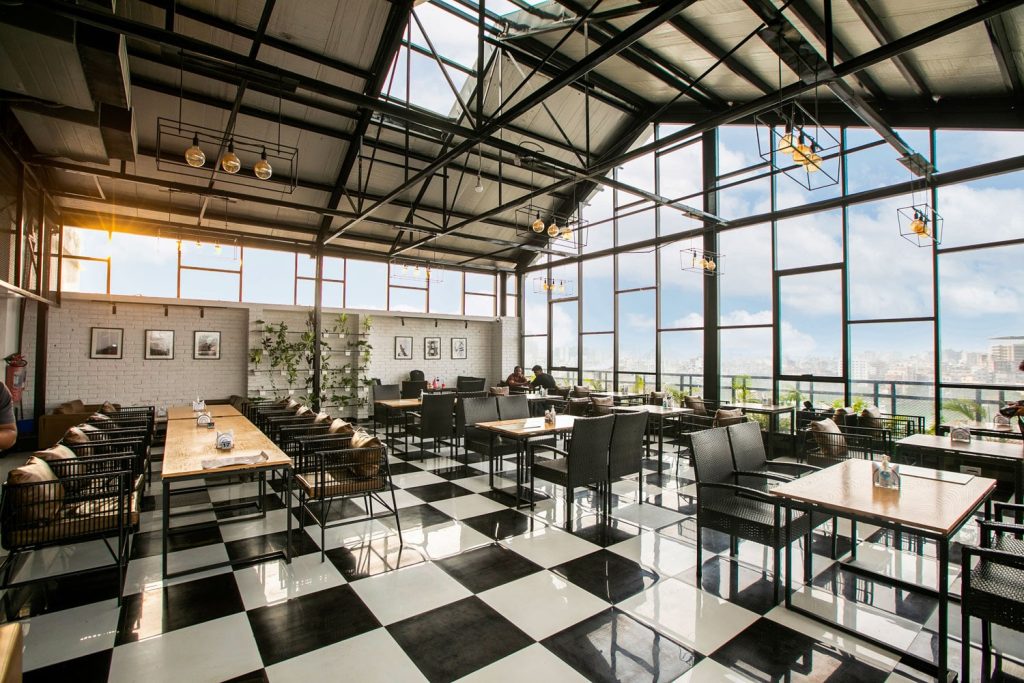 The restaurant adorns natural, local materials, wooden furniture and wooden walkways to give a warm and organic feel. Besides, the stone and gravel pathways accentuate the sensory experience. Mechanical lighting has been adjusted, prioritizing the external light levels, sectional spaces, and the warm colour palette of the place. These considerations underscore the restaurant's attention to detail in the customer experience – taking care of the customer, from ambience to intuitive service and stimulating food and drink.  
A significant aspect of the restaurant is the implementation of vegetation. The diverse planters or the creepers draping the screen wall have been locally sourced.
The plantation acts here as an essential element to mitigate sun exposure, moderate the view from the interior toward street traffic, and ventilate the smoking area on the terrace.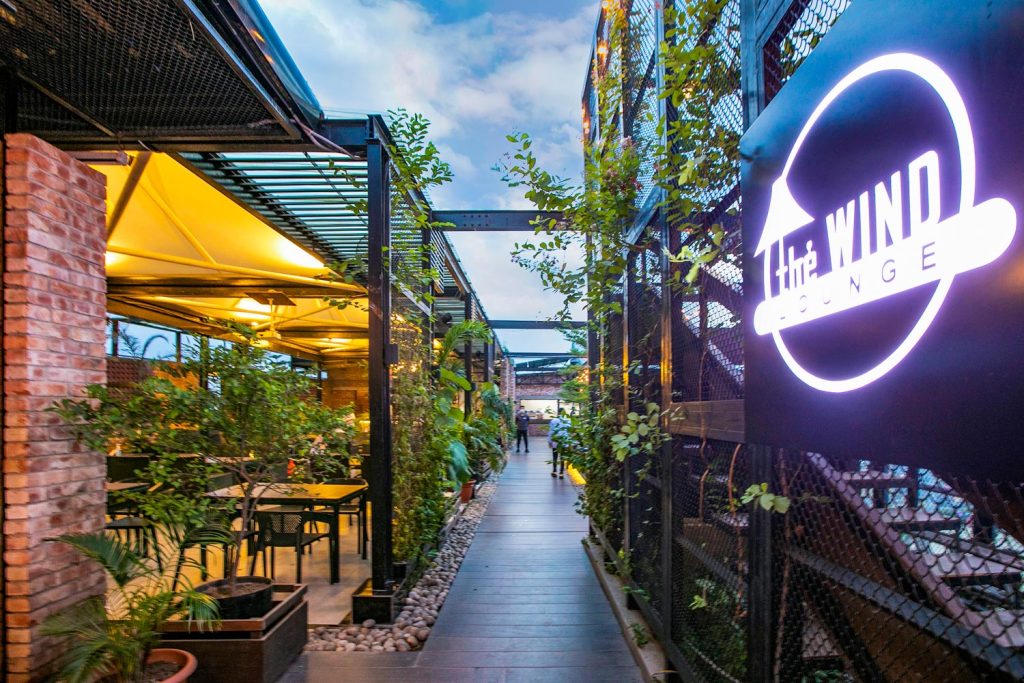 Collectively, the use of simple low maintenance materials, the advantage of natural lighting and ventilation, and the practicality of the open floor plan were also complementary strategies for fulfilling this project. 
Another intriguing part of the restaurant is the tented roof of the semi-outdoor space. "Interestingly, from a fair distance, people anticipate the restaurant by the three tents on the roof. Moreover, people riding boats in the Hatirheel Lake can foretell The Wind Lounge by the tents. Hence the restaurant has become a sort of landmark substantially", shares the team.