With its generously designed artful spaces, the Kai ALTECH office injects a unique character and an exceptional spatial quality to it that inspires and encourages a return to work in person and collaborative relationships. The office is structured by structural engineer Benjir Ahmed, and its interior concept is visualized by eminent sculptor, late Mrinal Haque.
Located at Baridhara Block J, the six-storied office building is set on a land of 4780 square feet area. The layout unfolds a public-client area and a more private section for employees. This distribution allows the team to have greater intimacy and freedom to encourage feelings of relaxation and belonging.
Developing an open-plan office and closed conference rooms of various sizes for meetings in a wider and smaller group optimizes flexibility and square footage while promoting teamwork and productivity.
It consists of sliding panels and mobile shelves, which offer flexibility for the most diverse activities that take place on the site. Modish furniture and black and white with hints of grey wall paint warmly adorn the various conference rooms and common areas, bringing character and elegance. The unity of the project is accentuated by the Italian marble and Chinese tiles intensively used in the interior, which permeates the entire workspace.
A flow of overhead lights ensures maximum comfort and a pleasant aesthetic. At the same time, the high ceiling and large tampered glass panels allow natural light to the core of the office space that undergoes constant changes as light reflections alter over the day. In favour of a more diverse space, communication spaces, cafe, and lounge have been designed that offers a casual consultation over a cup of coffee. The lounge regularly hosts a variety of seminars, workshops, and other contents that lead to a fulfilling lifestyle.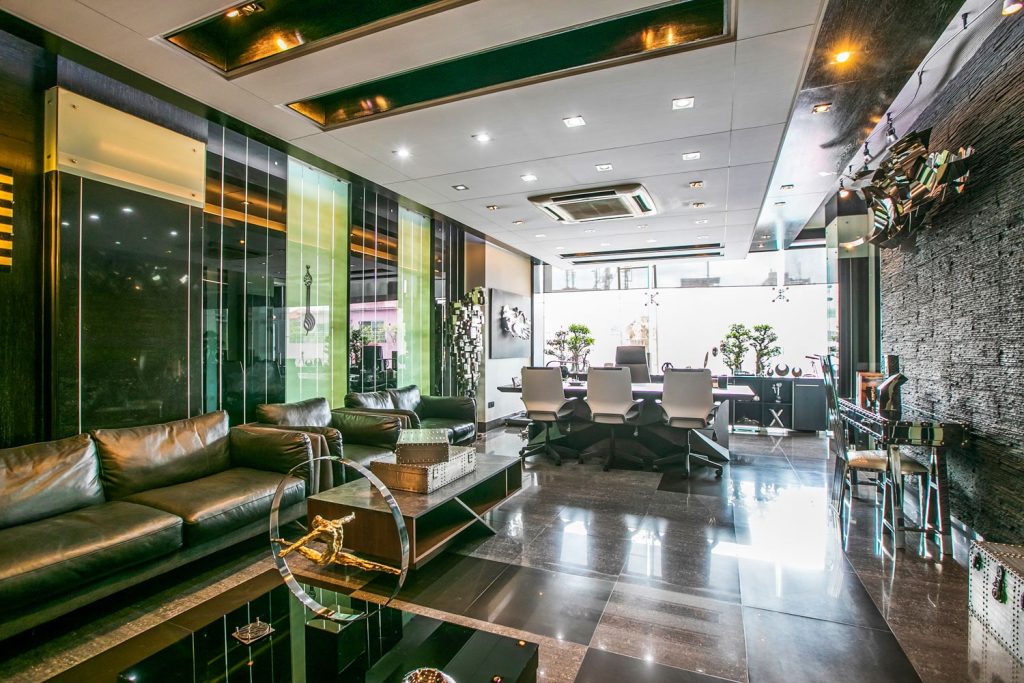 The striking part of the office is the various figurative sculptures installed in places.
The creative artwork creation portrays late Sculptor Mrinal Haque's magnificent style and technique. They have been evolved by experimenting with different materials and components. The Kai Head office was inaugurated in 2009 and was developed by Kai Bangladesh Aluminium Limited. Kai Aluminium is the largest certified aluminium extrusion manufacturer company in Bangladesh which has been incorporated in 1997. They always focus on identifying the customer expectations and needs by enhancing the quality product with new technology and customized design colours respecting global standards.