Imposing colours, textures, and a structure bringing together the contrast of steel, lights, and fabric– the dauntless art installation "Bangla" greets everyone who passes through the north of Whitechapel Road in all its glory.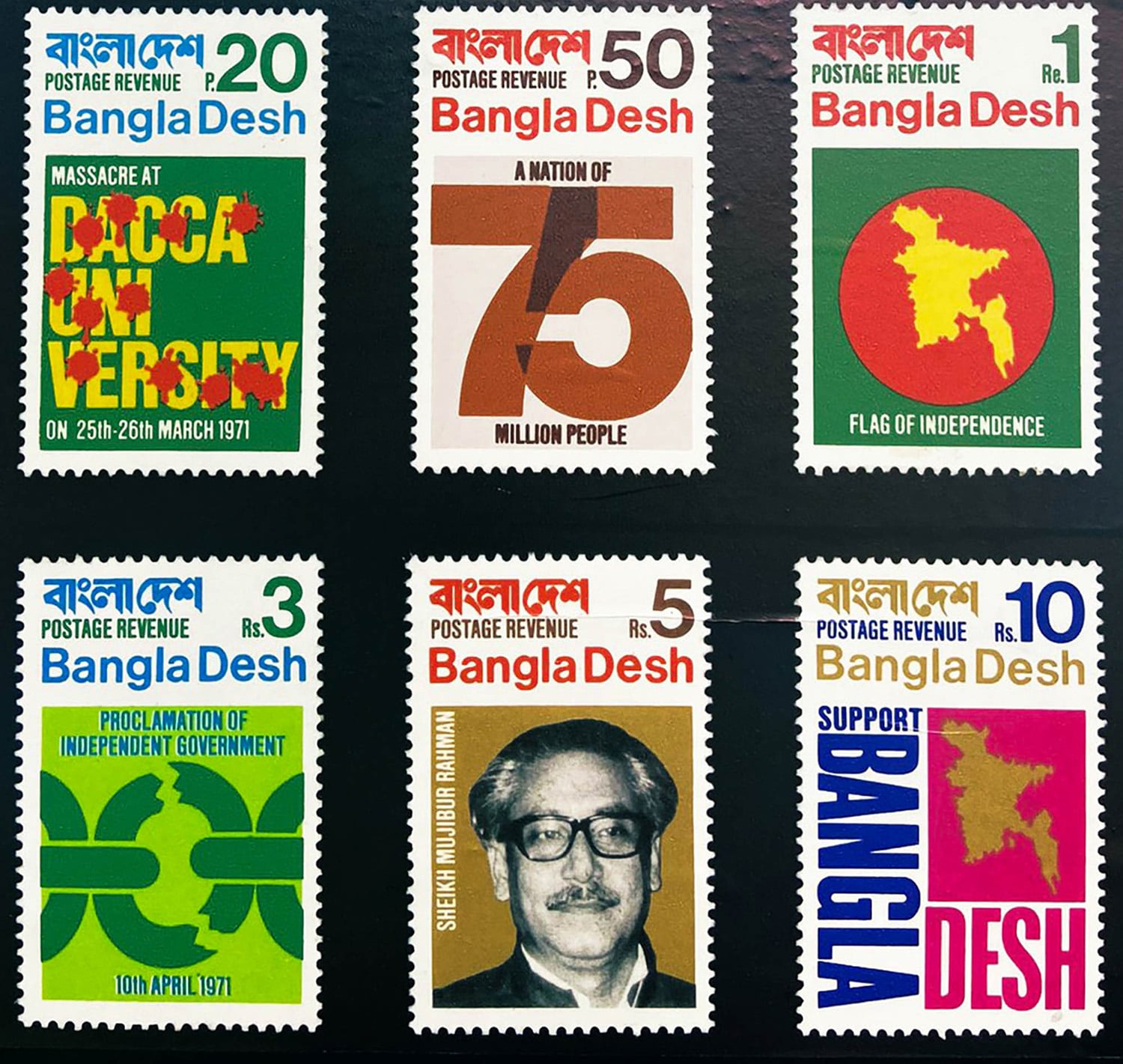 The idea of the art piece itself seems simple enough– the installation makes up the word "Bangla" in the Bangla script. However, the passion, planning, and intent behind the artwork give it a whole new poignant meaning.
Co-designed by Bangladesh-based design and architecture studio Paraa, led by artist Ruhul Abdin and architect Sadiqul Islam Shehab, the public realm artwork was commissioned to commemorate 50 years of Bangladesh independence.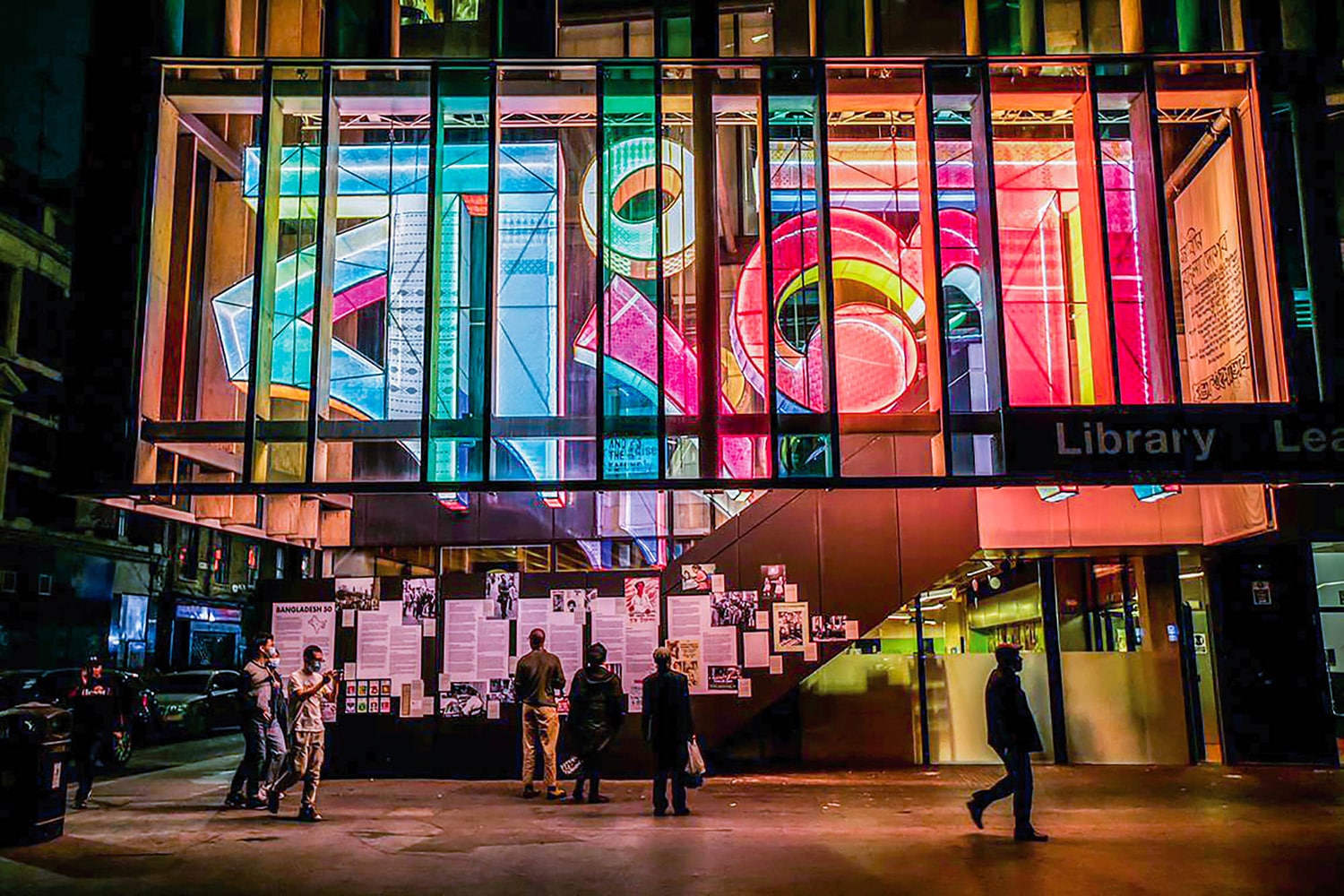 In an effort to encompass the essence of the country's independence, not only does the art installation proudly exhibit the Bangla script but also an assortment of fabrics traditionally used to make sarees.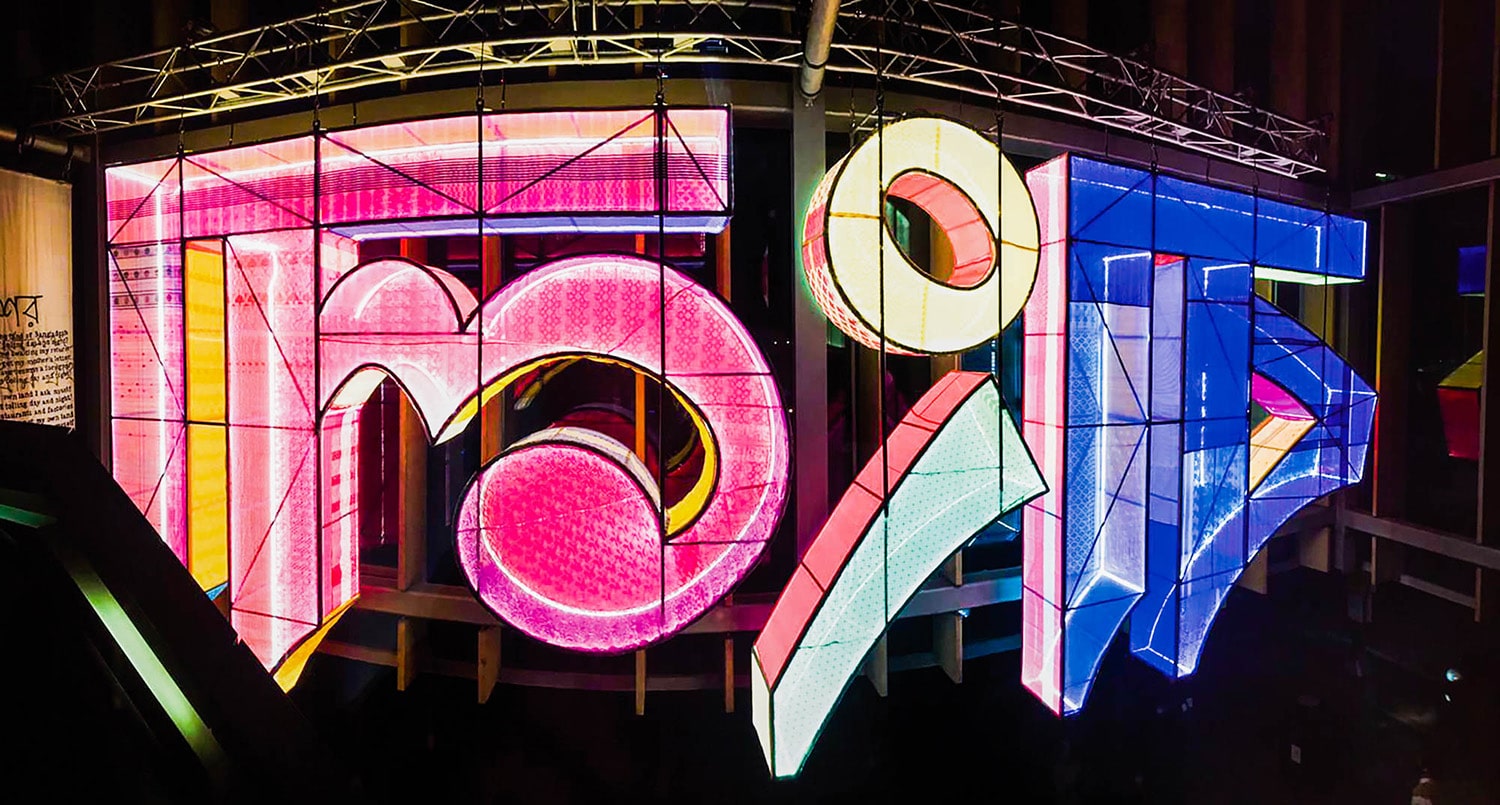 While it dazzles from afar with its large stature, it also offers delicate details when viewed from an intimate distance.
Artist Ruhul Abdin has used clean lines of steel to house LED lights and surfaces draped in a multitude of colourful sarees to bring the word "Bangla" to life, suspended from the façade of the Idea Store library building. It represents 50 years of Bangladesh's independence, the nation's people, and its prosperity in three major ways.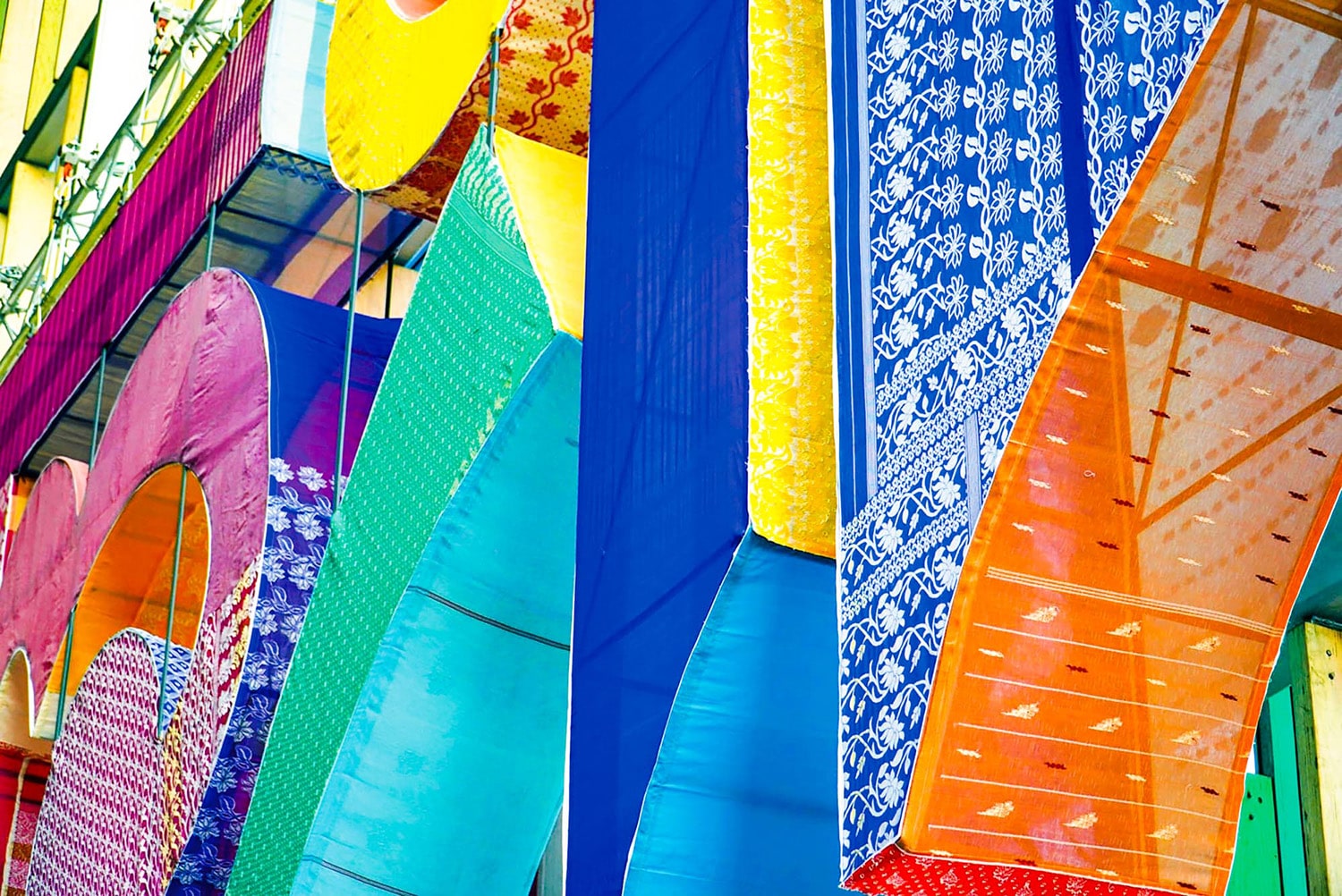 First, the use of the Bangla script itself represents the language beloved and used by a significant portion of the inhabitants of the Tower Hamlets.
Second, the use of saree fabrics to drape over the letters represents the fabric industry, which has employed many of the inhabitants in the Tower Hamlets and is also a prominent industry in Bangladesh.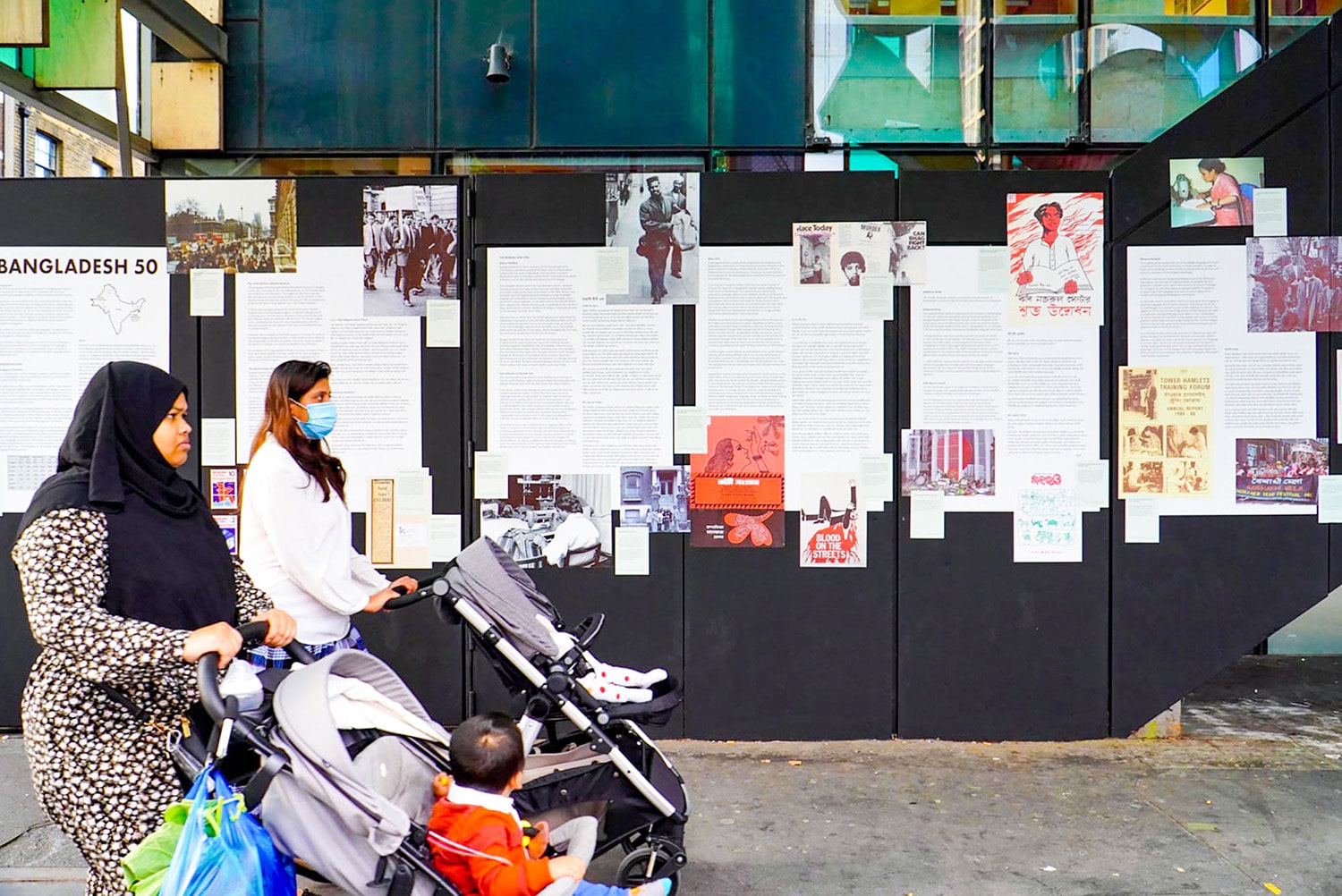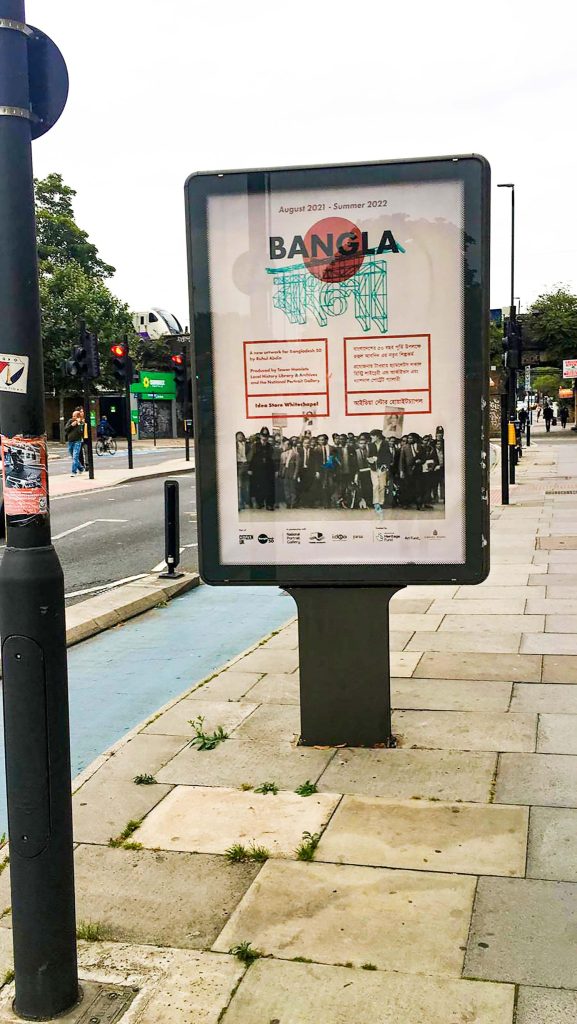 Last, but not least, the fabric colours add another layer of meaning to the art installation. Each letter is wrapped in a different colour inspired by Biman Mullick's design for the first set of stamps representing Bangladesh as a new nation in 1971.
More significantly, the large piece isn't the only part of the installation. Aside from marking Bangladesh's independence, the installation also shares the research undertaken by resident 'citizen researchers' into the experiences of the Bangladesh community in Tower Hamlets.
Anyone walking under the hanging art installation can see embroidered murals revealing some of the research produced by the Citizen Researchers and artist Ruhul Abdin, including the original sketches by Biman Mullick for the first stamps of the new nation Bangladesh in 1971.
The artwork was recently unveiled in Whitechapel, UK, by the mayor of Tower Hamlets, John Biggs, and his cabinet member for arts Sabina Akhtar. It was commissioned by the Tower Hamlets community in collaboration with the National Portrait Gallery and funded by The National Heritage Lottery Fund and Art Fund.
Originally, the piece was meant to be an exhibition of art, research, and archive material at Tower Hamlets Local History Library & Archives. However, to ensure that the public and residents can safely access and experience the installation, it was suspended in such a location.