In the vein of its previous locales, the much revered Cafe Mango has been built on the idea of 'presence of absence' in its newest address in Gulshan 1. Instigated with simplicity and contrast by owner and architect Salauddin Ahmed Patash, the place reveals the honesty it possesses in each layer of its design.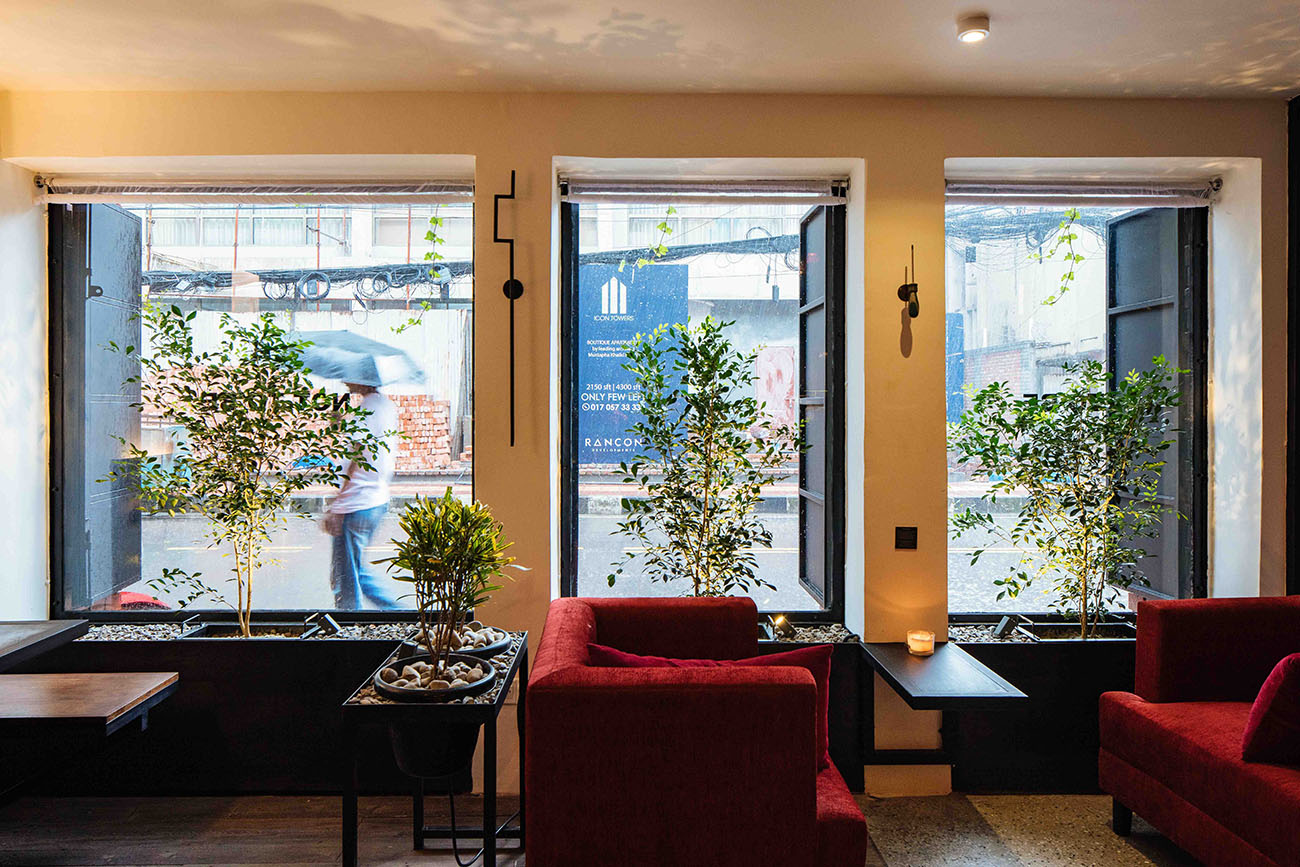 Cafe Mango had emerged as an attempt to bring forth public living rooms in Dhaka, a city that thrives on untold complexities. "It started as a small, tiny public living room that I designed to share with the rest on the idea of possibility in a city that craves for validation. You cannot bring every friend to your own domestic front, yet at the same time, it's wonderful to spend time with them. And Dhaka, despite having culturally balanced living rooms, did not welcome a variety. Cafe Mango was a mere attempt to fill that void," shares Salauddin Ahmed. In its 20 years of journey, Cafe Mango moved around from one leftover corner of the city to the next and always bathed with love and affection from its deserving crowd. "In this venture, I have always been extremely careful to not follow typical footsteps of quick success and hence, in a way, Cafe Mango has always remained an outsider, away from the high streets and perhaps the marker of new ideas", he adds.
Salauddin Ahmed considers designing Cafe Mango a creative discovery rather than a creative journey and thus, has never shied away from discovering neglected pieces of the city, full of potent possibilities and untapped beauty.
Similarly, his recent intervention is situated in one of the darkest corners of Gulshan, historically. Instead of changing the course of history, he wanted to reinterpret the idea of the location and aspire the neighbours to come out. The design process of the place was quite organic, as it was the feedback of the context, environment and desire of the place. "I do recycle many things but there is always some fresh ideas being inserted that are unique to the space. So, it is always a risk, to reintroduce the same wine in a new bottle. And in the wake of the Covid-19 pandemic, the place has had its difficulties to establish," Salauddin Ahmed says about the new establishment.
Customizing new design elements and recycling and repurposing some old, Cafe Mango instils a sense of place where one can indulge, heal the mind and body, and discover the blend of both old and new.
The 2400 sqft double-height space had an abundance of scope to be innovatively explored. Before one enters the space, a solid black steel door inflicts an element of surprise. Small glimpses of the interior can be viewed from the sideways but one has to come inside to fully unravel what the place holds. Upon entrance, the place has a welcoming yet intimate undertone where one can breathe in, not breathe out. A myriad of seating arrangement can accommodate around 100 people. Tufted sofas, bar stools, long tables etc. can cater to different crowds. The handcrafted long bar table on the ground floor takes inspiration from Leonardo da Vinci's famous painting 'The Last Supper'. The live kitchen gives diners a sense of anticipation by showcasing a preview of the food that's about to be served.
On closer inspection, one can observe the great attention to detail given by Salauddin Ahmed in each corner. His accumulated collection of reclaimed furniture, artworks and artefacts add a touch of personality to the space.
Curated elements like window panels, small bamboo models, Buddhist sculpture etc serve as points of interest and subvert the overall interior design direction.
Even the facility toilets have been painted with vibrant rickshaw art by local rickshaw painter Pappu. In many ways, the design of Cafe Mango is an ode to local craftsmanship that promotes the work of traditional artisans. "I'm keener to make others understand the people who are involved in these jobs. I will quietly introduce and reveal them to you through my design", explains Salauddin Ahmed.
The colour tone of Cafe Mango was kept neutral in black and brown with pops of red, blue and yellow ochre in some nooks. Greens and foliage are strewed throughout the place to bring the outdoor in. In terms of lighting, the ground floor is kept well-lit while as you move up, the setting becomes more subdued. In the design of Cafe Mango, Salauddin Ahmed has left more possibilities to add, subtract and build up whatever is required to make the place more meaningful. His objective as an architect is to always give scope to the end-users to participate and also help them uncover the hidden possibilities that a place may hold.
Photography by City Syntax